Home > Arts and Crafts Projects for Kids > Recycled Soda Bottle Crafts for Kids
SODA BOTTLE CRAFTS : arts and crafts activities and instructions for making creative creations with recycled soda pop bottles
There is a much more fun ways to recycle all those empty soda bottles you may have at home in your trash can. One fun way is making useful crafts with them. Children should know that recycling plastic bottles is very important for the environment and this is a great way to show them how to recycle.
Artist Helping Children will show you how to easily make a cute apple lunch box..you heard me a lunch box from a plastic soda bottle! You can also give back to nature by make a bird feeder. Other useful things are: a beautiful vase, organizers and even a bottle timer.

Making Scenes in Soda Bottles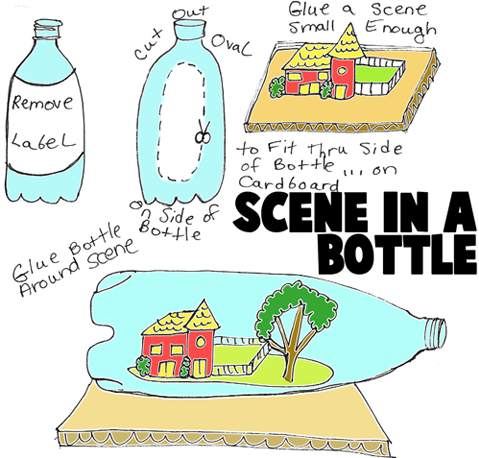 This is like the old-fashioned ship-in-a-bottle craft, but with a plastic soda bottle and it does NOT have to be a ship or a boat inside this bottle. Everyone will be so confused as how you got all the objects inside the bottle...but here is the trick. He won't be able to figure out how you got a big scene inside such a little bottle. Clean out a used soda bottle. Then you can take the label off with some warm soapy water. Then thoroughly dry the bottle off. Here is the trick...cut an oval out of the side of your soda bottle. Then you sshould take this cut-out plastic oval and gently trace it onto a strong piece of cardboard. Then, make sure that your scene is created within this oval so that the bottle can fit on top of it. Now is the fun part...find a bunch of miniature objects that you want in your scene...such as little people and a little house...maybe a little car...whatever you want. You can even create the scene yourself out of clay, cardboard, paper, or whatever else you are good at crafting things with. Then paste the soda boattle around the scene and let it dry thoroughly.
Even More Soda Bottle Crafts

Soda Bottle Apple Lunch Box - Learn how to make this cute apple case out of a recycled soda bottle.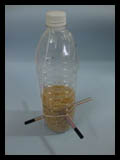 Plastic Bottle Bird Feeders - Find out how to make a bird feeder from recycled soda bottles.

Plastic Bottle Organizers - Learn how to make these plastic bottle organizers with fabric, ribbon, and recycled plastic soda bottles.

How to Make Flower Vases With Recycled Plastic Soda Bottles - This is a recycling and a Mother's Day Present Arts and Crafts Activity for Kids to Make. Recycling can be your way of taking care of the environment. Here's a great craft activity that makes it really fun to recycle. Make a flower vase out of an old plastic bottle and then put fresh flowers in it for Your Mom.

Plastic Bottle Timers - Make these water bottle or soda bottle timers for time-outs, homework, testing, or whatever.
You Might Also Like ... Water Bottle Crafts ... Juice Bottle Crafts ... Milk Jug Crafts ... Bottle Caps Crafts ... Message in a Bottle Crafts ... Ocean in a Bottle Crafts ... Ships in a Bottle Crafts