Home > Arts and Crafts Projects for Kids > Space Ship & Space Shuttle Crafts Arts and Crafts Projects Ideas for your Kids
SPACE SHIP MAKING CRAFTS FOR KIDS: How to make your own toy space shuttles arts and crafts projects with the following ideas, instructions, and activities for children, teens, & preschoolers
NASA may not be launching space shuttles off anymore, but that doesn't mean that you can't enter the space race without them with some nifty rockets and other space ship crafts. As long as the stars shine through nights darkness showing us glimpses of what's out there we need to imagine ourselves flying out there to those bold places. Budget constraints won't stop me from flying to the International Space Station or to the Moon or Mars. Further away even. Zipping from galaxy to galaxy battling space pirates and discovering new worlds and solar systems, that's what space ship crafts is about. Give my imagination a space ship craft to ride and I am out of here, you make one too and come with me. We've got places to go!!!
Below you will find Space Ship & Space Shuttle Crafts Arts and Crafts Projects Ideas for your Kids. Find out how to make your own space ships and space shuttles toys arts and crafts projects with the following decorations, instructions, patterns, and activities for children who love outer space.
Space Rocket Suprises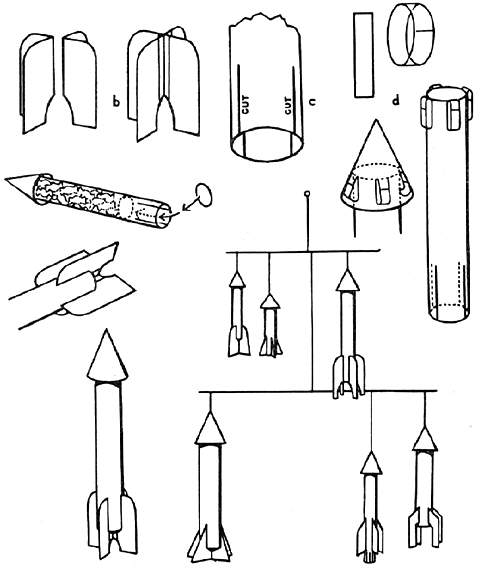 Print out template 1 and template 2 and trace it ont lightweight cardboard. Cut it out. Cover both sides of these pieces with foil and glue securely—or paint red. Fold and Scotch-tape as indicated in sketch b. Paint cardboard tube with aluminum paint or cover with foil, gluing securely. Cut four 3" slits in one end of tube, making sure these divide the diameter in fourth (sketch c). Cut cardboard disk to fit inside tube and punch hole in center. Knot ends of string together and push loop through hole to form handle. Make loops with four 3" lengths of Scotch tape as shown in sketch d (sticky side out) and attach to uncut end of tube equal distances apart. Place the cone over this end of the tube, pressing cone against tape to make it secure. Put a surprise such as wrapped candy, Bible storybook, etc., in satellite, from opposite end. Make sure it does not extend beyond slits. Slip disk inside tube to hold surprise. Now insert tail pieces (sketch e). Satellite is ready to be delivered to a sick friend. Other sizes and styles of satellites can be designed using the same basic materials, then attached to pieces of wire cut from clothes hangers to form a mobile. Also small satellites can be made and used for place cards for an explorers' party.
More Space Ship and Shuttle Crafts

How to Make a Mini Zip Line Space Ship Moving Toy with Paper Plates, Balloons, Bobbins, & Paper Clips - This is a really cool toy idea…one that can be changed for a lot of different variations of moving toys. This is an air ship / space ship zip line moving toy. Find out how to make this zip line toy that zips and moves, by reading the step by step, illustrated instructions below in our crafts project tutorial.

Orbiting Object Paper Plate Craft -You can mix and match all the different templates and paint your paper plate to represent any celestial body you like! I've provided a few suggestions.

Simple Spacesuit Craft - This craft is very simple, but is still fun for older children. You will need a picture of your child's face so they can be the astronaut. If you do not have this, you can substitute a face cut out of a magazine or newspaper.

Soaring Space Ships -Rocking rocketry is possible with versatile Crayola Model Magic® Fusion™ modeling compound. Its glittery surface gives your imagination an extra blast-off.

Space Collage Craft - Dinosaurs and spaceships seem to be two things that span all generations. My kids are as fascinated by outer space as I was at my age.

Spaceships Crafts project - I will try and add some better photos for how to cut the cardboard. It's very simple but if your visual you may need to see it.

Spaceships Arts and Crafts Activities for Kids - Now you're probably thinking that I have lost my mind, I'm not talking about little green men in spaceships (OK today's project does have an alien in a spaceship) but by UFO I mean Unfinished Object. My craft room is filled with UFOs.

Space Shuttles - Get ready to blast off! This Space Shuttle Craft is an easy project for any space enthusiast. If you don't have a paper towel roll just roll up a piece of white construction paper!

Tomorrow's Transport - Blast off with an intergalactic glow using a space ship cut-out and Crayola® Colored Art Chalk.