Home > Arts and Crafts Projects for Kids > Crafts with Stockings & Pantyhose
STOCKING CRAFTS WITH PANTYHOSE & TIGHTS FOR KIDS : Here are Ideas for Cool Arts and Crafts Projects with panthose / hosiery / stockings / tights for Children and Teens
If you mom wears a lot of pantyhose & stockings..or you or your sister wears tights, then you might have lucked out because all of the crafts on this page include hosiery. The great thing about hosiery is that it can be used as a strainer of sorts. Also the fabric is so much thinner that there are a lot of crafts that can be done with them that can't be done with other types of fabrics. So if you are interested in stocking & pantyhose crafts, you have found the right resource. Happy Crafting!
How to Make Nylon Stockings & Panty Hosiery Braided Rugs

You should gather the following items to make a braided stockings rug. Find 3 to 6 clean nylon hose stockings (for rug more hose or scraps of colored cloth cut into strips 1 1/2" wide), Rit color remover and dyes (if you want to colorize your stockings), needle, and thread. If you need to color your stockings, ask parents for help. Then Mom or Dad can dip nylon hose in color remover, then dye desired color, using directions on the box. Allow to dry. Cut off feet and cut tops. Cut stockings in 2" strips and sew together at ends. Sew three of these strips together to start braid. Arrange braid into circle or oval. Add strips and braid until mat is size desired. Begin at center and sew coils together. Tuck end neatly under mat and sew.
How to Make Coffee Can Stools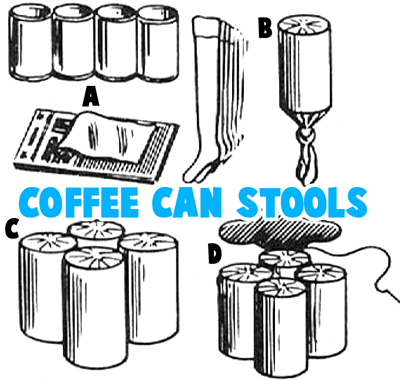 You will need 4 or 7 large juice or coffee cans (depending upon size of stool), 18 old nylon panty hose, wrapping paper, newspapers, fabric for covering stool, needle, and thread. Cut lids from cans to remove rough edges, remove paper and wash. Slip each can into a stocking, inserting open end of can first. Gather top of stocking and tie securely, as seen in picture B above. Pull stocking tight at open end of can and sew, tucking rest of stocking in can. Sew cans together (if 4, in a square; if 7, in a hexagon with one in the center). Trace around cans on paper to determine size of top and bottom coverings: Allow 1" margin for sewing. Measure size of side covering. Pin paper pattern to fabric and cut out. Pad top with panty hose, and tack padding to can coverings. Pad bottom with newspapers to protect open edges. Smaller stools may be padded on sides. Pin materials in place and sew, turning cut edges under.
Even More Crafts with Stockings & Nylon Hosiery

How to Make Cardboard Tabletop Billiards Pool Table withStockings and a Box - So what if you can't afford a big expensive pool table to play billiards with. Today we will show you how to make a tabletop billiards game that you can make with a recycled cardboard box and some checkers (or bottle caps). If you can flick with your finger, than you will be able to play this game.

Soap Felting Using Pantyhose - The use of pantyhose is essential in this project for felting a bar of soap with wool.

7 Homemade Toys for Baby : Crafts with Pantyhouse - Making your own baby/toddler toys might take a little more effort on your part as the parent, however the rewards are well worth it—a delighted child and money saved.

Another Pair of Pantyhose Ruined? Reuse Them! - Your pantyhose have holes? Don't accumulate heaps and heaps of used pantyhose! Reuse them!

A Sleepy Snakes - Your little ones will love ripping and scrunching newspaper to stuff this sleepy snake. The sticky variety of velcro dots work well to hold the snake in a coiled position and also allow kids to un-coil and re-coil the snake to their heart's content. If you don't have access to any you can just use strong double sided tape.

Botanical Eggs - Eggs adorned with the delicate shapes of greenery and herbs announce the arrival of spring. Blown-out eggs work best for this project, but hard-boiled eggs can also be used.

Crazy Catepillar Craft with Tights - Use an old pair of tights to make a great stuffed Catepillar toy. Find out how here.

Coat Hanger Ghosts - In this tutorial you will learn how to make a ghost out of a coat hanger and a pair of pantyhose.

Crazy Caterpillars - In this tutorial you will learn how to make a caterpillar homemade costume.

Easy Felted Eggs - The Millefiori Polymer Clay eggs are gorgeous and so easy. My daughter and I made them several years ago, but they're so sturdy, we'll be displaying them on our Nature Table for many years to come! Both ideas are GREAT and easy crafts to do with children.

Fairy Princess Costumes - With a touch of magic, and lots of good wishes, you'll be on your way to making a beautiful fairy princess costume for Halloween. You won't scare anyone, but you're certain to charm them!

Fall Leaf Crafts with Preschoolers - What can you do with a leaf? A lot, actually! Here, the leaves are changing colors and they are just beginning to fall to the ground. Now is the time to make leaf crafts with your preschooler or to press the colorful leaves to save them for crafts later in the fall.

Fancy Fairy - Who doesn't believe in fairies? With this costume, a beautiful fairy will magically appear on your doorstep.

Felted Baseball Caps - Denise Shea, from Maynard, Mass., has been a hat wearer and collector for most of her life. She doesn't know why she's so drawn to hats but each morning, she starts her day by standing in front of her hat rack and picking the perfect hat for her mood.

Felted Cat Toys - You can make a cute felted cat toy with this easy method of felting. The felted toy is tough and chewy like pretend prey. It also has the "hairyness" to give a sense of realism for your kitty… Without the charming hairball after.

Felted Easter Eggs - In this tutorial you will learn how to make felted Easter eggs with pantyhose.

Felted Pouches - If you would like to make a felted wool pouch, here is a simple tutorial. We have done this with kids at Outdoor Art Day for two years now, and it is always a popular project.

Felted Stone Paperweights - For artful paperweights, smooth stones are wrapped with colorful string or felted with brightly dyed roving, which is combed, unspun wool with an exceptionally soft feel.

Festive Felted Garlands - The soothing pleasure of handling merino fleece, the rhythmic motion of needle felting, and the magical transformation from fleece to ball combine to make this a really satisfying (and relaxing) project. A great reminder to slow down and have some fun, whether you're decorating for Christmas, a birthday celebration, or any old time of the year.

Fairy Wings Crafts - While these are a great addition to a fairy costume, I bet your child will love to wear them all the time.

Fuzzy Heads and Egg Heads - With this craft idea, kids can make it and then watch it grow! This fun kids craft will keep them interested for days.

Granny Mouse Ornaments - These ornaments can be made in large quantities. Begin by spreading walnuts out onto old newspaper for painting. If the weather's warm, you may want to do this step outdoors to ensure ventilation when using spray paint. Spray all walnuts with red paint. Allow to dry thoroughly. You will need to repeat this step to ensure all sides of walnuts are covered.

Grass Head Guys : Hosiery Crafts Activities Projects - This is an idea that I got from the Family Fun Magazine. I haven't had a chance to make them with my kids but it looks like a fun idea!

Grass Topped Friends - A friend or pet that requires only water and sun light.

Great Growing Grass Guys - Make yourself or someone you care about a growing grass guy!

Grow A Grass Head Monsters - This is a brilliant nature craft for kids, who will love creating their own grass head monster and watching him sprout hair!

Hairy Potato Head - Turn old panty hose into a Hairy Potato Head with this craft. Kids will love to watch his grassy hair grow, until it's time for a trim!

Handmade Butterfly Fairy Wings - They will flutter into another world of their imagination. What will they discover in this world?

How to Create a Pop Filter for a Microphone - Pop filters are used to reduce the amount of puffs we create by talking directly into a microphone with our P's, T's and general breathing. Pop filters can be pricey and you may not even have a microphone which can accommodate the generic pop filter. By following the following steps, you'll have created your very own pop filter for cheap.

How to Felt Soap - This is a great craft to make with children; hence, the article focuses on making felted soap with children. Kids like this project.

How to Make a Bra Out of Pantyhose - The time may come when you need a dark or flesh-toned bra that won't glare through a dark blouse. Or you may have a problem with bra straps staying in place under a certain dress. It's possible to make just the bra you need out of a pair of control-top pantyhose.

How to Make a Cabbage Patch Doll Face - Soft sculpture dolls had been around for years before Xavier Roberts created his signature Cabbage Patch Dolls. He replaced the traditional soft sculptured stocking faces with molded plastic heads, but kept the soft sculpture bodies. Recreate this traditional Appalachian craft using old stockings stuffed with polyester batting.

How to Make Angel and Fairy Wings - There are many crafts which require the use of fairy or angel wings, but to purchase them at a craft store, be prepared to pay top dollar for the delicate creations. There's no need to throw your money away on expensive wings for your crafts.

How to Make a Panty Hose Sculpture - Would you like to dazzle your family and friends with a clever sculpture, but don't want to go on a trip to the art store! Well, you can make an interesting sculpture out of household objects!

How to Make a Scarecrows - Whether you've got a bird problem or just want some festive outdoor decoration, a scarecrow is the perfect project.

How to Make a Sock Baby - Have a baby in the family? Make this adorable, squishy doll as a present. Sock babies are easy for a young child to grip as they are soft and small, and they are safe even for small babies. The material is machine washable and durable, and the custom expression you draw on thegift is sure to bring a smile to a child's face.

How to Make Nylon Flowers - Here is a really neat craft idea using either an old pair of nylons or nylon material you can buy at a local craft store. These flowers are very pretty and versatile in use. They can be used to decorate for a bridal shower or be made into a corsage. They'd be cute sewn onto a denim jacket or a fabric purse. Invite your girlfriends over for an evening of crafts or have a kids' craft day.

How to Make Nylon Stocking Flowers - If you want a hobby that is fun and rewarding, cheap and easy, and fun, then handmade nylon flowers (stocking flowers) is an easy craft to learn. Do it yourself-- you will be so impressed by the result. See how to make nylon stocking flowers!

How to Make Soft Sculptured Doll Heads - With little more than a pair of old pantyhose and some stuffing, you can make quaint, soft-sculptured doll heads. The heads are safe to use for dolls made for babies, as the dolls' facial features are sewn into the face rather than onto it. There are no attached eyes that could be pulled off and swallowed. The flesh color of the dolls can be customized by using different shades of stockings.

How to Make Your Own Magical Doll - Poppets are a simple, effective and fun tool for sympathetic magic.

Huevos Haminados - I went to the grocery store and asked for onion skins...voila, they gave them to me! And so we proceeded....

Jesus Pantyhose Baby - Make a baby jesus with an old pair of pantyhose. Find out how.

Kid Crafts: Coat Hanger Friends - Do you have wire hangers that you just don't what to do with? Here is a cute idea to turn those hangers into a great craft idea to do with the kids. It is fun and easy.

Kids Crafts to Cars: Creative Uses to Recycle Your Pantyhose - Just because your pantyhose has a run in them doesn't mean it is time to toss them into the garbage. There are so many terrific ways to reuse and recycle your hose. Keep a small bag or container of pantyhose around for other uses. You can make crafts or find practical uses for your stockings.

Lanyards - Made from nylon loops and beads, this lanyard is not only fun to make but useful too! Attach your keys or identification card so you always have them close at hand.

Make a Fuzzy Heads : - In this tutorial you will learn how to make a fuzzy head with a pantyhose and other materials.

Make it: Cute crafts for Halloween - This project is perfect for those hose you've pushed to the back of the drawer because of a small run or snag. Or you could buy new, inexpensive pantyhose and knee-highs.

Making a Tulips - In this video tutorial you will learn how to make a tulip from pantyhose.

Making Plant Peoples - A fun and simple project for kids of all ages: Making plant people from old pantyhose, a little bit of soil, and some grass seed.

Nylon Snakes - Here's a way to use up those colourful plastic cups & plates used at birthday parties and school events.

Nylon Witch Dolls - Ruth explains how her daughter and students made this fun witch using an old nylon stocking and a few other supplies.

On Stages - Following these basic instructions you can make lots of different characters. Use curly hair instead of yarn, add a beard or mustache or change the color of nylon for different skin tones. You can even make animals! For a simple stage, use a colorful folder and stand it on end.

Panty-Hose Babies - Babies and toddlers will enjoy hugging, carrying, and rocking these soft, cuddly dolls. Toddlers can begin to talk and sing to their dolls, which encourages language development.

Panty-Hose 'Bounce' Prints - Following the premise that what goes up must come down; this bouncy technique harnesses the stretchiness of panty hose to create a one-of-a-kind printing tool. Filled with a variety of household items, the distance between artist and paper will create a random effect as kids paint from afar. The resulting prints will vary as greatly as the materials used to fill the panty hose.

Pantyhose Puppy - Learn how to make a really cute stuffed animal puppy dog out of an old paire of panythose.

Panty-Hose Mask Puppets - This is a great puppet for young children as they can see through the panty hose like a mask and pretend they are the puppet.

Pantyhose Petals - In this tutorial you will learn how to make a flower out of a pantyhose.

Pantyhose Fish Sculpture - Learn how to use panty hose hosiery and a wire hanger to make a sculpture, such as this fish sculpture

Panty Hose Polo Game - Never underestimate the power of silliness to double up your kids in laughter. And in this game, in which players madly swing oranges suspended in panty hose, laughing yourself silly is no stretch.

Pantyhose Turkeys - Recycle those old pantyhose and wire clothes hangers into this clever turkey.

Pop-Up Puppets - In this tutorial you will learn how to make a pop-up puppet.

Recycled Art Print Fun - Sling, bounce, blow, and crush recycled items for creative results. If you thought none of these verbs were associated with easy arts and crafts, think again! Better yet, have your kids try them out!

Recycled Rain Forest Flowers - Can you believe that these are old nylons stretched over wire coat hangers? Talk about taking something ugly and making it beautiful while keeping the landfill from overflowing.

Recycle pantyhose into squeezable Halloween decor - Before they stuff themselves silly with Halloween candy, let your children stuff some spare pantyhose to create plump pumpkins and other seasonal, soft-sculpture decorations.

Rub a Dub Dub; Six Kids and Some Felted Eggs - In this tutorial you will learn how to felt eggs with the help of a pantyhose.

Scarecrows - Make a scarecrow to celebrate the harvest.

Scrunch Dyeing - When you want to dye large pieces of fabric in a household setting, there is often a problem with keeping the colour and pattern even. Scrunch dying is great for working with large surfaces.

Sleepy Snake from Pantyhose - Your little ones will love ripping and scrunching newspaper to stuff this sleepy snake. The sticky variety of velcro dots work well to hold the snake in a coiled position and also allow kids to un-coil and re-coil the snake to their heart's content. If you don't have access to any you can just use strong double sided tape.

Snake Craft with Tights - Make these adorable snakes with tights and dried beans.

Soap-In-A-Coat Felted Soap - As the felted soap is used, the wool will continue to felt so it will shrink as the soap gets smaller. After every use, store the felted soap on a soap dish that will allow all sides to dry out.

Soap on a Ropes - Make a soap on a Rope for yourself or someone special. Simple!

Soft Sculpture Pumpkins - This is a lovely pumpkin craft comes from Kathy Ross' book, "Crafts for all Seasons" that you can make out of old pantyhose and some fiberfill. You can make it as a nice fall craft or you can modify it for Halloween by adding a face.

Stocking Flowers - Stocking flowers....You can make a variety of flowers using stockings. Veryyyyy simple work. All you need is a little imagination.

Tennis Racket Crafts - Instructions for making a fun tennis racket using pantyhose and a hanger.

Time Out Dolls - This sewing pattern shows you how to make a Time out doll who has his or head down in the naught corner. You can recycle old kids clothes to make a sentimental time out doll for Grandma or Grandpa.

T is for Tails : Crafts with Pantyhouse - During animal week we make tails. I could have thrifted knee high pantyhose, but that gave me the willies.

Veggie Tale Crafts for Kids : Crafts with Pantyhouse - In this tutorial you will learn how to make Bob the Tomato with pantyhose.

Upside Down Fruit Bat Craft - Use a Wire Clothes Hanger and Some Stockings to make this fruit bat craft for Halloween or just for fun.

Wool Felted Pumpkin: Tutorial - It soon will be Autumn(if we like it or not vbg) so I thought I would try and wool felt a small pumpkin to display in the house. I thought maybe some of the folks that visit my blog might be interested in how I go about doing this.