Home > Arts and Crafts Projects for Kids > Streamers Crafts for Kids
STREAMER CRAFTS FOR KIDS: Arts and Crafts Projects with the following ideas, decorations, instructions, patterns, and activities for children, preschoolers, and teens with streamers
No party decoration is complete without some form of steamers, no matter the occasion. Steamers are mainly made from crepe paper but tissue paper is a wonderful alternative. Streamer can be hung anywhere, from the wall to the roof and comes in all different colors and shapes.
You can make flag streamers for any patriotic holiday, ghost streamers for Halloween, heart streamer for Valentine's Day and shamrock streamers for St. Patrick's Day. This list can do on and on!


Making Shamrock Streamers - Learn how to make these shamrock 4 leaf clover streamers to decorate your St. Patty's Day walls.

Colorful streamers - Make your very own cloud and rainbow out of a paper plate, cotton balls and colorful streamers!

Cloud Wind Puppet - Thank you to Nichole for sharing this craft idea with us!

Cat and Ghost Streamers - So cute they're spooky, these cat and ghost fabric streamers make for a Halloween craft your child is sure to love.

Crepe Paper Flag - This patriotic door decoration will show your Independence Day spirit. Display it proudly in a window or your front door for all your friends and family to see.

Colorful Streamers - A simple way to make shining, colorful streamers.

Canada Day Crafts for Kids - Enjoy celebrating Canada Day with your kids with these easy, inexpensive Canada Day crafts for kids. Canada Day is celebrated July 1.

Ghost Windsocks - Make a cool decoration for Halloween!

Ghost Wind Socks - These spectral porch decorations flutter and float upon the breeze.

Handheld Ribbon Streamers - Kids will have fun at parades and other celebrations with these handheld ribbon streamers. With just a few strands of ribbon you can create an accessory that looks cool when kids run or dance with it.

How to Make a Pinata - This hot-air balloon pinata is great for first time makers -- and it makes for a nice big target for little pinateros.

How to Make Streamer Wands - Any little girl or boy would love to play with these wands made with streamers.

Luau Wind Sock - Fun and easy. Just right for camp or parties.

Multi-Colored Streamers - Celebrate the Olympics and cheer on your favorite athletes with a festive home made streamer. Use the Olympic colors as we have, or decorate yours with your favorite team's colors.

New Year's Weather Hat - Celebrate First Night in a party hat that's sure to bring blue skies to the festivities.

Party Streamer Flowers Craft - Use leftover party streamers to make these beautiful flowers.

Patriotic Wind Sock Craft - You can make a patriotic wind sock from an oatmeal box, construction paper, string, and crepe paper streamers.

Rainbow Streamers : Streamer Crafts Ideas for Kids - Make a handheld rainbow that you can use while putting on your own St. Patrick's Day parade or while dancing a jig.

Rainbow Streamers - A fun and interesting decoration to make for your garden!

Rainbow Streamers - Bring the rainbow inside with these fun and colorful streamers. Have a parade, put on some Irish dance music, or just enjoy the bright colors flowing in the breeze.

Simple, Colorful streamers - Movement and dance are natural ways for kids to express their ideas and feelings. Make the most of a windy day, or high energy levels, with these simple, colorful streamers.

Streamer necklaces - For a real jewel of an activity, encourage your children make these necklaces.

St. Patrick's Windsock - Everyone in your group can bring one home to share with the family on St. Patrick's Day.

Streamer Rainbow Backdrop - Make this beautiful rainbow backdrop with leftover party streamers. It is beautiful and perfect for Saint Patrick's Day.

Streamer Bed Curtains - When Molly P., age 8, from Huntington, New York, asked for a canopy bed, her mom, Helen, came up with this clever substitute. Once they had purchased the streamers, the project took about 15 minutes and cost only $8. Says Molly: "I like being behind the curtain because it makes me feel cozy in there."

Streamer Fun - Use paper, beads and popcorn to dress up your room.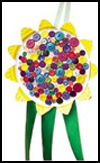 Sunflower Flyers - You won't need a green thumb to make this sunflower-style porch decoration burst with vivid color -- just a plateful of favorite buttons.

USA Windsock - Hang one from from your porch to celebrate any of the USA holidays.

What Makes a Rainbow Streamers - There is a book called, What Makes a Rainbow Streamer, and these Rainbow Streamers go with this book. Cool.

Wind Socks - Catch Spring's cool breezes with a homemade wind sock.