Home > Arts and Crafts Projects for Kids > Animals Crafts> Birds Crafts > Swan & Goose Crafts
SWAN & GOOSE CRAFTS FOR KIDS: Ideas to make swans & geese with easy arts and crafts decorations, instructions, patterns, and activities for children, preschoolers, and teens
Geese and swans are both birds who love the water and both belongs to the Anatidae family. There are a few ways you can differ between both birds. Swans are larger, short legs and has longer necks. Geese are more comfortable working on land than the swans because their legs are longer.
There are a few goose and swan crafts children of different ages can make. You can make beautiful swans and geese from colored feathers and plastic Easter eggs or by using a special technique to fold a swan from towels (hotels often do this). You can even make swans from picoseconds and white pipe cleaners.
You Might Also Like Our Swan Origami Diagrams / Folding Page
Making a Paper Standing Goose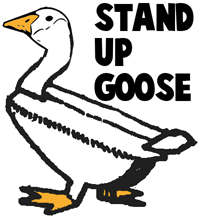 This is a really easy and fun paper craft to do. Just decide whether you want to color the goose yourself or whether you want a pre-colorized Goose. Then choose a black an white or a color printable. Then you just need to cut out the goose from the print-out. Cut out the slits that you see on the Goose's body. Fold the Duck's head and neck in half and then fold the body and put it through the slit and put the head and neck into the slit.

Goose and Swan Paper Crafts - On this page you will find out how to make some goose and swan paper crafts. All you need to do is cut out the printouts and then fold them as advised and they will stand all on their own. These are great crafts to make in the Spring time when you see so many Geese and Swans and Ducks around. Have fun.

How to Draw Swans - This is a great drawing tutorial for children because it teaches you to draw the swan with simple shapes.

How to Draw a Goose - Learn how to draw this goose with the following step by step drawing lesson.
More Goose and Swan Crafts Below
Animal Bookmarks - Patterns to print out animal bookmarks including Polar Bears, Humming Birds, Swans, Tie Dies, Kangaroos, Smiley Faces, and more.

Balloon Swan Making Activity - Balloon sculpting is entertaining for both the sculptor and the audience. While balloon sculpting looks hard, it's easy when you follow these simple instructions. Try this balloon swan activity; all you need to know is a few of the basics before you get started.

Craft a Swan Plant Container Craft to Make - Spark your child's interest in gardening with this fun arts and crafts activity! Using just a plastic gallon milk jug and some paint, create a swan planting container that you can grow your favorite flower in. This is a great way to teach your child how to recycle and re-use items at home and let her use her "green thumb" to boot! It makes a great Earth Day activity, and will beat boredom in a snap.

Fancy Feathered Swan Friends - With a snip of your scissors and a bit of paint, ugly-duckling cartons blossom into graceful swan cups. Use colors that match your dyed eggs for a simple but beautiful display.

Flying Swan Plushie Hangup - This swan would make a great decor etion for your kid's room.

Hand Shadows : Swan Arts & Crafts Project - Create a swan using your hands.

How to Fold Towel Swans - Folding a towel swan for your guest bathroom is sure going to impress! These towel animals are often used by cruise lines and B&B Hotels to make your stay memorable.

How to Make the Perfect Balloon Animal Swans - Watch this video to learn how to make a swan balloon animal the quick and simple way. Before starting, you need to remember that the key to making the swan correctly is how you construct the neck and the beak. 1. Leave a three or four finger length area of the balloon deflated. 2. With one hand, grab the balloon at the nozzle, and with the other hand, grab the balloon at the base of the swan's neck. 3. When twisting the body, try to make the two bubbles equal in size and place the nozzle in the middle of the twist. 4. Force air into the tip of the balloon to create the curve of the neck.

How to Origami Basket Swans - Barbabellaatje copied Ku-Ku's swan basket video. Ku-ku's dad did a much better job at the swans neck, so barbabellaatje presents a "redo" of Ku-Ku's.

Just Ducky or Swany - Here's a project that's everything it's quacked up to be. Cute and fuzzy, this chick might be a duckling or, with another color scheme, a baby penguin or goose or swan.
Kissing Swans Cards Craft for Kids to Make - Fold an old-fashioned valentine that features two graceful birds in love.

Making a Swan In Balloon Modeling - Learn how to make a swan balloon animal.

Simple & Elegant Swan - Are you fascinated by the grace and beauty of swans? Did you enjoy reading the Ugly Duckling when you were a kid? Do you like making crafts that invlove hand prints? If you answered yes to any of these questions, this might be just the perfect craft for you!

Soap Swan - This is a vintage craft from the 60's made from nylon net and a bar of soap. The kids could help with this one.

Swans-a-Swimming Crafts Project for Preschoolers, Toddlers, & Youngsters - Turn a pocketful of fall pinecones into this pretty tabletop tableau -- "ugly" duckling and all.