Home > Arts and Crafts Projects for Kids > Crafts with T-Shirts
T-SHIRT CRAFTS FOR KIDS & MAKING STUFF WITH OLD TEE-SHIRTS IDEAS FOR KIDS : Here are Ideas for Customized & Personalized & Decorated Tees Arts & Crafts for Children, Preschoolers & Teens
T-Shirt crafts are fun for all ages, even adults. You can do so much with t-shirts other than tie dye and decorating with paint or iron-ons. You can recycle them to make beautiful pillows, backpacks or totes, you can create a whole new blouse, hair clips, a skirt or even a pair of shorts and even a scarf. Next time you have to think twice before you throw out an old t-shirt.

Of all the letters from A to Z my favorite shirt is the one called T.
T-Shirts, for so long just for wearing.
Sometimes for exercise, getting soaked from all of my sweating.
Other times emblazoned with funny quips sarcastic or brash.
What oh what should we do with our favorites though
when they're stained or too small and ready for the trash.
Why, don't trash those great memories don't waste all that cotton.
Instead make some great recycled T-Shirt crafts that won't soon be forgotten.

How to Make No-Sew Tote Bag Craft from Recycled Old T-Shirts - These no-sew t-shirt tote bags are so easy to make that you can make tons of them to take with you to the grocery store to use instead of plastic or paper grocery bags. Follow the easy-to-follow, step by step instructions below.

T-Shirts and Autographed Handprints Keepsake - This is a great craft to make for last day of school or camp for keepsake memories.

3-D Fireworks T-Shirt -Make this stunning t-shirt to wear for this year's Fourth of July festivities. Show off your patriotic spirit and creativity--everyone will want to know where you got such a great top.

Around the House Kids' T-Shirts - House paint turns a T-shirt into something cool with the around the house kids' T-shirt decorating project. Your T-shirt will be more personalized if you use the paint colors from your own house!

Basic How-To Tie-Dye Directions - Here are some basic directions for tie-dyeing along with some helpful hints and tips.

Batik Kids' T-Shirts - These batik kids' T-shirts are beautiful, colorful, and simple to make. The great thing about these batik T-shirts is that no matter how many you make, each will be different.

Camping and Outdoor Crafts - Leaf T-shirt - This is a wonderful T-shirt project for camping trips and outdoor youth group activities. Older kids can handle doing much of this on their own, but preteens will need the help of an adult.

Carrot Mosaics - Here's a tidbit about carrots that even Bugs Bunny may be surprised to hear: whittle the tips of these crunchy roots into squares or triangles, and you've got the perfect implements for printing T-shirt mosaics.

Cut-and-Stitch Stars - Using a swatch cut from an old T-shirt and a nifty technique called reverse appliqué, a shape is snipped out to reveal a burst of contrasting color behind it.

Easy Tie Dye for Kids - Watch your child's face light up when you remove that first rubber band from your tie dyed t-shirt. It is truly amazing the designs that one can create with so few tools. Try these super easy tie dyes for kids and see what ours were raving about!

Eyeball T-shirts - These charming T-shirts are perfect for kids.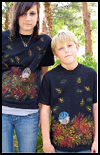 Fall Leaves T-Shirts - This adorable shirt can be made for either a boy or a girl. So colorful and vibrant they are definitely going to love it! Go even further and add their name for a personalized touch.

Flower Power Tank Tops - Kids love to paint, and creating a special shirt to wear is a great way to express their creativity. Make this adorable flower power tank top with your kids, they'll be sure to show it off to their friends!

Football Star Shirts - Is your child a budding football star? Maybe you have big football fans in your family? This shirt is an idealgift and a really fun project for game day. Whether a fan or a player, your kids will love it!

Friendly Face T-Shirts - Let birthday or slumber party guests create their own favors -- wearable mementos featuring the names and faces of their friends

Fruit Prints - this paint-stamping activity, your child can "pear" up her favorite fruits and vegetables to produce a colorful stripe design. Or, she can turn individual prints into comical characters by drawing on stick limbs and facial features.

Glue Batik Eagle T-Shirts - If that old white T-shirt is just too boring, turn it into a great creation just in time for Memorial Day and the Fourth of July with this easy glue batik project.

How to Tie Dye a Shirts -Dyeing is a long-practiced past time of not only hippies, but also bland people like you and me. Question is, how do you do it?

Tie and Dye a T-shirts -Tie-dye is a technique in which certain areas of fabric are bound or tied so as to resist color when the material is immersed in a dye bath. While the craft has been practiced in nearly every part of the world for hundreds of years, it probably began in ancient Asia and spread to Africa.

How to Tie Dye - Complete Instructions - Use fibre reactive dye for tie-dyeing. Do not use all-purpose dye!

How to tie dye an old white shirt - Take an old white shirt suffering from the "dingies" and turn it into a rainbow masterpiece! I'll show you how.

In the Mist Kids' T-Shirts : Customizing T-Shirts Activities for Children - When you make the in the mist kids' T-shirt, you'll remember your last walk through the woods by using the materials you collected on your trek. Fern fronds work well, but any kind of large leaves will work.

Let-It-Snow T-shirts - Making this one-of-a-kind tee involves some waiting time, so it's a perfect craft for sleepovers or winter break.

Looping Leaf T-Shirts - Even a beginner sewer can make this hip top that celebrates fall.

Lovely Tees -This simple finger-painting technique lets your child wear her heart on her sleeve, around her collar, or anywhere else on her shirt she desires.

Make a Colorful Tie-Dyed T-Shirts - The above age and time guidelines are estimates and may vary greatly depending on what dying agent you choose to use. For best results, read through all of these steps before you start making this craft.

Make a Trick or Treat T Shirts - Here's a fun shirt to make that states your intentions right away on Halloween. You and the kids are there to Trick or Treat!

Making a Splash Kids' T-Shirts - If your son or daughter excels at a particular sport, the making a splash kids' T-shirt is a great way to display their team spirit.

Marbled Tie With Spray-bottle Dyes - Try this unique tie-dye technique for a bright, beautiful T-shirt.

My Summer Vacation T-Shirts -Preserve summertime memories on a T-shirt—a great way to "show and tell" everyone at school how your spent your vacation.

Native American Feather Kids' T-Shirts - The Native American feather kids' T-shirt celebrates the Native American spirit with a lovely feather-print design. A silver button and tiny "beads" of fabric paint make a colorful finish.

Nature T-Shirts -This method of capturing natural shapes on a shirt is so popular that kids might request the project for their summer birthday parties and camps.

Night Sky Tees - These glow-in-the-dark T-shirts may be the ultimate evening wear. Although they require some daytime preparation, they make a fashion statement long after the sun goes down.

Painted T-shirts - Design your very own perfect-for-summer T-shirt with this craft. Get creative with stamps and more.

Personalized T-shirt Craft for Teens to Make - This is a great project for teenagers to do with newspaper.

Plastic Pocket T-Shirts - We've seen a lot of custom T-shirt projects, but none that allow kids to customize their shirts on a daily basis. This shirt's clear plastic pocket lets kids display their obsession du jour.

Recycled Tee Shirt Backpacks - Take that outgrown loved tee shirt and give it a second life as a backpack.

Recycled Tee Shirt Pillows - For this project you can use old t-shirts that are in good condition that you may have out grown or accidentally shrunk in the wash. Or perhaps its a t-shirt of a loved one who is away.

Recycle T-Shirt Backpack/Tote - When you see the "helping hand" symbol on a project, it means you may need adult supervision to do the project. Always cover your work surface with a mat or some type of protective covering like wax paper or plastic. Always use care when using tools or a heat source. Be careful and safe!

Shamrock T-Shirts - Show your festive nature this St. Patrick's Day, or just bring yourself some good luck by making and wearing this shamrock shirt.

Simply Spray Neon T-Shirts - Find out how to create this colorful, neon t-shirt design using Simply Spray fabric dye and tie-dye techniques.

Slam Dunk T-Shirts - Show your little hoops fans this cool printing technique, and you're sure to score points.

Solar Flare T-shirts - With this simplified batik technique, kids can turn a plain T-shirt into a summery top that will brighten up even a rainy day.

Spiral Kids' T-Shirts - The spiral kids' T-shirt decorating idea uses a cool spiral technique to create a one-of-a-kind T-shirt sure to become your kid's favorite.

Spray Painted T-shirts - Use a simple stencil to give a shirt a professional screen printed look. This is a great beginners project to customizing your own clothing. Just follow these easy steps.

Spray Painted T-shirts - What? Spray paint on t-shirts? That's right! Kids can get as creative as they like with as many colors as they like, while at the same time magically making words or pictures appear under the paint. Try it today!

Striped Stars T-shirts -Whether you're attending a small family gathering or lining up with the whole town to catch the local parade, these jazzy tees will let you show your patriotism in style.

Thumbprint Garden T-Shirts - These personalized T-shirts -- the girls can put their own signature flower on one another's tees -- will be the hit of any party.

Tie-Dyed T-Shirts - Japanese tie-dye, or shibori, is more than 1,000 years old. Peasants used the technique to brighten up old clothes. Tie-dye was also fashionable among royalty.

Tie-dyed T-shirts - These T-shirts make a great party activity, take-home favor, and brilliant fashion statement all in one!

Tie-Dye Kids' T-Shirts - Kids will love wearing this cool tie-dye kids' T-shirt, with its bright bursts of color. What's more, the process of making a tie-dye T-shirt is fun for kids and adults, too.

Tie Dye Tee Shirts - Try this super easy tie dye for kids is done the "old school" way.

Tye Dye Projects - Remember each project is your individual work of art. You may use any color dye. Mix and match colors. Add as many ties as you wish. Place ties as you wish. After a few tries this becomes very personal and very much your work of art! Have the kids place the ties for their own personal touch.

Trivia Challenge Kids' T-Shirts - You'll keep them guessing when you wear the trivia challenge kids' T-shirt. Personalize this kids' T-shirt design by choosing trivia questions about your favorite subject.

T-shirt Painting Party - T - Shirt art is very much an individual display of imagination. There are no set rules to create a fabulous t-shirt design.

T-shirt Pillows - Turn your child's team shirt into a post season souvenir that she can enjoy all year long.

T-shirt Transformation : How to Make Stuff Out of Old T-Shirts - Whether you want to jazz up an inexpensive shirt or cover up a stain, these four easy-to-make appliqu´ designs have personality plus.