Home > Arts and Crafts Projects for Kids > Animals Crafts > Tiger Crafts Arts and Crafts Projects Ideas for your Kids
TIGER CRAFTS FOR KIDS: Ideas to make tigers with easy arts and crafts decorations, instructions, patterns, and activities for children, preschoolers, and teens
The mighty tiger, so vicious, so dangerous, yet so darn cute when our little ones dress up like them. Running around the house switching back and forth between roaring and growling and then purring like they were a house cat all along. Help them make some great kid's tiger crafts or at least the tiger mask then give them a hug, a scratch behind the ear and let them get that growl on. Maybe they'll leave you a present on the door step, "Yuck!"
How to Make Tiger Masks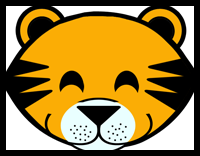 Learn how to make this tiger mask...all you need to do is print out this printable paper tiger mask and the instructions are typed on the page.
Making Brown Paper Bag Tigers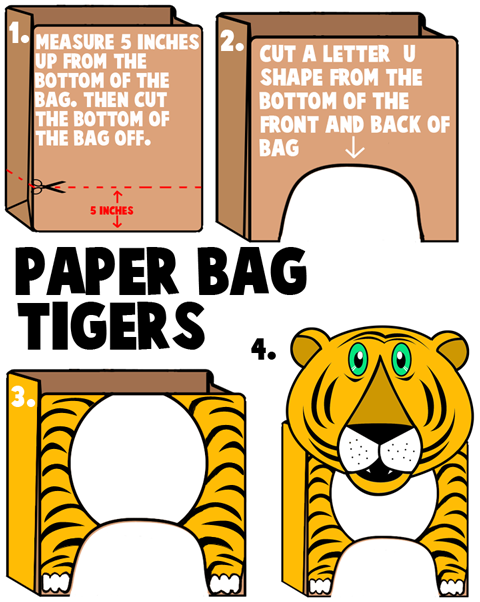 Here is a craft idea for making a large stand up Bengal Tiger....and this one won't bite you. Ask your parents for a brown paper grocery bag (the kind from the store). Use a ruler to measure 5 inches up from the bottom of the bag. Cut the entire 5 inches off the bottom of the grocery bag...as seen in figure #1 above. Then cut a half circle out of the bottom of the bag...both in the front and in the back...as seen in figure #2 above. Use a marker to draw the paws ...which can be drawn with 3 ovals. Use crayons, colored pencils, markers, or paint to colorize the bag orange. Draw black stripes...as seen in figure #3 above. Then either draw a tiger's face or print it out from this tiger template. Then glue it or tape it on the top of the tiger's body, as seen in figure #4 above. Now you have a large standing tiger to decorate your room with.
More Tiger Crafts Below

Chinese Kites Craft for hildren - Celebrate Chinese holidays and the country's ancient culture with animal zodiac kites. Happy new year!

Chinese Paper Cut Craft for Youngsters - Our Year of the Tiger paper cut. We've broken with tradition and used orange for our paper cut and black for a background!

Easy Tiger Craft for Toddlers and Preschoolers - I've had a lot of requests for more paper plate crafts. This Tiger is made with a paper plate. I've provided templates for dinner sized and snack sized plates. If you don't have paper plates, don't fret! Just take a regular plate and trace it onto a piece of cardboard (old cereal boxes work great!) or use a margarine/ice cream container lid.

Folding Paper Zoo Animals Arts and Crafts Activity - Print out, color, cut out and fold these printable zoo animals into incredible three-dimensional figures.

Fun Foam Tiger Pouch Craft for Kids - Isn't the tiger cute? Fun foam is such a great material for kids to work with. Kids can cut and glue the pieces but may require the parents to sew the front and back together. They can wear the pouch around their necks to carry their treasure for them.

How to Make an Origami Tiger Instructions - Tiger origami model.

In the Eye of the Tiger - Tiger poems and stories seem almost real when you make this mask. Decorate it with authentic tiger markings.

Paper Bag Tiger Craft - Your kids will learn how to make a paper bag tiger by following easy instructions.

Paper Lantern Craft - Tiger theme paper lantern craft, a printable activity suitable to celebrate Chinese New Year or a tiger theme. The Lantern Festival is the last day of Chinese New Year festival.

Tiger Toilet Paper Roll Craft for Kids - This is a cute three dimensional tiger craft that is fun for young children to make and to play with.

Tiger Mask Arts and Crafts Activities - Tigers come from India - and your child can pretend to be a tiger when they are wearing this ferocious mask!

Tiger Craft - My son has been talking a lot about tigers lately, so it was no shock to me when I asked him what he wanted to make for art and he replied "Tiger?". He loved making this and even though we didn't cut eyes out, he has been playing with it like a mask , pretending to be a ferocious tiger!

Tiger Face Magnet - Perfect for the fridge to welcome in the Year of the Tiger, this tiger face magnet would also make a.pngt for someone born in the Year of the Tiger, either as a magnet (as described here) or perhaps as a brooch.

Tiger Handprint Painting - Kids will enjoy getting their hands dirty for this tiger handprint painting idea - perfect for Chinese New Year, an Indian theme, or any other time tigers are required! Great for all ages.

Tiger in the Night - Relish William Blake's immortal poem The Tiger! Choose a favorite tiger species to illustrate in realistic detail.

Tiger Keyring - Older children will enjoy making this tiger keyring for Chinese New Year, during an Indian theme, or any time! Perhaps you could give it as a .pngt to a tiger lover or someone born in the Year of the Tiger?

Tiger Lanterns - Jazz up the ubiquitous lantern craft with homemade tiger paper. So Easy to do!

Tiger Mask - Great for the Year of the Tiger (2010) or an Indian theme - your child can pretend to be a tiger when they are wearing this ferocious mask!

Tiger Mask Craft - This Tiger Mask craft is a little tricky, so best for older kids.

Tiger Mask to Colour and Cut Out - Grrrr.... Who's that scary tiger? Why, it's you! Why not make your very own tiger mask and see what a scary animal you can be?

Tiger Neckerchief Slide Activity - This Activity is meant for Tiger scouts. Decide for yourself if it is appropriate for your younger scouts or not.
Tiger Origami - Portray a jungle story with animal origami. Follow the instructions on how to create a paper tiger. Print the folding and instructions for you to follow.

Tiger Paper Craft - This tiger is a simple cut and paste paper craft that is fun for young children to make. It makes a great project for preschool and kindergarten kids and works well for an animals, jungle or letter T theme.

Tiger Puppet - This tiger puppet is easy and promotes imaginative play, my little man sat this one out, he had an eye appointment a few hours earlier and had " clouds in the way" his eyes were dilated for it and he was not interested in anything close up. He did play with it while I made dinner though!

Tiger TP Roll Craft - I read in a book that there are five species of tigers and that all are endangered. I'd hate for my grandchildren to view tigers the same way we do dinosaurs, wouldn't you?

Tiger Toilet Paper Roll Craft - This is a cute three dimensional tiger craft that is fun for young children to make and to play with.

Tiger Wooden Spoon Craft - Make our tiger wooden spoon craft for Year of the Tiger 2010, when you need a tiger puppet, perhaps for an Indian theme - or just for fun!

Toilet Roll Tiger - Break our the contents of your junk drawer to make this toilet roll tiger for Chinese New Year 2010 (The Year of the Tiger) or any time a tiger craft is called for!!

Year of the Tiger Crochet Pattern - Celebrate the Year of the Tiger with this free crochet pattern for all skill levels. He's just too cute not to keep out or give as a .pngt to those animal lovers.