Home > Arts and Crafts Projects for Kids > Animals Crafts > Tiger Crafts Arts and Crafts Projects Ideas for your Kids
TIGER CRAFTS FOR KIDS: Ideas to make tigers with easy arts and crafts decorations, instructions, patterns, and activities for children, preschoolers, and teens
The mighty tiger, so vicious, so dangerous, yet so darn cute when our little ones dress up like them. Running around the house switching back and forth between roaring and growling and then purring like they were a house cat all along. Help them make some great kid's tiger crafts or at least the tiger mask then give them a hug, a scratch behind the ear and let them get that growl on. Maybe they'll leave you a present on the door step, "Yuck!"
How to Make Tiger Masks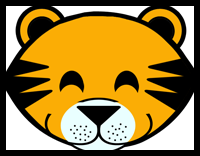 Learn how to make this tiger mask...all you need to do is print out this printable paper tiger mask and the instructions are typed on the page.
Making Brown Paper Bag Tigers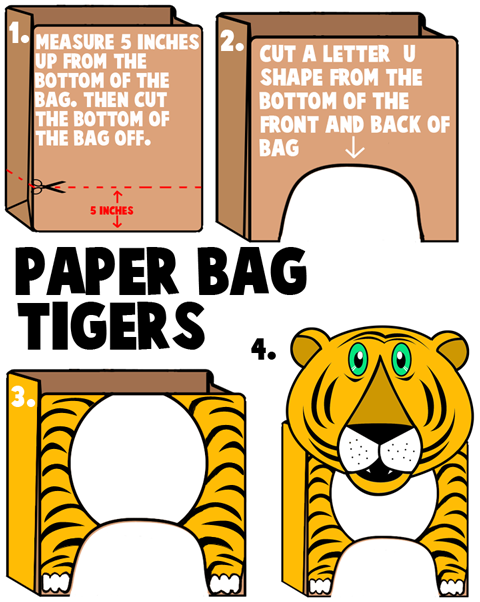 Here is a craft idea for making a large stand up Bengal Tiger....and this one won't bite you. Ask your parents for a brown paper grocery bag (the kind from the store). Use a ruler to measure 5 inches up from the bottom of the bag. Cut the entire 5 inches off the bottom of the grocery bag...as seen in figure #1 above. Then cut a half circle out of the bottom of the bag...both in the front and in the back...as seen in figure #2 above. Use a marker to draw the paws ...which can be drawn with 3 ovals. Use crayons, colored pencils, markers, or paint to colorize the bag orange. Draw black stripes...as seen in figure #3 above. Then either draw a tiger's face or print it out from this tiger template. Then glue it or tape it on the top of the tiger's body, as seen in figure #4 above. Now you have a large standing tiger to decorate your room with.
More Tiger Crafts Below

A Tiger Hand Puppet Making Craft for Kids - - My first project in celebrating the year of the tiger is: how to make a Tiger hand puppet.

Chinese Kites Craft for hildren - - Celebrate Chinese holidays and the country's ancient culture with animal zodiac kites. Happy new year!

Chinese Paper Cut Craft for Youngsters - - Our Year of the Tiger paper cut. We've broken with tradition and used orange for our paper cut and black for a background!

Chinese Tiger Hand Drum to Make for Preschoolers and Toddlers - - Hand drum has been a popular toy for Chinese kids since long long time ago. The drum kind of resemble a rattle. When you twist it in hand, the beads would bounce on the drum and make noise. It is quite fun and if you do it correctly, you may even get a good rhythm going! I thought it will make a very nice Chinese New Year craft to do with the kids and I was right, the kids really had a great time making this craft with me.

Easy Tiger Craft for Toddlers and Preschoolers - - I've had a lot of requests for more paper plate crafts. This Tiger is made with a paper plate. I've provided templates for dinner sized and snack sized plates. If you don't have paper plates, don't fret! Just take a regular plate and trace it onto a piece of cardboard (old cereal boxes work great!) or use a margarine/ice cream container lid.

Folding Paper Zoo Animals Arts and Crafts Activity - - Print out, color, cut out and fold these printable zoo animals into incredible three-dimensional figures.

Friendly Tiger Mask Project for Children - - A friendly and fun mask for your kids to make.

Fun Foam Tiger Pouch Craft for Kids - - Isn't the tiger cute? Fun foam is such a great material for kids to work with. Kids can cut and glue the pieces but may require the parents to sew the front and back together. They can wear the pouch around their necks to carry their treasure for them.

How to Make a Balloon Tiger - Twist up balloons into a cute balloon tiger animal.

How to Make an Origami Tiger Instructions - Tiger origami model.

How to Make a Tiger Craft Stick Puppet - - This fuzzy stick puppet is a tiger but you can make what ever animal you would like. Just think of the design and find the materials to turn your craft stick puppet into your favorite animal or object.

In the Eye of the Tiger - - Tiger poems and stories seem almost real when you make this mask. Decorate it with authentic tiger markings.

Jungle Friends Crafts Project - Who's hiding behind the rainforest leaves? Friendly jungle animal faces such as zebras, giraffes, monkeys, elephants, and tigers, oh my!

Mini First Aid Kit - - Recycle a film canister and transform it into a handy Mini First Aid Kit for kids to wear on their belt. Great for Tiger Cubs.

Paper Bag Tiger Craft - - Your kids will learn how to make a paper bag tiger by following easy instructions.

Paper Bag Tiger Craft for Kids - - This paper bag tiger craft for kids is a "sleek" little guy with his black stripes and orange fur. This one is a bit more challenging than your typical paper bag puppet crafts.

Paper Lantern Craft - - Tiger theme paper lantern craft, a printable activity suitable to celebrate Chinese New Year or a tiger theme. The Lantern Festival is the last day of Chinese New Year festival.

Shoe Box Zoo Box Bring a day at the zoo back home and give kids 'paws' for thought with their own 3D wildlife display. Open the cage on lions and tigers and bears... and watch kids go wild with new knowledge and untamed creativity.

Snap ups (Tiger) - - This is a fun paper craft of a cute tiger, that springs up into the air. Push the tiger's body from the side to make him flat, hold him down with your finger, then quickly let go and watch how the rubber band makes him jump! Adjust the way you control him to make him spin, or pop upright like he's woken up from a jungle slumber. When you finish construction, put it inside a book or card to give someone a surprise when they open it up! *The rubber band can make the toy fly in an unexpected direction. Parents, please make sure that children play with it safely to avoid injuries.

Tiger Toilet Paper Roll Craft for Kids - This is a cute three dimensional tiger craft that is fun for young children to make and to play with.

Tiger Pencil Holder Craft for Children - If you love tigers and have a lot of pencils that are always out of place, this tiger pencil holder will help put them in their place. This is a fun and useful craft for kids since it comes in handy both at school and at home.

Tiger Cub Christmas Ornament Craft - Go on a Christmas safari with this tiger cub Christmas ornament. This makes for a cute craft for kids to make and adds a dash of jungle adventure to your holiday decorations.

Tiger and Zebra Costumes : How to Make Zebra Costumes - Go wild with duct tape to create these simple, comfy critter costumes.

Tiger Mask Arts and Crafts Activities - Tigers come from India - and your child can pretend to be a tiger when they are wearing this ferocious mask!

Toothy Tiger Arts and Crafts Project - Which verbs and adjectives best describe a tiger and its movements? Kids sculpt their descriptive vocabulary words into the form of a familiar feline figure.

Tiger - - This cartoonish depiction of a tiger is super cute and can be made easily with just one piece of paper.

Tiger - - Tigers are the largest members of the feline family. They inhabit a wide area of land, stretching from Siberia to north-eastern China, India, and Indochina and make their habitat mainly in rainforests, mangroves, and boreal forests (taigas). Tigers are not fast runners. However, they are able to jump amazingly well, a skill they make use of when sneaking up and pouncing on their prey.

Tiger Craft - - My son has been talking a lot about tigers lately, so it was no shock to me when I asked him what he wanted to make for art and he replied "Tiger?". He loved making this and even though we didn't cut eyes out, he has been playing with it like a mask , pretending to be a ferocious tiger!

Tiger Cub Magnetic Frame - - Surround a favorite picture with something special when you craft this tiger cub magnetic frame. You can add an exotic jungle flair to your other magnetized fridge decorations.

Tiger Face Magnet - - Perfect for the fridge to welcome in the Year of the Tiger, this tiger face magnet would also make a.pngt for someone born in the Year of the Tiger, either as a magnet (as described here) or perhaps as a brooch.

Tiger Finger Puppet Craft - - This cute little Tiger Puppet will provide hours of fun for kids even after the craft time is over.

Tiger Handprint Painting - - Kids will enjoy getting their hands dirty for this tiger handprint painting idea - perfect for Chinese New Year, an Indian theme, or any other time tigers are required! Great for all ages.

Tiger in the Night - - Relish William Blake's immortal poem The Tiger! Choose a favorite tiger species to illustrate in realistic detail.

Tiger Keyring - - Older children will enjoy making this tiger keyring for Chinese New Year, during an Indian theme, or any time! Perhaps you could give it as a .pngt to a tiger lover or someone born in the Year of the Tiger?

Tiger Lanterns - - Jazz up the ubiquitous lantern craft with homemade tiger paper. So Easy to do!

Tiger Mask - - Great for the Year of the Tiger (2010) or an Indian theme - your child can pretend to be a tiger when they are wearing this ferocious mask!

Tiger Mask Craft - - This Tiger Mask craft is a little tricky, so best for older kids.

Tiger Mask to Colour and Cut Out - - Grrrr.... Who's that scary tiger? Why, it's you! Why not make your very own tiger mask and see what a scary animal you can be?

Tiger Neckerchief Slide Activity - - This Activity is meant for Tiger scouts. Decide for yourself if it is appropriate for your younger scouts or not.
Tiger Origami - - Portray a jungle story with animal origami. Follow the instructions on how to create a paper tiger. Print the folding and instructions for you to follow.

Tiger Paper Bag Puppet - - Whether it's celebrating the Year of the Tiger for Chinese New Year, or you just like tigers, this paper bag puppet is a fun craft for a dreary afternoon.

Tiger Paper Craft - - This tiger is a simple cut and paste paper craft that is fun for young children to make. It makes a great project for preschool and kindergarten kids and works well for an animals, jungle or letter T theme.

Tiger Party Hat Craft - - February 14th, 2010 is the beginning of the Chinese New Year and this year it is the Tiger. Set up your own Chinese New Year party and the kids will go wild over this hat.

Tiger Puppet - - This tiger puppet is easy and promotes imaginative play, my little man sat this one out, he had an eye appointment a few hours earlier and had " clouds in the way" his eyes were dilated for it and he was not interested in anything close up. He did play with it while I made dinner though!

Tiger Seltzer Rocket - - Kids can safely blast off with this animal seltzer rocket craft. We made a tiger, but you can adapt it to any animal by using different colors of craft foam and a little creativity. These make a great alternative to fireworks for Canada Day, Independence Day or Kwanzaa. You can decorate them as your favorite animal too.

Tiger Step Stool - - With its wickedly simple sponge-painted design, this wildcat step stool is simply the cat's meow.

Tiger Through a Ring of Fire - - A circus is a special place where dreams become real–everyone can enjoy a circus, young or old. Step right up for a world of surprises! Clowns wearing big red noses, with a menagerie of animals–tigers, lions, giraffes, horses, elephants, and more–all covered in sparkling, colorful clothing, bring waves of laughter to crowds of circus-goers. This cute, fun papercraft model features a tiger that jumps through a ring of fire and clowns who raise flags when you pull on the lever at right.

Tiger TP Roll Craft - - I read in a book that there are five species of tigers and that all are endangered. I'd hate for my grandchildren to view tigers the same way we do dinosaurs, wouldn't you?

Tiger Toilet Paper Roll Craft - - This is a cute three dimensional tiger craft that is fun for young children to make and to play with.

Tiger Wooden Spoon Craft - - Make our tiger wooden spoon craft for Year of the Tiger 2010, when you need a tiger puppet, perhaps for an Indian theme - or just for fun!

Timmy the Tiger Cub Pom Pom - - Make your own Tiger cub with pom pom.

Toilet Roll Tiger - - Break our the contents of your junk drawer to make this toilet roll tiger for Chinese New Year 2010 (The Year of the Tiger) or any time a tiger craft is called for!!

Wild and Wacky Invitations Craft - - Giving a wild and wacky party....here's the perfect invitation as seen on Hands on Crafts For Kids and is reprinted with their permission.

Wild Animal Tissue Paper Decorations - - Suction cup these animals to your windows for some wild company. They'll look really great on your classroom windows.

Year of the Tiger Crochet Pattern - - Celebrate the Year of the Tiger with this free crochet pattern for all skill levels. He's just too cute not to keep out or give as a .pngt to those animal lovers.