Home > Arts and Crafts Projects for Kids > What to do with Trays Ideas & Crafts for Kids
CRAFTS WITH TRAYS IDEAS & PROJECTS FOR KIDS: Find out how to make cool stuff with wooden, plastic, or metal, styrofoam trays with the following arts and crafts decorations, instructions, patterns, and activities for children
If you have problems getting your children to eat, you can have them make their own food tray or place mat. This is the main reason why some restaurant gives children a coloring place mat to keep them occupied. Children can also decorate an existing tray.
Tray or place mat crafts can differ depending on the holiday or time of year. For Thanksgiving dinner I recommend a Thanksgiving/Fall theme coloring place mat to keep children quiet and occupied during Thanksgiving dinner. Other tray crafts include activity trays for traveling to keep kids entertained, especially for a long journey.
Make Styrofoam Tray Photo Frames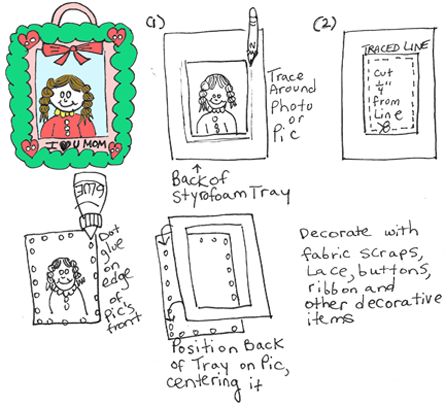 This is a greay way to recycle your styrofoam trays. Instead of throwing them away, instead frame some of your favorite photographs. Turn your tray around so the back of it is facing you. Pick out your favorite photo and trace it on the back of the tray. Then cut just inside this traced line so that the tray opening is a bit smaller than the picture you traced. Now put some glue all over the edge of the front of the photo and then place the back of the frame over the center of the photo...just where you want it to be. Then decorate your frame with all sort of things such as fabric, felt, lace, and buttons. Then put a piece of ribbon or yarn on the back of the tray with tape...so that you can hang your framed picture.
3D Paper Sculpture Art on a Styrofoam Tray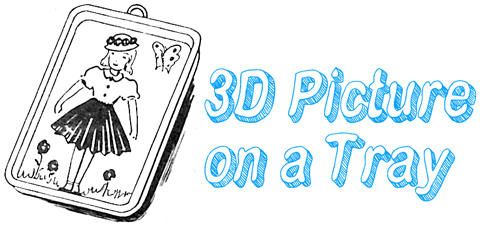 Here is a beautiful three-dimensional wall decoration you can make out of a styrofoam tray and a few other simple materials. Paint the back of a styrofoam tray, the kind used in super-markets for packaging various kinds of foodstuffs, a neutral background color. Allow it to dry thoroughly. With a pencil, lightly sketch in a figure of a girl and a border decoration of growing flowers. Cut a piece of colored crepe paper the length of the skirt on the girl figure and twice its width. Pleat the crepe paper to make a pleated skirt and glue it to the top edge of the skirt on the figure. Add a tiny dab of glue between each of the folds at the top of the skirt. Color the rest of the figure with paints or wax crayons. Make tiny crepe paper flowers in different colors and glue them to the growing flowers in the border decoration and on the girl's hat. Attach a small metal ring to the back of the wall panel with Scotch tape by which to hang the panel.
Even More Crafts with Styrofoam Trays

Gesso Papier Mache Trays - Start off with paper plates and gesso and finish with a beautifully enameled tray to serve goodies on. Perfect for mother's day or a gift for someone else you love.

Acid Rain Viewfinder - What does rain do? It waters the Earth, but also drops acid. When there is so much pollution (sulphur dioxide and nitrogen oxide) in the atmosphere that the environment can't neutralize it, the acid leaches into rain, snow, and even fog. Research the major causes of acid rain and how they can be reduced. Find out what acid rain does to forests, bodies of water, and limestone and marble buildings (such as the U.S. capitol's columns and other world landmarks).

Bright New Year Mobile - Kids are eager to help decorate your home for a New Year's Eve get-together! This whimsical mobile adds glitz to any decor.

Decoupage Serving Tray - A serving tray is a great accessory for a coffee table, dresser or console table. Oftentimes, though, store-bought serving trays are expensive or it can be difficult to find one that fits in your room's décor. Making your own decoupage serving tray is actually relatively easy and is a great way to add an artistic element to your room.

Flowers Pillbox Hat - Put some fun into your headgear by making a flower hat made from discarded trays and other materials.

Foam Core Sculpture - Turn ordinary flat cardboard into three-dimensional foam core sculptures. Use your child's artwork as holiday table decorations or birthday party decorations.

Foam Tray Casting - Using a foam tray casting, children can create artwork to plaster all around the house. Simply look around for small, flat objects, and reproduce their shape to make paperweights and pretty plaques.

Knex Paper Tray That Holds Your Paper - Despite the fact that it looks a bit delicate because of its paper construction, this craft project is actually sturdy and quite easy to make.

Loose Change Tray - Is Dad forever losing his keys? Why not make him a tray to put on the hall table so that he can empty his pockets when he arrives home? Dad will always be able to find his keys and his loose change, and Mum will have fewer grey hairs!

Mosaic Tray - Create a Mosaic Tray with broken plates and a focal tile.

Mosaic Serving Tray - Add a Mediterranean touch to any simple plate and convert it into a treasured serving tray worth showing off! The mosaic technique is easy and with it, you can create many different items to decorate your home.

Paper Mache Tray - Enjoy the benefits of recycling by creating beautiful paper Mache trays. Make trays to enhance party decorations by simply choosing paper napkins and paint colors to match the theme or decor. Get your kids involved by introducing them to this recycling craft. The process is easy; it's waiting for paper mache to dry that is the hard part. With a little patience, your results will be terrific.

Save the Sphinx - Explore the ancient Egyptian treasure, the Great Sphinx. The 4,500-year-old monument has a king's head and a lion's body. Find out what it was made of and how it was constructed.

Sculpey Mosaic Tray Craft - This mosaic tray looks like a designer creation that cost a small fortune in an upscale boutique. However, it's simple and economical to make, using sculpey clay and our recipe for faux grout. This mosaic tray looks like a designer creation that cost a small fortune in an upscale boutique. However, it's simple and economical to make, using sculpey clay and our recipe for faux grout.

Styrofoam Tray Plate - These recycled trays can be used for storing jewelry, keys and other knick knacks around your home. They are made using recycled Styrofoam trays and is a great kids craft project.

Toothpick Baskets - While playing around with bamboo toothpicks, Styrofoam trays, assorted lids and beads, it suddenly struck me that I could make a small basket. To my surprise it was very easy to make really cute, lightweight containers in various shapes.

Vintage Resin Tray - This resin coffee tray is a great introduction to resin craft projects and shows you how to use resin for craft. Resin crafts are very popular right now and this craft project will have you hooked on resin crafts in no time.