Home > Arts and Crafts Projects for Kids > What to do with Trays Ideas & Crafts for Kids
CRAFTS WITH TRAYS IDEAS & PROJECTS FOR KIDS: Find out how to make cool stuff with wooden, plastic, or metal, styrofoam trays with the following arts and crafts decorations, instructions, patterns, and activities for children
If you have problems getting your children to eat, you can have them make their own food tray or place mat. This is the main reason why some restaurant gives children a coloring place mat to keep them occupied. Children can also decorate an existing tray.
Tray or place mat crafts can differ depending on the holiday or time of year. For Thanksgiving dinner I recommend a Thanksgiving/Fall theme coloring place mat to keep children quiet and occupied during Thanksgiving dinner. Other tray crafts include activity trays for traveling to keep kids entertained, especially for a long journey.
Make Styrofoam Tray Photo Frames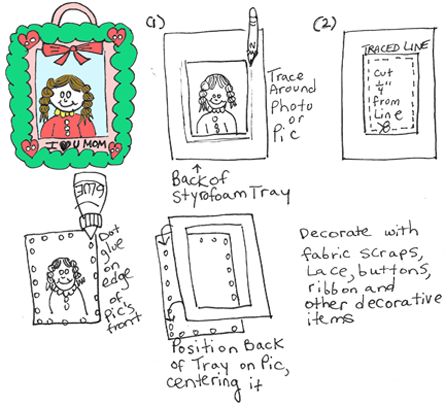 This is a greay way to recycle your styrofoam trays. Instead of throwing them away, instead frame some of your favorite photographs. Turn your tray around so the back of it is facing you. Pick out your favorite photo and trace it on the back of the tray. Then cut just inside this traced line so that the tray opening is a bit smaller than the picture you traced. Now put some glue all over the edge of the front of the photo and then place the back of the frame over the center of the photo...just where you want it to be. Then decorate your frame with all sort of things such as fabric, felt, lace, and buttons. Then put a piece of ribbon or yarn on the back of the tray with tape...so that you can hang your framed picture.
3D Paper Sculpture Art on a Styrofoam Tray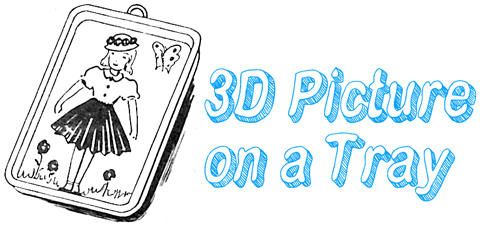 Here is a beautiful three-dimensional wall decoration you can make out of a styrofoam tray and a few other simple materials. Paint the back of a styrofoam tray, the kind used in super-markets for packaging various kinds of foodstuffs, a neutral background color. Allow it to dry thoroughly. With a pencil, lightly sketch in a figure of a girl and a border decoration of growing flowers. Cut a piece of colored crepe paper the length of the skirt on the girl figure and twice its width. Pleat the crepe paper to make a pleated skirt and glue it to the top edge of the skirt on the figure. Add a tiny dab of glue between each of the folds at the top of the skirt. Color the rest of the figure with paints or wax crayons. Make tiny crepe paper flowers in different colors and glue them to the growing flowers in the border decoration and on the girl's hat. Attach a small metal ring to the back of the wall panel with Scotch tape by which to hang the panel.
Even More Crafts with Styrofoam Trays

Gesso Papier Mache Trays - Start off with paper plates and gesso and finish with a beautifully enameled tray to serve goodies on. Perfect for mother's day or a gift for someone else you love.

Acid Rain Viewfinder : - - What does rain do? It waters the Earth, but also drops acid. When there is so much pollution (sulphur dioxide and nitrogen oxide) in the atmosphere that the environment can't neutralize it, the acid leaches into rain, snow, and even fog. Research the major causes of acid rain and how they can be reduced. Find out what acid rain does to forests, bodies of water, and limestone and marble buildings (such as the U.S. capitol's columns and other world landmarks).

A FotoFish Fun Frame : - - Turn a tray into a large photo frame. Find out how with our easy to follow guide.

Activity Travel Tray Craft - - Find out how to recycle an old cookie sheet into a fun activity tray. This makes a great Gift for kids of all ages and makes for a nice travel activity.

Astronaut Costume : - - Meticulously constructed from household items including a plastic bucket (helmet), a dish towel (helmet padding), and rubber boots (space boots), this little space traveler is out of this world.

Backseat Travel Tray : - - Serve up some backseat fun on your next road trip - a tray full of magnetic games and drawing supplies

Baker's Tray : - - Pretend to be a creative baker - sculpt some cookies, muffins, doughnuts and ginger bread people with colored dough or clay.

Balloon Platoon : - - No matter how rough the waters get, the fearless crew aboard this inflatable toy raft will stay high and dry.

Beyond Mud Pies: Mud Bricks - - The classic mud pie needs no improving, but there may be days when your kids want to get more creative with their dirty work. That's when old kitchen supplies come in handy, for these building blocks or for a more decorative variation:

Breakfast Tray : - - What could be better than breakfast in bed? How about a leisurely breakfast in bed served on a beautiful hand-crafted tray that you built yourself? This sturdy tray is a work of art, and can be used for many years and many wonderful breakfasts to come.

Bright New Year Mobile : - - Kids are eager to help decorate your home for a New Year's Eve get-together! This whimsical mobile adds glitz to any decor.

Carryall Castle : - - The towers of this desktop fortress are just right for stashing a host of school supplies.

Celestial Soar : - - This shining project is perfect for star-struck admirers of the night sky. As children write inspirational verses, watch their creative spirits soar.

Cheep & Chirp Bird Book - - Birds are so fascinating! Have you noticed their different songs, colors, markings, feet, beaks, tail feathers, and wing shapes? It's fun to remember how many different birds you hear and see during a day in the park or at the beach. Here's one way to print your own bird-watcher book.

Climbing Koala : - - Fuzzy koalas look adorable, so their true characters may surprise you. With your kids, find out more about this appealing and unique animal from Australia.

Crafter's Carousel : - - This versatile rack and carrying tray can be adapted to hold drawing tools (as we show here) or other collections of craft materials (see "Customized Craft Kits" below). Set the tray on a lazy Susan and it lets all the kids at the table have access to the pens, pencils, markers, rulers and glue sticks. Each removable tub is color-coded, encouraging its eventual return.

Custom Keepsake: Hands-on Server - - Any hour is a happy one when your tot proudly offers you a Goldfish cracker or a sippy cup from his very own pint-size serving tray. (Decorated with his colorful tissue-paper handprints, it doubles as a clever keepsake.) Just be sure to choose complementary colors of background paint and tissue paper, since the tissue will become beautifully semitransparent when you glue it.

Decoupage Serving Tray : - - A serving tray is a great accessory for a coffee table, dresser or console table. Oftentimes, though, store-bought serving trays are expensive or it can be difficult to find one that fits in your room's décor. Making your own decoupage serving tray is actually relatively easy and is a great way to add an artistic element to your room.

Dollhouse Furniture Using Recycled Meat Tray: - - Aspiring interior decorators can transform household recyclables into their own line of original home furnishings...one of the recyclables is a recycled meat tray.

Fireplace Christmas Card : Crafts with Trays for Children - - Faithwalker explains how to make a unique Christmas card that looks like a tiny fireplace!

Fish Aquarium Craft : - - With this project, you can make a pretend fish aquarium using a Styrofoam meat tray.

Fish Weather Vane : - - Seeing which way the wind blows is a breeze with this homemade weather station.

Flowers Pillbox Hat : - - Put some fun into your headgear by making a flower hat made from discarded trays and other materials.

Foam Core Sculpture : - - Turn ordinary flat cardboard into three-dimensional foam core sculptures. Use your child's artwork as holiday table decorations or birthday party decorations.

Foam Flyers : - - Don't toss those Styrofoam food trays! Recycle them into a fleet of UFOs: unbelievably fun flying objects.

Foam Stamp : - - You have seen the array of rubber stamps in the hobby store, but did you know you can make your own for just pennies? You probably will not even have to visit a store to get materials, either. Most people will have everything they need already. Once you have this technique down, you will be limited only by your imagination on the types of foam stamps you can make. Use the method below to create fun and simple foam stamps for almost anything--from bedroom walls to curtains or clothing.

Foam Tray Casting : - - Using a foam tray casting, children can create artwork to plaster all around the house. Simply look around for small, flat objects, and reproduce their shape to make paperweights and pretty plaques.

Found-Object Collage : - - Almost like a first scrapbook page, this collage project is a great way to create a simple but appealing keepsake from a collection of everyday things -- whether they're found during a walk in the woods or on a hunt around the house. It's also a nice introduction to gluing, since a toddler's typical more-is-more approach works just fine here.

Gingerbread Boys and Girls : - - We used heavy cardboard shapes that were donated by a local industry to create our gingerbread people. It is unlikely that you will find the same materials, but you can create something similar by tracing a gingerbread cookie cutter onto cardboard or a polystyrene tray and cutting out the shape.

Glittery Greetings : - -Mark any festive time - birthdays, graduations, anniversaries, or any day - with glittery hand-printed cards. Personalized greetings are great!

Hand Painted Decorative Tray - - One can change a relatively simple tray into something quite beautiful through the application of painting and stenciling techniques.

Have A Green Christmas - - Before trim shops and super discount stores came into being, people decorated their Christmas trees with whatever they had on hand. Many times they used buttons, scrap fabric, or other household materials.

I Can Do It! Chart Craft : - - Celebrate a new beginning by setting goals. Chart self-improvement progress with these hand-made stamps.

If Dogs Could Fly : - - Imagine animals with amazing abilities! These wacky block print creatures will tickle your fantasy.

Jellybean Easter Tray Craft Project - - This Jellybean Easter craft tray project is a great way to serve drinks or even some Easter egg shaped cookies this Easter. You can make it any shape or size to fit your own needs. The kids can also make this easy Jellybean Easter craft and give it as a Gift to family members.

Jet Boat : - - Kids will love being the captain of this balloon-powered jet boat -- perfect for racing in pools, ponds and bathtubs.

Keys & Coin Keeper - - Some Dads - or brothers or grandfathers - jingle lots keys and coins in their pockets. Give them a hand for their pocket change and car keys with this one-of-a-kind tray!

Knex Paper Tray That Holds Your Paper - - Despite the fact that it looks a bit delicate because of its paper construction, this craft project is actually sturdy and quite easy to make.

Lacing Table Toy : - - All you need for this project are the right materials (as you will find in our guide) and your creative genius.

Loose Change Tray : - - Is Dad forever losing his keys? Why not make him a tray to put on the hall table so that he can empty his pockets when he arrives home? Dad will always be able to find his keys and his loose change, and Mum will have fewer grey hairs!

Magnetic Tote : Activities & Projects with Trays - - A jumbo-size muffin pan can serve as a handy tray for keeping markers, craft scissors, glue sticks, and the like at your child's fingertips.

Mayflower Ship : - - This craft is surprisingly easy that even 6 year olds can make it. Just don't forget to supervise them though.

Meat Tray Collage Craft - - A simple collaging craft idea using a Styrofoam tray and a little imagination.

Mosaic Tray : - - Create a Mosaic Tray with broken plates and a focal tile.

Mosaic Serving Tray : - Add a Mediterranean touch to any simple plate and convert it into a treasured serving tray worth showing off! The mosaic technique is easy and with it, you can create many different items to decorate your home.

Mother's Day Mat Craft - - Children leave their own distinct mark on Mother's Day, or any holiday, with a thumb-print flowerpot placemat. Thumbs up to this creative, hand-made Gift !

Mother's Day Tray : - - If you'd like to make mom a special Gift , you can recycle a small picture frame to make an attractive tray. It will be just the right size to keep small items organized on her vanity.

Mother Nature's Centerpiece - - Invite your little merrymaker to create a centerpiece for the holiday table and watch her twinkle with pride throughout the meal.

Paper Mache Tray : - - Enjoy the benefits of recycling by creating beautiful paper Mache trays. Make trays to enhance party decorations by simply choosing paper napkins and paint colors to match the theme or decor. Get your kids involved by introducing them to this recycling craft. The process is easy; it's waiting for paper mache to dry that is the hard part. With a little patience, your results will be terrific.

Paper Trays : - - A tray made from paper can make a useful extra tray for serving or storing in the home. A tray like this can help to organize items on a shelf or can be used for serving a child's tea party dishes. A paper tray can also make a lovely Gift that can easily be made by children.

Perfect Pet : - - If you could make the perfect pet, what would that pet be like? Maybe you could combine the best parts of your favorite animals. Would you like a cat that could swim with you in the bathtub? Think up lots of possibilities.

Pet Chore Chart : - - Whose turn is it to feed the cat? Keep track of pet responsibilities (and all household chores) with this interactive, colorful chart.

Pet Food Tray : - - Give your beloved pet a neat food tray such as this one. It's quite cheap and easy to make; aside from the fact that it gives a personal touch.

Pink Flamingo Party - - Think PINK and liven up any picnic or party! Create a stunning flamingo centerpiece with matching napkin rings. Steamed shrimp anyone?

Recycled Styrofoam Tray Stamps - - You don't need rubber to enjoy this kids' stamping craft. Help the environment by recycling a Styrofoam tray and creating colorful pictures to boot.

Save the Sphinx - - Explore the ancient Egyptian treasure, the Great Sphinx. The 4,500-year-old monument has a king's head and a lion's body. Find out what it was made of and how it was constructed.

Sculpey Mosaic Tray Craft - - This mosaic tray looks like a designer creation that cost a small fortune in an upscale boutique. However, it's simple and economical to make, using sculpey clay and our recipe for faux grout. This mosaic tray looks like a designer creation that cost a small fortune in an upscale boutique. However, it's simple and economical to make, using sculpey clay and our recipe for faux grout.

Seafood Feast Centerpiece - - Oh no, the crab trap got away and broke open on a deserted island! Now all the crabs are free and running around. Embellish the table at your next crab feast with a whimsical centerpiece!

Sea Glass Tiled Tray or Tabletop - - Bits of sea glass introduce organic shapes to mosaic tiles in a tray or a geometric tile arrangement on a table. Because they're plentiful, bright bottle-green shards are ideal for large crafts.

Serving Tray - - A pretty serving tray can be given as a Gift or kept for yourself. Breakfast in bed is not complete without a proper serving tray. You can make a serving tray from an old cabinet door. Look for doors that have a wood insert inside a frame. The frame will supply the raised edge that keeps breakfast from sliding off the tray. Cabinet doors can be purchased new from home-improvement stores or you can find used and vintage ones at builders' salvage yards or yard sales.

Spring Garden Centerpiece - - This centerpiece is anything but garden-variety.

Star and Moon Recycled Meat Tray Rubber Stamps - - To make basic shaped rubber stamps, save a few of the meat trays from the supermarket. They can easily be recycled into a basic stamp, cut in any outline shape like a star, a moon, a heart, square, triangle, animal or any other simple recognizable shape. They can even be an abstract shape. Once made, the meat tray rubber stamps can be used for art work or stamping T-shirts, canvas bags or even the wall to decorate a room. These are inexpensive to make and a good craft project for kids or adults.

Star Stamps - - Shower stellar prints on envelopes, paper, and anything that needs a little holiday sparkle.

St. David's Day Bouquet - - The Welsh celebrate St. David's Day on March 1st. St. David is the patron saint of this country located on the British Isles. Learn more about Wales, and find out the importance of daffodils and leeks.

Styrofoam Airplane - - Make this airplane using a Styrofoam meat tray.

Styrofoam Dog Craft - - Dottie created this dog craft in honor of National Dog Day. This craft is a great way to recycle Styrofoam trays.

Styrofoam Flower - - This is a simple craft of making Styrofoam flowers using meat tray Styrofoam material.

Styrofoam Pool Tray - - Taking your drinks into the pool doesn't have to be a luxury achieved only by buying expensive pool trays. If you have a dense piece of Styrofoam you can make your own Styrofoam pool tray at home. A homemade Styrofoam pool tray will be as unsinkable and resistant to tipping as anything you can buy at a store.

Styrofoam Printing - - Find some old, unused trays, discarded Styrofoam and let's start this craft project!

Styrofoam Shrink Art - - This is a recycling craft tutorials to make home made shrink art using Styrofoam meat trays.

Styrofoam Tray Frame - - In the name of recycling and giving back to Mother Earth, here is a great craft project which you can easily make at home.

Styrofoam Tray Garland - - You can string small, white pieces together to make a garland that looks like the popcorn that many people use to decorate their trees.

Styrofoam Tray Plate - - These recycled trays can be used for storing jewelry, keys and other knick knacks around your home. They are made using recycled Styrofoam trays and is a great kids craft project.

Terra-cotta Birdbath - - A birdbath is a great device for attracting all kinds of species.

Tile Tray - - Breakfast in bed or snacks in front of the television are great to enjoy. One thing that makes these treats possible is the good ol' tray. Often overlooked for decorative value this handy device can be made a work of art in and of itself if you take the time to make a tile tray. Keep reading to discover how to do just that.

Toothpick Baskets - - While playing around with bamboo toothpicks, Styrofoam trays, assorted lids and beads, it suddenly struck me that I could make a small basket. To my surprise it was very easy to make really cute, lightweight containers in various shapes.

Tray Bird Feeder - - One of the first signs of spring is the sight and song of birds returning from warmer climates where they've wintered. A great way to welcome them back is to hang a tray feeder (a style many types of birds will eat from) filled with a mix of black oil sunflower seeds and millet.

Treasure Tray - - The uses for this easy newspaper-crafted tray are limited only by one's imagination.

Turtle Craft - - This turtle looks a bit funny due to its flattened back. But that is what the tray is for - creating a unique yet useful craft!

Vintage Resin Tray - - This resin coffee tray is a great introduction to resin craft projects and shows you how to use resin for craft. Resin crafts are very popular right now and this craft project will have you hooked on resin crafts in no time.

Which Witch Treat Tray - - Trick-or-Treat takes on a new meaning when hungry Halloweeners are met by this generous witch holding a treat tray!