Home > Arts and Crafts Projects for Kids > Witches Crafts for Kids
WITCH CRAFTS FOR KIDS: Ideas to Make Halloween Witches with Easy Arts and Crafts Instructions, Projects, & Activities for Children, Teens, and Preschoolers
"Double, double, toil and trouble; Fire burn, and cauldron bubble." A foreboding chill fills your frame, and goosebumps rise along your arms when you hear those words from the lips of your little kids. Maybe Halloween is on its way or maybe a movie or story invoked inspiration but nothing will quench the magical fires in their little hearts except some mighty witch crafts. And all I can promise is that we will not include witch crafts that include Eye of newt and toe of frog, Wool of bat and tongue of dog. We do hope that after, they can cast some spells that put big smiles on everyone's face while running around cackling as they ride your broom the kitchen
Here you will find Witch crafts projects and activities for Kids. Make cool hand-made Witches arts & crafts with these easy instructions found below.
How to Make Crepe Paper WItches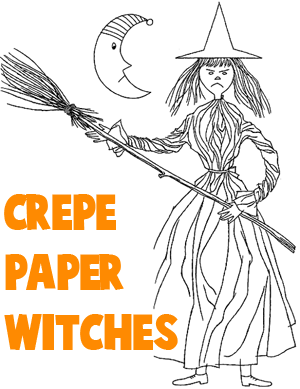 Use a piece of black crepe paper 18" x 24". On one long side measure in 4" and down 7". Cut down on 7" lines. Twist the 4" x 7" pieces to form arms. Gather paper through the middle the long way and tie with string. This becomes the waist. The remaining paper above and between the arms is folded and stapled flat at the top to make the head. Cut face, hands and shoes from construction paper. Color and attach at proper places. Make witch's pointed hat. Glue unkempt yarn hair under hat. Spread and pull out skirt to make it full. Give the witch a paper pumpkin, cat or broomstick to ride. Paste on wall or window for Halloween decoration.
More Witch Crafts Below

Make Witch's Hat for Your Halloween Witch Costume with This Crafts Idea - This witch's hat will be fun to have for a Halloween party, to play dress-up, or just to go Trick-or-Treating. Add a mask and broomstick and you can scare your friends.

Foldable Paper Witch Toy - All you have to do is print out the template, cut, and then fold up and then you have a perfectly nice witch to play with.

How to Make Clothespin Witches - This witch on a broomstich is made with a clothespin, some crafts foam or felt, paint, yarn, and a twig from outside.

Making Standing Paper Witches - Learn how to make these easy-to-make standing paper witches...witht he following printable template.

Draw a Harder Cartoon Witch - Learn how to draw this witch in easy step by step lesson.

Halloween Sucker / LolliPop Activities These are fun to make and take for a school, preschool or daycare Halloween party.

Craft Foam Witch This is an easy fun foam craft or Halloween craft project for children! We include a witch face pattern for you to print and trace.

Halloween Witch Hands for Children This is a handprint craft with a difference! You need only a few inexpensive supplies which you will probably have lying around the house. It is an easy craft to do with a crowd of children and the results are great for decorating the house or classroom. Best of all, you will end up with a fun memento to keep and look back on as the children grow.

Magician's Messenger Owl Ideas Make a feathered friend to guard your secret messages.

Clay Pot Witch Projects Terra cotta or clay pots often accumulate if you do a lot of gardening. Don't leave them stored on a shelf - recycle them to make this a decorative clay pot witch.


Wooden Spoon Witch Puppet Guide This gorgeous witch puppet is fun to make and fun to play with, too!

Paper Cup Witch Directions Kids will enjoy making this paper cup witch for Halloween! And as all witches need a black cat, why not make our paper cup cat, too?

Witch's Hat Crafts Ideas Halloween wouldn't be Halloween without a witch's hat to wear - and this one is quickly made with a piece of black card. Of course you can add embellishments of all sorts, or adapt the craft to make a wizard's hat (with a bigger brim and perhaps using purple card).

Lightbulb Witch Face Activities Make cute little witch face by yourself!

Witch Pringle Cans Activity Recycle a small-sized Pringles can to make this frugal witch decoration for Halloween.

Witches Brew Halloween Decorations Let this little witch brew up a little Halloween mystery on a side shelf or small table.

Halloween Light Bulb Witches Recycle a burned out lightbulb to make this Halloween witch craft.


Halloween Gourd Witches A plastic gourd pick gives a face to this Halloween gourd witch - warts and all!


Clay Pot Witch Cauldron Stash the candy for your Halloween visitors in a clay pot or terra cotta witch's cauldron.

Mini Broom Witch Mini brooms are very inexpensive, so you could make quite a few of these on a frugal budget.

Paper Bag Witch Activity Directions Here a new witch made with a paper bag witches hat green grass eyes mouth mole and a broom for the little ones to enjoy.

Halloween Cauldron Perfect for collecting or giving out candy on Halloween, this cauldron also works very well as a table centre on your Halloween party table, filled with goodies!


Origami Witch's Hat This spooky witch's hat is a little tricky to make - although to simplify the model we have suggested using a pair of scissors (which is, strictly speaking, cheating!)

Recycled Juice Carton Halloween Doorstops Use recycled Juice carton for creation of this creation.
Witch Box for Halloween Making Ideas Cool witch which anyone can create!


Witches' Table Decoration Have fun at this scary holiday!

Witch's Hands Projects Make it for Halloween!

Witch Toilet Paper Roll Activity You can make magic witch for yourself.

Witch Costume Ideas for Children Witch's are getting more colorful and trendy every year! Got to town with your homemade witch's costume and your child will not only look gorgeous but enjoy her costume too!

Pin the Wart on the Witch Using black felt material or black cardboard (or even a black bin liner glued over cardboard), cut out a witch's outline. It doesn't have to be perfect as most kids won't mind but don't forget to include the pointy hat and nose! Continued..

Halloween Craft for Kids - Wine Cork Witch This witch is not interesting in scaring the children at Halloween but would rather have a nice spot on a shelf. Kids will have fun making her out of wine cork and other basic craft materials. This project needs a little bit of time to dry, but is otherwise a fast and easy craft.