Home > Arts and Crafts Projects for Kids > Yogurt Container Crafts for Children
YOGURT CONTAINER CRAFTS FOR KIDS: Ideas for Arts & Crafts Projects & Activities with Recycled Yogurt Cups / Containers for Children, Teens, and Preschoolers
If you or your mom are yogurt lovers you will surely have a lot of yogurt containers in the garbage. This is great for you since you can use these containers to make tons of cool stuff. For example, a pin cushions, pencil cups, bird feeders and musical shakers.
To make musical shakers you first need to fill the empty yogurt cups with materials such as raw rice or dried beans, and glue a wooden spoon over the yogurt container (ask an adult to do this part for you using a hot glue gun).
Pencil cups is the easiest of all crafts with yogurt containers. Basically you will just be decorating the container with paint, clay, markers etc.
Turn Yogurt Containers into Beautiful Flowers Tree Pot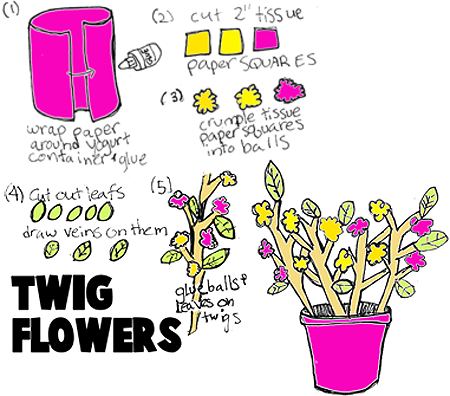 Don't throw away your yogurt containers....you can make a lot of cool stuff from yogurt containers. For this craft, we will use it to make a beautiful flower tree pot. First of all, wrap colored paper around the container and glue on. Next get some colorful peices of tissue paper and cut them into 2 inch squares. Then crumple the tissue paper into balls. Next get some green paper and cut leaves out of them and then draw the veins on them to make them look more realistic. Next, find some nice twigs aoutsie and glue the crumpled tissue paper flowers and the green leaves onto the twigs. Then place them in the yogurt cup pot that you made in step #1. To make it look more realistic, you can use brown play doh or clay to hold at the bottom of the pot to look like soil or dirt.
Even More Crafts with Yogurt Containers

More Yogurt Cups Recycling Ideas & Re-Uses

Mother's Day Crafts for Preschoolers, Toddlers & Young Children

Mother's Day (Yogurt Container) Seed Pots

Penguin and Igloo Scene

Pilgrim and Indian Village

Preschool Winter Craft Using Yogurt Cups

Recycled Halloween Party Favors Kids Crafts Activity

Recycled Yogurt Cup Bud Vase

Recycled Yoplait Trix Yogurt Cups

Sombrero Decoration/Birdfeeder

Suet Bell Bird Snacks

Toadstool Doorstop

Tortoise or Turtle Craft

Upcycle a Yogurt Container Into a Mini-Album

Yogurt Tub Luggage Tags
Ship in a Balloon Craft for Kids
:::::::::::::::::::::::::::::::::::::::::::::::::::::::::::::
You Might Also Like Our Yogurt Container Lid Crafts