Home > Arts and Crafts Projects for Kids > Animals Crafts > Zebras Crafts Arts and Crafts Projects Ideas for your Kids
ZEBRA CRAFTS IDEAS FOR KIDS: How to make your own Zebras with these arts and crafts projects and activities for children, teens, and preschoolers
Zebras are a part of the horse family, and are well known for the black and white stripes. Just like wild horses, zebras live in groups called herds. Because of their unique black and white stripes, zebras are one of the most beloved animals. Zebras are close relatives of both wild horses and donkeys as well. If you want to see zebras you will either have to see them in the wild, or you will have to go to a zoo, or safari park. Some times of zebras are on the endangered list and have to be protected in order that they don't become extinct. This page is dedicated to zebra crafts and you should be able to find a good zebra craft that you will enjoy.
Make a Zebra from Corks, Paint, Yarn, Toothpicks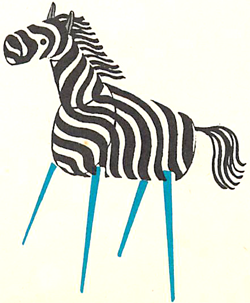 Gather some different sized corks. The biggest one should be for teh body. Make the neck and head from 2 of the smaller corks (in an 'L' shaped formation). Glue them together or connect them with toothpicks or wires. Use felt to tmake the ears. Yarn for the tail and mane. And use four toothpicks for the legs. Now get some black and white paint out. First paint the entire zebra white. Let it dry. Now paint wiggly lines all over the zebra as you see in the picture above. Draw a dot for the eye. Now you have an amazing zebra.
Making Zebras with Toilet Paper Roll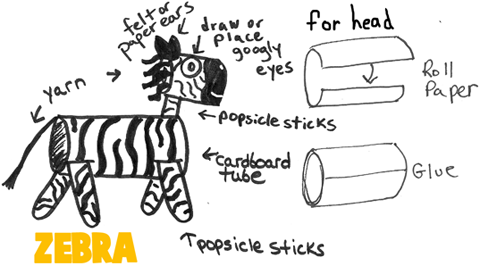 To make a zebra, you can also use cardboard tubes, like ones you find in a toilet paper or paper towel roll. If you use a paper towel roll, cut it in half. Cover a piece of paper that will fit around the tube with curvy black stripes. Cover the toilet paper roll with the piece of paper and glue it on. For the head, roll a piece of paper and glue it together. Cut tiny slits in the top right side of the body tube and in the bottom of the paper roll tube and use a popsicle stick for the neck to attach both together. Cut 4 slits in the bottom of teh cardboard tube body and use half of a popsicle stick for each leg. Use yarn for the tail and for the zebra's mane. Cut out little black felt ears and attach to the head. Use googly eyes. Draw lines and details on the zebra's body.
Make Zebra Masks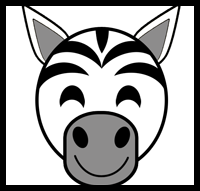 Here is a printable zebra mask craft activity. Print out the zebra cut-out mask.
Even More Zebra Crafts

Animal Placecards Crafts Ideas / Zebra Placecards Crafts

Folded Paper Zebra Craft for Kids

Herbivores Zebra and Giraffe Making Craft

Paper Bag Zebra Craft for Kids

Zebra Collage Arts and Crafts Project for Preschoolers and Kindergartener

Zebra Toilet Paper Roll Craft for Kids