MAKE NOISE MAKERS WITH ARTS AND CRAFTS IDEAS & PROJECTS FOR KIDS: Make party noisemakers with crafts for children, teens, and preschoolers
Home > Arts and Crafts Projects for Kids > Noise Maker Making Crafts Arts and Crafts Projects Ideas for your Kids
Below you will find Noise Maker Making Crafts Arts and Crafts Projects Ideas for your Kids. Find out how to make your own party noise makers with easy arts and crafts projects and the following decorations, instructions, patterns, and activities for children, teens, and preschoolers
Making Party Horns for Noise Makers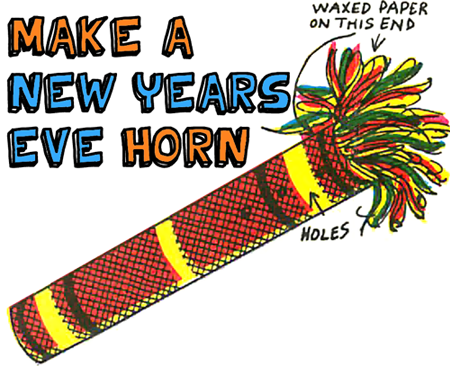 If you plan to party it up on New Years Eve then you will need a party horn to celebrate the coming of 2012 ... the New Year. To make this New Years Eve Party Horn, you will need to find a cardoard paper towel roll (better yet, a sturdier tube from a wax paper roll). Now cover one end of the cardboard tube with waxed paper. Then use a rubber band to hold it in place. Then decorate the sides of the tube with colored paper. Make three holes near to the covered end of the tube. Make these holes about 1.5 inches apart. Cut colorful tissue paper into strips and then glue these tissue paper fringes around covered end. Blown through horn by placing fingers over holes. Have fun and celebrate it up! You Might Enjoy Our Other New Years Crafts
Even More Noisemaker Crafts

Tin Lids Noisemakers for Celebrations - Make these handmade noisemakers that beat on 2 tin lids to make lots of noise on New Years Eve or on other celebratory events.

Halloween Spooky Ghostly Rattle Noise Maker House Decoration Craft - This is a fun arts and crafts project to use to scare Trick-or-Treaters when they get to your house. Hide behind a bush or something and pull the string to make a spooky, ghostly chains type of rattle every time a new visitor comes to your house. This can also be used to announce a new guest arrival to a Halloween party or to a Haunted House Party.

Make a Native American Indian Rattle - Learn how to make this native american noise maker.

African Drums - Make a drum out of a coffee can and some basic supplies. This is a very kid friendly project!

Cardboard Roll Noise Maker Crafts : Make Noise Makers Crafts Ideas for Kids- Don't throw away the toilet paper cardboard rolls as these make the perfect craft supply for noise makers.

Didgeridoo Crafts - A musical Instrument made and played by Australian Aborigines.

Finger Cymbals - How to Make a Noise Maker Using Jar Lids.

Garden Noisemakers - Sometimes scarecrows are just too soft-spoken to intimidate the birds. Not so with these clanging noisemakers.

Homemade Instruments – Rainmakers This homemade Rainmaker is a fun way to make lots of noise at a celebration such as New Year's Eve or a birthday - or just for a kitchen band!

Instant Noise Maker Crafts - How to Make a Noise Maker Out of a Bottle.

Jazzy vintage New Year Noisemaker is our "Craft of the Year!" - A recycled soda can, dried beans, some fringe and a yarn pom pom make this a fun and glittery accessory for your New Year party.

Make a Paper Noisemakers - A sheet of paper is all you'll need to create some buzz this New Year's Eve.

Mini Music Makers : How to Make Noise Makers Ideas for Children - Easy to make from empty film canisters and craft sticks.

New Year's Eve Noisemakers - A New Year's Eve noisemaker is a fun project for kids and adults alike. This simple craft will only take a few minutes to put together and it give you a surprisingly loud and festive noise when you shake it. Here's how to make your own New Year's Eve noisemaker.

New Year's Eve Noise Makers - My kids have yet to make it to midnight on New Year's Eve, but this year my son is determined to stay up… we'll see! So in preparation, we're gathering our pots, pans, and noise makers for the big count down. We've been crafting these fun Homemade Noise Makers out of recycled paper rolls.

New Year's Noise Maker Crafts for Kids - Kids love making lots of noise and celebrating the New Year is the perfect time to let them get loud and happy. Make this year's celebration extra special by making noise maker kids crafts to help bring in the new year.

New Year's Noisemakers - This New Year's, make a few items that create a festive mood without deafening the adults.

New Year's Pot Bangers - Make extra noise this New Year's Eve! Bang your pots with a special spoon you've decorated just for the night.

Noise Makers - This one can actually be made at any time, you would just decorate it differently! It's fun and easy and your kids can play with it after! Best of all, you probably have most of the supplies handy.

Noisemakers : Making Party Noise Makers - Involve the children in your New Year's Eve celebration with homemade noisemakers. All that shaking might even help them stay awake 'til midnight!

Noisemakers - Little ones can shake out tons of fun rhythms with this easy-to-make noisemaker!

Noisemaker Crafts - This noisemaker craft is a children's project they can put together themselves, and use for New Year's Eve! They are made from plastic glass tumblers, and be filled with anything to make noise. The outside can then be decorated with paint, stickers, stencils, etc.

Noisemakers - Kids will enjoy making these festive noisemakers almost as much as they'll like using them. Requiring only a few basic materials, this easy project is ideal for a children's party: When it's time to go home, guests can keep their colorful creations as party favors.

Paper Plate Noise Makers - Get into the New Year's celebration with this fun and festive noise maker. Easy to make and fun to decorate!

Paper Plate Noise Makers - How to Make a Musical Instrument.

Super-Easy Noisemakers - Ever wanted to just make some noise? How about looking for a way to annoy your friends? This is a awesomely easy and quick way to make a cool noisemaker.

Tambourines - No celebration is complete without tambourine music!

Water Bottle Noise Makers - Save that water bottle from the landfill by creating this fun noise maker for New Year's Eve!
You Might Also Be Interested in
Make New Year Ball Dropping Crafts
Make New Year Cards & Invitations
Make Noisemakers for New Years Eve