Home > Arts and Crafts Projects for Kids > How to Make African Crafts with Ideas Crafts for Kids
AFRICAN CRAFTS FOR KIDS: Make African American heritage arts and crafts projects with the following instructions, patterns, and activities for children, teens, and preschoolers
According to Wikipedia, African Americans constitute the second largest racial and ethnic minority in the United States. Most African Americans are of West and Central African descent and are descendants of enslaved Africans within the boundaries of the present United States.
Celebrate African American Heritage with your children by doing educational crafts with them, especially during Black History Month(February), Juneteenth(June 19), Kwanzaa(December 26 - January 1) and Martin Luther King Jr. Day(3rd Monday in January).
You can make an African drum from drinking cups, you can use styrofoam, plastic or paper. You will have to first glue two cups together from bottom to bottom and let it dry and then completely cover the outside of the cups with masking tape. Brush shoe polish all over the masking tape and then wipe off with a rag. Finally draw shapes and other designs around the drum with permanent markers giving it an African look.
You can celebrate Kwanzaa by making a kinara. A kinara is the candle holder used in Kwanzaa celebrations in the United States. During the celebration, seven candles are placed in the kinara, 3 red to the left, 3 green to the right and a simple black candle in the middle. The 7 candles represents the Seven Principles of Kwanzaa and the colors are symbolic colors of the holiday. Your kids can make a safe kinara from 7 egg carton cups and 7 jumbo sticks painted in the relevant colors. Then use yellow and orange construction paper for the flames.
There are a few more crafts that you can make to celebrate African American Heritage such as a Freedom Bell for Martin Luther King Jr. Day and a Unity Cup for Kwanzaa.
African Sock Dolls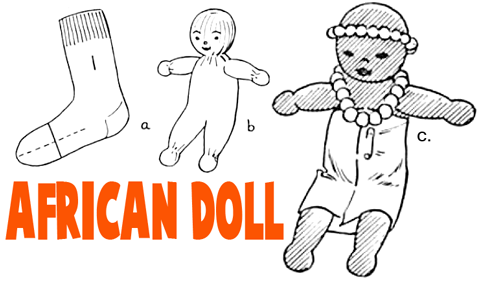 You will need the following items: 1 brown child's sock, red and black embroidery thread, needle, scissors, cotton or scraps of doth. Cut off bottom of sock 2 1/2" from toe. Cut bottom section in half to make arms, turn inside out and sew side seams. Fold foot of sock flat and cut to within 2" of heel to make legs of doll. Turn sock inside out, and sew bottom and inside seams of legs. Make small slits at sides of sock (sketch a) and insert open ends of arms. Turn and sew arms to body. Stuff arms, legs and body with cotton or cloth scraps. Gather top of sock and sew together. Tie several strands of black thread around ends of arms to form hands and around ends of legs to form feet. Tie thread also approximately 2" down from top of sock to form head. See sketch b. Embroider facial features. Color outline of hair with crayon. Attach short band of beads around head. Wrap 7" x 10" cloth around body and fasten at front with small safety pin. Put strands of beads around neck. See sketch c .
Magic African Masks

Mask making is one of the oldest arts there is, and the masks we will be making today are meant to resemble African Tribesmen masks. These mask are made with disposable paper plates (as in picture A). Cut an opening for the mouth...then just cut a slit above this opening...for the nose. Then cut openings for the eyes, Next, dunk the paper plate in some water and then mold it around your face. Fold in bottom rim of plate and staple. (as in picture B). Let the mask dry and then paint it. African masks are usually made with many geometrical shapes...if it is on one side of the mask, usually that same shape is mirrored on the other side of the mask.
Even More African Crafts

Wooden Beaded African Charm Bracelets - I thought we could use this opportunity to make a craft for Black History Month. Today I'm going to show you how to make a Wooden Beads Bracelet with an African Mask Charm (made from polymer clay).
You Might Also be Interested in Martin Luther King Jr Day Crafts and Kwanzaa Crafts for Kids