Home > Arts and Crafts Projects for Kids > Kwanzaa Crafts Arts and Crafts Projects Ideas for your Kids....Many Kwanzaa for your Children
KWANZAA CRAFTS FOR KIDS : Ideas for Arts & Crafts Projects and Activities to make Cards, Gifts, and Toys and Decorations for African American Children, Teens, and Preschoolers
Kwanzaa is a great crafting holiday because it is full of so much symbolism. By crafting many of the symbols each can be focused on individually to also discuss the meaning behind it. Some of the crafts can be used for table decorations where it would be suitable for kids to make African style crafts. Crafts to represent each of the seven principles can also be made and presented on the day when that principle is celebrated.
The Seven Principles are Unity, Self-Determination, Collective Work and Responsibility, Cooperative Economics, Purpose, Creativity (this is a particularly good day to be doing crafts), and Faith.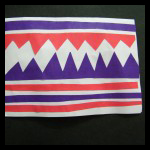 Kwanzaa Greeting Card Making Crafts for Kids - Make an African Styled Art Kwanzaa Greeting Card to celebrate Kwanzaa this year. This card is very simple to make and just requires some paper , scissors and glue. The simple instructions for making this colorful Kwanzaa greeting card are as follows.

Collection of Kwanzaa Crafts - Here are our favorite Kwanzaa crafts ideas from around the net.

Adinkra Printing : Kwanzaa Crafts for African American Kids - Learn how to make an Adinkra printing which is a popular cloth worn in the Western Africa.
African Drum : African Crafts Ideas for Kids - Find out how you can make an African drum using drinking cups.

Corn Cob Craft - Print the free template of the corn cob and follow the instructions to make this amazing corn cob craft.

Cute Kinara Paper Craft - Children of all ages can make this cute Kinara for Kwanzaa.

Ear of Corn Place Cards : Kwanzaa Arts and Crafts Ideas for Kids - These place cards will be a great table decoration for Kwanzaa.

Easy Kwanzaa Kleenex Box Cover - This Kwanzaa Kleenex box cover is very easy and fun to make...
Kwanzaa Candle Craft - Learn how to make this candle craft to celebrate Kwanzaa with your kids.

Kwanzaa Candles Card - Send your family and friends Kwanzaa greeting with this beautiful Kwanzaa candles card.

Kwanzaa Candles With Secret Treat - Decorate your home for Kwanzaa with these Kwanzaa candles.

Kwanzaa Handprint Wreath Craft for Kids - Make a simple but amazing Kwanzaa handprint wreath using your handprints, construction paper, glue, and scissors.

Kwanzaa Napkin Ring Craft - These napkin rings would look great on any table during the Kwanzaa celebration.

Kwanzaa Place Mat - These Kwanzza place mats will look great on your table for the Kwanzaa celebration.

Make an African Drum - Celebrate Kwanzaa by using this homemade African drum to play traditional African music.

String of African Flags - Decorate your bed room for Kwanzaa with a string of African flags.

Sweet Corn Fuse Bead Pattern - Try this sweet corn fuse bead pattern at Kwanzaa.
You Might Also be Interested in Martin Luther King Jr Day Crafts and African / African American Heritage Crafts