Home > Arts and Crafts Projects > Games and Toys > Wooden Pocket-Tic-Tac-Toe Game
MAKING WOODEN POCKET TIC-TAC-TOE GAME : How to Make a Fun Wooden Game
Children enjoy owning their own pocket games, which they can play with friends at odd moments of the day. Tic-tac-toe is an old-time favorite game, and almost every child knows how to play it. This is a great first-timer woodworking project to do with a parent who can help you.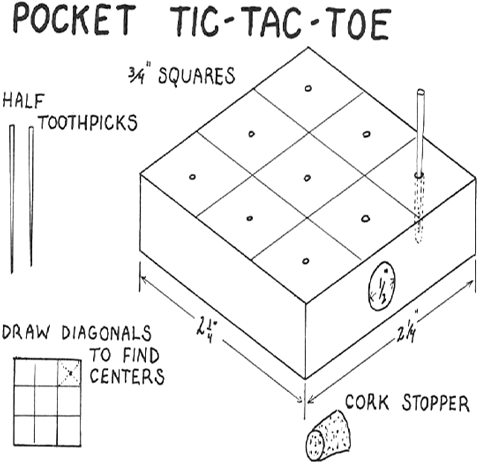 CRAFTS MATERIALS NEEDED:
carpenter saw
drill and bits
pencil
square
sandblock
garnet paper
scrap wood 3/4 inch thick
small bottle corks or adhesive tape
round toothpicks
paints
brushes
How to Make Them:

(Parental Supervision) With a pencil and square, mark off square 2 1/4 inches on a side. Saw these out with a carpenter saw for straight edges. Lay out nine squares, 3/4 inch on a side, for the tic-tac-toe compartments. Mark lines heavily with the pencil, so they are scored into the wood.
To find the center of each square, draw diagonals and drill a 1/16-inch hole where these intersect. This size hole will give a force fit for the toothpicks. For counters, use round toothpicks cut in half. These will make counters about 1 1/4 inches long. Children are bound to lose a counter or two, so make five of each color. Paint the counters with waterpaints, or if you wish to eliminate this step, use the colored cocktail toothpicks, which come in small boxes and in assorted bright colors.
Sand the edges and corners of the block with a sandblock and then garnet paper. In the middle of one side, bore a hole 1/2 inch in diameter and a bit less than 2 inches deep, to use as a well for the counters. Plug up the hole with a cork stopper, or if that is unavailable, use a strip of adhesive tape.
So that the games can be told apart, have each child either write his name on the block or make distinctive designs around the edges and back of the block.