MAKE GAMES & TOYS CRAFTS FOR KIDS : Find out how to make your own fun toys and games with the following arts and crafts ideas, decorations, instructions, patterns, and activities for children, teens, and preschoolers
Home > Arts and Crafts Projects for Kids > Homemade Toys and Games Crafts for Kids
Below you will find out how to make games & tutorials about making toys crafts with toys and games crafts projects for kids to create own homemade toys and games with recycled items from around the home. Find out how to make your own fun toys and games with the following arts and crafts decorations, instructions, patterns, and activities for children
You Might Also Like Our Kite Making Crafts.. Airplane Making ... Boat Making ... Board Game Making Crafts Page ... Doll Making ... Doll House Furniture ... Optical Illusions and Eye Tricks Page
Instructions for Making a Paper Shooting Slingshot Toy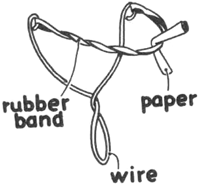 To make a slingshot to shoot pieces of paper, all you need is wire (like the type you find from a wire hanger) and a rubber band. Twist the wire as shown in the picture and make loops at each end to hold the rubber band. Fold little pieces of paper, make a target, aim, and shoot. Don't use anything other than paper and always ask your parents permission before making toys such as this.
High Bouncing Ball of Rubber Bands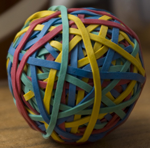 Take a sheet of paper or a piece of newspaper and wad it up very tight. This will make a good center for the ball. Then wind rubber bands very tightly around the center, winding first one way and then the other so as to keep it round. Colored rubber bands can be used if you have them—they make a bright colorful ball. The ball can be made as large as you want, but 11/2 inches in diameter is a good size. This is fun to do. And you will have lots of fun when you are finished. You'll be surprised at how high it will bounce. For a Softer Ball, Try This Yarn Ball Craft.
Make a Fun Toss the Ring Game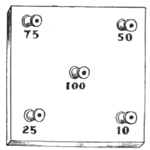 To do this you will need a piece of wood 18 inches square—or a square of heavy brown corrugated cardboard will do. Use five empty spools—more if you wish—and attach them to the board with hot glue (parental supervision required) or wood glue. Then in crayon or paint put numbers under each spool as shown. Rings can be the rubber jar rings used in canning or rope tied in circles. See the picture above. Devise your own rules. A suggestion is that each player toss three rings at a turn. The first player to score a total of 1,000 is the winner.
Paper-Bag VolleyBall Game

This is lots of fun if you have a large play space, but it is definitely not recommended for the living room or any place where you might knock over lamps or pictures. Take a medium-size paper bag and stuff it with sheets of crumpled newspaper. Pack it tightly and then fasten the bag with a string or rubber band. This is the ball! String a rope between the tops of two chair backs and hit the ball back and forth as in volleyball. If the ball hits the floor before you hit it back, that is a point for your opponent. Make the game 15—whoever scores 15 points first is the winner. This game is particularly good for attics, garages, or basements, where you have plenty of space and no danger of breaking anything. It is fun in the backyard, too.
Get the Bean in the Little Door Game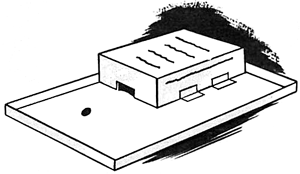 Go and find (1) a bean (2) a small box (3) a shoe box or shirt box lid (4) Scotch tape. How about you build this fun game. You will need to hone your aim to get this bean in the tiny little door. The smaller box needs a door in it...the side that is facing downwards can be cut off. Tape this down to the inside of a shoe box lid. Get competitive and time yourself and your friends to see who can get the bean in the door first.
How to Make a Peanut in a Cup Toy Game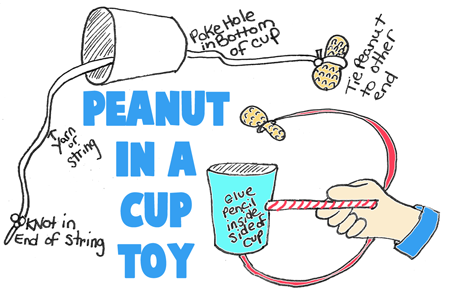 Don't make this if you or anybody around you has a peanut allergy. Now get a cup out and poke a hole in the bottom of the cup. Put a string in the hole and tie a knot on the inside part of the cup. Then pull it through the other end and tie a peanut to the other end. Then...put a very small hole in the site of the cup and stick a straw through the hole ... you could also use a chop stick or a pencil. Glue it in place. Now play the game of trying to get a peanut in the cup. When you get good at it, see how many you can get in the cup in a minute and then compete against a friend.
Making the Marbles Game : Stabling Your Horses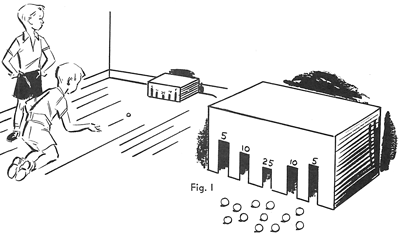 This marble game often called "Stabling Your Horses" is easy to construct and great fun to play. Use a cardboard shoe box for the table. Remove the cover. Turn the box upside down and cut 5 entrances to the stable, using one of the 2 long sides of the box for these entrances. The smallest entrance should be about 1inch wide and 1 1/2 inches tall, and the longest about 2 inches wide and 2 1/2 inches tall. Mark over each entrance the figures 5, 10, and 25 as indicated in Fig. 1. To play this game, place the shoe box stable against a wall. Then measure off a distance of 4 feet in front of it on the floor. Give each player 5 marbles depending upon the number of entrances. Each player rolls or shoots his marbles from the 4 foot marking, shooting all of them at each turn. The game may be continued as long as desired. However, it is well to reach a predetermined score, such as 100 or 250 before beginning the game. The player first obtaining this score wins the game.
Cardboard Flying Boomerangs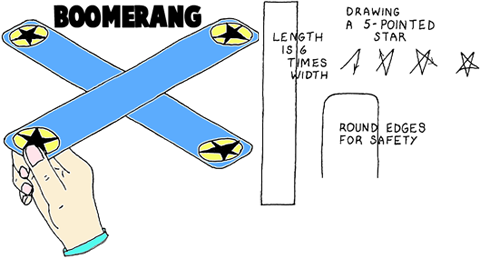 By the use of different throwing methods, a boomerang can be made to go through some interesting maneuvers. This is strictly an outdoor toy. While a small cardboard boomerang won't break a window, it can hurt someone's head so should be thrown at some distance apart; and caution to children to watch what others are doing. Regardless of size, the length of the arms should be about 6 times the width. Arms 2" x 12" make handy size. Staple or glue teh arms at right angles to each other, in the centers. Glue will take about 15 minutes of drying before the boomerang is ready for throwing. For safety, round all edges. Color with crayons or markers.
How to Make Spinning Paper Tops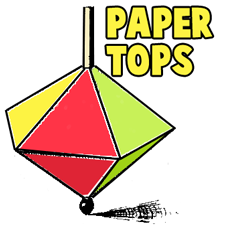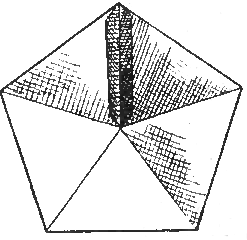 It is very simple to make these paper tops. Just print out 2 diagrams out...either black and white or color diagrams. Cut out the diagrams and then fold on the inner lines until you have a five sided pyramid...tape together. Do the same thing for the second pyramid. Now place them bottom to bottom and tape them together this way. Then push a wood safety match stick, a pencil, or half of a chop stick through both holes. Now spin the top.
Toy Shoe Box Wagons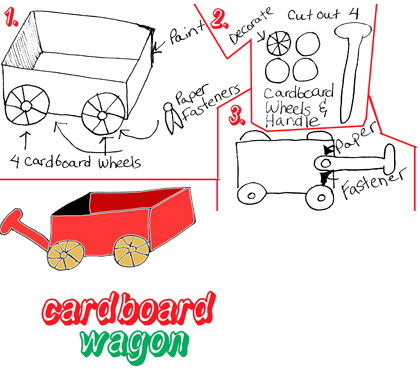 It isn't hard to make a toy wagon. Just find an empty shoe box. Decorate it by painting it, covering it with wrapping paper, or however you want to decorate it. If you are to paint it, just add a little bit of Elmer's glue to the paint to help the paint adhere to the waxy surface of the box. Also cut out 4 wheels and a handle and paint them as well. Then attach the wheels to the side of the box with paper fasteners...attach the handle to the bottom of the box with a paper fastener as well.
Make a Fishing Pole Game
Cut out the fish from sheet cork. Regardless of the design, the fish should be at least one inch wide and 2 inches long, so a hole may be punched, and so that they are a comfortable size for the kids to handle. After the fish have been cut out and punched, crayon heavily to waterproof the sheet cork, and to identify the fish. The hooks are bent paper clips, tied to the end of a string 12 inches long. Attach the other end of the string to a pencil-sized stick about 8 inches long. Do not have the string any longer, or the game will be too difficult to play. Throw the fish in a baby pool or a tub full of water. 3 or 4 kids to a tub and is plenty - see who can get the most fish.
How to Make a Toy Cable Car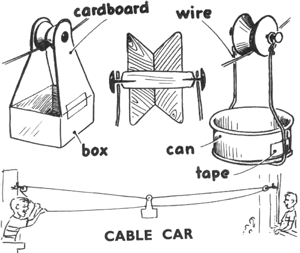 A cable car is a vehicle which hangs on a long steel rope. It carries people between high cliffs and across valleys. Make a toy cable car from a box or can of any kind (part of a milk carton would also work). From wire or cardboard, form two hangers, choosing one of the shapes in the picture. Tape them to the sides of the box or can. For the wheel, have your parents cut the inner part from a spool and glue the two ends together (or use a bobbin or take the spool out of a vcr tape that your parents say that you can have). To hold them together, put a strong stick through the holes. Fasten the wheel to the hangers with two tacks or flat-headed nails. If your window is near a friend's window, you can run a string on pulleys from one to the other, and hang your cable car on it. Then you can use it to carry messages back and forth.
Making Japanese Bean Bags for Juggling and Games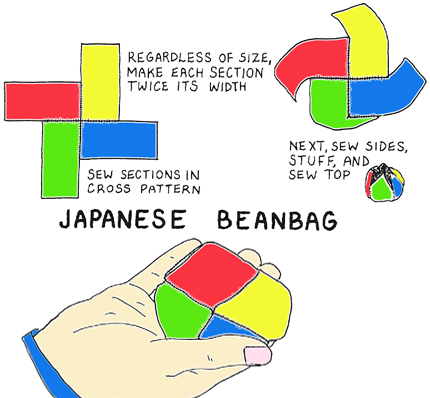 This sort of beanbag is used for assorted games and juggling in Japan. Because of its rounded shape, it flies through the air better than the conventional flat sort of beanbag. Leather is a lot easier to make this out of, but the normal Japanese beanbag is made out of cloth, so either one works. Make cardboard patterns for the pieces. Whatever the size made, use the proportion of twice as long as wide on the sections. Sections 1 1/2 by 3 inches make a nice handful. Attach the four pieces in a cross-shaped pattern as shown. Then turn and sew each section, one at a time, as shown, leaving the top open for stuffing. Stuff with enough beans to make the bag about 1 inch thick, and sew up the rest of the edges. Though it may be hard to visualize from words and diagrams, this is easy to make. Try a sample first.
Make a Tossing Knock Down Game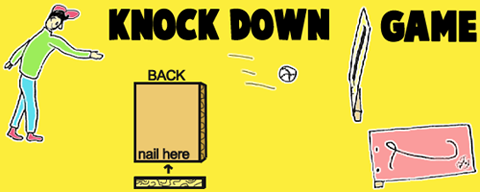 This knock down game is a great game to play at a picnic or cook out. The game is made from corrugated cardboard nailed to a wood base. The wood should be thick enough to hold up the target and run the length of the bottom. Fasten with large-headed nails, so that they cardboard will not pull out. Paint or crayon in numbers, a target, a clown face, or similar designs on the cardboard face. Compete agains your friends and family members. Use balls that you already have or you can make the Japanese Bean Bags or the Juggling Balls craft.
Tossing into the Target Game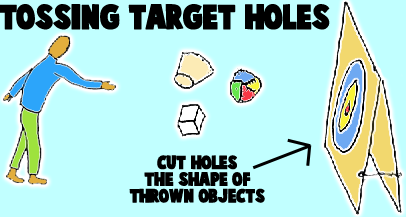 These are made from corrugated cardboard, with holes cut out in the shape of the objects you want thrown in the game. Use a folded piece of cardboard, such as a pizza box, or hinge two pieces of cardboard with duct tape. Poke holes in the bottom corners of the boxes to attach together with rope or string. Decorate the faces with a target or baseball diamond, and cut holes in the cardboard a bit larger than the things to be thrown. You can use bean bags, sugar cubes or dice, corks, or other objects. Here are some Japanese Bean Bags.
Making Super High Bouncy Balls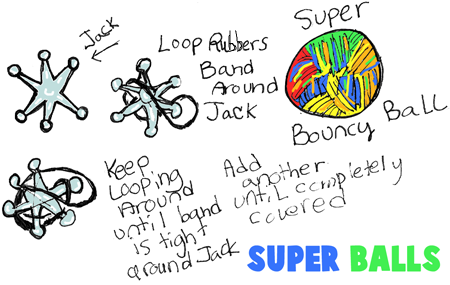 If you have any toy jacks hanging around your house, and you have some rubber bands, you can make a super high bouncy ball. Just take the jack and loop the rubber band around the jack. Keep looping it around the jack until the band is tight around the jack. Add another rubber band...and another...and another until the ball is as big as you want it to be.
Make a Toy Mailbox to Play Mailman

This is very easy to make. Paint 2 cardboard boxes blue. Let completely dry. Then cut doors in the front of both boxes and glue together so both doors are in the front. Cut a slit on the top box's top lid. Use rope for handles, tying knots in the back of the door to keep the rope on. Write US MAILBOX on the front. People sending mail can put the mail in the top slit, and packages in the top door. The mailman collects the mail with the bottom box so he can deliver the mail to people on his route.

Make Jumbo Bubble Wands

Use either craft wire or a wire coat hanger to make these jumbo bubble wands. These bubble wands make the huge bubbles that you have seen on tv or in the park. If you are using a clothing hanger, than you first have to untwist it. Make a huge circle and then twist teh rest of the wire upon itself so that no points are sticking out. Then fill a flat tin with bubbles and get blowing those bubbles.

Bubble Recipe

1 Cup Water (2)
2 Tablespoons Light Karo syrup or 2 Tablespoons Glycerin (3)
4 Tablespoons Dishwashing liquid

Just Mix together and you are set to go.

Crafting Toy Pencil Tops

To make this toy spinning top, you will need 1 thread spool, 1 pencil, one 3" diameter cardboard disc, glue, 1 crayon, and scissors. Firstly, Color cardboard disc and spool. Glue disc to spool after making a hole in the center the same size as that in the spool. Insert pencil through disc and spool so point is opposite disc. (See sketch.) Now top is ready to spin!

More Toys and Games Crafting Ideas

How to Make a Magnetic Travel Board Games Set with Altoids Tins - Today I will show you how to make a really cool travel board games kit out of magnets, paper and an altoids tin. This is a great travel game board system that you can stick in your pocket to bring to school with you to play on the bus, in the cafeteria, or what ever. You could even bring it in the car with you to play with your sisters and brothers with. Or you can just play solo since there are 2 different solitaire games to play.

How to Make Juggling Balls & Stress Balls from Balloons and Lentils in Easy Craft Activity - Today we will show you how to make your very own juggling balls….with balloons and lentils. This is a fun family activity to do with your sisters and brothers and parents. These juggling balls feel a LOT like stress balls, so they can also be used for that purpose as well. The step by step instructions can be found below.

Making a Velcro Bullseye Ball Tossing Game to Make for Children - Today we will show you how to make a game that is like darts, but safer. This is a Bulls-Eye Velcro Ball Tossing and Aiming game. All you need are a few things that are probably already in your house.

Trick-or-Treaters Paper Toy Craft - Print out this great paper craft. It includes 6 stand-up Halloween trick-or-treaters, background panorama items such as gravestones, a dead tree, moon, clouds, a flying witch, a pumpkin, and a cat. There are also stand up houses for the paper trick-or-treaters to visit.
How to Make Simple Pinball Machine with Recycled Materials Crafts Project for Kids - This is a super cool crafts activity that we are going to do today. If you love playing pinball, then you will love making this simple machine…a pinball machine. Just recycle some old stuff from around your house … such as a cardboard box, and let the fun roll in….literally.

How to Make a Mini Zip Line Moving Toy Crafts Idea for Kids - This is a really cool toy idea…one that can be changed for a lot of different variations of moving toys. This is an air ship / space ship zip line moving toy. Find out how to make this zip line toy that zips and moves, by reading the step by step, illustrated instructions below in our crafts project tutorial.

Make a Ring Toss Game - Learn how to make a simple ring toss game.
How to Make a Flying Butterfly Toy that Flies up to 15 Feet- This is an arts and crafts project to make a butterfly toy that will really fly up to 15 feet up in the air. This is for older kids as it is too difficult for younger kids to master…although they can with some supervised guidance from an adult.

Whistling Birdie Toy - Make a real Whistle that we call a whistling birdie with the following step by step tutorial. You make the bird whistle with a drinking straw, polymer clay, and a toothpick.

How to Make Cardboard Tabletop Billiards Pool Table Craft for Kids - So what if you can't afford a big expensive pool table to play billiards with. Today we will show you how to make a tabletop billiards game that you can make with a recycled cardboard box and some checkers (or bottle caps). If you can flick with your finger, than you will be able to play this game.

Paper - Cardboard Dress Up Doll - With our printable template, you can make a cardboard stand-up doll. Then print out our clothes, hair, and accessories templates, cut them out and stick them on the doll. So much fun.

Yarn Octopus - The craft is an easy one, but it is sure to be a lot of fun. This Octopus toy would make a great gift to give to somebody this Holiday Season. Or, if you like…. keep the toy for yourself.

How to Make a Balancing on Your Finger Paper Parrot on a Perch Toy - Learn how to make this cool long-tailed parrot that balances on a ringed perch. This cut-out paper toy printable is one that will swing in a ring or perch on one's finger or balance on a single toe. This is both fun to make and to play with. Find out how to make it below.
Make Sailor Moon Wands - If you love Sailor Moon...this is a great toy wand to make and play with.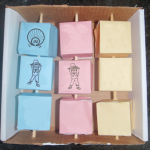 Make Thanksgiving Games with 3D Pilgrim & Turkey Tic-Tac-Toe Game - Have a free afternoon and want to make the coolest craft you have ever made? All you need are a box, chopsticks, printer, paper, scissors, glue, and patience and you will have a fun Thanksgiving arts and crafts activity to keep you busy. This Thanksgiving game was a big hit in my house and I think your kids will love it too.

Spinning Tops Made with Paper Strips - All you need are some paper strips, glue, a pen, and a toothpick. You will see how easy these are to make and how much fun they are to play with.

Make Pull-Along Toy Snakes with Corks and String - Learn how to make your very own pull-along toy snake with the following instructions. It really turns out to be a really cool toy when finished. This is a great toy for boys…who tend to love to scare girls with these cork snakes. Find the directions below.
Make Ring Toss Game - Learn how to turn a normal cardboard box into a fun ring toss game.

Make a Toss the Spool in the Hoop Game - Make this twist and aim game...you can't touch the spool to the sides of the hoop or you lose the game.

How to Make a Toy Soldiers Parachute with a Paper Napkin Crafts Idea - Today we will show you how to make a toy parachute for your toy soldiers. If you don't want to hook this to a toy soldier, you can use a cork instead. It's fun to make a parachute and more fun to see it float downward as a real parachute does. It's easy to make, too.

Making a Toy Puppet Marionnette- This is so much fun to play with and it only takes a little while to make. You can then put on a bunch of puppet shows for your friends and family members. Just make sure that you or your friends aren't allergic to peanuts first.
Make Toy String Cup Phones - Learn how to make this classic toy phone.

Paper Spinner Airplanes - Okay, well these aren't exactly airplanes but they are similar - they are a spinny flying fun time.

Milk Carton Toy Blocks - Learn how to make interlocking toy blocks with upcycled milk cartons.

Make a Toy Gas Pump - Use a Milk Carton to Make a Fun gas pump for your cars and other vehicles.

How to Make Toy Movie Box Craft for Kids on Rainy Day - You can make movies out of your comic books or your own drawing, and have loads of fun showing them in this Peep-hole Movie Theater. Learn how to make this toy movie / cartoon show box out of a cardboard box and creativity. Find out how to make your own toy with the following easy directions.

How to Make a Shoe Box Doll House Arts and Crafts Project for Kids - Today we will show you how to make a really great toy doll house out of shoe boxes and other materials. This little two-story doll house with its gabled roof can be made in less than a half hour by any handy boy or girl.

How to Make Twist Tie Doll Figures with Moving Limbs for Your Doll Houses - If you want to make your very own play dolls out of recycled twist ties, then find out how to. They come out really cool, with hug-gable & twist-able arms and legs … especially cool for Mom dolls that hug baby dolls. Find out how to make these from unused items around your house. Have fun.
Hopa Mitica Doll - Push it Down it Pops Back Up - Learn how to make a Romanian Doll, called a Hopa Mitica Doll.

How to Make Toy Parachute Crafts Instructions for Boys and Girls - All kids that I know love playing with toy parachutes. You can make a parachute that will float down from the sky with its passenger. You can tie on toy soldiers or other toy figures, or even a little doll of some sort for girls who would prefer that. Throwing the toy parachutes into the air after they are made is really fun, as you will see.

Make Spool Dolls - Learn the basic steps to making a spool doll figurine.

How to Make Color Wheel Spinning Toys Craft Idea - This is a good arts and crafts activity to teach kids about colors (and it is a lot of fun to play with). Kids will be so surprised when they find out that when they spin the toys, the colorful rainbow of colors turns into a charcoal gray. You can teach kids a little bit of science and lit bit of art with the use of this crafts project. Have fun.

How to Make Cardboard Doll Houses from Boxes for Girls & Boys - This two-story doll's house is extraordinarily easy to make. It takes shape quickly and yet it is so sturdy that you will be playing with it for months. You will have great fun furnishing the rooms with the simple but real-looking furniture.

How to Make Cardboard Doll House Furniture with Old Boxes - Today we are going to show you how to make cardboard doll house furniture, decorations, and wall hangings. This is a great activity for a group of girls at a sleepover slumber party, for girl scouts, or for a boring rainy day.

Fabric Strip Jump Ropes - This turns out amazingly, and they are so strong and beautiful to look out. These make great jump ropes.

Making Knight's Toy Sword - Learn how to maket his pretty cool looking toy or costume sword.

Easy to Make Kokeshi Dolls - This Dolls was made with a walnut, a wooen bead, some decorative paper, and paints. Make your doll with a lot of love.

Making an Alphabet Letters Memory Game from Bottle Caps with Printables and Instructions- Today I will show you how to make a really cool Memory game that is great for any age child, but especially good for preschoolers and Kindergarteners who are still working on Alphabet Letters recognition. If you don't have enough caps, you could also use coins, checkers, cardboard, or whatever else you have lying around the house.

Make Your Own Yo-Yos with Model Magic - Make these cool yo-yo toys by sculpting them with Crayola's Model Magic. Find out how.
Jigsaw Puzzles from Magazine Pictures - You can make your own jigsaw puzzle, find out how.

How to Make a Bullseye Game Finger Ring - This craft doubles as a ring and when you take it off, you can set it up to be a game.

Make a Hobby Horse Toy - Here is a craft to make a hobby horse from a broomstick and a sock.

Button in the Box - This is a fun game, learn how to easily make it.

Super Fast Airplanes : Paper Darts - Learn how to make these paper darts.

Lego Pinball Machines - Learn how to make a pinball machine with Legos.

Making Fun Light Battle Toy - Use Tin Foil to make these cool light battle boards.

Miniature Puppet Show Theater - If you have a shoe box and a free afternoon, learn how to make a really cool mini puppet peep show.

Spin the Button on the String - This is a fun thing to do when you are bored. String a button on a string, spin it and pull.

Paper Toy Rocking Horses - Print out this model horse, fold it in half and then use a paper clip to make it rock back and forth.

Make a Paper Bag Hobby Horse - Make this ride-on toy horse with a broomstick, some crepe paper, and some paper bags.
KIDS MAKE YOUR OWN TOYS & GAMES ARTS AND CRAFTS - 0-9

3 Little Pigs : Printable Three Little Pigs Toy Models - These are free printable paper model toy crafts. More 3 Little Pig Stuff .. Box for 3 Little Pigs .. Big Bad Wolf

5 String Braided Jumprope - How to make a 5 string braided jump rope in five easy steps.

ABC Matching Game - - Children will have fun learning their Alphabet Cases by matching upper and lowercase alphabet letters in this fun ABC Matching Game craft.

Alien Space Ships - - This Alien Space Ship craft is out of this world - hang as decorations around your room or campsite.

Alka Seltzer Powered Bathtub Boat - My daughter had a school assignment to bring a boat that could cross a fish tank under its own power. It was legal for dads to help. Some chose rubber band power. I decided on bubbles from Alka Seltzer mixing with water.

Altoids Smalls Toy Car - This craft project will show you how to make a simple Toy Car made from an Altoids Smalls tin! If you have a pile of them in your drawer like me then you can make a lot of these and have a family race!

Apple Dolls : Craft Instructions - Don't let their craggy faces fool you. These little old ladies are sweet-natured and easy to make.
A Space Shuttles - To make this craft project you will need a milk carton, 4 dixie or bathroom cups, two straws, white paper, scissors, tape, glue, and crayons or markers to decorate your space shuttle.

Awesome Straw Plane - - This is a plane that has a drinking straw as a fuselage and it flies very nicely. I once made a rubber band powered propeller plane out of this design but I think a small electric motor (needs to fit in the straw) may be able to possibly make an RC plane like thing, or at least make it fly longer(also the motor will act as the nose weight).
KIDS MAKE YOUR OWN TOYS & GAMES ARTS AND CRAFTS - B

Baby Block Jingle Toy - - These baby blocks are the perfect Gift for the baby.

Baby's First Toy - - There are many craft ideas for recycling those baby food jars. Have you thought about doing things other than crafts with baby food jars? Here is my favorite...

Baby Sock Puppets - Turn mismatched baby socks into cute little friends for your kids in just five minutes! They are the perfect size for little hands and kids will surely love them!

Backseat Box - This laptop box is just the ticket for packing games, toys and snacks to take along on a road trip.

Backseat Travel Tray - - Serve up some backseat fun on your next road trip - a tray full of magnetic games and drawing supplies

Backyard Melody Maker - - This interactive musical rod is simple to make and easy to use -- over and over again. Kids slide the washers to the top of the metal rod and release them. As the washers slowly cascade to the bottom, they make a beautiful metallic twinkling sound, similar to that of a rain stick. One 4-year-old tester declared it "the most awesome musical instrument I've ever played in my whole life!"

Make Your Own Portable Game Set - - This homemade 3-in-1 game board lets players take their pick of challenges, with tic-tac-toe and checkers on one side and a penny-pitching target on the other. Roll it up like a scroll and take it on vacation for a rainy-day diversion.

Ball Catchers Crafts Tutorial - A recycled milk jug or detergent bottle becomes a great ball catcher for young kids just learning how to catch.

Ball in Cup Printable Paper Toy - This site is in Japanese but it looks like a printout toy game where you need to get the ball in the cup.

Balloon Paddle Ball - - Kids will love this make-it-yourself active sports game for indoors or out! Learn more about Balloon Paddle Ball.

Balloon Platoon Boat Craft for Kids - No matter how rough the waters get, the fearless crew aboard this inflatable toy raft will stay high and dry.

Balloon-propelled Funny Toy Car - Moveable Toy Cars - When air moves in one direction, it forces something to move in the opposite direction. Such is the law of physics found in the balloon fixed on this toy car project. This easy to make toy will surely give the kids loads of fun on a boring afternoon.
Balloon-powered Toy Car That Moves Craft for Kids - You get to blow up a balloon attached to a car, set it down, and let it race across the floor! Is that fun or what?

Bark Boats - This craft project teaches everyone that all you need is to find a few natural things from what we have around us and you can make a toy more beautiful than any you can buy in the shops. They are easy to make. Start off with a piece of bark that floats nicely.

Basketball Games - When Dad needs a break, he can play a game of basketball at his desk.

Basketball Hoop Games - Cool basketball hoop craft that is a game you can play once it is done.

Bath Craft - This clever catamaran turns your bathtub into a glamorous port of call.

Beanbag Buddy - Transform a sock into your very own beanbag buddy. Add some yarn and buttons and your kids can make a new recycled friend for Earth Day.

Bean Bag Toy House - Instructions to make a house for a bean bag toy or other stuffed animal.

Bear Doll : Craft Project for Children - Start thinking about who you know that would love a new bear, of adding to your collection! They make a wonderful first toy for babies, as well as birthdays and holiday gifts.

Bedroom Planetarium - Help your first grader learn to recognize constellation with this fun and easy activity. Then, on the next clear night, take a walk and see if he can find them in the sky!

Bed Sheet Parachute Fun Activity for Kids (Not a Craft)- Bed Sheet Parachute can be made without fancy fabric necessary for a kid-pleasing parachute; just use a sheet!
Bed Sheet Soccer Goal (Not a Craft) - String plus sheet equals instant indoor or outdoor soccer; just add a ball.

Binocular - Children will use and develop fine motor skills.

Binocular - Have a budding naturalist too? Here are the easy steps to throw together your own binoculars in just a few minutes

Birch Bark Canoe Toy to Make - Many Native American tribes made finely-crafted birch bark canoes. You can make a small model using construction paper and yarn.

Birthday Candle Bowling - Bowling game made from milk cartons.

Block Puzzles Recycled Into New Puzzle Game - - Turn leftover blocks into a new puzzle to create playtime fun.

Bloo Doll : Craft Project for Children – Looking somewhat like the nemesis of Pacman, this cute little Bloo Doll will surely capture the hearts of little tykes.

Boat on a Stick - As kids, one of our favorite toys to play with was a boat fashioned out of scrap lumber. Tie that boat to a stick and we would spend hours racing our boats around on the shoreline. It was a simple pleasure, but one that we created for ourselves by sneaking into dad's workshop. The boats never were much, but they were ours. And you can easily build one with your kids using simple tools, scrap lumber, and a little creativity.

Bobby Riding His Bronco Moving Mechanical Paper Toy - This is a printable paper toy of Bobby riding his horse...actually moves.

Boo-Boo Bunny : Pom Pom Crafts Ideas for Kids - Turn a frown upside down by transforming an ordinary washcloth into a cuddly toy bunny.

Bottle Boat - It is a boat that is made with simple materials and is easy to make. It is good for the environment and we can use it for something useful in the future.

Box Car Derby - This freeway is so easy to construct, the road will be open to toy traffic in no time.

Box Guitar This is an easy way to make a guitar using an old shoe box or tissue box, rubber bands, scissors, a paper-towel tube, and a pencil.

Box Town This is an easy way to make a toy town using old boxes, cartons, colored paper, scissors, tape, paper tubes, and crayons.

Box Buildings Kids can create all kinds of cool structures -- from houses to high-rises, metal shops to museums -- with household boxes and a few found objects.

Boy and Girl Glove Dolls - – Here's something that little girls will love playing "pretend" with. It's not hard to make a pair of these craft project, let us show you how.

Building a Boat with Your Kids - How to build a sailboat with your kids and hit the water.

Bubble Mania - - Time and again, science has shown us that first impressions can't be trusted. Consider the bubble: At first glance, it looks like the most fragile thing in the world. Yet under the right circumstances, it can be surprisingly difficult, if not impossible, to burst - as the two tricks here illustrate.

Bug Catcher - - If the buzz of a beetle sounds like the call of the wild to your kids, here's a great homemade bug catcher for their next backyard safari. It will let them vacuum the bugs they find into a plastic container for clear viewing. Plus, it keeps hands and insects apart, to protect bugs and budding entomologists alike.

Build a Bubble Powered Rocket - Build your own rocket using paper and fizzing tablets! Watch it lift off. How high does your rocket go? Print this page for the instructions.

Build A Jumbo Jet Arts and Crafts with Milk Jugs - Build your own model jumbo jet! Nearly everything you need is recycled. Where will you fly?

Build a Hovercraft - You might think it would be difficult to learn how to build a hovercraft but it is really not all that hard to make a quick little hovercraft for a school science project or just for fun at home on the weekend. All you really need for learning how to build a hovercraft are a few simple household items and tools.

Build a Smoking Race Car Arts and Crafts Project(Parental Help a Must)- This is a quick 15-minute project with great results- that is if you have some old beat up toys which you would like to recycle.

Build-Your-Boats - Sailboats have been used for at least 5000 years. Ancient Egyptians drifted down the Nile with the current, and then raised their sail to go back up the river. The Chinese invented a way to change wind. Canoes (kenu means dugout) were developed by the Carib Indians and other Native Americans over thousands of years. Rafts, kayaks, and many other types of early boats are also still used today.
Build Your Own Paper Rocket - Still looking for something to shoot into the sky on new year eve? Here it is: Build your own little paper rocket - it comes complete with a pneumatic launch pad. Using pressurized air as it's only fuel, the rocket might rise as high as five meters. No fire and no explosives are used - it's perfectly safe for indoor use.

Bull's Eye Toss Game - - How much more fun is a game that you make yourself?! This one takes just a few basic supplies and craft tools.
KIDS MAKE YOUR OWN TOYS & GAMES ARTS AND CRAFTS - C

Camouflage Binoculars Craft - An interesting craft to make.

Can Stilts - - Step up on your can stilts and walk like you're in the circus.

Can-do Stilts Fourth of July Crafts Activity for Kids - Give your favorite patriot a boost with a pair of classic tin can stilts. Our design allows you to empty the can while keeping its top and bottom sealed for safety and stability.

Cardboard Boomerang - It's hard to watch a boomerang soar off through the air and return to the thrower without imagining that some kind of magic is at work. In fact, it's not magic at all -- just physics taking flight.

Cardboard Box Castle Directions for Kids Turn a plain cardboard box into an enchanted castle. The cutting in this project is heavy-duty and should be done by an adult. The child can help by supervising and by designing where the towers and turrets should go.

Cardboard Box Castle - Turn a plain cardboard box into an enchanted castle. The cutting in this project is heavy-duty and should be done by an adult. The child can help by supervising and by designing where the towers and turrets should go.

Cardboard Box Castle and Puppet Theater A cool craft made using a large cardboard box.

Cardboard Hot Rod - Does your child have a need for speed? This cardboard car is a real winner. Black and white plastic plates and craft-foam flames give our roadster a smokin' look.

Cardboard Castles Crafts Ideas for Kids My nieces loved these fairy castles, made completely out of recycled materials!

Cardboard Motorized Toy Car Craft Project Directions for Children - This project will be teaching you how to make a small motor powered car made of k'nex, cardboard and a few other materials.

Cardboard Roll Binoculars - This shapes craft for toddlers allows the kids to be creative when they decorate their binoculars. Adults will need to do some of the steps to complete this kids craft project.

Cardboard-tube Binoculars - Search for wildlife in your imagination with these cardboard-tube binoculars! Transform a back yard, park, or your house into a jungle teeming with wildlife.

Car or Train Tunnel Craft for Kids - Your child can add tunnels to their train setup for a fraction of the cost of store-bought tunnels. Craft foam trim adds a colorful rainbow effect.

Cardboard Tube Space Ships - You don't have to be a rocket scientist to build one of these svelte spacecrafts. All you'll need is the right stuff: cardboard, glue, tape, and a big dose of aeronautic creativity.

Catapult Paper Model Toy - Need to destroy a vampire but hesitant to get too close to it? How about using a medieval catapult to hurl bundles of stakes at it from a distance? Here's a 2 player game with a functional catapult!

Catch The Comet Game for Kids - Make a fun scoop game for budding astronauts with Empty Milk Jugs!

CD Space Ship Craft - Kathryn submitted this project as part of this Make-It-Over craft challenge. She explains how she created this great space ship using two CDs and a few other supplies.

Child's Play Fireman's Vest - - Play pretend fireman and make your own fireman play vest to enhance the feeling of braving the heat and the fire in order to save lives and be the everyday hero that you dream to be. Follow the link and we will teach you how to easily make your own play vest.

Children's Lacing Card - - Lacing boards are a great way for children to develop basic motor skills, and keep them busy for a little while!

Chinese Dragon Boat - Dragon boat racing began more than 2000 years ago. People in China believed that the boat race would ensure a prosperous harvest. Today dragon boat races are held in many countries. The races are primarily fun ways to learn about Chinese history and culture.
Chinese Dragon Pull Toy - – Celebrate Chinese New Year together with this pull-along dragon toy.

Chinese Drum Craft - - A popular old-fashioned noise-making toy, the Chinese drum (rattle) is twisted in the hand so that the beads bounce of it and make a noise. With practice you can get a good rhythm going! Here's one the kids can make themselves.

Chipmunk Softie - Gloves (like socks), while born to be part of a pair, often end their days in lonely solitude, separated from their mates by the forces of the universe that conspire at every turn to pull them apart. Alone, they sadly serve little purpose (aside from the occasional show biz appearance for only the most sparkling among them), and are left to languish in the backs of a drawers and bottoms of closets — that is, if they're not disposed of all together. Ah... but it's a new day.

Classic Truck (Parental Help a Must) - I know it seems a little late for toys but just because Christmas is over doesn't mean that there aren't some little kids out there with birthdays. This would make a great gift for that special child that likes real toys. Nothing is nicer than a hand-made toy.

Climbing Critters - - Kids can stage a rematch between the tortoise and the hare with this pair of string-climbing critters - or they can break new ground by facing off the animals of their choice.
Clown Ring Toss Easy - Clown around with this Kool-Aid canister Ring Toss game for kids' clown parties, summer afternoons or rainy days. Easy to create and fun to play.

Chinese Paper Yo Yo - - A fun paper game that you will play for hours!

Coffee Can Drum - Kids love music and banging on pots, pans, and plastic containers. Combine their creativity with their musical talent by making this adorable homemade drum.

Colored Pinwheels – These are easy to make, cheerful to play with. All you need is a little bit of wind to get this thing going!

Clothespin Dolls - Here is a classic craft that everyone will enjoy making. Find out how to make personalized dolls using a clothespin and embroidery floss.

Clothespin Mexican Dancing Doll - - Baile folklorico is a traditional Latin American dance emphasizing local cultures. Baile folklorico means folk dance in Spanish and women wear colorful dresses with billowy skirts. Make your own Mexican Dancing Doll to celebrate your heritage!

Clothespin Peoples - - Friends and family smile with these little people that look just like them! These make perfect decorations for your next family gathering or as one-of-a-kindgifts.

Clothespin Pinwheel - So pretty they'll make you dizzy, these patriotic whirligigs spin in the wind. They're tacked to clothespins so you can clip them to anything -- like a bicycle basket. Cut two 5-inch squares in different colors from patterned paper. Glue back-to-back; let dry. Draw diagonal lines from corner to corner. Make a 3-inch cut along each line. Fold every other point toward center; glue. Affix to clothespin with map tack.

Clown Ring Toss - Liven up your child's birthday party with this easy clown ring toss game made from a cardboard tube and a little imagination.

Colorful Clothespin Dolls – Now this is what we call art craft and trendy fashion rolled into one project! Create your own colorful display of miniature clothespin dolls and find many uses for them afterwards.

Colorful Sock Toss - Transform singleton socks into a fun, colorful bean bag toss game. It only takes 20 minutes to make this fun craft project.

Constrawction Zone - - Looking for some instant fun on a rainy day? Grab a box of bendable straws and invite your child to try his hand at a building activity that takes all kinds of whimsical twists and turns.

Cork Catamaran Boat - All you need is corks and cocktail sticks to make these adorable little boats. If you don't have any cocktail stick handy then you can always use matchsticks sharpened to a point.

Cork Sail Boat - Find some old corks and slice them in half. Grab some toothpick and paper and you now have a simple yet fun toy boat!

Cosmic Crafts: The Trash Masters Project with Film Containers - Your kids will love creating and playing with these miniature action figures. To create the green illuminater, slide the cut-off bottle bottom from the Two-liter Transporter over a battery-operated touch lamp (available at drug and discount stores). To make a space-case backpack, tape a pair of twist-tie straps to the back of a dental floss container.

Cow Toy Printable Paper Craft - Cut and Fold Animal Cow Friends for You to Make.

Cow : Printable Paper Model Cow - This is a printable paper model cow.

Cootie Catchers Toy Game Making Instructions - Make your own cootie catchers.

Craft Project - Hit a balloon with homemade paddles, like tennis or badminton.

Crazy Caterpillar - Do you like bugs and creepy crawlies? Even if the answer is no, you are sure to love this particular caterpillar! Caterpillars are very cute, especially if they are made with tube socks or tights!

Crocodile Crayon Drop Game Craft for Kids - Your young party-planners prepare this crayon-eating crocodile a day or two ahead. This updated version of Drop the Clothespin game is a sure hit!

Crow and Corn Beanbag Toss - - Fall is the perfect time to be outside. The weather is cooler but still comfortable, so celebrate by making this whimsical game featuring crow and corn cob beanbags!

Cube Toy - Printable Foldable Paper Toy - This site is in Japanese, but this looks like a cube puzzle game like Rubiks Cube.

Customized Game Table - - Any child would get a kick out of pulling up a chair to a one-of-a-kind game table like this one, particularly if he's had a hand in creating it. Applying the self-leveling polymer finish is definitely a job for adults only - but the good news is that it pours on and, once cured, it is waterproof.

Custom Paper Dolls - About five minutes after somebody invented paper, we figure, some little girl invented paper dolls. And they haven't changed much since then. However, get ready for the 21st-Century paper doll! When paper dolls and computers get together, cool things happen. The computer is a doll factory and clothing designer all in one, letting kids print out all the paper dolls they like as well as fashions sporting any pattern imaginable -- including reproductions of a girl's own favorite outfits. Ready for some high-tech dress-up?

Cup o' Fish Game - - Make an edible aquarium in a cup. This is a great party treat you can make with your child.
KIDS MAKE YOUR OWN TOYS & GAMES ARTS AND CRAFTS - D

Dancing Lion or Dragon Toy - - Traditionally, on Chinese New Year, two people wear a huge lion or dragon costume and dance. This toy is a tiny paper version of this traditional puppet.

Design your own Racecar - - With Crayola Model Magic® Fusion™, you can customize your own sets of wheels! Whether you make an imaginary or real race car, this project will get your creativity revving.

Diego's African Safari Drum - Kids will have a blast running around the backyard with Diego's African Safari Drum.

Dino Feet - Have a prehistoric good time with these fun dino feet made from cereal boxes and colors.

Dinosaur Board Game Craft - Make this cool dinosaur board game for fun.

Dinosaur Feet- These feet are fun to play racing games with so make a couple of sets. They would make a great party game for a dinosaur theme party. (scroll down)

Dinosaur Memory Cards Game - Dinosaur Memory Cards Game.

Dinosaur Sock Puppet - Roooaaarrr! Here comes Sock-A-Saurus-Rex! This dinosaur sock puppet is a great kiddie craft to make and a fantastic toy to play with when done. This dinosaur sock puppet, in addition to being silly and fun, is a great way to teach simple lessons about dinosaurs to young kids. This sock puppet is a simple preschool craft that your children are sure to love!

Dog House for Teeny Bean Bag Animal - Paint the carton. Let dry. Decorate with pictures of Bean Bag Animals from magazines or printed from Ty's web site.

Doll House Furniture - Make furniture from various recyclable items, including juice bottles.

Donkey, Dog, Cat, Chicken Paper Model Craft - This is a printable paper model of a donkey, cat, chick, dog and a box.

Dragon Kite Making Instructions - Constructed of bags, a hanger, and a dowel, this friendly dragon is cheaper but is just as durable as its store-bought cousins. And its acrobatics would make a Chinese warrior proud.

Drama Dolls - Kids create the characters, their costumes, the sets-and all the fun. Keep your video cameras rolling!
Drinking Straw Maze Toy Craft - You can even make a labrynth-style maze with straws and a cardboard box. Pretty cool.

Drumroll, Please - This easy-to-make instrument just can't be beat -- no, wait, it can! It provides even the youngest musicians with a wonderfully rich and resonant sound.
KIDS MAKE YOUR OWN TOYS & GAMES ARTS AND CRAFTS - E

Easy Bottle Boat - This is a great toy for your young children that will supply hours of fun. Caution I am not liable if you hurt yourself.

Easy Riders - Toy Car Craft for Toddlers and Preschoolers - Have fun with these environmentally-safe cars and planes that run completely on imagination.

Egg Carton Fire Truck Craft - - Don't throw away those empty egg cartons just yet! Use them to make your own fire truck toy.

Egg Carton Sailboat - Sail through the boredom of summer with these free, easy sailboat crafts for kids.

Eggshell Ships - With a tissue paper sail, this boat is kitchen sink-worthy (as long as the wind remembers not to blow too hard)

Elephant Toy Printable Paper Craft - Cut and Fold Animal Elephant Friends for You to Make.

Elephant Foldable Paper Toy Craft - This is a cutout printable toy that is a cute elephant.

Easy Spyglass Telescope - Make this spyglass telescope and you will be the first to discover the new world from your make believe perch in the crowsnest of the Santa Maria or spot pirates roaming the seven seas.
KIDS MAKE YOUR OWN TOYS & GAMES ARTS AND CRAFTS - F

Fairy Dolls - These fairy dolls take a bit of effort and would be easier for older children. Use different colored flowers and make lots of fairies.

A Fairy House It is made of a box covered with goodies.

Fairy Houses Twhttp://jas.familyfun.go.com/arts-and-crafts?page=CraftDisplay&craftid=11050igs Craft Idea - Buttercup the Fairy says, "We love to fly about, but we need to rest, just like you. If we spy an inviting retreat like this one, it's hard to resist. Check out the fairy building code below and then construct your own fairy house. You'll find that once you begin, it's hard to stop -- you just might create an entire village!"Use twigs, sticks, and tree branches to make this Fairy House.

Family Game Memories : Grandparents Day Craft - - This is a great way for generations to get to know each other, and learn some new, or traditional, games.

Famished Frog Sock Puppet - This fantastic frog sock puppet is a great way to entertain the family during play time. With a toy fly on its outstretched tongue, this is one happy frog!

Fan Car Thing (Parental Help a Must) - This project will show you how to make a self propelling vehicle out of a toy car and a D.C. motor.

Feed The Frog - Invite a frog to your birthday party! Make the frog part of the game ahead of time. Guests design the insects then toss them onto the frog's long red tongue.

Felt Checkers Game Craft for Kids - Kids learn a little bit of sewing when they make this game and bag to store it in. It also makes a great gift for any checkers fanatic.

Felty Friends - This Felty Friend is similar to cloth dolls made in the 1800s, except that we've inserted a pipe cleaner skeleton to make the doll pose able. We should warn you though, that when one Felty is completed, it will inevitably require a friend, clothes, a sleeping bag, and a pet.

Felt Toy Cat - Who could resist this little Halloween cat? Make a collection of Halloween felt toys to keep him company!

Fleece Pom-Pom Balls - This fleece pom-pom makes a perfect toy for younger kids

Film Cannister Rockets - My son's fourth grade teacher had them do this experiment which his Cub Scout troop later used for their booth at the Scout-a-Rama. It was a favorite! This only works with the white film cannisters because of the way they fasten on top.

Film Container Parachute - Instructions for making a parachute using an empty film container

Finger Puppet Theater You can make a tiny theater that is useful for putting on shows with finger puppets, popsicle stick puppets, or puppets on a straw. You hold the theater with one hand and use the other hand to move your puppets.

Fire Truck Box Toy Children can make these fire trucks to pretend to ride in or to use as a toy box.

Fishing For Letters - - Create, play, and practice the alphabet in this wonderful alphabet fishing art craft.

Float Your Boat - Get your child juiced about crafting with recyclables by turning an empty OJ carton into a working paddle wheel-powered sailboat.

Foam Flyers - - Don't toss those Styrofoam food trays! Recycle them into a fleet of UFFOs: unbelievably fun flying objects.

Foam Friends - Make our cute paper doll "Friends" out of foam to use for your craft projects.

Foam Turtle Soap Bath Toy - – This easy soap craft project makes bath time all the more fun!

Fold a Record-Breaking Paper Airplane - This glider is the current king of the paper airplane world. Originally folded by paper pilot Ken Blackburn, it claims the Guinness record of 27.6 seconds aloft! Think you can beat that? Give it a shot -- the sky's the limit.

Foil Fleet - It takes only a few minutes to rig up one of these toy sailboats.

Foot Juggling Ball Arts and Crafts Activity and Game for Kids - Make an April Fool's Day craft that turns into a game. Using balloons and sand, you can create a foot juggling ball that you and your friends can play with in the back yard.

Fortune Boats - Follow these easy step by step instructions to make colorful fortune boats to celebrate the Chinese New Year!

Free Paper Models - Free paper model crafts that we at free paper toys have created for you to download and cut out then print out and use a little glue to build and play...

Friends Are Easy To Make - As the title suggests, you can indeed make your own friend- a doll friend that is. They will keep you company for hours on end and will never tease you nor speak behind your back or… what else have you.

Friendship Pal - These little dolls are a new twist on a summer classic, the friendship bracelet.

Frog Beanbags No Sewing Craft for Kids - These beanbags are very easy to make and no sewing is involved.

Frog Bean Bag Felt Craft for Kids - This is terrific first sewing project for children. If using it as such, I recommend having the children sew the body pieces together using a running stitch or a blanket stitch and then glue the remaining pieces together. I would fill with pillow stuffing instead of rice ... stuffing won't leak out as easily if the child didn't keep their stitches tight enough.

Frog Music Box Paper Craft Children will like it. Just ask them do they want to make this paper craft, and help them to prepare the paper craft supplies.

Furry Panda Sock Puppet - – Go on a safari to the crafts store to pick up some faux black fur for this exotic panda puppet. This will be a hit with the panda lover in your life.
KIDS MAKE YOUR OWN TOYS & GAMES ARTS AND CRAFTS - G

Garage Cardboard Car Crafts Activity for Kids- Build your very own car with just a cardboard box... And a little paint to make it pretty!

Garbage Bag Kite - This is a simple project to do with kids. All you need are two sticks, a bag, string and scissors and you have a kite!

Geodesic Dome Arts & Crafts Project with Old Newspapers - Who would ever believe that the Sunday paper and a stapler would be all you need to create a life-size structure big enough to hold a bevy of children? Our dome was, at turns, a fort, a gingerbread house, a cave and a camping tent.

Giant Alphabet Game Bag - Give your child's alphabet learning a boost through this alphabet bag craft. Play an alphabet matching game after you've finished this project.

Giraffe Sock Puppet - - There are many reasons to love summer! It's a season in which we can wear sandals and don't need to track down missing socks every day. So, for all the missing mismatched socks we have at home, here's a pretty cute animal sock puppet idea that you can make.

Glasses Paper Cutout Toy Craft - Print out these black glasses, fold them up, and play with them.

Glove Bunny Puppet - A few folds and tucks are all it takes to turn a pair of gloves into a cuddly Easter rabbit puppet.

Glove Dolls – Why spend a fortune buying dolls when you can make your own? This easy to follow craft guide will teach you how to make a dozen of this cute glove dolls in no time.

Glove Monster Tutorial - That's all there is to it, really. If you get stuck, your monster will tell you what to do. Just ask it.

Glove Puppets - Using an inexpensive garden glove, colored felt and pom poms you can create wonderful hand puppets that can make any storybook come alive for children of all ages!

Goat Toy Printable Paper Craft - Cut and Fold Animal Goat Friends for You to Make.

Go-CART Toy Car (Get Your Parents to Build This For You With Your Help) - Indulge your resourcefulness by building a classic go-cart! (If you have a favorite youngster, you should probably know how to build a go-cart.)

Golf Pen Crafts : Pen Crafts Activities for Kids - - This golf pen craft can be made for your favorite golfer, following these free project instructions. If your Dad loves golf, this would make a useful Father's Daygift for his desk.

Goofy Gator Sock Puppet - - This alligator has a bark worse than its bite. Its seemingly sharp teeth are nothing more than soft white felt. Make this adorable gator puppet for everyday entertainment.

Gourd Games : Thanksgiving Games & Activities for Kids - Think pumpkins are just for carving into jack-o'-lanterns and baking into pies? Guess again. After the second helping of Thanksgiving pumpkin pie, get up and get moving with these great-for-all-ages games.

Great Catch - - How many fishes can you catch? Learn numbers through this fun fishing craft.

Greeting Card Puzzles -These simple-to-make puzzles will delight your little ones.

Guatemalan Worry Desk Decorators - Use ordinary wooden clothespins to create original versions of Guatemalan worry dolls. These mini people hold important papers or perch on pencil cups to add color to your desktop!
KIDS MAKE YOUR OWN TOYS & GAMES ARTS AND CRAFTS - H

Hacky Sack or Stress Ball Making Crafts Project -This is a really fun toy for teens! I've made them and given them for Christmas and their friends all soon wanted one too! And moms-- you can make one for yourself or your stressed out husband because they make a great stress ball.

Halfback Harry, Moving Mechanical Football Player Payer Toy Craft - Print out Halfback Harry, cut him out, put him together, and then he will really move.

Handmade Hanukkah Dreidel Arts and Crafts Project -Learn how to make your own Hanukkah dreidel game from scratch. (Want to know the rules of the dreidel game? Check out the rules right here)

Handmade Sock Monkey - A stuffed toy monkey made from brown work socks delights children today like it has for decades. Make one for a special child - or for yourself to recall happy days as a kid with your own sock monkey.
Handkerchief Doll - The history of the handkerchief doll has been known for years especially in the more religious rites 'they were known as the prayer doll. Little Girls were given these dolls to take to church with them and if they dropped them no sound would be heard to disturb the congregation.

Handmade Puppet Craft - Lost mittens and winter go together like Al Roker and the weather forecast. This means you've got about a dozen right-handed mittens; while your kid only has one right hand. Next time he loses a mitten, don't get mad; get creative! Have your kid turn his spare mitten into a monster doll. Chances are, by the end of winter he'll have enough mitten monsters to give the Muppets a run for their money!

Heart Counting Game for Preschoolers - Make this simple game for preschoolers.

Hedgehog Mechanical Paper Toy Craft - This is a moveable, paper model craft of a Hedgehog (I think).

Herbivores Sock Puppet Squirrel - You may need adult supervision to do the project. Always use care when using tools or a heat source. Be careful and safe!

Homemade Horseshoe Game Here's a quick and easy way to make a horseshoe game that is safe and fun for kids.

Home Made Rubber Band Ball - Instructions to make a fun bouncing ball - submitted by Jenna Reedy.

Homemade Clown Pouch - You can use it to keep letters and envelopes, laundry or your knick-knacks. You can make it longer to keep more clothes, but be sure that it should not be loaded much. It also looks beautiful and funky in kids' room. It can be either hanged on the door or on the wall.

Hovercraft - A hovercraft is a boat that runs on air which gives it less friction and more thrust as is moves along. This is a great example to make one of your own.

Hovercraft Toy Boat - Make a simple homemade toy hovercraft using a compact disk and learn from this video tutorial.
Hoopster - - Most paper airplanes are flat but these paper hoops can really fly!

Hop-to-it Sock Bunny - This is another sock bunny project that is more in an upright position. It was really fast to make as well. This is an especially good project if you have some socks that have lost its partner.

Horse Mechanical Horse Paper Craft Toy - This is a mechanical, moving, printable paper toy model.

How to Make a Scooter (Dad or Mom Will Need to Help With This One) - This scooter is an example of how something mechanical can be made just by using standard materials that can be purchased from most building supply stores. This project should be undertaken in conjunction with a capable adult. This basic project involves cutting the pieces of wood to length, marking where the holes are to be drilled, drilling the holes and simply bolting the pieces together.

How to Make a Yo-Yo Woodworking Plans for Kids - Here is a great example of the power of doing it yourself. Despite also owning a few high-tech yo-yos, this homemade yo-yo is the one I use most often. The size and shape are all custom fit to my hand. Most importantly, the fact that I made it incorporates a level of satisfaction to yo-yoing that a manufactured yo-yo cannot match. This is a simple and classic project that also makes a great gift, and you won't believe the functionality that you can create.

How to Make an Origami Toy Water Bomb Directions - Water bomb origami toy.

How to Make an Origami Toy Model Yakko - Yakko origami model toy.

How to Make a Pet Rocks : Rock Crafts for Kids – A pet rock is a great alternative for anyone who wants a pet but does not have the space or time to take care of one. It is also a perfect pet for bad economic times because you do not have to spend money on food, vet visits, and toys. Find out how, using a rock and some basic craft supplies, you can create your own pet with lots of character!

How to Make a Balloon Car - This will show you how to make your very own Balloon Powered Toy Car.

How to Make Your Own Magical Doll - - Poppets are a simple, effective and fun tool for sympathetic magic.

How to Make a Cool Catapult Crafts Activity Toy - This shows how to make a neat catapult.It is fun to build/play with on a rainy or boring day.If you want a game to play launch marshmallows into someones mouth.Sorry I only have one picture.My sister(she has the camera) doesn't understand the concept of a good instructable.She suggested that I make an instructable without pictures! I convinced her to take at least one.You are saving a bottle cap from the waste stream so it is somewhat green.I am kinda trying to win a contest here,so vote if you like it!

Home-Made Binoculars Craft - How to Make Toy Binoculars Using Toilet Paper Rolls.

How to Make Paper Binoculars - Paper binoculars for kids are perfect for backyard explorers and nature-lovers. Create this paper craft with a few supplies and a wild imagination.

Humpty Dumpty - Humpty Dumpty sat on a wall, had a great fall, all the king's horses and all the king's men couldn't put Humpty together again… you can of course, with the velco strap attached in between the head and the body of this doll.

Humvee Pinewood Derby Toy Car (Parental Help a Must) - It is Pinewood derby season for the Cub Scouts. This project is meant to be a father son project so help your boy do as much as he can.
KIDS MAKE YOUR OWN TOYS & GAMES ARTS AND CRAFTS - I-J

Incredible Iceboats - In this miniature boat activity, make incredible iceboats, and see how long your boat can last. This is a summer activity for kids that are cool as ice.

Indoor Golf Game - Make your own indoor golf game using recycled materials - so that your kids can enjoy a craft activity and the game afterwards!

Insect Finger Puppets - With just a few basic supplies, you can transform a stray glove into an assortment of whimsical toys that will provide your children with hours of amusement.

Jet Boat - Kids will love being the captain of this balloon-powered jet boat -- perfect for racing in pools, ponds and bathtubs.

Jolly Giraffe - This giraffe sticks its neck out in style! A knee sock creates the long neck, and felt forms the trademark spots and mane.

Juice Box Boat - Won't your kids love building these little Juice Box Boats and floating them in the pond or bathtub?

Juice Box Car and Plane - Transform a simple empty juice box into your child's favorite toy.

Juice Box Dolls - When kids are done sipping the delicious juice inside these boxes, they can rinse them out and make an adorable new friend.

Juice Box Frog Jumpers Craft Toy - Make your own jumping frog with a recycled, empty juice box.

Juice Box Train - Make your very own train out of empty juice boxes and practice saying 'choo choo'!
Juice Container Log Cabin - Many pioneers grew up in log cabins way back when, including some of the United States' former presidents!

Juice Lid Drop Game Making Instructions for Kids- How to make your own game using frozen juice container lids and a coffee can.

Juice Lid Memory Game Making Directions for Kids - Andrea explains how to make your own memory game from frozen juice container lids.

Jumping Spider Puppet Craft - - Follow these directions to make a fun, jumping spider puppet.

Junkmobile and Toys - Drive the sturdy, smooth-riding Junkmobile around the neighborhood on regular collection days, or park beneath the Waste Shooter for a quick fill.
KIDS MAKE YOUR OWN TOYS & GAMES ARTS AND CRAFTS - K
Kalah Game for Kwanzaa - Every African plays some version of kalah, for example, mancala or awari. The game can be simple enough for children as young as five, or complex enough for to satisfy more experienced players.

Kaleidoscope : Kaleidoscope-Making Instructions for Kids - This is an easy 'paper kaleidoscope' (not one of the ones you look through) that is fun for young children to put together.

Kaleidoscope : Kaleidoscope-Making Instructions for Kids - This one was our favorite and we tried different things to really make the kaleidoscope show all the different colors.
Kaleidoscope : Kaleidoscope-Making Instructions for Kids - Create a radial design with beautiful colors to brighthen up any room.

Kaleidoscope Toy - Make Your Own Kaleidoscope for Children - The kaleidoscope is one of those toys that make me nostalgic for my childhood. Today, just before children go back to school, I'd like to show how to make a homemade kaleidoscope toy.

Kaleidoscopes - How to Make an Easy Kaleidoscope Instructions- Remember how amazing it was to look through a kaleidoscope when you were younger? These neat gizmos are especially suitable for older age groups since they require more advanced cutting skills and involve more detailed directions.

Keep Away From The Shark Crayola Craft for Kids - Play an outside bag-toss game on a chalk-decorated sea! Make your game as easy or difficult as you like.

Kid Binoculars - Be on the "Lookout" with our Easy Child Craft.

Kiddie Cardboard Race Car Craft for Kids - Got any cardboard boxes lying around the house? Well put your creative wheels in motion and make a race car out of cardboard for your kids. Vroom, vroom!
Kids Backyard Rocket Launcher Film Canister Crafts - Make your own rocket launcher for your backyard. These 'rockets' will go up to 20 ft in the air. The power for these rockets comes from the gas created by combining two common items.

Kids Can Stilts - - Walk tall with this juice can stilt craft that provides hours of fun and physical activity for kids.

Kid Grid - Print your photograph onto sticker-backed photo paper, cut it into squares, attach to blocks, and voila -- homemade baby toys!
Kids' Kaleidoscope : Easy Kaleidoscopes for Kids to Make - What a wonderful world to see when you make your own Kids Kaleidoscope with recycled film canisters--a fun summer or scouting craft.

Kitchen in a Box A cardboard box, gussied up as a play sink and stove, will send your toddler into pretend rapture--for real.

Kites : How to Make Kites Instructions for Kids - Learn about kites and then make your own kite.

Knit Wits - Turn gloves into palm-size pals.

Knotty Rabbit Activity for Kids - Fold, tie and fasten a square of material and -- presto! -- a cuddly toy.

Kwanzaa Kinara : Crafts to Celebrate Your African American Heritage - In order to play this game, a prop box needs to be made.
KIDS MAKE YOUR OWN TOYS & GAMES ARTS AND CRAFTS - L

Lacing Cards : Shoelace Crafts for Kids - - Lacing is an excellent activity for developing fine motor skills, improving hand-eye coordination and concentration, and keeping little kids happily amused!

Lacing Table Toy : Crafts with Trays for Children - - All you need for this project are the right materials (as you will find in our guide) and your creative genius.

Leprechaun Tic Tac Toe Game Craft Activity - Neat craft to make to entertain the children for hours during your next St. Patrick's Day party. Create this leprechaun playing board and use shamrocks as tic-tac-toe pieces.

Lion Paper Model Toy Craft - Print out this cute lion paper model.

Little Log Cabin Craft You can make this wonderful twig house using a cardboard box, twigs, and hot glue.
Little Red Riding Hood - This project is obviously a walk down the fairy tales lane. Just looking at the red cape, we can easily tell who this doll character is.

Little Red Riding Hood Mini Marionettes - Grandmother, what small teeth you have! Sound strange? That's what your kids will be saying with these Little Red Riding Hood Mini Marionettes.

Lincoln Sticks: Popsicle Stick Log Cabins Activity - This instructable will show you how to make the Lincoln stick pieces and then detail the designs of two "log cabin" structures that I built out of them. I welcome any and all comments or suggestions!
KIDS MAKE YOUR OWN TOYS & GAMES ARTS AND CRAFTS - M

Mac Donald's Farm - Sing and play with your very own barnyard! "Old MacDonald's Farm" comes alive with this barn, farmer, and animals.

Magazine Box Town Being stuck in the house all day doesn't mean you have to spend your time staring at the same old walls. Instead, you can build new ones. With a few magazine and file storage boxes (sold at most office supply stores and discount department stores), you can construct an entire play village in an afternoon.

Magic Skittles Game - It's always fun to go bowling! Make your own tabletop skittles game to play with friends and family.

Magnet Fishing Game Craft - One of our daughter's favorite cartoon shows had an episode where the characters went fishing, so of course she wanted to go fishing too. The problem is that it's mid-February here and it snowed last night so we needed a way to go fishing indoors (which frankly is this Mommy's preferred method of fishing regardless of the weather!). So we put together this fun magnet fishing game! This cute fish craft is a great way to make a variety of preschool learning games as well.

Make a Kiddie Doctor Kit - Make this fun doctors kit for fun childrens play.

Make Your Own Magic Star Wand - Make a magic star want with Styrofoam; 4" to 5" square; Star cookie cutter (or star pattern); 1 long straight sipping straw (painted, straight stick may be used for a more sturdy wand.); silver or gold glitter; craft glue; 3 or 4 strips of scrap ribbon, color of choice, 8" to 10" long.

Make A Super Cool Tipi Fort Using Recycled Materials : Crafts with Old Bed Sheets for Kids - Although tee-pee is often spelled tee-pee (t-e-e-p-e-e), tipi (t-i-p-i) is considered the correct spelling. Tipi is a Sioux word formed from the word meaning to dwell or live- ti, and the word meaning used to live in -pi. Regardless of the spelling, they make a super cool fort.

Make: a Daytime Telescopes - A cool craft to make.

Make a Sock-a-Saurus Puppet - Make a dinosaur puppet out of a sock.

Make-a-Sock-Doll - You'll never know what happened to that missing sock, but now you know what to do with its other half. A few "orphan" socks from your laundry room can be made into a soft, huggable new doll.

Make-a-Sock-Monkey - This classic, yet goofy, sock toy has been a favorite of children for years. Why not make your own sock monkey using two socks, plus scissors, stuffing, yarn and a little bit of time?

Make-a-Sock-Puppet - - Making a sock puppet is really quite fun. If you make several of them, you can hold a puppet show. Just be sure to make them unique and individual so that they each have special characters. They don't have to be human - animals and aliens are great possibilities too!

Making Sock Puppets - Make these simple sock puppets out of old socks and a few other supplies.

Marionette Puppet Craft Toy for Kids - With a little practice, your kids can perform their very own puppet show with these marionette puppets.

Mini Golf - Create a mini golf course for your father out of cast-aside home items. Using your imagination, you'll create a challenging backyard courses that will make you the envy of the neighborhood on Father's Day.

Micro-Family Play set - This Lilliputian-sized play set makes an irresistible present for a child, and it's deceptively simple to make -- just mount photographs and color copies of photographs so they stand up.

Milk Jug House Craft Activity for Kids - Milk isn't the only thing that packages well by the gallon. Convert an empty plastic jug into a portable dollhouse or hot-rod garage.

Milk Boats - These cute boats are a fun and easy summer project even for a group of kids. The basic materials are a discarded milk carton, straw and napkin.

Milk Carton Sailboat - Sail through summer with these free, easy sailboat crafts for kids.
Milk Carton Toy Sailboat - This is a fun craft that actually floats - kids who made these had a lot of fun playing outside in tubs of water with their boats over the summer!

Mini doll making - This tiny mascot doll is perfect for beginners.

Mini Homemade Dolls - Use your sense of style and a few spare craft supplies to whip up a collection of these colorfully clothed dolls.

Mini Music Makers : Cinco de Mayo Crafts Activity for Children - - Easy to make from empty film canisters and craft sticks.

Mini Solar Car : Learn How to Make a Solar Powered Toy Car (Parental Help a Must) - Solar Power begins its journey 1,000,000 years ago at the heat of the sun where matter is being to energy at a sub-atomic level. The Sun's energy reaches the surface of the Earth with a power of one kilowatt per square meter (1.1 horsepower per square yard).

Miniature Wood Craft Toy Car (Parental Help a Must) - With some wooden materials and some moving parts, you'll be surprised at how easy it is to make a miniature toy craft car!

Mini Yarn Doll - We would like to thank Grandmas everywhere for keeping this craft alive. Now we've just given our dolls an updated look.

Mitten and Glove Puppets - Lost a mitten or glove? Don't fret! Make its orphan into a cute animal puppet.

Mix & Match Animal Games - Kids mix and match different animals to make unusual kreatures. Encourage creative thinking by asking questions: What if a hippo had a bird's body? What if a camel had paws like a tiger?

Multicolor Binoculars - Turn two rolls of cardboard into magical multicolor binoculars. A fun Columbus Day craft that kids will love to build and explore with - just like Dora!

Skeleton Puppet Marionette Paper Model - Meet Styx, the Dancing Skeleton! He'll rock out to your favorite music whenever you wish, and he'll hang quietly on the wall (or from the ceiling) the rest of the time to give any room that certain extra... something. This little fellow is fairly easy to build and is suprisingly fun to goof around with once he's finished.

Making Bean Bags - Instructions to make bean bags to play fun games with. Great simple sewing project!

Make Your Own Checkerboard - Make Your Own checkerboard with 1 piece of plywood cut (square) to size you want; Felt in two different colors; Paint (enough to cover the top of the plywood); Paint: small amount in two colors (same as colors of felt); Bag of round wooden discs (available at craft supply stores).
Make Your Own Bible Game - Playing games is a great way to bring to life a Bible story. You can make your own game using the templates and ideas given

Make Your Own Marbles - Make your very own marbles.

Make a Bottle Cap Snake - Make long snakes, short snakes, or use your imagination to make other bottle cap creatures - crabs, ladybugs, centipedes - just by adding chenille stem legs or antenae. You'll soon have a menagerie of handmade toys that will provide hours of fun for your young ones.

Make and Fly a Rotocopter - Just cut and fold. Add a paper clip and toss it into the air. Watch the rotocopter spin to the ground. This makes an interesting classroom project. Try changing variables. Use a larger paper clip or a heavier piece of paper and see which rotocopter drops the slowest.

Magnet Fishing Game Craft - One of our daughter's favorite cartoon shows had an episode where the characters went fishing, so of course she wanted to go fishing too. The problem is that it's mid-February here and it snowed last night so we needed a way to go fishing indoors (which frankly is this Mommy's preferred method of fishing regardless of the weather!). So we put together this fun magnet fishing game! This cute fish craft is a great way to make a variety of preschool learning games as well.

Mancala Game - - Play for hours when you create this fun African Mancala Game from recycled egg cartons and tuna cans. Great for all ages!
Math Game - Instructions for making a fun math game using an empty film container

Mighty Megaphone - - Even the littlest voices can lead the cheer with this sturdy homemade megaphone.

Milk Jug Car : How to Make a Toy Car Out of a Milk Jug - With a few materials and a little imagination, you can make box cars like a race car, a sports car, or even a minivan.

Milk Jug Catch Craft for Children - Milk Jug Catch is a great game to play indoors or outdoors. It's especially fun for kids because they make the scoops themselves.

Milk Jug Whale Craft for Kids - An everyday household item becomes a new bath toy!

Milk Carton Pirate Ship - This is a really cool pirate ship made from milk cartons.

Milk Carton Spanish Galleon - This is also a really cool ship.

Mini Golf - Create a mini golf course for your father out of cast-aside home items. Using your imagination, you'll create a challenging backyard courses that will make you the envy of the neighborhood on Father's Day.

Mint Tin Magnetic Word Play - - Take old magazines and turn your favorite phrases into word play. This simple project is sure to make headlines.

Model Car Factory - Liven up a rainy afternoon by test-driving a fleet of homemade cars.

Monkey : Pat Head and Rub Tummy Mechanical Monkey Model - This is a mechancial paper model toy of a monkey patting his head and rubbing his tummy.

Moves Count - - Design an original board game to use math skills. Sculpt playing pieces with Crayola® Model Magic. Clear directions and rules are a challenge to create, too!
Musical Altoid Tin - - I've seen projects similar to this but the trigger mechanisms didn't seem too reliable. So this project is how to install a pressure switch to make your Altoids tin musical. If you haven't tried soldering before this project should be a good start. It only has four simple solder joints to make.

Musical Maracas - Maraca made from a coffee can.

Musical Magic Slipper Game - Wear the Magic Slipper and you have the power to disappear! Glitter Glue, sequins, and ribbon all add to this game's fun!

My Own Message Board - - Have you noticed how magnets seem to attract kids like, well, magnets? Capitalize on that fixation with a magnetic memo board right in your child's room.
KIDS MAKE YOUR OWN TOYS & GAMES ARTS AND CRAFTS - N

Napkin Ring Toss s - - Make Thanksgiving a fun feast by playing games with crafty napkin rings and keepsake frames you create yourself! Invite the whole family to participate in this memorable game.

NASA's Concept Rocket Car Craft and Science Experiment for Kids – This link will show you the concept of how rocket propelled vehicles are made. Kids will even have fun learning with this easy to assemble toy craft project.

Neighborhood - Save empty boxes, cartons and other "throwaways," and your child can find many different ways to use them as playthings. In this activity your child can use lots of "throwaways" to make a whole community.

Needlecase House Felt Sewing Craft for Kids - Here is a simple project to make on one of those rainy afternoons... You will need: felt, scissors, large-eyed needle, pins, embroidery (or ordinary) thread.

No-Sew Felt Bean Bag Chick - "It's so cute!!" "It looks so cuddly!" "I want one!" Those are just a few exclamations we've heard with this cute yellow chick doll. Now you can make your own with this huide to help you out.

Nutty Squirrels Craft for Kids - In this crafty tabletop game, players try to guess which critter has squirreled away the nut.

Oatmeal Box Cradle Craft - A simple-to-make cradle made from an oatmeal box and either paper or fabric scraps. You can use this cradle for a favorite doll or teddy bear.

Octopus Puppet - With no mouth to move, this purple octopus doesn't have much to say. But it's still ready for action, thanks to its eight shapely legs that can be twirled about.
KIDS MAKE YOUR OWN TOYS & GAMES ARTS AND CRAFTS - P

Painted Rock Playsets : Stones and Pebbles Crafts Ideas for Children - Here's something to do with all of the rocks that seem to magically pop out of the garden each spring: turn them into a colorful, interactive art-and-building set for your kids.

Panda Palace and Panda Figures Toy Paper Model Craft - This is a printable paper model of a iny little Panda Palace toy as well as panda figures to go into the palace. You can cut out and play with Princess Panda and her friends.

Paper Cup Air Cannon Toy - A DIY version of AirZooka. A simple air cannon that will shoot puffs of air in the shape of torus (AKA: Rings). Add smoke and you get smoke rings.

Paper Dreidel Craft - - This paper dreidel is great to use as a Hanukkah decoration or a holiday toy. The rules for playing dreidel are listed below.

Paddle Steamer from a Soda Bottle Activity for Kids What fun for a summer afternoon in a pool or a pond. Cool steamer from soda bottles.

Panty Hose Polo Game : Make Crafts with Panty Hose & Stockings - - Never underestimate the power of silliness to double up your kids in laughter. And in this game, in which players madly swing oranges suspended in panty hose, laughing yourself silly is no stretch.

Paper Airplane: Squirrel Glider Printable Craft - Print out and fold up this squirrel glider airplane for a lot of fun.

Paper Doll Chain Tutorial - When you make a Paper Doll Chain, you will notice that all the dolls have the same shape. Even though these paper dolls are identical, you can color each one to look different.

Paper Chain Gang Craft for Kids - Remember the joined figures of a doll chain? Try a square fold instead and see what you come up with.

Paper Dove Flying Toy Craft- You won't mind this critter invading your next picnic: a high-flying dove made from paper plates and plastic spoons.

Paper Dreidel Crafts - This paper dreidel is great to use as a Hanukkah decoration or a holiday toy. The rules for playing dreidel are listed below.

Paper Plate Frog Pull Toy Crafts Activity - This paper plate frog is not only an adorable paper plate craft for kids, but you can turn this cute little guy into a fun pull toy for the little ones.

Paper Gyrocopter Toy Craft - Take your kids for a spin around the neighborhood with a toy gyrocopter. You can make one in five easy steps.

Paper Microscope Printable Paper Toy - Believe it or not: Here's a microscope, made from nothing but paper, two lenses, a plastic mirror and a drinking straw. Although this is not the kind of material you would expect to be used in an optical instrument, the facts are quite amazing.

Paper Towel Roll Snakes - This is a craft and a fun toy all in one! Preschoolers design their snake and then they can take it for a "walk" by pulling it along with the yarn.

Parachute Patterns - - Jump right in to this fun project that is patterned after real parachutes. Kids will fall for this creation that explores how colors can be arranged to create a design.

Pasta Pets - If you're looking for quick fun on a rainy day, just use your noodle -- elbow, bow tie or penne will do -- to make these posable toy animals.

Patriotic Twirler - - This colorful twirler is simply two flexible straws joined together, with a tassel of tissue paper taped to one end.

Patrin's Frog Toy Printable Paper Craft for Kids - A little frog for you to make.

Pencil and Coin Spinning Top - - In this instructable I will explain how to make a cheap and funny little toy.

Penny Butterfly Printable Paper Toy Model Craft - This little balancing butterfly will do tricks and balance on your finger.

Penny Graph Game : Craft with Pennies - - Every penny counts in the Penny Graph Game! Learn more about coins in circulation with this easy indoor game for kids. By taking a sampling of when coins were minted and graphing the results, kids can find out when most pennies in circulation were minted.

Pet Matching Game Decide what kind of matching game you want to make. You can make it to match adult and baby animals, animals of the same species, animals of the same color, etc.

Picnic Plate Paddle Games - - Life's a picnic when there are fun things to make and play with kids. Make two sets of these paddles, crumple up paper for a ball, and everyone can get up to the plate.

Pipe Cleaner Dolls - With posable bodies and wigged-out hair, these futuristic action figures are a welcome diversion on a rainy day.

Pipe Cleaner Pals - These Pipe Cleaner Pals are easy to make. A few moments of your time is all it will take.

Plastic Bag Paratroopers - Who says only birds fly? Create your own playthings such as these paratroopers and see them float in the air.

Play Cat and Mouse Bedsheet Tag - Are you looking for an easy-to-play, fun game? Try Cat and Mouse! All you need is a large bedsheet or tablecloth, a "cat" and a "mouse" and you're set for this silly take on tag!

Pocket Sized Tin Racer Craft Activity to Make a Toy Car - Have you ever gotten bored at school or wanted to make your friends jealous with something they didn't have? Well this is it! This is what you have all been waiting for... The Pocket Sized Altoids Tin Racer!

Poetry Pebbles Game- A super way to get the creative writing juices flowing

Pop Bottle Wind Spinner Craft for Kids Recycle those empty soda bottles into fun wind toys. Very beautiful, colorful and fun to have such this in your garden on the tree.

Pop-pop or put-put steamboat - Children, from about 6 years old on, can make this real steam propelled boat under adult supervision. This pop-pop or put-put steam boat requires neither soldering nor gluing. No drilling or puncturing is needed. It does involve an easy to make bending tool.

Posable Action Figure or Doll Craft for Children - This little buddy stands, sits, and bends every which way. Kids can twist it around a desk lamp, hang it from a doorknob, and make it hold up pencils or markers. How will your child use it? Make with Wooden Craft Sticks.

Pringles Can Pinhole Camera : Potato Chip Cans Activities for Children - Recycle a potato chip container into a pinhole camera.

Pringle Can Castle - Make a toy castle out of pringle cans.

Puddle Boat - Spring showers set the stage for the type of adventure found only in a big rain puddle -- like setting afloat a toy boat.

Pull-Along Dragon Toy - - Create this dragon pull-along toy out of paper cups- a great craft for learning about Chinese culture or celebrating Chinese New Year.

Pumpkin Patch Board Game - Kids can count on handmade games for holiday entertainment

Quadropus - Got a single glove and no hope of finding its match? Some easy sewing will transform it into a four-legged octopus.
KIDS MAKE YOUR OWN TOYS & GAMES ARTS AND CRAFTS - R

Race to the New World - - Race to the New World with this Columbus Day activity. Perfect for warm weather, this game lets you explore the world with the Nina, the Pinta, and the Santa Maria.

Racing Crate Car Arts and Crafts Project for Kids - Give future motorists a thrill ride with this race car craft. An old wooden apple crate and some plastic plates are all you need to get the wheels turning for kids' parties and other events.

Rainbow Fishing Game - Put up a "Gone Fishing" sign! Play this fun fishing game-you create it with Crayola® Twistables™.

Rainbow Flier Toy Paper Craft - Like the real thing, this rainbow flier can brighten a rainy day.

Ramadan Game : Ideas Ramadan Arts and Crafts Projects - The kids love the game, and learn some new things.

RC Bottle toy boat - Remember that each boat is unique. Consider this a suggestion to what you should do with the motor of your defunct RC boat/plane/car.

Recycle Binoculars - This project is so easy, that you even don't need pictures in order to understand it.

Robot Racer Rubber Band Car - This site will show you how to build a Robot Racer. The robot racer is a fast, fun, easy-to-build elastic band car. The car uses recycled tubes, bottle tops and even recycled elastic bands for that eco-friendly feel. Enjoy!

Rocking Horse and Elf Rider Paper Toy Printable Model - A big thanks to Toymaker Gerd Schenk for the idea for this cute horse and rider.

Rollo, The Baseball Rookie Mechanical Moving Paper Toy Craft - Print this baseball player out, put him together and he will really move.

Rubber-Band Powered Altoids Boat - This instructable is on how to build a Rubber-Band Powered Altoids Boat! Perhaps you remember making a boat out of a milk carton as a kid. Now here's one out of an Altoids Tin! They are a great thing to do with kids. Also you don't have to worry about using batteries either! (Green power!) So work hard, have fun, and play nice.

Rubber Band Powered Toy Car Launcher Craft Project Idea - Ever wanted your toy cars to really go? Want a new way to race? Want an excuse to build something really cool for your kid? Or do a fun project WITH your kid? You don't have to go buy a new cheap plastic toy, make your own fun from leftovers from prior projects! Make this awesome "Hot Wheels" type car launcher that sends cars flying across the floor! Boys would love this, but keep them far from any low windows!

Rubber Band Powered Tugboat – Children will have a swell time playing with and watching this rubber band powered tugboat glide effortlessly through the water!

Rubber Glove Finger Puppets - These cute finger puppets are so simple and appealing. What a great end for that left over rubber glove.
KIDS MAKE YOUR OWN TOYS & GAMES ARTS AND CRAFTS - S

Safari Miniature Golf Set – This is one fun way to learn about sports and animals in one setting! Recycle old cardboard boxes into golf fun.

Sail Away! - Sail away with this breezy sculpture! Imagine you're exploring the seas with a mini version of your favorite craft.

Sail with the Vikings - Sail into your own adventures! Explore the high seas on a Viking ship--with beasts at bow and stern. Vikings made huge ships that had heavy armor and ornate designs. Many Viking ships had carved images of sea creatures or other mythical beasts at their bow (front) and stern (back).

Sailing Walnut Boats - To make this craft project you will need a walnut shell, a toothpick, a tiny lump of clay or gum, a piece of paper, and some markers. Those are pretty easy to get materials for a fun to make project.

Sand Toy - - If you want to give this as a Gift , make two or three soaps to stuff in the netting that held your sand toys, then pop in a wash cloth and a net bath scrubby.

Shadow Puppets - - Your kids can cast a shadowy show of their own with just a few of these simplified paper puppets.

Simple Sailboat Craft - - You can make these cute little toy boats in just a few minutes. They are great for preschoolers and kindergartners to practice cutting with scissors, drawing, and molding clay.

Ship Ahoy! - If boredom's got your kids walking the plank, let them turn a refrigerator box on its side and set sail on the waves of their imagination.

Shrink Art - Instructions to make home made shrink art using styrofoam meat trays

Simple Film Canister Kaleidoscope - This is a lesson plan that Sandy got when she attended a workshop at The Columbus Museum of Art.

Sky Riders with Recycled Soda Bottle Craft for Kids Our version of the classic toy parachute has a surprising twist--or more precisely, an untwist.

Slam Dunk Success : Basketball Crafts Activities for Children- Fun slam dunk game craft.

Snowball Pitch - - Tell kids to throw snowballs in the house? That's right -- it's the aim of this cool target game.
Soap Box Dragsters - - Powered by a blast of air, these little racers can really move, making a clean getaway as soon as you set them down! Kids can assemble a bunch, then host their own mini derby.

Soap Box Racer Project Instructions - Bright, colorful and powered by a blast of air; these little box cars really move. Kids (and adults) can assemble a bunch of them at once, making it a perfect project for birthday parties or just some good old summer fun with Mom and Dad.

Soapbox Truck Project Instructions - Get things rolling on a rainy day with this toy truck project. All you need is some glue, discarded soap boxes (which can be found on your bathroom sink), and this instructions to get you going!

Soaring Space Ships : Space Ship Crafts Ideas for Kids - Rocking rocketry is possible with versatile Crayola Model Magic® Fusion™ modeling compound. Its glittery surface gives your imagination an extra blast-off.

Sock Doll - Line up a few of these dolls on a windowsill or mantel, and you're guaranteed to spread cheer to family and guests alike.

Sock Fairy – If you missing pairs of socks and are thinking about throwing the whole lot away, think twice before you do because here's something which you can create out of those.

Sock Monkey - This craft project may take a little more time than the rest but be assured that once you are done; you will have a swell time playing with your creation. Ask Mom to help you out in handling the needles! Always remember that SAFETY is the first rule in craft making.

Sock Puppet Kids' Craft - Like many, we have a massive pile of socks with mates that have mysteriously gone missing. Around my house, the Sock Monster takes the blame for this, and anything else that might happen to go missing from the dryer. These socks sit around in the lone sock bag for a while, and then once all hope is lost that its mate will show up in a later load of laundry, they become dust rags or craft projects.

Sock Puppets - Looking for something to do with those mysterious single socks? Turn them into animal puppets (they're easier to make than they look).

Soda Bottle Boat - How to make a soda bottle boat.

Soda Bottle Sailing Boat - Kids love to play in the water. And kids especially love to float toys in the water. With this great craft, they can play with a toy of their own making. A soda bottle can be turned into a sailing vessel to be used in a pool, in a pond, in the ocean, on a creek, or merely in the bathtub!
Soda Can Cuties - - These are really adorable little toys! In order to make one, you have to follow our easy guide though. Here's how…

Soft Muslin Doll - Make an extra special handmade doll using muslin, a soft and tightly woven cloth material. Follow the instructions in this sewing craft to create a one-of-a-kind doll because nothing says special quite like an art craft you make yourself.

Spin and Skip : Potato Chip Cans Activities for Children - This toy is so much fun to play with, your children won't realize they're also getting a workout.

Spinners, Thaumatropes or Turning Wonders Paper Model Craft - These are really fun to give out at parties or to bored children. Glue a piece of heavy thread or string in the middle where the dotted line is... after it dries you can spin it and a picture will appear.

Spool Dolls - - I had heard of spool dolls but never seen one, so I began collecting empty wooden thread spools to make my own. Nowadays, most thread is on a plastic spool. Either wood or plastic will work, with or without thread. This is an easy craft and children can help you if you like. But spool dolls are not just for children. I have mine hanging on the latch of the armoire in our bedroom.

Spool Snakes - - I made Laurel a little toy yesterday. My grandma gave me one of her craft books (which would make it vintage) and it had all kinds of simple ideas for homemade toys. All the necessary supplies are ordinary things that you find around your house. I just love toys that don't have flashing lights, make beeping sounds, or have a screen.

Spyglass Telescope : Making Easy Telescopes Arts and Crafts Projects - Make this spyglass telescope and you will be the first to discover the new world from your make believe perch in the crowsnest of the Santa Maria or spot pirates roaming the seven seas.

Speed Eraser Toy Cars and Trucks Making Instructions - Have your kids turn a handful of office supplies into a busy fleet of cars and trucks. There's nothing nicer than to see their eyes light up with a newfound craze!

Stacking Tic-tac-toe Craft - Add a third dimension to plain old 'X's & 'O's with this stacking tic-tac-toe craft. Makes a great kids' game for long car rides.

Stuck-on-You Box - - Toddlers love playing with magnets, so, why not double your tot's pleasure by creating a chunky, easy-to-pick-up set personalized just for him? Decorate them with stickers of his favorite things, from book characters to cute critters, and/or letters that spell his name. Try storing them in a metal lunch box - it makes a perfect carrying case and play station all in one.

Styrofoam Airplanes - - Make this airplane using a Styrofoam meat tray.

Styrofoam Airplane Craft Project for Kids - Children Age 2+ will enjoy playing with these (if you are careful to make the wings even on either side, the airplane will really fly). This is made with egg cartons. But to make the craft, children should be Age 4+ as it requires a bit of dexterity.

Styrofoam Cup Binoculars - A great kid craft idea for most parties is setting aside a craft table with glitter, glue, stickers, markers, crayons, colored papers, etc.

Styrofoam Motor Boat - This toy boat project might still be a work in progress but with your creative minds, you can actually make it look a lot better.

Styrofoam Toy Boats - Use this sleepover planning guide for great arts and crafts ideas for kids. These Styrofoam boats with sails are fun and easy for preschoolers to make!

Super Sailboat Soda Bottle Craft for Kids This pint-size -- or, more precisely, liter-size -- craft offers a decent approximation of a high-seas sailboat. And since it's constructed from common household items, it's a lot cheaper than the real thing!
KIDS MAKE YOUR OWN TOYS & GAMES ARTS AND CRAFTS - T

Table Soccer Printable Paper Game Craft - Make a table soccer game from paper and a printer.
Tangram Puzzles - Print out Tangram Puzzles ... Download, print and cut-out the ancient Chinese puzzle on your right. It will offer you hours of challenging fun.
Telescope Fun Activity - A cool idea of making a toy telescope.
Telescope Making Instructions - Sight Sensory Crafts for Kids.

Telescope Toy Making Craft - Land ahoy! Create a terrific Crayola Color Explosion™ telescope to navigate uncharted worlds!

Tennis Racket Crafts - - Instructions for making a fun tennis racket using pantyhose and a hanger.

The Free Catapult Plan (Parental Supervision) - this plan shows the layout and design of the Table Top Troll Catapult. It is an easy to make catapult that is powered by rubber bands and has a base that is twelve inches (12") in length.

The Water Car Craft Activity for Children Toy - Make a small,simple 2 minute water car! It needs to be pushed to be moved in water but you could add a engine or get a balloon strap it on and go!

The Wooden Spool Family - - Kids and adults alike will enjoy making these little guys. I added embellishments like the buttons, silver beads and ribbon, but you can just add the fabric if you'd like.

Thread Spool Dolls - Turn thread spools into quick, kooky characters.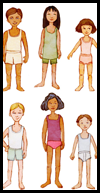 Tiny Littles Paperdolls Printable Toy Crafts - Print and make this little group of friends to create your own stories.
Toddler Binoculars Crafts - This is a perfect craft to do with your exploring toddler. If you have a young child who enjoys to pretend that they are on a safari or just bird watching they will love making this fun and easy binoculars craft.

Toddler Castle Craft - This craft has lots of ways that you can customize it, depending on the supplies that you can get or have will affect what you decide to do.

Toothpick Dolls - These tiny toothpick dolls can keep your kids company wherever they go. Slip them into your kids' pockets, notebooks, or schoolbags for a friendly hello during the day.

Topsy-Turvy Spool Dolls - - In this tutorial you will learn how to make topsy-turvy spool dolls.

Toy Boat Woodworking Craft for Kids - Toy boat, toy boat, toy boat! How'd you do? This week we have a wood project for the kids that will need an adult's assistance. We made these toy paddlewheel boats as kids and played with them in the big pond we had at the back of our property. You can have that same kind of fun with this easy to build paddlewheel boat. Make these with your friends and have boat races.

Toy Garage Craft with Milk Jug for Kids - Milk isn't the only thing that packages well by the gallon. Using milk jug craft ideas from this page, your party guests can turn an empty plastic jug into a portable hot-rod garage or anything else you desire - possibilities are endless!
Toy Submarine Crafts Project with Recycled Film Canisters - You can create many different type of Submarine, Dolphin, Shark, swimming monster.

Trained Octopus : Octopus Crafts Activities - Expect your kids to carry around this amazing toy for days, showing friends how they can make their trained "octopus" rise or fall at their command. You'll need a piece of colored cellophane, an eye dropper and a clear, squeezable plastic bottle with a screw-on cap (like the kind soda or fancy bottled water comes in).

Treasure Hunt Map - Create a fun game by drawing out a map of your campsite or backyard. Have someone hide several "treasures" around the location, then go out and collect them!

Tube Racers : How to Make a Racing Car from Toilet Paper Tubes - How can you turn a toilet paper tube into a hot rod? Take this idea for a spin.
Turkey Paddle Ball Game - - It's a craft and a game we all remember from our childhood.

Tusky the Elephant Sock Puppet - Kids will love playing the part of the swaggering elephant. Create this fun elephant for your child's next party.

Ultimate Straw Rocket! - - What is the "Ultimate Straw Rocket"? Answer: A very easy to make rocket made from a drinking straw, and launched using air pressure. Almost everyone will be able to make this, it does not require any hard-to-find items, but also can it be made in very little time. Therefore will the rockets themselves be very easy to mass produce. They will fly HIGH up in the air and then land on the ground, completely safe!
KIDS MAKE YOUR OWN TOYS & GAMES ARTS AND CRAFTS - V

Virtual Kite Zoo - If you want to know about kites, all about kites, every kind of kite, big kites, little kites, strange kites, fancy kites, plain kites ... then step inside, and explore my sketches and descriptions of every kind of kite you can imagine - and some more.
KIDS MAKE YOUR OWN TOYS & GAMES ARTS AND CRAFTS - W

Walking Tall Stilts - Kids are forever wishing they could be bigger and taller. One quick way they can reach new heights is to take a walk on homemade stilts..

Water Bottle Boat - This boat is made out of a motor, fan, water bottle, film canister, wire, tin foil, and a C battery. The water bottle glides above the surface while the motor is submerged.

Water Scope - Ever wonder what bugs do under the water? You can see with this scope toy.

Weave a Jump Rope - With this classic finger-weaving project, kids can get a jump on outdoor playtime by recycling their old socks and outgrown tights into a colorful homemade toy.

Weight Lifter Boy Scouts Crafts Projec with Film Canisters - The purpose of this site is to provide detailed instructions for making a large variety of high quality, exciting crafts. These crafts will be treasured for years - not thrown away in a week. Each project includes a list of required materials and tools, step by step instructions, templates, photographs, drawings, short cuts, and helpful hints. Learn how to make such items as LED flashlights, God's Eye, hot plates (trivet), and a crowing rooster. Make things from clay, plaster, leather, string, foam, beads, wood, film canisters, and chenilles (pipe cleaners).

Whirligig- Make a Whirligig out of plastic bottles and watch them spin.

Who am I? This game is a great ice breaker games for the first time a new group of kids gather together. This game gives children a reason to talk to each other without wondering how to start the conversation.

Windmills Pinwheel Making Toy Craft - Make your own toy windmills out of this project. Make your own windmills to decorate the top of a pencil or just for fun!

Wind Toy - This toy, with its long, rustle-in-the-breeze tail, will make any kid feel like he's sprouted wings.

Woodpecker and Tree Moveable Paper Craft Toy - This is a mechanical woodpecker pecking on a tree toy.

Wooden Sailboat - This small sailboat is the perfect decoration to give any room a maritime look any time of the year. This wood craft is quick and easy for novice woodworkers, too.

Woolly Wonder Sock Puppet - This soft and cuddly sheep will become a bedtime favorite for kids to curl up with. These puppets are simply a blast!

Wrapping Tube Track - - With just a few snips here and some duct tape there, an empty wrapping-paper tube revs back to life as a double track - the ideal venue for racing balls or toy cars, and one that's perfectly engineered for solo play.
You Might Also Like Our Kite Making Crafts.. Airplane Making ... Boat Making ... Board Game Making Crafts Page ... Doll Making ... Doll House Furniture ... Optical Illusions and Eye Tricks Page