Home > Arts and Crafts Projects for Kids > Birthday Crafts
BIRTHDAY PARTY CRAFTS FOR KIDS : Ideas for Arts and Crafts Projects & Activities for Birthday Parties with the following instructions for Making Cards, Pinatas, Decorations, Bags, Favors etc for Children, Teens, and Preschoolers
Party Time, Excellent!!!! Ah, those beautiful words always preface such a beautiful day. With balloons and streamers and all kinds of party decorations everywhere this will be a perfect day. Wait, where are the party decorations? Didn't anyone think to go to the party tore and buy some crummy old run of the mill stuff that everyone and there grandmother has at their parties? Wait, that's fine, never mind. I'd rather make my own. This way they can have that great flare that only hand made party decorations and party crafts can have. My day won't be wrecked by having the same look as every other party going on this month. My day is going to be super special and unique just like me.
Are you planning on have colorful balloons, birthday cake, party hats, streamers, and other decorations! It sounds like so much fun! Instead of going out and buying all of that expensive party stuff, how about you and your family make some of the party favors and decorations? It really isn't that hard, and it is more fun than just buying all of that stuff. You wouldn't even have to come up with any of the ideas ... let us handle that part. Below you will find ideas for crafts that will make your birthday party the best of the best! Have fun and Happy Birthday!

How to Make Birthday Party Hats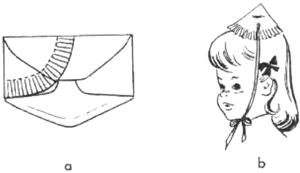 To make hats for your next birthday party, try this idea. Draw a circular line across the corner of an envelope, using a plate or something round as a guide. Cut along this line. Make a fringe all around the edges, cutting about 1 inch deep. See Figure a pictured above. Make two tiny holes at each side of the hat and run a length of narrow ribbon through it. The ribbon can be tied under the chin, as shown in Figure b above. These birthday party hats are really a lot more comfortable than the rubber band ones and turn out so cute.
How to Make a Decorative Party Ball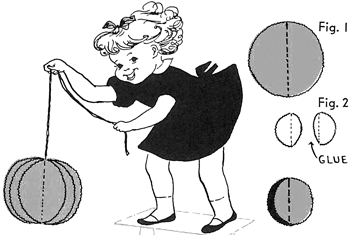 Fold 12 gold notary seals (or cut out 12 colorful circles) through the center, as pictured in figure1 . Glue one to the other as shown in figure 2, placing a string between two of them for a hanger. When all seals have been glued together they give the appearance of a ball.
Make a Pop Up Birthday Party Table Placeholder Card

These are fun to make and are really neat to look at. Cut a rectangle piece of paper out and then fold down the middle the long way. Cut out a crown (just 2 letter 'M' shapes at an angle)...but don't cut out the bottom of the crown. Then draw a kids face at the bottom of the crown and write your guest's names on each card. When you put the card on the table, the crown pops up. These are great to see and make.
Fun Birthday Party Game and Craft too Play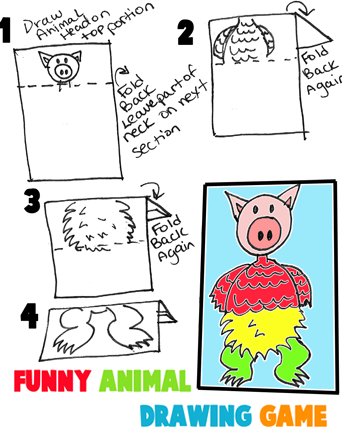 This is a very fun game and craft to play at a birthday party. Get 4 players for this game. Each person needs to draw without the other players seeing, so draw with backs towards eachother. The first person draws a random animals's head and folds the paper over to the back...leaving a portion of the neck on the next part of the page so the next person knows where to start his drawing. The next person draws the chest of a random animal. and folds the page back, again leaving a little bit of a line to show where to start the next part. The next person draws the belly of a random animal...folds it back again. The next person draws feet of a random animal.
More Birthday Party Crafts Below

How to Make a Confetti Blowing Pipe to Celebrate Festivities and Parties for New Years Eve - Tomorrow is New Years Eve so it is time to party (partaaaaaaaaaaaay). So how about making a toy confetti pipe to make cool little fireworks to celebrate the upcoming New Year. We will show you how to do this with the easy illustrated steps below. Have fun.

Make a Party Hat - Celebrate in style by making your very own party hats.

Pointed Crowns - Make this cardboard pointed crown out of a pattern that you draw on the cardboard.

Learn How to Make Crepe Party Hats - Get a food container and some crepe paper to decorate a great festive hat.

Elephant Party Favors / Placeholders - Make these elephants with cardboard, construction paper, as well as yarn.

Rocket Ship Party Favors - Fill these little guys with candy and treats and put it in front of everybody's plate and cup.

Ideas for New Years Eve Party Hats - Learn how to make some pretty cool party hats for New Years Eve Celebrations.