Home > Arts and Crafts Projects for Kids > Vehicles / Transportation Crafts > Boat & Ship Crafts Arts and Crafts Projects Ideas for your Kids
BOAT AND SHIP CRAFTS FOR KIDS: Ideas to make boats & ships with easy arts and crafts decorations, instructions, patterns, and activities for children, preschoolers, and teens
Boats are so much fun to play with. It is so much fun to put a toy boat into the pool or bathtub and watch it float all over the place. Well if you think that playing with a boat is fun, you are going to love to learn how to make your very own toy boat. Below you will find Boat and Ship Arts and Crafts Projects Ideas for your Kids. Find out how to make your own boats, rafts, canoes, and ships with the following projects, decorations, instructions, patterns, and activities for children
Make a Nut Shell Boat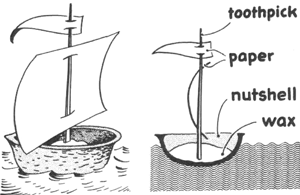 Here's a little boat that is very simple to make. Why not make a whole fleet of them? Split a nut with your knife and remove the meat. Mold some candle wax and put it in the shell. Form the sails by cutting paper into the shape shown and draw a toothpick through. Press the toothpick into the wax. Now set your boat in water and away it sails.
Cardboard Oil Powered Sailboat Craft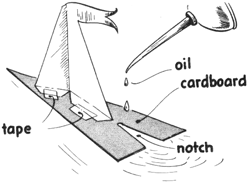 To make this boat you need cardboard, a pair of scissors, tape and a few drops of light oil. First, cut the boat out of the cardboard. Cut a small notch in the back. Cut out a triangular like sail out of paper for the boat. Fasten the sail to the boat with tape. Put the boat in still water and squeeze a drop of oil in the notch. Now watch the boat sail away.
Make Cork Rafts Easily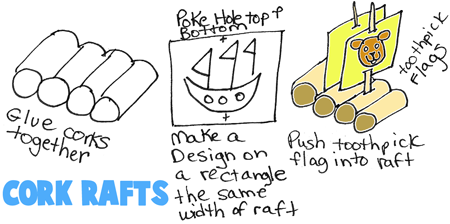 Did you ever notice that corks float? Well they do...so they are perfect to make rafts from. So find a bunch of corks and glue them all together side to side as illustrated in the picture above. Next draw flags in the designs of your choice....color them or whatever you want to do. Then put a tiny hole in the top and bottom of each flag. You will need 2 for the raft. Then get a toothpick for each flag, and then stick them thru the flags and then into the boat as illustrated above. Now go play with it in your bathtub and have a bunch of fun.
Turn a Cork into a Sail Boat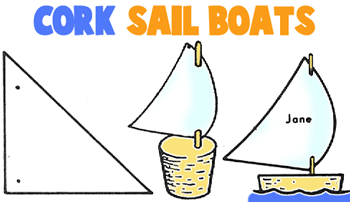 In order to turn a cork into a sail boat, you will firstly ned one large cork. Then cut a 2 inch x 2 inch piece of paper out. Cut that piece of paper into 2 triangles. If you want to, write something on one of the triangles for the sail. Push a toothpick through this trianhgle sail in 2 places and then stick it into the cork as pictured above. All that is left to do is to sail your sail boat in a pan of water. Have fun.
More Boat Making Crafts Ideas

Milk Carton Sail Boats - Learn how to make these milk carton sail boats...they turn out so pretty.

Milk Carton Row Boats - Learn how to make these awesome row boats, with oars and seats. These are made from milk cartons....cool.

How to Make Walnut Mayflowers - Don't throw out those walnut shells...keep 'em. Use them to make a really cool Walnut Mayflower for Thanksgiving.

Origami Boats - Learn how to fold origami boats.

Making a Boat from a Sardine Can, Cork, Needle - Learn how to make a York Boat.

Viking Ships - Learn how to make this viking ship out of real wood, toothpick oars, cork shields, and popsicle stick prow.

4th of July Flag Boats - Make these patriotic paper boats with the US flag.

Use Fallen Branches to Make a Toy Raft - Now you can find out how to make miniature rafts for your figurines...it really floats.

Make a Stern Wheeler That Has Working Paddles - This boat really runs on a motorized paddle ... that works with a rubber band. This is a woodworking project and requires parental assistance.

Create Noah's Ark - Learn how to make Noah's Ark with Cardboard Boxes - and also create Noah's animals as well.

Wooden Sailboats - This is a great first-time woodworking project to make with your child...easy enough for first-timers. The sail can be made out of wrapping paper or sheet cork.