Home > Arts and Crafts Projects for Kids > Transportation Crafts
TRANSPORTATION ARTS AND CRAFTS PROJECT IDEAS FOR CHILDREN, including cars, boats, trains, airplanes, vans, buses, truckes, vehicles, shops, & canoes
Transportation crafts will always be the craft of choice for children of all ages. Transportation crafts includes air-planes, cars, boats, ships, buses, trains, trucks, vans, and rockets (to name a few).
All these transportation crafts can easily to made at home from cheap materials bought in stores and/or recycling materials. You can make a car or bus from a big box or make a sail boat from a milk carton.
Airplanes
Automobiles / Cars
Boats / Ships
Buildings / Towns / Cities
Busses
Choo Choo Trains
Space Ships & Shuttles
Toy Boats and Ships
Toy Cars & Vehicles
Travel and Vacation Memory Keeping Activities
Trucks
More Vehicles Crafts & Activities Below
Making Toy Ice Cream Carts and Ice Cream Cones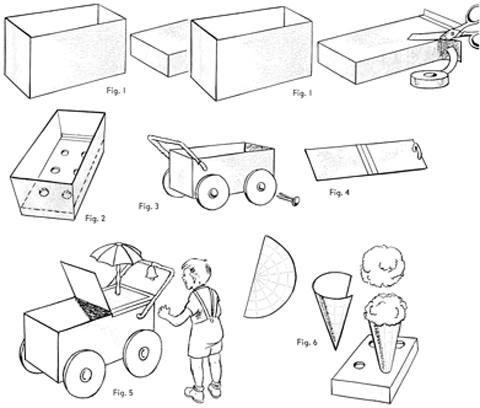 Select a large box with a deep cover...such as a shoe box. Remove 2 sides of the cover to make it fit inside the box. Replace cut-down sides with Scotch tape, as in figure 1. Punch 6 holes in the remodeled cover to hold the ice-cream cones, as in figure 2. Cut 4 wheels from heavy cardboard. Fasten to box with two-pronged paper fasteners. Attach a pipe cleaner handle, as in figure 3.Fashion a piece of cardboard to fit top of cart. Cut this fitted-piece in two and hinge parts with tape, as in figure 4. Fasten the lid. Add a tiny bell and a colorful umbrella, as in figure 5. Make 6 ice-cream cones, as in figure 6. Fill each with a bit of cotton. Place in cover. Put lid down. You are now ready to sell ice-cream cones to your friends.
How to Make Conestoga Wagons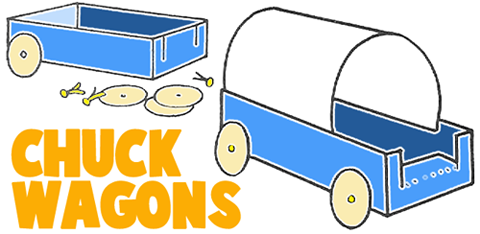 To make this Conestoga wagon, you will need a shoe box, 1 piece white construction paper 9" x 12", enough blue paper to cover box, one 6" square heavy cardboard, four 1" paper fasteners, scissors, paste, crayons,caps to trace, and pencil. Trace 4 circles 3" in diameter on cardboard for wheels. Cut out and color red. Cover shoe box with blue paper and attach the wheels to box with paper fasteners. Cut one end of box halfway down and bend back to make driver's scat. Put paste along both 9" edges of white construction paper and fasten to box as shown in sketch.
3D Traveling Lion Circus Cage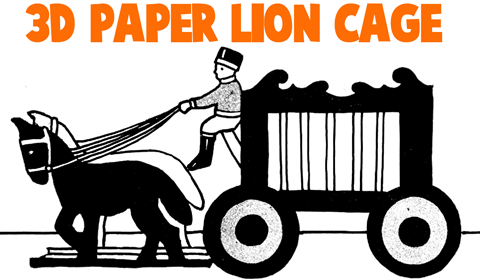 You will need to print out a few templates. Here is the horse template ... the circus cage template ... and the lion tamer and the lion template. Cut out the templates ...color them in...and then fold them together. You can either use paste or Scotch tape to keep the templates together. Have fun!
More Vehicle Transportation Crafts

How to Make a Toy Soldiers Parachute with a Paper Napkin Crafts Idea - Today we will show you how to make a toy parachute for your toy soldiers. If you don't want to hook this to a toy soldier, you can use a cork instead. It's fun to make a parachute and more fun to see it float downward as a real parachute does. It's easy to make, too.

Wagon for Doll House Sized Toys - Make this wagon out of a shallow cardboard box, yarn, and some milk jug caps for wheels.

How to Make a Mini Zip Line Moving Toy with Paper Plates, Balloons, Bobbins, & Paper Clips - This is a really cool toy idea…one that can be changed for a lot of different variations of moving toys. This is an air ship / space ship zip line moving toy. Find out how to make this zip line toy that zips and moves, by reading the step by step, illustrated instructions below in our crafts project tutorial.

How to Make Toy Parachute Crafts Instructions for Boys and Girls - All kids that I know love playing with toy parachutes. You can make a parachute that will float down from the sky with its passenger. You can tie on toy soldiers or other toy figures, or even a little doll of some sort for girls who would prefer that. Throwing the toy parachutes into the air after they are made is really fun, as you will see.

Make a Matchbox Pipecleaner Wheelbarrow - Learn how to maket his wheelbarrow for your dolls with a matchbox, cork, and a pipe cleaner.

Advent Choo Choo Train Craft for Kids - - Here is an unusual advent calendar! The kids will enjoy making this advent train ... and they'll have even more fun finding the gift s inside the train during December!

Amphibious Jet Making Instructions - - Always use your imagination and be creative when building these kids crafts or any others. It's your creation, so be inventive when looking for building supplies — you just may be surprised! When building your project, experiment with new and different ways of putting it together. The most important thing is to have fun.

Amigurumi - Sushi Train Toy to Make - - This crochet pattern shows you how to make a pretend play sushi train for your kids to play with.

Animal Train Arts Activity for Youngsters - - Create a train for your favorite paper animals. This is a great animal craft to make before or after a visit to the zoo. It can also be used as a fun and exciting way of introducing animal and habitat facts.

Build a Jumbo Jet - - Build your own model jumbo jet! Nearly everything you need is recycled. Where will you fly?

But Does it Fly? Fabric Paper Airplane - - I decided to make a bag to hold the airplanes using some adorable paper airplane fabric. The bag was almost made last night until I thought, "Hmmm. I wonder if I can make a fabric airplane?"

Box Car Making Instructions - - Take turns in driving the car or keep it aside for play time.

Box Cars Ideas - - With a few materials and a little imagination, you can make box cars like a race car, a sports car, or even a minivan.

Box Sailboat Making Instructions- - Build a sailboat from paper and a recycled box.

Cable Car Making Directions- - Make a cable car to take your imagination to the top of a snow-covered mountain.

Car Mobile or Models Making Craft Ideas - - This is a simple mobile made up of printed race cars, sports cars and a finish line flag. We usually create our mobiles by using two straws or sticks taped or tied in a criss-cross or by using one paper towel or gift wrap roll with all the pieces tied to it (this isn't as 3D a mobile, but is good for recycling).

Car Shapes Crafts Project for Toddlers & Preschoolers - - Every time they see one from our window they go nuts. This week is transportation week and I was having a hard time finding a simple car craft and it hit me. Slug bugs are very simple. Just cut a large semicircle from construction paper. Then cut two smaller semicircles of the same color to form the wheel wells. Glue the two small semicircles to the large one, one on each end. Then cut two black circles for the tires and glue them to the wheel wells. I also added some shiny foil in the middle of the wheel for hubcaps.

Car Track Paintings for Youngsters to Make - - Combine art and play by using toy cars as painting tools.

Choo-Choo Train Growth Chart - - Colorful bulletin board includes a measuring tape to track your child's height through the years.

Construction Mobile - - This is a simple mobile made up of construction vehicles (bulldozer, dumptruck, crane, truck). We usually create our mobiles by using two straws or sticks taped or tied in a criss-cross or by using one paper towel or gift wrap roll with all the pieces tied to it (this isn't as 3D a mobile, but is good for recycling).

Cool Bikes - - What are your favorite bikes? Make a cool poster for your room to show your friends your dream bikes!

Dirt Race Track - - This Dirt Race Track is so much fun to make and play with, and it's made with sand from your very own yard! Preschoolers will need some help making this, but they'll love to play with it, especially outside!

Dozer - - Always use your imagination and be creative when building these kids crafts or any others. It's your creation, so be inventive when looking for building supplies — you just may be surprised!

Drinking Straws Trucks to Make for Preschoolers & Toddlers - - This was a collaborative effort, my son was watching a show about the Three Little Pigs and the one pig with a straw house sparked his interest in making something with drinking straws. So his first request was a train, but we didn't have enough straws so we settled on a pick up truck. This does require some prep but I love how it turned out. The placing of the straws is tricky but it's a great lesson in fine motor and patience!

Easy Fire Truck Crafts to Make- - This simple fire truck craft requires a printer, a piece of paper, some crayons (or paint or markers), scissors and glue. I always prefer to use a heavy paper (like construction paper), but it isn't necessary.

Egg Carton Fire Trucks for Youngsters - - Thanks to Jodie for contributing this great craft! Don't you just love it when they turn out better than you imagined...

FA Thunderhawk Paper Airplane for Girls and Boys - The FA Thunderhawk paper airplane is a killer flying machine ready to battle for control of the skies. Carrying tons of weapons, this attack bomber can damage enemy outposts.

Field Trip to the Fire Stations Craft for Kindergarteners & Preschoolers - - Collect, organize, and graph data after a visit to a fire station.

Fire Engine Making Cardboard Boxes Instructions - - What a fantastic use for a cardboard box! All boys should have their own fire engine, and if they help to make it they will enjoy playing with it even more.

Fire Engine Posters to Make- - Let your little ones be fire-fighters! This was a big hit with my boys and still graces our walls nearly a year after we made it. While we made a very large version, the same idea can be made smaller for a special card.

Fireman on the Go Pretty Pictures - - Firemen play an important role in our community. This art project fosters awareness on community roles and also reinforces shape recognition and learning.

Fire Truck Craft - - This fire truck craft does take some prep work but is a great lesson in shapes and as your child gets older you can simply give them the pieces and let them put them together like a puzzle.

Fire Truck Craft for Kids - - Fire prevention crafts for preschool kids are an excellent addition to fire prevention and fire safety lessons and activities. Learn how to make this fire truck craft from a recycled egg carton and simple craft materials.

Float a Flower Boat - - Kids can honor our country's fallen soldiers by making special Memorial Day crafts. Create a float a flower boat that commemorates heroes from the US Navy who died at sea.

Floating Sponge Boats - - Once the sun shines down long enough to warm our faces, my kids want to play in the water. But it is still Spring with a little chill, so we are practicing our boat floating in the sink and bathtub instead, just until it's time for the blowup pool.

Flying Foam Airplanes - - How do airplanes stay in the sky? Kids' creativity flies high when they experiment with basic aerodynamics.

Foam Sailboats - - Create your own foam sailboat in this miniature boat activity. Then race the foam sailboat for an endlessly fun summer activity for kids.

Forever Floating - - I remember making paper boats as a child but after their first voyage they could never be used again. Then somebody told me about the boats that would always float. At once the idea appealed to me and I tried making the unsinkable boat. It actually never sank. Would you also like to try making one?

Halves Boat Shapes Craft for Toddlers & Preschoolers - - This is a good craft to use to introduce preschool children to the concept of halves. (it also provides good shapes and colours practice). I love using crafts for easy-going lessons!

Health Care Helpers - - Who are the people who keep us healthy and safe? Kids learn more about rescue and medical careers by showing these caregivers in action.

Helicopter Craft Project for Preschoolers & Toddlers - - Get ready for a fun filled helicopter day!

Hold A Boat Race - - Take advantage of a glorious summer day to combine a craft and outdoor activity in one! And if the sun isn't shining, you could always use the bath tub!

Hot Air Balloon Craft - - Create this amazing mini hot air balloon out of papier mache.

Hovering Helicopters - - To the rescue on land or sea! Put out the fire! Deliver heavy cargo! Design a 3-D model helicopter and discover how they fly.

How to Build a Plane Out of Popsicle Sticks - - A fun, inexpensive way to teach your child basic problem-solving skills as well as spend quality time with him or her is crafting. You can create exciting new toys and games with just a few simple steps. In the following article, you will learn how to make an airplane using popsicle sticks. Although very simple, this little plane will even fly when thrown from higher ground. This is an enjoyable, safe activity that both you and your child can experience together.

How to Make a Paper Train - - The wheels on this paper train don't turn, but don't worry -- your imagination will take it anyplace you choo-choo-choose.

Incredible Iceboats - - In this miniature boat activity, make incredible iceboats, and see how long your boat can last. This is a summer activity for kids that's cool as ice.

Juice box boats - - My kids are always playing their own version of the game "Sink or Float". We fill up a plastic bin with water in the backyard and they run around looking for things to test. For example: buttons, postcards, leaves, rubber bands, small rocks, popsicle sticks, keys, bouncy balls, pez dispensers, etc.

Kid Made Monster Truck - - You will make a mess, but it was fun.

Kidz Dump Truck - Have your kids make this dump truck with recycled materials found in every house.

Kids Tractor Craft - - "T" is for tractor, so we made a craft that turns the letter T into a tractor! Our printable template makes this simple paper craft even easier. This tractor craft makes a great farm craft or transportation craft and is a great craft to use when teaching alphabet sounds.

Laundry Basket Sail Boat - - Pretend play activities that combine imaginative play with crafts are our favorite things to do lately. Also our supplies are made up of many recycled and reusable materials. This can be done with boxes, wagons pretty much anything your child can sit in! When they are pretending go along with their suggestions and let them lead. It's your turn to ask "Why?" and follow along. Most of all have fun.

London Bus Craft for Children - - This super London Bus craft makes a fun craft idea for St George's Day or for any time of the year - and it is great for taking the toys for a ride (and doubling up as a very stylish toy box too!)

Love Train - - This Love Train is an easy to make sweet treat for any Valentine. Any child would love to make or recive a candy train for Valentines Day, but this would also work great as a boys Valentine!

Making Mondays: A Jungle Boat - - This is a project that quite a few of us got involved in doing! Most of the steps would be suited to older children than Yashar (who is 20 months) but he loved picking out the sail and playing with the boat at the end!

Make a balloon-powered car - - These are fun little things - I remember getting one as a cereal box prize when I was a kid. You blow up a balloon attached to a car, set it down and let it race across the floor. And even using a store-bought one, you have an illustration of the principles of rocket engines and Newton's Third Law of Motion (the equal-and-opposite force law).

Make a bus with Easy Directions - - If you need a fun activity for a rainy (summer) day, maybe you'll get inspired by these buses I made with my 3-year-old daughter last week!

Maritime Thoughts - - Who does not enjoy summer at the sea? The experience is wonderful with the cool breeze blowing in your face, watching sailboats sailing the open waters and hunting seashells on the beach? This card is a perfect all purpose card for the summer months and is created with the paper napkin decoupage technique. The technique can also be applied to fabric. The fusible web gets fused to the backside of the material and the motifs cut out. Either way, it is quickly crafted and is lots of fun to create.

Monster Truck Collage - - This Monster Truck Collage will please any Monster Truck Fan. This is a great craft for Birthday parties, or just for an every day fun craft for the truck enthusiast!

Origami Car - - Draw the window and door as you wish and your origami car is ready to go!

Paper Lantern with Sailboat Motif - - This paper lantern is inexpensive to make and adds a maritime touch to your home or your outdoor summer party. The light shining through the fiber paper is subtle yet looks great when it is dark.

Paper Plane Lift-Off Activity - - The paper plane lift-off activity helps you figure out the factors that make a great paper airplane launch. How your plane flies depends a lot on you.

People on the Bus go... - - Up and Down! Here's a chance for your toddler to invite some relatives and friends to ride the bus with her.

Pirate Ship Collage - - Arrh Mateys, check out this Pirate Ship Collage. A fun an inexpensive Pirate Craft for Preschoolers on up! This craft is also a great activity for a Pirate Birthday Party!

Recycled School Bus - - Don't throw away your household items. Recycle and reuse them. Make a school bus with the kids. All you need is a spaghetti box and some construction paper along with a few other items. This is a great crafting with kids back to school project.

Sailboat Birthday Card for Men - - This sailboat card is perfect for men celebrating summer birthdays. After cutting out the few basic shapes, it is finished within minutes.

Sailboat Card for Father's Day - - Good shapes and colors practice.

Sailboat Crafts For Kids - - Sail through summer with these free, easy sailboat crafts for kids.

Sail the Seven Seas Ship - - No sea sickness with this boat! Easily make this fun kid craft project on a rainy day. Take it out on the water and see it set sail!

School Bus Craft - - Here's a fun way to get your kids in the mood for "Back To School" and excited about seeing their school friends again!

School Bus Craft for Preschoolers & Toddlers - - This craft and activities can be fun to help children with a first child care, preschool, kindergarten and first-grade experience and to discuss safety issues associated with driving inside any type of vehicle including a school bus.

School Bus Crafts Project - - Last summer when we did a theme of songs we made a school bus for The Wheels on the Bus. It was really cute so I decided to do the same project again.

Shape Truck - - Have your kids make a truck using a variety of shapes and colors.

Space Shuttle - - Get ready to blast off! This Space Shuttle Craft is an easy project for any space enthusiast. If you don't have a paper towel roll just roll up a piece of white construction paper!

Styrofoam Airplane - - Children Age 2+ will enjoy playing with these (if you are careful to make the wings even on either side, the airplane will really fly). But to MAKE the craft, children should be Age 4+ as it requires a bit of dexterity.

Theodore Tugboat Craft- - The tall ships (including Theodore Tugboat) are touring the East Coast of North America this year. Debbie (from Halifax) asked if I could do a Theodore Tugboat craft suitable for young children. Hopefully this fits the bill!

Thomas the Tank Engine Paper Craft - - Follow this simple craft and make your own Thomas the tank engine train.

Train Passenger Car Paper Craft - - Here is the passenger car for our paper train engine set. Have a fun bonding time with your kids by letting them help you build the paper train engine set.

Trucks at Work - - How do juicy oranges arrive at a grocery store in winter? Cargo trucks are on the road year-round. Create your own business fleet!

Unloading Some Love - - Try Unloading Some Love on Valentines Day by having the kids make this cute dump truck Valentine. Preschoolers will need help cutting the shapes, but they can do all the gluing! This is a great Valentine for boys or anyone you want to dump some love on!

Vehicle Puppets - - Create different kinds of vehicle stick puppets and move them along a picture.

Voyages in a Bottle - - Create a fitting tribute to explorers of the high seas. Design tiny sailing ships in a recycled plastic bottle.
Wheels on the Bus Collage - - School will be starting soon. That means teachers, books, and a first ride on a school bus. Get back into school this year by taking an imaginary ride on the art school bus! Use paper and paste to create a colorful collage of shapes that turns into a school bus right before your eyes.

Wooden Sailboat - - This small sailboat is the perfect decoration to give any room a maritime look any time of the year. This wood craft is quick and easy for novice woodworkers, too.

Zooming Pens - - Fasten colored pens or crayons to toy cars and let your child zoom away with colorful lines and designs.
YOU MIGHT ALSO BE INTERESTED IN THE FOLLOWING TRANSPORTATION VEHICLES CRAFTS & ACTIVITIES
Airplanes
Automobiles / Cars
Boats / Ships
Buildings / Towns / Cities
Busses
Choo Choo Trains
Space Ships & Shuttles
Toy Boats and Ships
Toy Cars & Vehicles
Travel and Vacation Memory Keeping Activities
Trucks
More Vehicles Crafts & Activities Above