Home > Arts and Crafts Projects for Kids > Bookends & Book Holders
BOOKEND & BOOK HOLDER CRAFTS FOR KIDS : Ideas for Making Bookends for Children, Teens, and Preschoolers
Bookends are things that you can place on either side of your books to keep them standing up on a shelf or desk. Without bookends, all of your books would just fall over and be messy. Bookends are very important in your whole organizational scheme of things. Bookends could be as boring as just a brick on either end of your pile of books, or they can be as creative as your mind can imagine. Find some bookend ideas on this page and let your books forever stand in place. Have fun!
How to Make Multi-Colored Jars and Bottles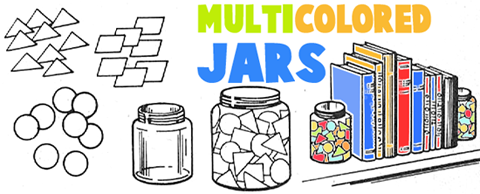 To make these beautiful bottle / jars, you will need colored paper (from magazines, comic books, envelope linings, drawing paper,tissue paper, etc.) ; scissors; and Mod Podge or make your own decoupage solution of (2/3 Elmer's Glue and 1/3 Water). Select an attractively shaped jar or bottle (with large opening). Cut colored paper in small pieces in several sizes and shapes such as ripped paper or triangles, circles, rectangles. Or, use one consistent shape, but be sure to vary size. Glue cut paper on jar piece by piece, overlapping each piece so all the surface (except the bottom) is covered. Allow to dry. If papers are closely blended in color, you may paste a dark silhouette design over the cut-paper background. Give entire vase a few coats of decoupage mixture. Let dry in between coats. Use containers as vases, planters, pencil holders, book ends. To make book ends, choose two identical jars with lids. Paint lids to harmonize with containers. Fill containers with sand, and screw lids on securely.
"My Find" Bookends

Go out into nature and find something nice that you would like to keep OR find one of your favorite items, such as a toy figure. Then turn your favorite item into a bookend to keep on your shelf. You will need Plaster of Paris, interesting pieces of rock, bark, pine cones, or driftwood, or a toy figuring, or other items (enough for even distribution on both book ends); two 18" x 18" sheets of aluminum foil, 2 strips of light cardboard 3" x 24", Scotch tape, water, and paint (if desired). Make molds for book ends by folding each cardboard strip 6" from one end and 6" from other end. Bring the two ends together and overlap as in sketch a. Tape ends together. Lay each cardboard mold on 1 sheet of foil. Bring sides of foil up over top of mold sides and squeeze to mold shape. (See sketch b.) Be careful not to puncture or wrinkle foil on bottom of mold. Do not put foil more than 1" down the inside of mold. Pour plaster mixed to a very creamy consistency equally into the 2 molds. As it begins to set put nature objects into the mold near the fiat side so the object will help support the books. (See sketch c.) If desired, a little tempera paint can be mixed into the plaster before pouring to color the book ends. When the plaster has hardened thoroughly, remove the molds.
Chicken Book Holders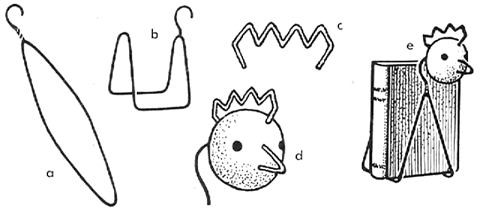 You will need 1 wire coat hanger, one 2" styrofoam ball, 1 red pipe cleaner, I/2 yellow pipe cleaner, 2 sequins of the same color, and 2 straight pins. Take the center of the hanger's cross wire and the hook and pull them away from each other to straighten and elongate the hanger (see sketch a). Lay the hanger on a flat surface and bend both wires up at right angles about 4" from the hook and bend up at right angles again about 5" from the first bend. The hanger should be U-shaped and the hook should face away from the center of the U (see sketch b). Push the styrofoam ball onto the hook. Accordion pleat the red pipe cleaner and insert into ball for comb (sketch c). Bend the yellow pipe cleaner and push into ball at the right place for beak. Pin 1 sequin on each side for eyes (sketch d). To use the bookholder, place books upright in the rooster's back.
Even More Bookend Crafts

Make Book Holders- Although this isn't a bookend, I thought it might work in this category. Instead, this book holder, holds your book openso you can read it with free hands to write notes or whatever you need to do.

Tin Can & Wooden Bookends - This craft required adult supervision, but they are store quality bookends. They are made with both tin cans and plywood.