Home > Arts and Crafts Projects for Kids > Bookmark Crafts for Kids
BOOKMARK CRAFTS FOR KIDS : Ideas for Arts & Crafts Activities to Make Bookmarks with Easy Instructions for Children, Teens, and Preschoolers
You love reading books but everytime you read a book you lose the place in your book and you have to search endlessly for the page that you lost. You tried earmarking the page, but both the librarian and your parents got mad at you for ruining the books. Well, there is an easy solution for you and its called a bookmark! A bookmark is a piece of paper, fabric, felt, wood, or leather that you can place inside your book when you are finished reading. Then the next time you start reading your book, you can open up the book at the exact spot that you finished earlier. Wow! Here are some bookmark crafts that you might enjoy.
Some Easy Way to Make Bookmarks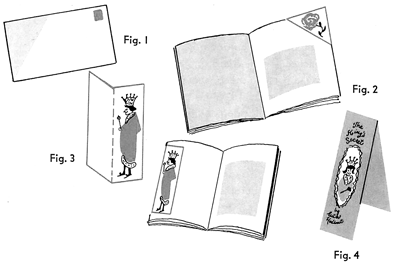 One of the easiest ways to make a bookmark is to cut off an envelope corner as shown in Fig. 1 . Use a picture seal to decorate it. Fig. 2. You may use a cut out picture from a magazine instead of the seal. In that case you will need paste to seal the picture in place on the bookmark. Another easy way in which to make a bookmark is to cut a strip of paper measuring 2 or 3 inches in width and I 0 or I I inches in length. Crease in the center. Fig. 3. On the upper side decorate with a picture. Then slide it over the page last read. Sometimes it is possible to use a picture from a book's jacket to make an attractive bookmark for that particular book. Print the title of the book on the bookmark. Fig. 4. In this way every book can have its special bookmark.
Make an Envelope Corner Bookworm Bookmark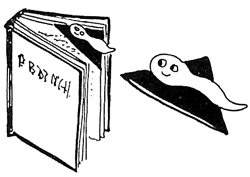 Bookworm bookmarks for even a gallery of books are made in a matter of minutes. Simply cut off the corner off of an envelope. From contrasting paper, such as a greenm cut out a wiggly book worm and draw on eyes and a mouth with a black ink marker. Glue it angleways across the envelope corner. You can make many of these bookworm bookmarks for your friends too.
More Bookmarks Making Crafts

How to Make a Chinese Fire Dragon Bookmark Craft for Kids - Because Chinese dragons are magnificent creatures and the Chinese New Year is approaching, let's make a simple bookmark with dragon head. This beautiful bookmark that you will make in this arts and crafts project, will astound your friends and family members. And it is a LOT of fun to make.

Monster Bookmarks - Learn how to make monster bookmarks with the following easy instructions.

Ideas for Making Adorable Bookmarks - We are going to show you how to make cute bookmarks for your books. So, grab the supplies needed and let's get started.

Flower Clip Bookmarks - Learn how to make a cool looking bookmark that is really a paper clip. Paper clips make great bookmarks.

Make Pressed Flowers Bookmarks - Make beautiful bookmarks with pressed flowers.

Autographed Bookmarks of Memories - This is a great bookmark to make at the end of the school year, end of camp, or other groups that have come to an end. Learn how to make these.

Thank You Bookmarks - Make these Thank You Bookmarks for Thanksgiving, for someone who did something nice for you, to a teacher on the last day of school, or for whaterver...learn how to here.

Bookworm Bookmarks - With a paper clip, some felt, a pipe cleaner, sequins, and beads, you can make a pretty amazing bookmark.