Home > Arts and Crafts Projects for Kids > Puppets > Making Cereal Box Puppets
MAKE CEREAL BOX PUPPETS
These puppets are made with cereal boxes. There are so many animals and characters that you can make with these types of puppets. Once you have made them, you will love how easily the mouth pops open and close.
Making Puppets with Cereal Boxes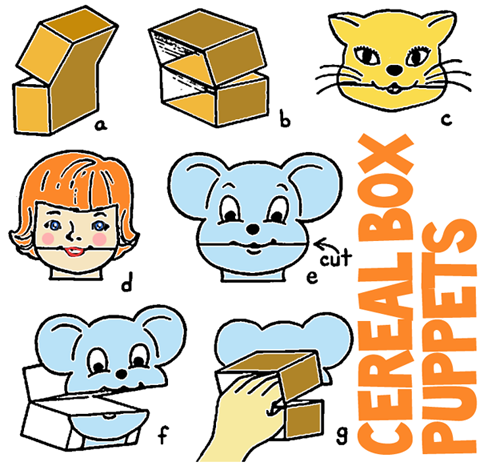 Read The Instructions Below.
You will need some of the following materials
1 small (individual size) cereal box with both ends intact
1 piece white construction paper 6"x9"
crayons or poster paints and brush
scissors
glue
Instructions for Making These Hand Puppets
To make this, ask an adult to cut the cereal box in half as in sketch a, with one wide side uncut. Fold over as seen in sketch b. On a construction paper, draw a face of a person or animal, using pattern c or d, or another figure desired. Color or paint on the features, and cut out the face. Add yarn for the hair, broom straws for whiskers, etc., if desired. Cut the face along the line of the mouth, and glue to the box as in sketch e, so that lips come together as in sketch f. Work the puppet by inserting your thumb in the "chin" section of the box and your other four fingers in the "head" section of the box (sketch g). Paint the outside of the box with poster paints.
Email us a pic of your puppets and we will post them here.