Home > Arts and Crafts Projects for Kids > How to Make Puppets Crafts
MAKE PUPPETS & MARIONETTES CRAFTS FOR KIDS: How to Make finger, hand, sock and shadow puppets with these arts and crafts instructions, patterns, and activities for children, teens, preschoolers
Puppets are fun to play with and can be can be ether complex and simple to make. There are so many types to choose from. You have finger puppets, sock puppets, hand puppets (sometimes called glove puppet), shadow puppets, push puppets, pull string puppets, marionette puppets and the list can go on and on.
Artist helping children has a few tutorials that will help you make your perfect puppet. You have so much to choose from and they are not expensive or complex to make. All you will need is materials such as a glove, cardboard and paper bags.
Make a Mini Puppet Theater Peep Box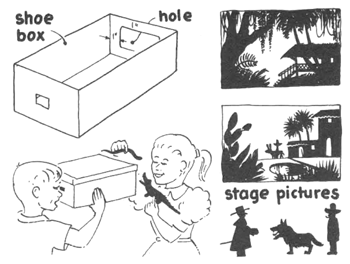 An empty shoe box is a fine stage for this theatre. Leaving a 1-inch border all around, cut a hole in one of the shorter ends of the box. Paste thin white paper over the hole from the outside. From black paper, cut buildings with cut-out windows, trees, fences or other scenery. Paste them to the white paper from the inside of the box. Or, if you prefer, you can draw the scenery directly on the paper with black ink. In the other end of the box, cut a hole large enough to look through, and put the top on the box. Cut the shapes of men, women and animals from black paper. These are your actors. While your friend looks into the 120 theatre through the small hole, you move the actors around outside the other end of the box. If you talk in different voices, you can put on many plays.
How to Make Sock Puppets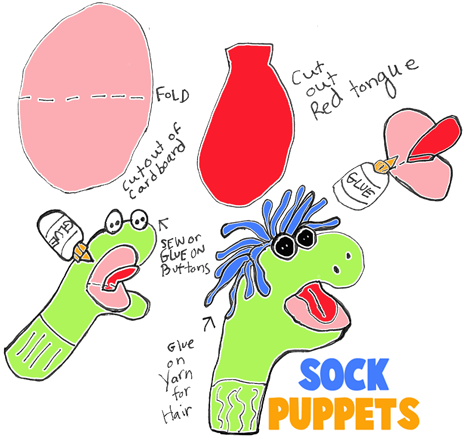 Learn how to make sock puppets...they are so easy to make. Firstly, find a sock that you are allowed to use...such as a sock that has lost its mate. Next find some felt, scissors, buttons, yarn or string, and some cardboard. If you don't have these items...you can compensate for other items that you DO have. Next cut an oval out of the cardboard that is about the size of the palm of your hand. Next glue pink or black or dark red felt on to it....or use markers or paint if you don't have felt. Let dry completely and then fold the oval in half. Cut out a red tongue, as pictured above. It is basically an oval with a bit of a rectangle at the end (for a tab). Fold over the rectangle tab and then glue to the inside fold of the oval. Now place your hand in the sock....and find where the comfortable place for your hand to open and close is...then glue the oval there for the mouth. Next sew or glue buttons for eyes. Also glue yarn or string to the top of the sock puppet for hair. Add your own details. Wasn't that fun?!
Make Potato Puppets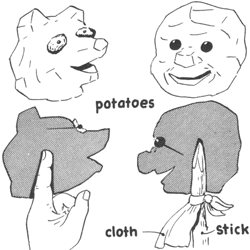 It's fun to have a puppet show, and with potato puppets it's very easy. First have your Mom or Dad remove the skin from a potato. With a butter knife carve a nose, mouth and eye holes (with parental permission). Put raisins in the eye holes and fasten them with pins. At the bottom of the potato, spoon a deep hole for your finger (or have your mom or dad cut the hole for you). When you hold your puppet on your finger, you can tie a piece of cloth to cover your hand. Or, instead of your finger, you can put the puppet head on a stick that you "dress." You and your friends can make different kinds of potato-puppet characters and perform plays.
Make a Peanuts Puppet Marionnette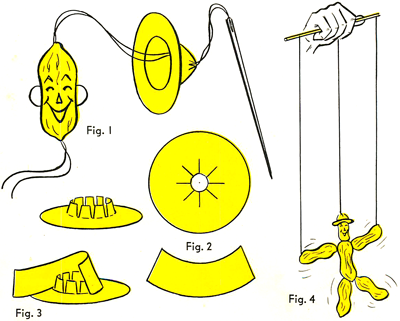 If you are NOT allergic to peanuts, then you can continuee. Select 5 peanuts of about the same size to make the body, legs and arms of the puppet, and a smaller peanut to make the head. With a darning needle carefully run a strong black thread through the top of the head. With black ink draw the eyes, nose, and mouth. Paste on 2 white paper ears to the head, as pictured in figure 1. From white paper make the hat, using Figs. 2 & 3 as patterns. Slip finished hat onto the peanut head. Run thread through it. Attach legs and arms to the body with strong black thread. Fasten a strong thread to the end of each arm. Tie the ends of these strings and that of the one attached to the head to a 1/4 inch dowel, a straight stick from outside, or a chopstick. Notch to prevent thread from slipping. Fig. 4. Use the stick to make the puppet perform.
Printable Clown Finger Puppets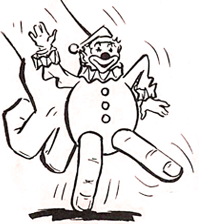 With this cute puppet clown, your fingers are the clown's legs, so you can make him dance and move in all types of silly ways. All you have to do is go to this page to print out the clown. And Here is a Second Clown Finger Puppet...choose the one that you like better. Paste him on cereal box cardboard. Now cut him out, including the 2 holes for your fingers to act as legs. Now just put him on your 2 fingers and act in all sorts of silly ways with your new finger puppet clown.
Make a Cat Sock Bobble Head Puppet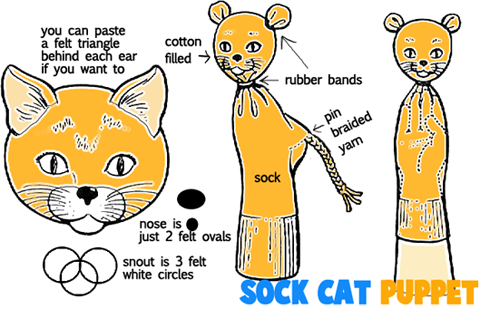 Not much effort is needed to make a really great kitty cat puppet. Just find an old sock and rubber band off 2 small ears at the corners of the toe of your sock. Then Draw a face on the cat or use felt shapes or buttons to make the features of the cat that you see on the left side of the illustratoin above. Then get some laundry lint, some cotton filler, or polyfil and stuff the toe of the sock until it is round like a head. Then use a large rubber band to wrap the head in place. For a tail you can just wrap or braid yarn or string together and then tie closed. Then get a safety pin and attach it to the hell of the sock. Then just play, play, play.
Make a Boy and Girl Sock Puppets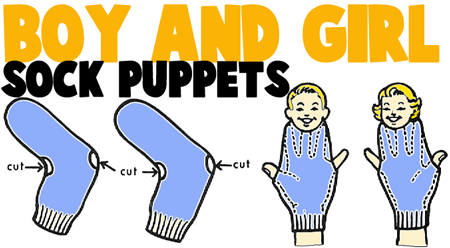 Gather together, 2 children's socks, scissors, and glue or paste. Start off by printing the boy faces and the girl faces. The printables have different hair colors and skin color to choose from. Cut a small hole in the heel of each sock (large enough for child's thumb) and a small hole opposite the heel for child's little finger. Child may cut out faces and paste on socks. Be sure he pastes them on the right sides so that his thumbs will fit in the heels. To make the puppets last longer, you might want to laminate the faces or paste them on lightweight cardboard. Child may put socks on hands and wiggle the puppets as he makes up conversation for them.
Puppet Making with Spoons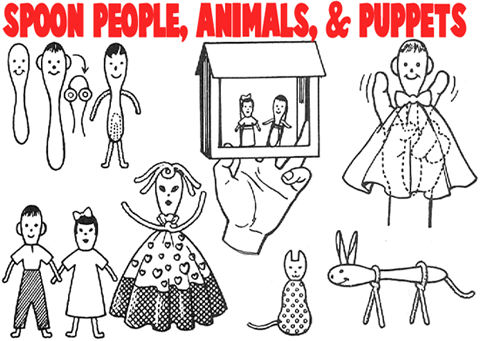 This is a fun puppet making craft and each one comes out different depending on what materials you use to make them. For making the people, you can use markers, paint, or crayons to draw a face. You can use circle stickers for ears...or use paper and glue on ears. You can paste them on the "back" of the head so only part of the circle will show from the frontYou can use pipe cleaners for arms...just wrap them around the body or cut one in half and glue to the spoon. You can make the clothing from scraps of plastic, cloth, decorative paper, felt, etc. Just use your imagination. You can use cotton, yarn, string, or paper for hair. To keep these standing up straight, you can stick them in clay or play dough. If you want to make them into puppets, you can attach them to your fingers with rubber bands, as seen above.
Even More Puppet Crafts Below

Ideas for Making Your Very Own Puppet Stages and Theaters - If you are going to make a puppet show, then you are going to make a stage or theater...find out how with this idea filled page.

Make Glove Octopus Puppets - Transform a pair of gloves and a styrofoam ball into a fun octopus puppet.

Make Bookworm Hand Puppets with Hand Towels - Learn how to make hand towel terry cloth puppets.

Paper Bag Hand Puppets - These paper bags are dressed up real nice to look just like a princess....how will you decorate your paper bag...will it be a cowboy or a bear....make anything that you want to.

Mini Yarn Puppet & Theaters - Make this mini yarn puppet in a matches box puppet theater.

Thumb Wrestling Puppets - Make fabric thumb wrestling puppets to play with. It is a litle bit more fun when you are thumb wrestling with puppets.

Cereal Box Puppets - Everybody has cereal boxes lying around in their house...why not upcycle them and turn them into hand puppets with your creative imagination.

Portable Puppet Stage You Can Wear - This one is perfect for teachers. This is an-easy-to-make craft to create a wearable puppet stage.

Make Hand Painted Fist Puppets - Learn how to paint your hands to make them fist puppets.

Brown Paper Bag Bunny Rabbit Puppets - Make these adorable bunny puppets with the following simple items : Paper Bag, Newspaper, String or Yarn, Paper, Scissors, Glue, and a Pencil.

Pilgrim Girl Puppets - Learn how to make these adorable Pilgrim Girl Puppets.

Bible Story Thumb Puppets - Find out how to make robed thumb puppets to represent bible story characters with the following simple steps craft.

Leprechaun Puppets - Here ya go - a really cute craft to make paper Leprechaun finger puppets.

Making Stick Puppets for Puppet Shows - These are perfect puppet show puppets...learn how to make them to have a fantastic puppet show.

Hand Puppets with Moving Mouths - This hand puppet is made with rolled oats (oatmeal) boxes or ice cream containers. These puppets turn out so well that people will think you bought them. Find out how to make them with the following instructions.

Make Finger Puppets from Old Gloves - The tips of old gloves are perfect for making little figures / characters - like tiny little puppets. Learn how to make these.

Make Hand Puppets with Stuffed Animals - Make these adorable hand puppets with an old stuffed animal toy and an old glove. All you do is sew the glove inside of the stuffed animal. Find out with the following illustrated tutorial.

Fabric Box Headed Puppets - For older children and teens who are good at sewing...this is a great puppet craft activity.

Paper Bag Animals for Preschoolers - This is a perfect crafts project for younger children and preschoolers. These are easy to make and even easier to play with. Have fun.

Cardboard & Tube & String Puppets - These are stringed puppets that are like marionettes. They are a bit more complicated to make than the other puppets on this page.

Paper Bag Puppets - Learn how to make adorable paper bag puppets with the following crafts tutorial.

Ideas for Making Puppets - Here are some puppet-making ideas to use in your next puppet show.
You Might Also Be Interested in Puppet Theater Crafts