Home > Arts and Crafts Projects for Kids > Animals Crafts > Ape, Gorilla, & Chimps Crafts Arts and Crafts Projects Ideas for your Kids
CHIMP, APE, AND GORILLA CRAFTS FOR KIDS: Ideas to make chimpanzees, apes, and gorillas with easy arts and crafts instructions and activities for children
Apes are the closest living relatives to humans. Apes are split into two different groups: greater and small, or "lesser", apes. The great apes include gorillas, chimpanzees, bonobos, and orangutans. The smaller apes are gibbons and siamangs.
Gorillas are the largest of the great apes display many human like behaviors and emotions. They also has human like hands and small eyes set into hairless faces.
Chimpanzees are also great apes and live in a variety of environments in western and central Africa and are an endangered species.
You can find quite a few crafts on apes on the internet (both greater and small) from masks to full Halloween costumes to puppets.
How to Make Spool Gorillas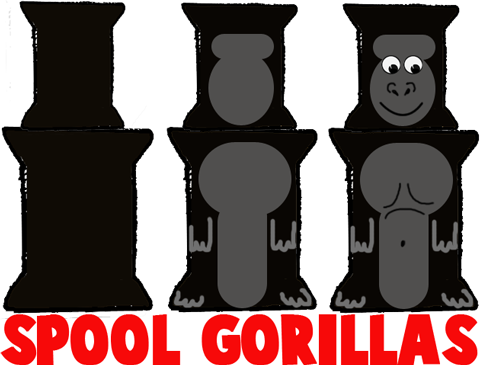 These are pretty easy to make with only a few steps to do. Find 2 empty thread spools. One should be a bit smaller than the other, but it is okay if they are the same size. Paint both of them black and then glue them together, as shown in the first picture above. Let completely dry. Then for the face, draw a gray circle and a gray oval and then paint in those shapes. For the body, draw 2 gray ovals and also paint them in. For hands and feet draw the letter 'W' shape with one extra zigzag. Let dry and then draw ovals for nostrils...and a letter 'C' shape above each nostril with a black permanent marker. Draw a smile as well. Glue googly eyes on the face as well. Draw a belly button and 3 curved lines on the body of the gorillas. And that's it, I hope you enjoyed this craft.
How to Make Spool Chimpanzees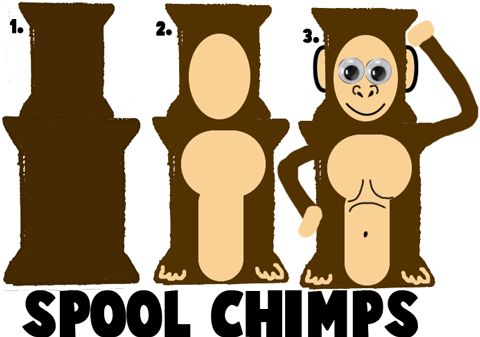 Here is a chance to make some cute chimps out of some spool threads. Try to find 2 empty spools, one a bit larger than the other. Paint them brown and then glue them together, the smaller one on the top, as in figure #1 above. Let dry. Then paint a tan oval on the face and 2 tan ovals on the body. Draw number 3 shaped feet, but with an extra hump...as seen in figure #2 above. Let dry. Attach googly eyes to the face. Use a black permanent marker to draw a nose and mouth on the chimp's face. Cut out 'C' shaped felt or crafts foam and glue them as ears to the chimp's face. Use pipe cleaners for arms...to make them thicker, you can twist a few together. If you have a tan bead, twist them on the end of the pipe cleaner arms.


Draw Chimpanzees - Drawing a chimpanzee

How to Draw Cartoon Apes and Gorillas - learn how to use simple ways to drawing gorillas and apes.
You Might Also Like These Crafts with Monkeys