Home > Arts and Crafts Projects for Kids > Animals Crafts > Monkey Crafts Arts and Crafts Projects Ideas for your Kids
MONKEY CRAFTS FOR KIDS: Ideas for arts and crafts projects & activities to make monkeys with children, teens, and preschoolers
Below you will find monkey Crafts Arts and Crafts Projects Ideas for your Kids. Find out how to make your own arts and crafts monkeys projects with the following decorations, instructions, patterns, and activities for children
You Might Also Like These Crafts with Gorillas, Apes, and Chimps
Make Monkeys with Pipe Cleaners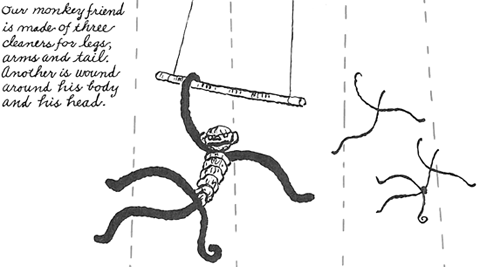 I love monkeys...maybe you do too. If you like monkeys...you can make one hanging from a twig trapeze swing too. This monkey is made from pipe cleaners...for his legs, arms, and tail. Another pipe cleaner is wound around his body and his head. You can use a stick for the trapeze handle and a piece of thread tied in a knot around each side of the stick for the trapeze swing. This monkey would be a great acrobat for the circus.
Styrofoam and Pipe Cleaner Monkeys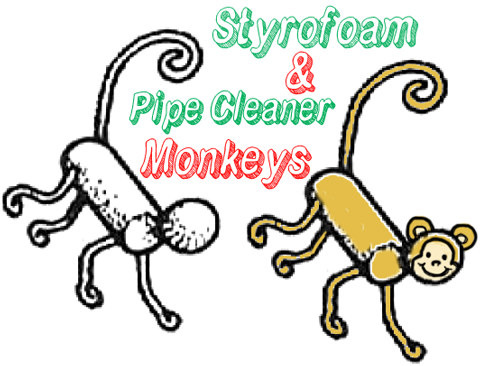 Aren't these monkeys so cute? They are made from 1/2 inch to 1 inch sized styrofoam tubes, brown pipe cleaners, glue, scissors, paint (optionally markers instead), and felt or paper or crafts foam. Cut a piece of tubing for the body and keep the rest for the face. Cut pipe cleaners for legs and insert into body. Bend feet to make it stand. Attach head to body with a toothpick or a pipe cleaner (or you could Place tail and ears in proper places and color in features. Styrofoam may be shaped or rounded by squeezing gently with fingers. Stiff paper may be cut and inserted to make ears or other features. Use your imagination. Paint the entire monkey brown and light brown and then paint the face one.
How to Make Paper Monkey Masks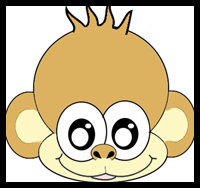 To make this monkey mask, just print out the following printable paper monkey mask template.
Learn How to Draw Cartoon Monkeys and Chimps
Choose a chimp or monkey to learn how to draw by choosing one of the thumbnail pictures above.
More Monkey / Chimp / Ape / Gorilla Crafts

Chenille Stem Bump Monkeys - These monkeys are easy to make with these special type of pipe cleaners.

Ape or Monkey Toilet Paper Roll Craft for Children - Ape or Monkey Toilet Paper Roll Craft

Bouncing Monkey Crafts Project- Have you ever wished for a pet monkey? This Color Explosion™ monkey dances and spins, but it's ever so quiet…and you don't need to stock up on bananas!

Foam Masks : Craft Foam Ideas - - Take a peek at these cute and easy-to-make Halloween disguises. Masquerade as a monkey or bear.

Handmade Sock Monkey Craft Activity - A stuffed toy monkey made from brown work socks delights children today like it has for decades. Make one for a special child - or for yourself to recall happy days as a kid with your own sock monkey.

How to Make a Balloon Monkey - Now you can learn how to make this balloon monkey with the following balloon twisting instructions.

How to Fold Origami Monkeys Instructions - Parent and child monkeys.

How to Fold Origami Monkeys - Monkey origami models.

Jungle Safari Diorama Craft for Kids – Welcome to the jungle! Hear the screech of exotic birds and the howls of monkeys with this adventurous themed jungle safari diorama. Kids will even get to learn a thing or two about the animals with this craft.

Jungle Friends Crafts Project - Who's hiding behind the rainforest leaves? Friendly jungle animal faces such as zebras, giraffes, monkeys, elephants, and tigers, oh my!

King of the (Asphalt) Jungle (Ape / Gorilla / Monkey) Costume Making Craft - Your kids are sure to go ape for this famous gorilla, complete with a building perch and pint-size damsel in distress.

Make-a-Sock-Monkey Crafts Projects - This classic, yet goofy, sock toy has been a favorite of children for years. Why not make your own sock monkey using two socks, plus scissors, stuffing, yarn and a little bit of time?

Monkey : Pat Head and Rub Tummy Mechanical Monkey Model - This is a mechancial paper model toy of a monkey patting his head and rubbing his tummy.

Monkey CD Rom Craft for Kids - Materials you will need for the monkey are a CD Rom, printer, glue, scissors, something to colour with and a piece of paper (I prefer construction paper).

Monkey Toilet Paper Roll Craft Idea for Preschoolers - This is a simple three dimensional monkey craft that is fun for kids to make and play with.
Monkey Costume : Making Easy Handmade Halloween Costumes - Easy costume for Halloween.

Monkey Puppet or Paper Craft for Kids - This is the same type of project as the T-Rex puppet. I gave a few more specific directions and pictures to follow in those instructions, so if you get stuck, you might want to read through them.

Monkey Mask Craft Idea - Print out one of the mask templates (color mask or black and white). Color the mask (if using black and white) and cut out around the monkey head. A parent should do the eyes because it is a little difficult for children. To make it a mask, simply glue a craft stick onto one side of the mask or staple an elastic string to both sides so that child can wear it hands free.
Monkey Paper Plate Face or Mask- Materials you will need for the monkey are a printer, glue, scissors, something to colour with and a piece of paper (I prefer construction paper).

Monkey Paper Craft Idea for Kids - This monkey is a simple cut and paste paper craft that is fun for young children to make. It makes a great project for preschool and kindergarten kids and works well for an animals, jungle or letter M theme.

Monkey Box for Valentine's Cards Craft- You can replicate the same type of craft using craft foam by tracing the template pieces onto foam and drawing on a few of the details. It turns out really cute just with paper though -- the directions assume you'll be doing it just with paper

Pipe Cleaner Monkey Craft for Kids - Turn pom-poms and pipe cleaners into silly-looking monkeys that you'll love to have hanging around.

The Red-Heel Sock Monkey - Follow these step by step directions and make your own adorable sock toy monkey using red-heeled socks.

Tiny Sock Monkey - Stuffed animals can be a child's best friend. A sock monkey makes the perfect stuffed animal. Not only is it made by hand and with love, it can be customized to match the child's personality. Sock monkeys aren't difficult to make if you have a bit of skill in sewing, and they are a friend that will last forever.

Sock Monkey - This craft project may take a little more time than the rest but be assured that once you are done; you will have a swell time playing with your creation. Ask Mom to help you out in handling the needles! Always remember that SAFETY is the first rule in craft making.
You Might Also Like These Crafts with Gorillas, Apes, and Chimps