Home > Arts and Crafts Projects for Kids > Christmas Crafts > Christmas Nativity Scene Jesus Crafts Arts and Crafts Projects
BABY JESUS NATIVITY SCENES CHRISTMAS CRAFTS FOR KIDS : Make Cool Nativities with Baby Jesus, Mary, Joseph, the 3 Wisemen, North Star, etc for Xmas for Children, Teens, and Preschoolers
Although we celebrate Christmas with Santa Clause, Christmas Trees, and Candy Canes, the real reason for even having Christmas is because it is Jesus Christ' birthday. Many, many, many years ago Jesus was born in a manger with 3 wise men surrounding him. That is what Christmas is all about. So make sure to always teach your children the real reason for having Christmas, so they understand that their savior was born that night, many years ago. On this page, you can find many baby jesus crafts for you and your child to make together.
Pop Out Card of Baby Jesus Laying in Manger Cradle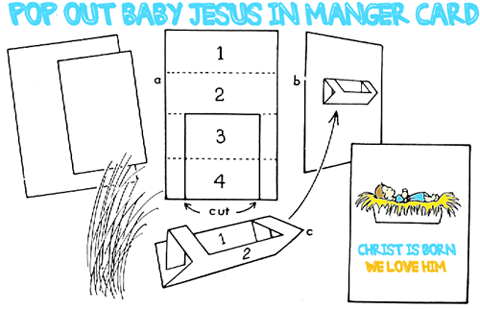 To make this, you will need 1 piece of construction paper 9"x12"; 1 piece of construction paper 9"x6"; scissors; paste; and straw or cut paper for stuffing manger. Firstly, fold small piece of construction paper in half crosswise, then fold each end to center fold. Cut out sections 3 and 4 as indicated in sketch a, so that only a 1" strip is left on each side. Paste section 1 above center of large piece of construction paper (sketch b). Fold up the other sections in triangular fashion so that section 4 overlaps section 1. Paste end strips in place to form manger (sketch c). Child may put grass or cut paper in manger and add pipe-cleaner baby or print out the following baby jesus and paper hay (see directions below) or small doll. Print the Bible verse, "We love Him" (I John 4:19) and whatever else you want to write.
How to Make Pipe Cleaner Baby Jesus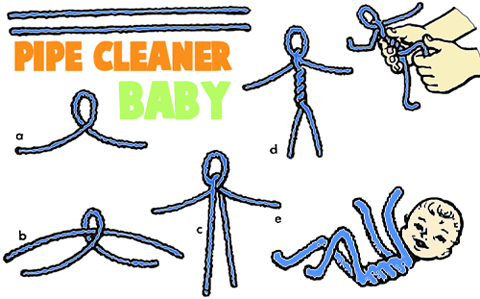 Materials needed are 2 pipe cleaners, face of baby cut from magazine or printed from Internet, and glue or Scotch tape. To make this, follow illustrations carefully above to make pipe-cleaner doll. Glue or Scotch tape baby face to doll. Place in manger bed and cover with small piece of cloth.
Making Wisemen and Camels from Envelopes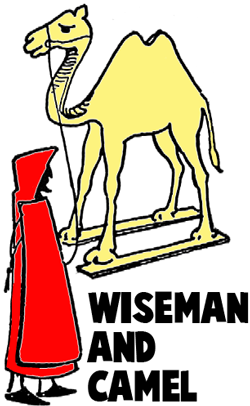 I bet you never thought that you could make parts of a nativity scene with regular paper envelopes. Well in this craft, we will show you how to make a wiseman (but you can make 3 wisemen) and camels. You will need a mailing envelope for this craft. Start this craft by printing out the following wiseman template and camel template. Either trace one figure (either the wiseman or the camel) onto the folded edge of a paper envelope or cut it out and paste it onto the folded edge of an envelope. Cut the figure out. Open it up and fold on the dotted lines so that the figure will stand.
Even More Nativity Crafts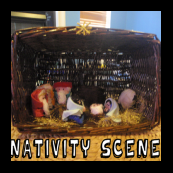 A Nativity Scene : From Start to Finish - Learn how to make the baby Jesus, the 3 Wise Men, Joseph, Mary, as well as a few animals. Use a basket for the Stable.

How to Make Jesus in a Manger for Nativity Scene Arts and Crafts Project for Christmas - Christmas is coming up soon and this is the day that baby Jesus was born. How about making a tiny manger for the baby of Christmas, Jesus and a part of your Nativity Scene with a toilet paper roll. The step by step instructions are given on the following page

Weaving Joseph and Mary - Learn how to weave using a simple cardboard loom...the final characters that are made look so amazing.

Egg Shell 3 Wise Men or Mary and Joseph - Find out how to make Christmas people such as Mary, Joseph, and the 3 wise men.

Weave Baby Jesus and His Cradle - Make a great Jesus and Cradle by weaving wiht a cardboard loom. Find out how.

Make These 3 Wise Men for Nativity Scene - Learn how to make these three wise men for the nativity scene.