Home > Arts and Crafts Projects for Kids > Christmas Crafts Arts and Crafts Projects Ideas for your Kids....Many ChristmasCrafts for your Children
CHRISTMAS CRAFTS FOR KIDS : Ideas for Arts & Crafts Activities for Children, Teens, and Preschoolers
The most colorful crafts of the year are those for the Christmas holidays. Children enjoy making decorations, either to take home or for decorating a tree or room at the meeting place. Christmas time is the most festive time of the year and many times people start celebrating it weeks in advance. Usually, after Thanksgiving is over with, people start decorating already for Christmas time. This page is dedicated to the celebration of Christmas and all of the beautiful crafts you can make to celebrate it.
Christmas Games and Activities
Christmas Tree Ornament Crafts
Recycle Christmas Cards to Make Other Crafts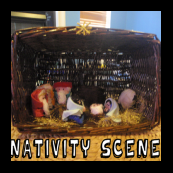 A Nativity Scene : From Start to Finish - Learn how to make the baby Jesus, the 3 Wise Men, Joseph, Mary, as well as a few animals. Use a basket for the Stable.

Christmas Paper Toy Model - Play with these free paper printables...pretend it is Christmas Eve or Christmas Day...pretend to eat dinner and to sit in front of the fireplace. Santa is coming down the chimney. Fun.

Making Popsicle Stick Santa Clause Christmas Tree Ornaments Craft for Kids - Make your own Santa Clause Ornaments decoration for your Christmas trees. This is just a sample Christmas Tree Ornament, you can use your creativity to make kings, angels and other Christmas characters using the same technique. Have fun.

Make a Mini Christmas Tree Arts & Crafts Project & Activity for Kids - Christmas is coming up soon so it is time to start decorating the house with your arts and crafts projects and activities. This mini Christmas tree will look great on your window sill, or on the table this Christmas. All you need is some paper, scissors and glue. So get started right now- the instructions follow.

How to Make Pop-Up Chrstmas Tree Cards - Find out how to make these pop-up Xmas Tree Cards.

Gold beads Christmas Tree Card Crafts Project for Kids - Here's a pretty handmade bead card that your children's friends and family will be very impressed to see. Make sure you get the right kind of beads- flat on one side and rounded on the other. The simple instructions to make this Christmas card are given.

Christmas Gift or Party Bowls - You will simply take a plain glass or plastic bowl and use acrylic paint to paint a Christmas design on the front of the bowl.

Easy Angel Christmas Tree Topper to Make : Arts & Crafts Ideas for Kids - Easy Angel Christmas Tree Topper to Make : Arts & Crafts Ideas for Kids No Christmas tree is complete without a beautiful angel placed on top. This craft gives your children the opportunity to make their own Christmas angel ornament / Christmas tree topper.

Christmas Paper Wreaths Craft for Kids - Here's an easy Christmas wreath you can make with just some crepe paper, colored paper, a cereal box, and ribbons. This paper Christmas wreath is easy to make and great to hang on your doors at Christmas time. This easy step by step instructions are given on this page.

Christmas Fairy Ornaments - Learn how to make these Xmas Fairy ornaments

Christmas Tree Angels Ornaments Crafts Idea - Here is a beautiful angel that you and your kids will love to be on your Christmas tree. The following crafts project includes simple instructions to make the Christmas angel ornaments arts and crafts project that follows.

Standing 3 Dimensional Christmas Tree Cutout - Learn how to cutout this 3D Christmas Tree.

Decoupaged Christmas Napkin Jugs - Decoupage a Xmas napkin onto a white jug to make a Christmas Jug.

Christmas Candle Arrangements - Learn how to create this Christmas Candle decoration.

Homemade Christmas Napkins - Personalize all of the Christmas Napkins for a beautiful Christmas dinner with all your relatives and friends.

Make Gift Wrapping Paper with Leaf Prints - Make gift wrap with leaf prints.

Drinking Straw Chains for Christmas Trees - Wrap these around your Christmas tree to decorate it for that special time of year.

Easy to Make Advent Calenders Christmas Crafts for Kids – Part 1 - Advent calenders are always lots of fun. But most of them take ages to make. Here's a simple version of the advent calender that will take you a couple of hours to make- at the most. So sit down one afternoon with your kids and make this simple advent calender. Part ! of the instructions are given below. In this page you can learn to make the gifts. Easy to Make Advent Calendars Christmas Crafts for Kids - Part 2.

Santa Clause Gift Boxes - Learn how to make a Santa Clause Gift Box from a Milk Carton.

Christmas Joy Decoration - Learn how to make this Joy Decoration made with paper and ribbons.

3D Paper Christmas Goose - Make a Christmas goose from simple white paper and a little folding prowess.

Make Your Own Xmas Envelopes - Learn how to make your own Christmas Envelopes for your Noel Cards.

Making Christmas Gift Tags - Find out how to make these Xmas Gift Tags with the following tutorial.