Home > Arts and Crafts Projects for Kids > Christmas Crafts > Christmas Poinsettias Crafts for Children
CHRISTMAS POINSETTIA CRAFTS FOR KIDS : Make Xmas Poinsettias Arts & Crafts projects with these easy flower making crafts instructions and ideas for children, teens, preschoolers
The Poinsettia is a red plant that is displayed around Christmas time. There is a tale about the Poinsettia and why we display it on Christmas. The tale goes that there was a little girl who was sad because she was too poor to buy a gift for the celebration of Jesus' birthday. So an angel guided her to some weeds on the side of the road and she picked them and placed them in the front of the church, at the altar. Miraculously, they sprouted red blossom flowers. They were the most beautiful Poinsettias you've ever seen. So this is why we display these flowers at Chrismast time. On this page you will find Poinsettia crafts to make for Xmas.
Toilet Paper Roll Poinsettias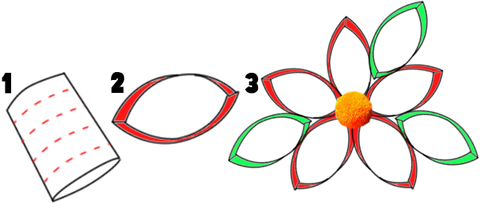 Here is a fun idea for making Poinsettias. Flatten 2 toilet paper rolls. Then cut them into strips, as seen in picture #1 above. Paint 5 strips red and 3 strips green. Let them dry completely. Then glue 5 of them together in a star like shape, as seen in picture #3 above. Then paste 3 green ones on as well, for leaves. Glue a yellow pom pom ball in the center. You now have a Poinsettia that you can hang on your tree or your windows to celebrate Christmas.
Make Poinsettia Pictures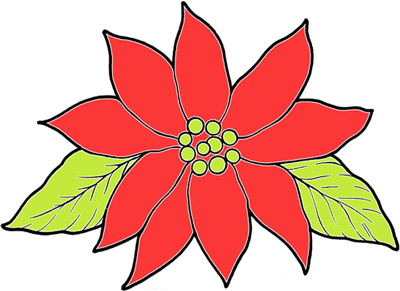 You can either print out this Poinsettia Coloring Page or you can print out this Poinsettia Pattern in which you can trace the leaf and petal on colorful paper, foil, felt, or crafts foam. Then you can paste them in place to make a 3-dimensional flower for Christmas.
Fingerprint Poinsettias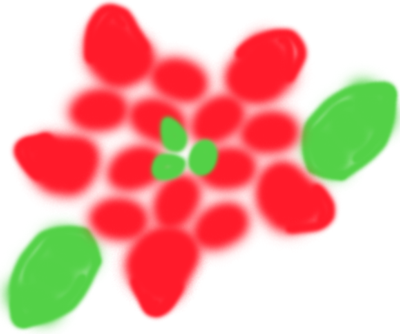 To make fingerprint Poinsettias, you will need both red and green paint or ink pads. Start off by making five red fingerprints in a circular pattern that you would see in a flower. Then make 5 red fingerprints surrounding these. Then make 5 large petals out of either your fist or three fingerprints. Do the same with 2 green petals...use the side of your fist. When the red paint dries...add 3 pinky prints to the center.