Home > Arts and Crafts Projects for Kids > Christmas Crafts > Christmas Rudolph the Red Nosed Reindeer Crafts
RUDOLPH THE RED NOSED REINDEER CRAFTS FOR KIDS : Make Christmas Rudolph Reindeers Arts & Crafts projects for children, teens, and preschoolers
Rudolph the Red Nosed Reindeer is Santa Clause's 9th reindeer that became famous in the song named after him. Rudolph grew up with all the other little reindeers making fun of him because his nose lit up red....some even said that it glowed. But on Christmas Eve one year, it was really foggy outside and Christmas was going to be called off. But instead, Santa Clause thought about Rudolph and how he could guide his sleigh that night. And he did a great job and he saved Christmas that year. Now Rudolph is an important part of Christmas. This page has crafts for Rudolph the Red Nosed Reindeer...hope you enjoy them.
How to Make Handprint Rudolph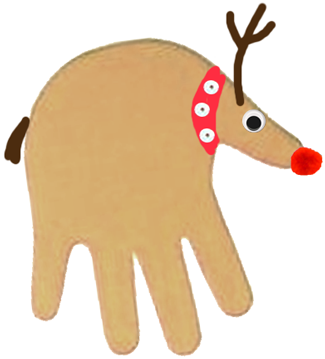 Either trace your hand on brown paper and cut it out OR dip your hand in brown paint and stamp it onto a piece of paper. Put a googly eye on the thumb, as well as a red pom pom for the nose. Draw the antlers or use a few pieces of pipe cleaner glued down to the paper (and the same for the tail). Use a red ribbon or red paper for Rudolph's collar. Glue a few sequins on the collar.
Make Popsicle Stick Rudolph the Red Nosed Reindeer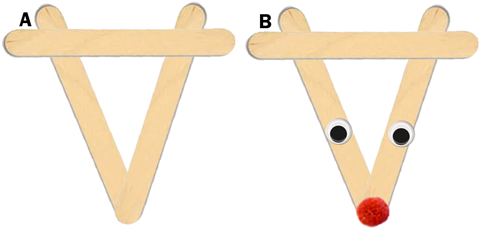 Here is your chance to make an adorable Rudolph with crafts sticks. Start off by gluing Popscile sticks into a capital letter 'A' shape. Then glue googly eyes and a red pom-pom ball onto the sticks...as seen in picture B above.
Transform Your Picture into Rudolph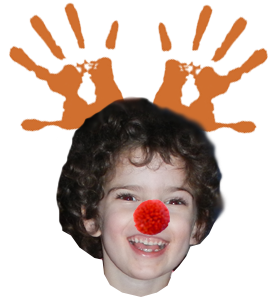 Make a funny picture by using a photo of yourself, a red pom-pom ball, and some cut-out hand prints. All you do is trace your hands on some brown paper and then cut them out. Print out a picture of yourself (or use a real photo). Paste the hands onto the top of your head and glue it all down on a nice piece of paper. Then glue a red pom-pom ball to your nose. It is hilarious and festive. Have fun!

Even More Rudolph Crafts

Make Christmas Reindeer Gift Boxes - Make these Christmas Gift Boxes from Old Milk Cartons with the following template.
=========================================================