Home > Arts and Crafts Projects for Kids > Christmas Crafts > Christmas Santa Clause Crafts for Children
SANTA CLAUSE CRAFTS FOR KIDS : Make your own Christmas Santa Clause projects with these easy arts & crafts activities for children, teens, and preschoolers
Santa Clause, also known as Saint Nicholas, is a plump old man who travels the world with a sleigh & reindeer every Christmas Eve. He delivers gifts to all well-behaved Christian children. Santa takes his reindeer & sleigh and lands on your roof. He then takes his sack filled with toys and goes down your chimney to deliver your toys. He places some in your stockings and some under the Christmas tree. If Santa can't get in thru your chimney, he always finds a way, even if it is by using magic. If you want to make some Santa Clause crafts, look no further than this page, we have all sorts of ideas for you to try out.
Printable and Foldable Santa Clause Candy Boxes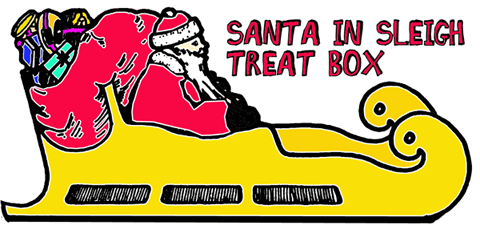 This is an easy Santa Clause craft. This is a printable craft...just print out this Foldable Papercraft and then color it in with markers, crayons, colored pencils, etc. Then just cut on the solid lines and fold on the dotted lines. Fold the paper together to make a Santa sleigh. Then just put treats in it. You can make it more durable by pasting the paper to cereal box cardboard before cutting and folding...but this is an optional step.
Make a Santa Clause Paper Candy Box with Printable Paper Craft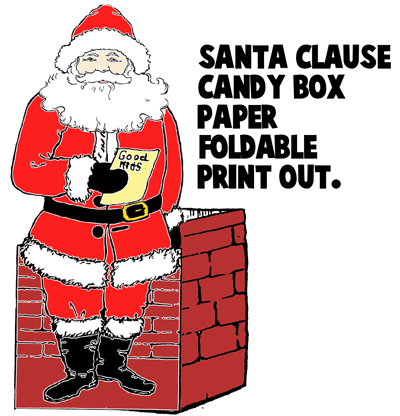 This is a very easy craft because it is mostly already done for you. Basically just print out a color template or a black and white template (if you want to color them in yourself). If you want to make them sturdier, you can glue the print out to cereal box cardboard first, but it isn't necessary to do this. Print out the template, then cut it out. Then fold on the lines and then glue the tabs in place. Let it dry and then use it to display Christmas candy.
Make a Cute Foldable Santa Clause Christmas Card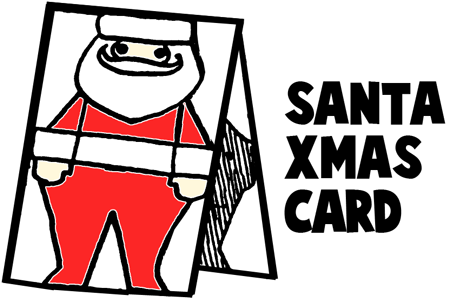 This is a printable Christmas card template...you can choose a black and white xmas card template or a colorized xmas card template. Then just color it in (unless you printed out a color template), cut out the rectange, and then fold it in the center so that it stands up like the one pictured above. Then write a message on the inside of the card...like 'Merry Christmas' or whatever you choose to write.
More Santa Clause Crafts Below

Making Popsicle Stick Santa Clause Christmas Tree Ornaments Craft for Kids - Make your own Santa Clause Ornaments decoration for your Christmas trees. This is just a sample Christmas Tree Ornament, you can use your creativity to make kings, angels and other Christmas characters using the same technique. Have fun.

Santa Clause Gift Boxes - Learn how to make a Santa Clause Gift Box from a Milk Carton.

Making Santa Clause Clothespin Ornaments - This tutorial shows you how to make a Santa Claus Clothespin Ornament. The craft makes a cute Santa Claus that is perfect to hang on your Christmas Tree.

Santa Clause Origami Project - Doesn't this origami Santa Clause turn out adorably...find out how to fold one up on your own.

Santa Clause Perler Bead Ornaments - Create this beautiful ornament with some perler beads and some cording.

Foldable Paper Santa Clause Craft - Print out our template and make this Santa paper craft.

Christmas Pinecone Ornaments - Make pinecone Xmas ornaments of Elves or Santa Clause.
=========================================================