Home > Arts and Crafts Projects for Kids > Christmas Crafts > Christmas Wreath Crafts for Children
CHRISTMAS WREATH CRAFTS FOR KIDS : Learn how to make your own handmade Christmas Wreaths projects with these easy Wreath making crafts instructions, ideas, and inspiration for children
Christmas wreaths are decorative rings created from an assortment of items...you can really make them from anything. Traditionally, wreaths are made of twigs, fruit, leavse, and flowers. In modern times, wreaths are hung to celebrate the birth of Jesus Christ, or in other words, Christmas. Many times, Christmas wreaths are hun on the front door to show people that you are celebrating Christmas and that you have a festive spirit. You don't need to make wreaths from traditional items, you can make them from crepe paper, fabric, ornaments, ribbon, buttons, or even paper. Hopefully you will like some of the inspirational and creative ideas found on this page.
How to Make Wire Hanger Christmas Wreaths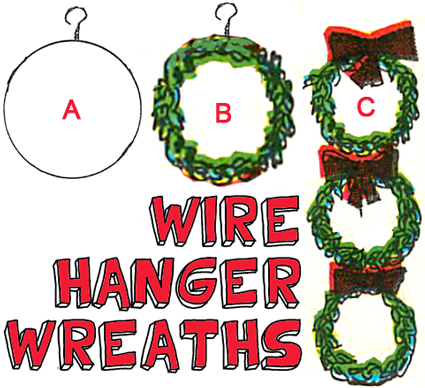 You can either make a single wreath or make 3 of them hanging together as seen in picture C above. Form three wire hangers into circles, as seen in picture A above. Wrap wire with green green crepe or tissue paper. Do this by cutting them into 1 inch x 6 inch strips. Then twist them around the wire hanger as you would with a twist tie. Bunch the tissue paper together as you go along the entire hoop circle (of the wire hanger). You could also tie small pine branches or holly on.
Cut holes in three 2" wide pieces of red ribbon. Paint greetings on them, and slip them over the hooks. Arrange hoops singly as shown; or tie together.
Christmas Tree Wreaths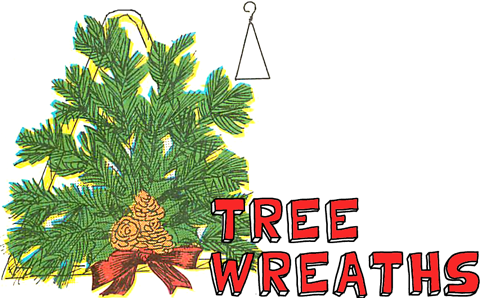 Here is another Christmas wreath idea. Bend a wire coat hanger into a triangle, as seen in the picture above. With fine wire, tie branches of a pine tree to the hanger, with bottom ends touching at lower center. Paint pine cones with golden paint. Wire these gilded cones onto wreath to cover center. Spray with shellac and sprinkle with a light coating of glitter. You now have a beautiful Christmas tree shaped wreath.
Paper Wreath Patterns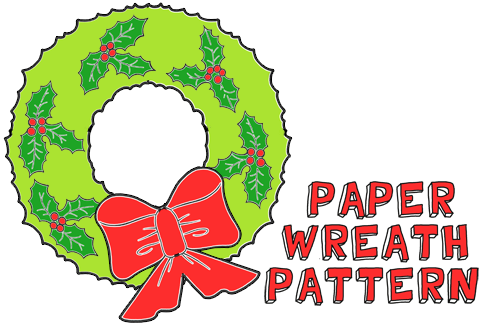 You can make a beautiful paper wreath with the following pattern. You could also consider using crafts foam or felt too. First of all print out the following wreath template. Cut out each item on the print out. Then trace the wreath part on a folded piece of green paper. Then cut it out and unfold and you have a circle wreath. Trace the bow part on a folded red piece of paper and then cut it out and unfold as well. Trace the holly pieces on darker green paper and cut a few of these out. You can cut out red circles for the berries. Now glue all together and you have a beautiful paper Xmas wreath.
Even More Wreath Crafts Below

Christmas Paper Wreaths Craft for Kids - Here's an easy Christmas wreath you can make with just some crepe paper, colored paper, a cereal box, and ribbons. This paper Christmas wreath is easy to make and great to hang on your doors at Christmas time. This easy step by step instructions are given on this page.
=========================================================