Home > Arts and Crafts Projects for Kids > Christmas Crafts > Christmas Reindeer Crafts for Children
REINDEER CRAFTS FOR KIDS: Ideas for Arts & Crafts Activities to make Christmas Reindeer with easy instructions and printables for Children, Teens, and Preschoolers
Santa Clause gets all of the attention...but reindeer are quite important in the whole Christmas scenario. Where would Santa be without his reindeer...his sleigh just can't fly itself to everyone's house. Santa needs those reindeer to fly him and all the gifts thru the air. It is like a magic flying machine bringing joy to kids all over the world. The reindeer include Dasher, Dancer, Prancer, Vixen, Comet, Cupid, Donner, Blitzen, and Rudolph. To make some crafts including these important Xmas reindeer, just look below for some great inspiration. Happy crafting!
How to Make Q-Tip (Cotton Swab) Reindeer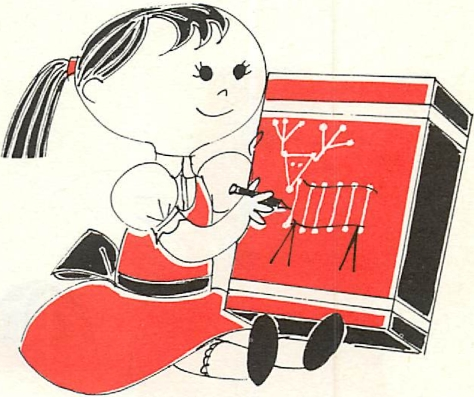 You can make these reindeer for a Winter-time picture or you can decorate Christmas gifts with these. With a pencil, draw an angular reindeer with a simple triangular face and straight legs (bent at an angle but not curved). The body should curve gently and should be exactly as wide as the height of the cotton swabs (use a swab as a measure, as you draw). Then go over your pencil lines with glue. Lay the swab sticks right into the glue. The antlers, face, and legs are made from pieces of the cotton swabs broken to the correct size. The body consists of a neat row of swabs placed next to one another.


Make Christmas Reindeer Gift Boxes - Make these Christmas Gift Boxes from Old Milk Cartons with the following template.

Make Candy Cane Reindeers - Find out how to make these cute candy cane reindeers with the following tutorial.

Birch Branch Reindeer - Use birch, maple, or other tree branches to make Santa's reindeers.

Craft Stick Reindeer - This little reindeer craft will keep children busy all day!

Easy And Adorable Reindeer - Learn how to make an adorable reindeer craft using brown and red construction paper, a brown paper plate and other materials.

Easy Reindeer Crafts For Kids to Make - Make this simple reindeer craft using inexpensive materials.

Fingerprint Reindeer Gift Tag - This is a cute fingerprint craft for young children.

Hairpin Reindeer - After your family reads and sings about him, you can create these hairpin reindeers with them.

Hand and Footprint Reindeers - Fun and easy hand and footprint crafts for children, preschoolers, and kindergarteners.

Handprint Reindeer - Use your handprint to create a festive picture you can hang on your fridge.

Magic Reindeer Food - This is a wonderful craft for kids to do on Christmas Eve.

Painted Paper Mache Reindeer - Fun and decorative reindeer craft.

Paper Bag Reindeer Craft - Make a reindeer puppet from a paper bag, construction paper, glue, scissors, and markers.

Poop - This is a great and fun Christmas craft for the whole family.

Pot Reindeer - Turn a small terra cotta clay pot into a reindeer Christmas ornament in a few steps.

Reindeer Art - Children can make their own reindeer craft from their own handprints.

Reindeer Badge - Fun reindeer themed badge craft for kids.

Reindeer Candy Cane Craft - This is a simple and cute reindeer craft for children of all ages.

Reindeer Christmas Ornament - Make a reindeer Christmas ornament using three wooden hearts.

Reindeer Hair Band - Learn how you can make your own reindeer antlers by following this tutorial carefully.

Reindeer Milk Carton - Recycle a milk carton into a cool Christmas reindeer container.

Reindeer Paper Bag Puppet - Fun paper bag puppets kids will love.

Reindeer Photo Frame - Fun festive frame for all your photos.

Reindeer Wreath - Find out how you can make this festive reindeer wreath to hang on your door.

Rigatoni Reindeer Ornament - Find out how you can make a reindeer Christmas ornament using an uncooked rigatoni.
=========================================================