Home > Arts and Crafts Projects for Kids > Christmas Crafts > Christmas Stockings Crafts for Children
MAKE CHRISTMAS STOCKINGS CRAFTS FOR KIDS : How to make your own handmade Christmas Stockings projects with these easy instructions, ideas, and inspiration for children, teens, and preschoolers
Its Christmas Eve, and you need to leave Christmas stockings out above your fireplace. Uh oh....you don't have a Christmas stocking to put up. Don't worry, don't fret...find a quick crafting idea below and you won't have to worry about going out and buying a new, expensive, Xmas stocking.
Make Felt or Fabric Christmas Stockings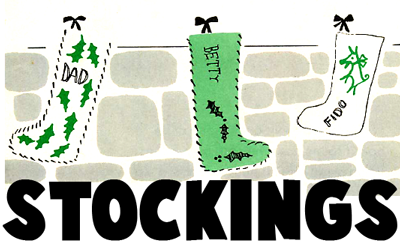 Here is an easy-to-make Xmas stockings craft. Use the following stockings template for this craft. Cut it out and then trace it onto felt or fabric twice. Then decorate the fabric or felt with pictures of stars, reindeer, trees, holly, candy canes, or whatever. You can do this with other pieces of felt or fabric or with buttons, sequins, glitter, or whatever you want to use. Use the blanket stitch to sew your 2 stocking pieces together. If you want, you can glue cotton on the top of the stocking to look like the classic Christmas stocking.
Christmas Paper Fireplace Stockings Craft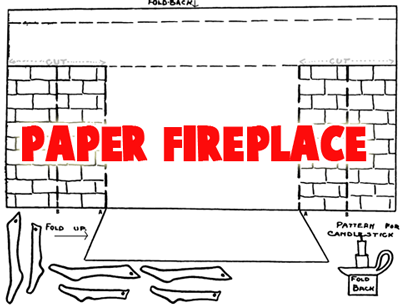 Here is the fireplace and stocking pattern to print out. Fold forward the shelf, cutting the two-inch lines above the bricks (shown in illustration). Fold out lines A, and fold back lines B. The two fronts of the fireplace of course must be the same distance forward, and the shelf resting on them. Then draw and cut the candlesticks and Christmas stockings, and place them in position, and pin or paste them on. You can put your fireplace stockings craft up on a mantle or in your room.
Even More Christmas Stocking Crafts Below

Baby's First Christmas Stockings - - This soft polka-dot stocking is perfect for your little one's first Christmas.

Ballet Slipper Stockings Making Instructions - - "Nutcracker" nuts, for one, will dance with joy over this dainty stocking.

Bare Foot Christmas Stockings to Make - Add a touch of color to the season with this stocking that celebrates every kid's favorite footwear -- none!

Blanket Stockings Craft Idea for Kids - - Add a personal touch to the age-old holiday tradition of hanging stockings by making your own this year.

Bird Stockings Making Directions - - Cheerful wool-felt birds and luxurious mohair and cashmere fabrics make these stockings as special as the gifts inside them

Brown Paper Christmas Stockings - - Make a great Christmas stocking from a brown paper grocery bag. You can hang it from your mantle and stuff it with Christmas goodies.

Candy Stockings Activity for Kids - - Celebrate Christmas with a little something sweet. Stuff your stockings with your favorite sugared treat. Deck your halls with stockings until the New Year! It's a great way for you and your tiny elf to spread Christmas cheer. Your colorful creations will glisten with glee, put them above the fireplace or hang'em on the tree. It's so much fun for the entire family!

Christmas Lacing Stockings - - Lace around a precut stocking with ribbon to make Christmas stocking you can really use! It's a great way to give money for Christmas also.

Christmas Stockings - - Make your own Christmas stocking from craft foam or felt.

Christmas Stocking Crafts - – In this tutorial you will learn how to make a simple Christmas stocking.

Christmas Stocking Craft for Children - - Here is a free Christmas Stocking craft and pattern that is simple and fun to make. This Christmas Stocking would be lovely to use for a gifts for that someone special. You could tuck your mother's gift into a Christmas Stocking, put in some of Grandpa's favourite after shave, or even a wee toy for your little brother or sister and not have to worry about wrapping it!

Christmas Stockings - - Try this simple needle felting technique for making holiday stockings.

Christmas Stockings Ornaments - - In the tutorial you will learn how to make classy looking Christmas stockings.

Christmas stockings ornaments - - I have a great idea for kids or adults to make for Christmas ornaments. This is a great country look or can be adapted for any style tree.

Christmas Stocking Projects - - Christmas stockings make wonderful gifts, and add unique, decorative touches to your own home

Christmas Stocking Socks - - In this tutorial you will learn how to make Christmas stocking socks.

Christmas Stocking Tutorials - - Did you like this stocking? Want to make one yourself? Well, I figured there are probably a lot of tutorials on how to make Christmas stockings, this one is the way I did it. I like that it allows room for embroidering the name, what's a stocking without a name on it?

Classic Stockings - - This personalized stocking will bring lots of smiles on Christmas morning.

Country Christmas Stockings - - Stockings are much more easy to make than they look. The hardest part is really choosing which fabrics to use for it. This particular stocking has a primitive and country look to it and is completed within a few hours. Let the the pictures in our step-by-step tutorial assist you in sewing one for yourself or for the members of your family.

Country style Christmas stockings - - A design with rural charm.

Cowboy Boot Stockings - - Round up some great gifts with this western-style booty collector.

Denim Christmas Stockings - - Craft a recycled denim Christmas stocking this holiday. I used a pant leg of some old jeans and a printed stocking panel to make this unique Christmas stocking. I then topped it off with a crocheted top edge and a jingle bell.

Dog Paw Stockings - - Cut your family's furriest friend in on the action -- this stocking's big enough to hold a bone that will last all day.

Elf Boot Stockings - - Here's a whimsical stocking in honor of Santa's hardworking helpers.

Expandable Christmas Stockings - - This is the Christmas stocking you've been waiting for! Make it yourself to reflect how naughty or nice you've been. Hang it in its most compact zipped-up stage to appear modest and humble.

Fancy Boot Christmas Stockings - - This boot was made for stuffing, and that's just what Santa will do this Christmas Eve.

Felted Christmas Stockings - – In this tutorial you will learn how to make felted Christmas stockings.

Felt Christmas Stockings - - Felt is one of the most forgiving fabrics around, which makes it ideal for children's crafts. When it comes to making your own felt stockings, you can either purchase a kit or buy individual materials and craft from scratch. Either way, felt's soft and velvety surface adds warmth to the holiday season.

Felt Gift Stockings - - Sock away gifts in these one-of-a-kind personalized stockings.

Felt Stockings - - This pattern includes instructions, measurements and pattern pieces. Stocking trim shown in the cover photo is made with Amy's Nigella fabric.

Foam Stocking With Mistletoes - - These fun foam stockings are easy and fun to make. Decorate with your favorite holiday designs.

Fun Foam Stockings - - On cold and dark winter days kids can have fun indoors crafting decorations for the Christmas tree. This craft is easy to complete and the kids can make one for each member of the family.

Greenery Garland Stockings - - Fresh garlands tied with ribbons enliven plain stockings. When cast in sunny shades, the stockings create vibrant accents for a Christmas-morning gift exchange. The stockings featured here are trimmed with Port Orford cedar, a delicate-looking evergreen that is versatile and hardy, and eucalyptus, which dries nicely and smells lovely.

Holiday Lights Christmas Stockings - – In this tutorial you will learn how to make holiday lights Christmas stockings.

How to craft a rocket-shaped Christmas stocking - - Instead of the traditional sock-shaped stocking, follow along with this how-to video from Piece of Craft and make a colorful, rocket-shaped Christmas stocking.

How to Decorate Felt Stockings - - Felt stockings are most often used as Christmas stockings. Inexpensive and easy to personalize, they make a great Christmas craft for children, whether it's making their own stockings or making one to give as a gift.

How to Design a Christmas Stocking - - If you're looking to spice your Christmas with some easy and fun creativity, the easiest and most satisfying project is designing your own stocking. Follow these really simple tips and you're done!

How to Make A Christmas Stocking - - To ensure that Santa brings you stocking stuffers this year make a stocking.! Stockings are easy to make and personalize, and you will be able to spread Christmas cheer in your own home.

How to make a Christmas stockings - - The experts at Country Homes & Interiors magazine have come up with simple steps for making your own Christmas Stocking.

How To Make A Christmas Stockings - - Make A Christmas Stocking. Arona Khan, our arts and crafts specialist, shows how to make that Christmas stocking for the kids.

How to Make a Christmas Stocking From Felt - - What could be more wonderful than making your own Christmas stocking with your child? It is so easy that your whole family can each make one to hang on the mantle. The instructions provided here will make a stocking that is approximately two to three feet in length. The felt can be any color, though usually red, green, or white are typical Christmas colors.

How to Make a Christmas Stocking From Old Jeans - - If you want to add a little meaning to a special child's Christmas stocking, you can make it out of a pair of his mother's or father's old jeans. The legs of the jeans have just enough fabric in them to fit a stocking pattern. They go well with a country Christmas look, regardless of the decor in the home.

How to Make a Christmas Stocking from Recycled Wool Sweaters - - 'Tis the season to redefine the concept of 'reuse', and trim it with charm!

How to Make a Personalized Christmas Stocking - - Create a unique stocking to hang by the chimney with care for years to come

How to Make a Paper Plate Christmas Stocking - - Christmas is an exciting time of year. A great way to begin the Christmas season is to sit down and make some Christmas crafts with your children. One such craft is making a Christmas stocking out of a paper plate. Most homes have paper plates so these types of crafts can be done rather inexpensively.

How to Make Custom Christmas Stockings - - "Stockings are hung by the chimney with care, in hopes that Saint Nicholas soon would be there." Everyone knows the poem "The Night before Christmas." Stockings are a tradition that seems to have been around forever.

How to Sew Mini Christmas Stocking Ornaments - - Christmas stockings are a standard for Christmas decorations, but mini Christmas stocking ornaments are really easy to make and attractive on any size Christmas tree.

Ice Skate Stockings - - The blade's not real, but this stocking still looks awfully sharp hanging from the mantel.

Jingle Bell Stockings - - The pierced detailing on these felt stockings -- reminiscent of openwork on creamware china -- is made using decorative hole punches. Practice the patterns on a piece of scrap felt first, since placing holes in correct order is tricky.

Keepsake Stockings - - This homespun stocking is a wonderful way to mark a first Christmas -- as well as his second, third, and fourth. Every year, add a new felt shape representing some favorite memory or object that your little one loves. Only the stocking requires sewing; the designs are glued on, for easy updating.

Knit and felt a Christmas stocking - - This knitted and felted Christmas stocking is inspired by a style my grandmother used to make with machine-made felt. In fact, it is a more elegant version of the stocking my father hangs to this day.

Knit Christmas Stockings - - Add color and texture to your holiday mantel with this festive knit stocking.

Knitted Christmas stockings - - Knit and personalize stockings for each member of your family and hang them for that jolly old elf to fill with goodies.

Laced Christmas Socks - - In this tutorial you will learn how to make laced Christmas stockings.

Let's Make Christmas Stockings! - - Christmas stockings are fun to make and decorate. You can buy the ready-made ones and simply decorate them as desired, or you can make your own to decorate.

Little fairy stockings - - A beautifully simple design that will appeal to anyone who loves the magic of Christmas.

Long John Stockings - - Make a fresh batch of stockings to dress up your banister or mantel for the holidays. Using the same basic stocking construction, you can create a distinct look that will fit your holiday theme by varying the trims you use.

Lovely Christmas Stockings to Fill - - The Christmas season is a great time for the family to gather together and create some wonderful craft items. Christmas crafts are among the most special and memorable, and those lovely crafts can be used again and again, each year as Christmas rolls around again.

Luxury stocking for grown-ups - - You may not believe in Santa Claus any more, but you're never too old for a stylish stocking.

Make a Felted Wool Christmas Stocking - - Modern meets vintage on this simple-to-sew stocking.

Make a Jolly Jester Christmas Stocking with Fleece - - Add a jaunty air to your Christmas decorations with this Jolly Jester stocking made from yellow fleece.

Make a Pretty Christmas Stocking from a Sweater - - Make a fast, pretty Christmas stocking from an old cotton sweater.

Make Your Own Christmas Stocking - - Welcome to Christmas Stocking Crafts for Kids where you can follow my step-by-step instructions to make and decorate your own Christmas stocking ready for Christmas Eve!

Making Christmas Stockings - - With these charming handmade crafts, the stocking itself is as much as a treat as what's stuffed inside!

Making Victorian Christmas Stockings - - For the past seven years of marriage to my husband, we have been collecting Victorian Christmas tree ornaments. They are delicate, elegant, rich in style and so beautiful on a Christmas tree and best we got them on sale!

Minature Christmas Stocking - - A How To video on the making of a Christmas stocking ornament or present decoration.

Mini stockings - - These miniature stockings are perfect to make as a gift or to fill with mini presents.

Necktie Stocking - - In this tutorial you will learn how to make stockings from neckties.

Personalize your Christmas Stocking with glue and glitter - - If you would like to try your hand at personalizing your own stocking, here is how to make personalized Christmas stocking.

Rickrack Stocking - - Line the mantel -- or a child's bed -- with colorful handmade stockings that invite stuffing. These felt socks, cut with scallop scissors, are embellished with rickrack zigzags or blooms. You can scatter the blossoms or cluster them in a cuff.

Sequined Mohair Stockings - - Soft, shimmering yarns make the most of this basic pattern. We used two yarns -- one ivory mohair and one sequined novelty yarn. A simple technique called grafting is used to close the toe and heel, or you can hand-sew them closed using mohair yarn.

Sew an Easy Stocking - - Christmas stockings are a holiday must-have. Use our free pattern, and a little imagination, to create uniquely decorated stockings for the entire family. Here are two embellishment ideas to get you started.

Silverware Stocking - - These stockings add a playful touch to the dinner table throughout the holidays. They also make it easier to hang on to everything you need when maneuvering through a buffet line. You might see similar items in home decor catalogs, but you can make your own for a fraction of the cost. A beaded initial adds a personalized touch.

Snowflake stocking - - A classically festive design, complete with name-tag for the lucky recipient.

Sparkly, Happy, No Sew, Christmas Stocking - - There are a few really lovely things I adore about the holidays. But I have to say, one of my favorites is decorating the mantle. I love to decorate my fireplace mantle at my little abode in town, and light a crackling lovely fire. Sit around, all cozy, lights twinkling... Stockings, dancing around, waiting to be filled with treats...

Striped Christmas Stocking - - I went yarn browsing and found some of that sparkly Christmas yarn. This type of yarn usually doesn't appeal to me, but it looked and felt so luxurious, I thought - I gotta try this stuff! So, I picked up a few balls of the ones with the gold thread (traditional colours like burgundy and off white) and a few of those with the silver (clear, more modern looking colours). I figured I'd sort out the rest later. Let the games begin...

Stylish Christmas Stockings - - Stockings were hung by the chimney with care in hopes that St. Nicholas soon would be there …" Impress St. Nick with these elegant personalized stockings that will withstand the wear and tear of Christmas morning. You can make one for each member of your family or use one as a unique wrapping for a special gift.

Sweater Stocking - - Sweaters with unusual pockets, collars, or buttons make excellent stockings, and making a stocking from a patterned sweater creates the illusion that you knit it yourself.

The Stockings were Hung... - - In this tutorial you will learn how to make cute small stockings to add to your tree.

Victorian Christmas Stockings - - A quartet of stockings, Victorian style, are fashioned from elegant fabric pairings. Mine flea markets for embroidered, crocheted, or otherwise interesting remnants for decorative cuff adornment.

Zippered Fleece Christmas Stockings - - The fleece popular today is a lightweight polyester knit with a thick pile on both sides. Double-sided fleece is popular for jackets, headbands, throws and gloves. Here's a fun project that will warm Santa right down to his toes!
=========================================================
=========================================================