Home > Arts and Crafts Projects for Kids > Animals Crafts > Crab & Lobster Crafts Arts and Crafts Projects Ideas for your Kids
CRAB & LOBSTER CRAFTS FOR KIDS: Ideas to make crabs and lobsters with easy arts and crafts decorations, instructions, patterns, and activities for children, preschoolers, and teens
Crabs and lobsters are not only for eating. Crabs and Lobster themed crafts are a great way to welcome the summer with your children. You can make an amazing keepsake by making a crab or lobster craft from your child's hand print and/or foot print.
Your child can also make a crab from a paper plate by punching eight holes around the edge of the plate and treading pipe cleaners through the holes then twist it to secure it. Then put three pieces of straw on each of the pipe cleaners and bend the legs to shape it so it looks like the crab is walking. Punch two more holes close to the front and then put one pipe cleaner through with ends sticking up. After that is done, twist to secure. Finally ask your child to paint the crab.
Handprint Crabs Artwork

This is a great preschool craft for younger kids. Start with a light blue piece of paper and then make sand along the bottom of the paper - either with paint or colored pencils or cut construction paper. Then dip both hands in red paint and make hand prints with the thumbs pointed up. It looks best if your hands overlap a bit, as seen in picture #2 above. Let completely dry and then glue a googly eye on each thumb. Use black paint or a black marker to draw a smile.
Footprint & Handprint Lobsters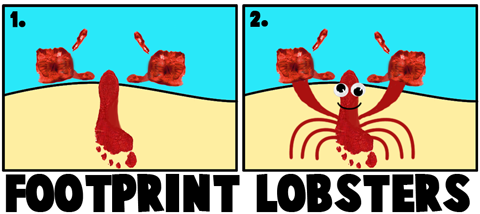 Start off with a blue piece of construction paper and then paint sand on the page. Let dry completely. The dip your foot into red paint and put the footprint on the page with the toes facing down. Then dip both of your hands' palms, thumbs, and first fingers into red paint and then put the print on the pager with the thumbs facing inwards...as in the picture #1 above. Then paint 3 legs on each side of the lobster's body, as in picture #2 above. Then paste googly eyes on the lobster and use a black marker to draw a smile on the lobster.
How to Make Paper Crab Masks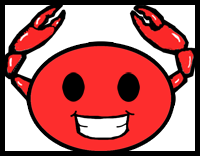 To make the above paper crab mask, just print out the following crab mask template and follow the included directions.

Make Polymer Clay Lobster or Crab Finger Rings - These Polymer Clay Rings can be made and worn very comfortably and they are soooo cute.

How to Draw Cartoon Crabs - Learn how to draw cartoon crabs with easy step by step drawing tutorial.

How to Draw Mr. Krabs from Spongebob Squarepants Drawing Lesson for Children - Do you want to learn how to draw Mister Krabs from Spongebob Squarepants? I have put together a step-by-step tutorial that will help you figure out how to draw Mister Krabs by using simple shapes to build up Mister Krabs' form.