Home > Arts and Crafts Projects for Kids > Diorama Crafts for Kids
DIORAMA CRAFTS FOR KIDS: Ideas for Arts & Crafts Activities for Making Dioramas for School Projects for Children & Teens
A diorama is a miniature stage, scene or picture, on which animals or people play their roles in a dramatic setting appropriate to the story or poem illustrated. Dioramas are fun to make and exciting to play with. After you have made your first diorama you will want to make one for each of your favorite stories. Shoe-box dioramas will keep the children busy for several hours and will give them an opportunity to use their imagination to the fullest. First, plan the scene you wish to portray. It might be a jungle scene. Or it might portray an Indian camp or a circus scene, or a scene pertaining to Christmas or one of the other holidays, or even be a scene from a favorite story. You will need a large, substantial shoe box, scissors, paste, and paints or crayons. Children six years and older can do this pretty much by themselves, with just suggestions from the parents. Of course, the older the child, the more detailed their scene may be.
First, cut away one of the long sides of your box. Then put in background scenery. This may be painted in, or you might find in a magazine something suitable which can be cut out and pasted to the back and sides. Children will work out this project in their own way. In doing a jungle scene, all the background can he painted in with poster paints. The native huts might he made from heavy cardboard. A short narrow strip can be stapled together to form a circular hut, and a tiny door can be cut out. The roof can be made from construction paper. Cut a complete circle and then cut away one-fourth of that, and fasten the remainder together with clear tape.
Clear tape can also be used to attach the roof to the house, and then to attach the houses to the bottom of the box. Paint the bottom of the box to resemble grass or prairie, or whatever the scene. And finally, add tiny figures if you have them, or cut some out of a magazine, leaving a small tab to be folded back and pasted to the bottom of the box. There are many ways to carry out this idea. In doing a Christmas scene, old Christmas cards would give plenty of material with which to work. Bits of cotton could be pasted to the bottom to resemble snow. These scenes can be as simple or as elaborate as desired, so there's opportunity here for plenty of imagination and ingenuity.
Make a Window Diorama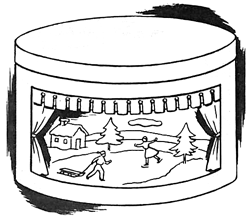 To make this window diorama, you will need a large hat box with a cover. Remove the cover from this oval or round hat box and put it aside as you will need it later. Make your diorama with the top off. Cut out a "window" in the largest side area of the box when using an oval box. When using a round box, you may cut the window in any side. Paint the hat box on the outside and allow it to dry thoroughly. Paint the box cover separately and allow it to dry. Decide on the scene you want to make. Then, draw, paint, or glue on appropriate Internet, clipart, drawings, or magazine cut-outs for the background. In the foreground you may use miniature animals, people and toys, or cut-outs. To make these cut-outs stand, glue them to small pieces of cardboard then insert them into small balls of self-hardening clay, slits in slices of cork, or glue them to the floor of the diorama. For the curtains around the window, glue on ruffled, shirred, or pleated crepe paper or pieces cut from paper lace doilies. Plan your "stage" setting before cutting out figures.
Bird in Tree Diorama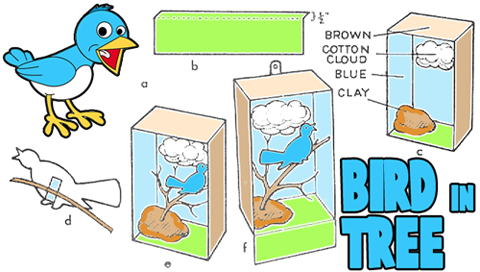 To make this shadow box, you will need 1 shoe box or similar size box, lump of clay, small branch of tree, small piece Scotch tape, blue crayon or paper to line inside of box, small ball cotton,, brown crayon, piece of heavy white paper 3 1/2" wide and as long as shoe box is wide, and paste. Print out the following bird pattern and cut it out. Fold the white paper as shown in sketch b and print the words that you want on there or use green paper to keep it blank. You may color inside of box blue and outside of box brown ... or use constructions paper or decorative paper to do this. Fluff out cotton ball to resemble cloud and paste in back of box (sketch c). You may make clay ball and firmly press into position in box as shown in sketch c. Now fasten the bird on the tree branch with Scotch tape as shown in sketch d. You may now place small branch in clay (sketch c). If you want to hange this up, tape a yarn loop on the back of the box.
Triangular Diorama Project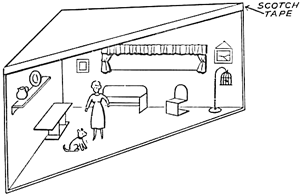 As you learned if you made the Window Diorama above, a diorama is a miniature stage scene or picture, on which animals or people play their roles in a dramatic setting appropriate to the story or poem illustrated. If you made your first diorama to illustrate a story or a poem, make your Triangular Diorama illustrate a place you have visited and never forgotten. To With a ruler and pencil, mark off one corner of the cardboard carton and its cover. Following the penciled line, cut out one corner of the carton and its cover to make the triangular set. Tape the cut edges with Scotch tape to make it look neat and last longer. Paint the outside of the diorama and allow it to dry thoroughly. Plan your scene. You may paint in the background, or you may glue on magazine, clip art, or Internet cut-outs. You may build miniature furniture of cardboard, or you may use tiny doll house furniture. You may paint mountains, flowers, buildings, etc. on the background, or you may make mountains of self-hardening clay, and "plant" small artificial flowers in small balls of self-hardening clay. You may do anything you like to make your diorama as attractive as you know how.
Making an Underwater Fish Diorama

It isn't hard at all to make this fish diorama. Get a shoe box and glue this underwater background to the bottom of shoe box. Then colorize the rest of the inside of the box blue, however you choose ....wrapping paper, construction paper, paint, markers ...etc. To make the fishes, you should get out some colored paper and cut out 2 circles for each fish. Each circle can be made by tracing a cap or lid that is about 2" wide. Cut one circle in half. One of those halves needs to be cut in half again as pictured in illustration a above. Then the circle is the fish body, the 2 pizza slice pieces are for the top and bottom fin. The half circle is for the back fin. Glue them together like this, as seen in illustration b. You can make as many fish as you want to. You can draw the fish eye and mouth on with markers. Now turn the box on its side and tape the first side of a 5 inch piece of string to the back of the paper fish and then tape the other side to the top of the inside of the box. Now wrap the open end of the box with plastic wrap and tape it in place. You now have an underwater scene and fish diorama.
More Diorama Ideas Below

Native American Indian Scenic View Diorama - Make a peep show box of a Native American Landscape.

Round 4 Scened Dioramas - These are unique dioramas that are made upon a round hat box lid. This is perfect for making different rooms in a house or for making four seasons of the year.


Aquarium Acrobats Crafts Project - Make this amazing Aquarium Acrobats Diorama using Crayola products, recycled materials and household supplies.

Bird & Flower Diorama Craft - This tutorial teaches children how to make a simple bird and flower diorama craft.

Book Diorama Craft Ideas for Children - Kids can use an old shoe box to make a diorama from a scene from their favorite book.

Box Living Room Diorama Craft for Kids - Use recycled materials to make a diorama of a living room.

Charlotte's Web Diorama - This is another fun-filled creative project for you and your kids to assemble. He best part of it all is you get to enjoy the precious bonding time while doing so!

Coral Reef Diorama Craft for Kids - Children can learn about the coral reef while having fun making a coral reef diorama.

Deep Inside A Cavern Diorama Crafts Project for Children - Explore deep inside a cavern by making your own cavern diorama.

Desert Diorama Craft for Children - Your kids can use their imagination to create their own desert diorama.

Discovering Atlantis Diorama Arts & Crafts Idea - You imagine yourself inside a submarine looking through a porthole and seeing the lost city of Atlantis in the distance.

Dinosaur Color Diorama Crafts Project Idea for Kids - Learn how to create this colorful dinosaur diorama.

Diorama Valentine Card Crafts Idea for Kids to Make - Make this beautiful diorama Valentine Card for someone special.

Duckling Parade Crafts Activity for Kids - Learn how to make this cute duckling parade diorama by following these instructions.

Easter Egg Diorama - Find out how your kids can make this Easter egg diorama over the Easter holidays.

Forest Diorama Craft for Kids - Find out how your kids can make a forest diorama.

Fragile Reefs Diorama - Follow these instructions to make this ocean diorama with your kids.

Garden Diorama Crafts Project for Kids - This is a fun diorama craft for kids, especially girls.



Habitat Diorama - Turn an old shoe box into a habitat diorama by following these instructions.

Indian Campsite Diorama - Take your kids back in time with this Indian themed diorama artwork! Show them how the real American ancestors started life in the Western prairie decades ago.

Miniature Beach Diorama Activity - Create your own mini beach diorama using simple materials such as a large paper plate and modeling clay.

Miniature Bedroom Diorama Activity - Use a shoe box, small boxes and other inexpensive materials to create a mini bedroom diorama.

My Own Oval Office - Make an oval office just like the U.S. President's office by following these instructions.

Nature Diorama for Kids - Children can use their imagination to create a nature diorama.

Nature Scene Craft Activity for Kids - Kids can make a nature scene diorama using a shoe box, colored paper, glue, colored clay, crayons and other craft materials.

Ocean Blue Diorama - An ocean scenery can easily be made right in your kid's bedroom or playroom!

Ocean Colors Diorama - Find out how your kids can create their own colorful ocean diorama.

Off to School Box - Learn how to create a school box diorama by following these instructions.

On Aztec Terraces - Find out how to make this cool farming diorama in a few steps using Crayola products and a shoe box.

Pet Diorama's Craft for Kids - Learn how to create a pet diorama using a shoe box, crayons, scissors, a small box and other materials.

Pythons in the Wild - If your child loves snakes, then he or she will surely love making a "python in the wild" diorama.

Rainforest Diorama - Make a rainforest diorama using posterboard, crayons, tape and scissors.

Rainforest Diorama Project - You or your kids might never be able to see a real rainforest in this lifetime what with the rate of environmental destruction nowadays. But you could help teach your children a thing or two about doing something for Mother Nature when they grow up starting with this rainforest diorama project.

Renaissance in Your Backyard - Use Crayola products, recycled materials and toothpicks to create a "Renaussance in your Backyard" themed diorama.

Space Diorama - What lies beyond the clear blue skies of our planet? With your child's imagination coupled with your assistance, you can help them find out the answer to that seemingly eternal question.

Spooky Cemetery Diorama - This is just perfect for the Halloween season! Put some "life", with pun intended, on your Halloween decoration by making this really spooky diorama craft which would perfectly complement your other ghoulish themed Halloween decoration.

Stonetree Diorama Crafts Activity - Parents will surely have fun creating this craft with their kids without having to spend a lot of money.

The Farm Diorama Craft Idea - Find out how you can create this adorable farm diorama.

Unique Dinosaur Shoebox Diorama - Learn how to make a dinosaur diorama using a shoe box and other materials.

Unknown Soldier Diorama - Create this memorial diorama to honor the unknown soldiers.

Welcome Immigrants - Find out how you can make a diorama with a "Welcome Immigrants" theme.

What Do We See…Under The Sea? - Use your imagination to create a diorama that shows what you see when you look under the sea.