Home > Arts and Crafts Projects for Kids > How to Make Earth Day Crafts to Celebrate Mother Nature
EARTH DAY CRAFTS FOR KIDS PROJECTS: Earth Day Arts and Crafts Ideas & Activities to Make for Mother Nature.
Earth Day is a special day for the Earth, it is a day that we celebrate everything about the earth. It is sort of like a birthday for the earth and it falls on April 22nd every year. Every April 22nd, people around the world we remember to appreciate and protect the environment. We, as earth's inhabitants, need to learn to respect the earth and to keep it clean and healthy. We also need to respect the plants and animals that live on the earth alongside us. Try to establish a lifestyle that incorporates what you learn on Earth Day, so that you respect the Earth and its resources all year long, and for the rest of your life.
Nature Shadow Box for Earth Day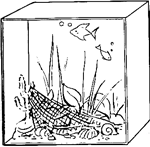 This is a great way to geat in touch with nature and the earth. This unusual three-dimensional shadow box picture will make an attractive wall decoration, suitable for almost any room in your home. Remove the cover from a shallow cardboard box and throw it away as you will not need it. Paint the inside of the box, and allow it to dry. You may paint it a solid blue, or green color, or you may paint an undersea scene, if you like. This will be the background of your nature picture. In the foreground ground on the bottom of the picture space, you may glue small pieces of twigs to resemble driftwood, or small mounds of stone to look like the ocean bottom. Drape a piece of coarse hair net over the stones for a fishermen's net. Place several lumps of self-hardening clay on the floor of the picture space and press them down firmly. Press shells, grasses, tiny animals, people or toys into the balls of clay to hold them upright. If you like, you may glue one or two small fish against the background to make them appear to be swimming.
Make a Collage Picture with Nature

You don't need fancy, store-bought items to make a beautiful picture. Start off by finding items from nature that have fallen from a tree or a bird. Make sure that you gather your materials with an eye on conservation and appearance and do not strip the woods or nature indiscriminately. For example, don't strip bark off of the trees....there is plenty of naturally stripped bark that you can find below the trees. Start off by lightly drawing a picture on a piece of cardboard. Then use the items that you found outside to glue onto the drawing that you made. Such as twigs for a house...pebbles for a path....pine tree needles for a tree.
Making Hanging Grass Balls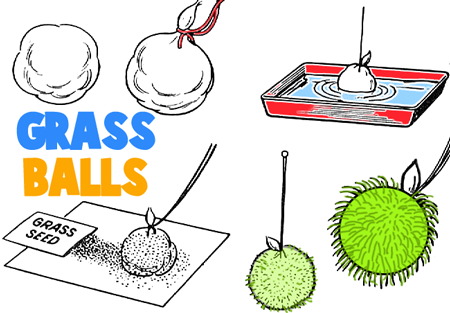 How about celebrating earth day by making balls out of grass...it is strange, but it celebrates nature in a fun way. Find out how to make them now...You will need the following items then. A piece of absorbent cotton about 2" thick, 10" length of string, yarn, or ribbon, grass seed, thumbtack, water, and paper towels. Roll the absorbent cotton into a roundish ball shape. Next, tie the string or ribbon to the cotton ball you made (see drawing above). Now dampen the cotton ball carefully in a pan or dish of water. Now spread grass seed out on paper towels and then roll the ball in the seed. Make sure that the ball is completely covered with the grass seed. Now place the ball in a dark place for 2 days and then afterwards put in the hot sun. Before you know it, you will have a green grass ball. All you need to do to take care of it is to ensure that it stays wet after you hang it up.
More Earth Day Crafts

Making Miniature Gardens - These miniature faux gardens are so cute...you will need an Ice cube tray, popsicle sticks, twigs, cvaft paper, crepe paper, green cellophane paper/ transparent plastic, scissors, and tape.

Paper children Enjoying the Earth - This craft was made for MLK Day, but it also works for Earth Dday. We need to keep the earth safe for the children and their children.

Coolest Earth Day Crafts Made from Recycled Materials - Making crafts made with recycled items is a great way to teach kids about Earth Day. Find the coolest crafts on the net here.

Make Flower Trees with Real Twigs - Learn how to make these flowers from twigs, tissue paper, construction paper, a yogurt container, and glue.
You Might Also Like ... Terranium Crafts ... Earth / Globe Crafts ... Pinecones ... Acorns ... Twigs / Sticks ... Leaves ... Wood ... Crafts Made Completely from Recycled Items ... Ideas for Recycling