Home > Arts and Crafts Projects for Kids > Easter Crafts > Easter Chicks Crafts for Kids
EASTER CHICK CRAFTS FOR KIDS : Instructions for Easy to Make Baby Ducks and Chickens with Arts & Crafts Projects & Activities for children, teens, and preschoolers
It is a little confusing as to why baby chicks are associated with Easter. Well here is the reason in a nutshell (or an eggshell) Eggs and Baby chicks are seen as a symbol of new life. And a baby chick hatching out of an egg also symbolized a rebirth ...which is associated with Jesus Christ since he arose from his tomb after he was crucified. Baby ducks and chickens are adorable and sometimes they are given in Easter baskets. However, once they are grown they are given to a farmer to raise. If you are interested in making some Easter Chick crafts, you will find some below. Have fun crafting!
Make an Easter Baby Chicks Candy Treats Dish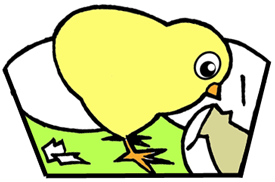 This craft is an adorable addition to our other Easter crafts. All you will need to do is print out one of the paper diagram templates below. It works best to be printed on card stock or to print it on paper and glue it to cereal box cardboard. Then cut out the diagram and then fold on the dotted lines. Then you will glue the tabs together. If you print out a colorized version, you are done. If you print out a black and white version, you can color it in with crayons, colored pencils, watercolors, or markers. Then just add treats to this candy dish and then place it on your Easter table as a decoration and your done. 8x11 Black and White ... 11x17 Black and White ... 8x11 Color ... 11x17 Color
Make a Hatching Baby Chick Easter Card Craft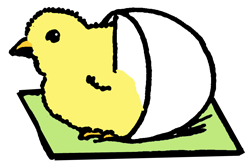 This is a craft to make a Baby Chick in an Egg Shell Easter Card. First, Print out the patterns ... pattern 1 in Black and White and pattern 2. Here is Pattern 1 in Color. Now trace around the pattern on heavy white paper or card stock, and cut out. Color with crayons, colored pencils, or water-colors. Cut out a piece of cardboard 3 x 2 inches, and color it green. Now fit figure B down into figure A at right angles to A, so that 1 touches 2. Turn the tabs C under, and glue to the cardboard. This card may be used as a place-card, or folded flat and put in an envelope to send as an Easter greeting.
Learn to Draw Cartoon Baby Chicks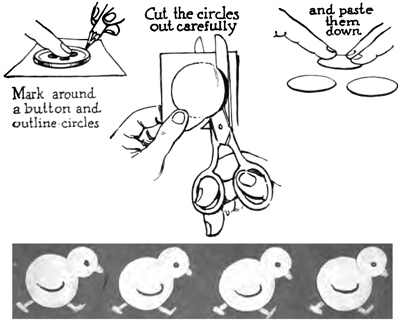 Baby Chickens and Ducks (called chicks) are easy to draw. If you know how to draw circles, then you will know how to draw cartoon baby chicks. You can draw around a button or coin to make perfect circles (if you want to)...and youc an even cut these circles out and paste them on pages of paper. Or you can just draw them. Either way...drwa circles like a number '8' . The top circle is smaller and the bottom circle is bigger. You can draw a letter 'u' shape for the wing. A circle for the eye and an upside down 'T' and 'L' for legs. Draw a triangle for the beak.
Make a Pop-Up Easter Chicks Card

Nothing says Easter like baby chicken or duck chicks. They are so cute, fuzzy, and warm to hold. Make this adorable pop-up Easter Chicks Card by printing out the following template and cutting and pasting it together. Herea re the links to print them in black and white or print them in color ... the black and white ones are for those children who want to paint or color them in with watercolors, colored pencils, crayons, or Markers.

Making a Pop-Out of the Card Duck - Learn how to make this Pop-Up Cartoon Duck that is sitting on her nest filled with colorful Easter eggs. The part that pops up out of the page is the duck's bill. You can then draw the surrounding duck body and face and it looks like the duck is popping his head out of the page. Cute.
Make Baby Chicks Masks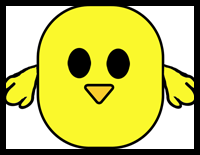 If you want to make a baby chick mask, then print out the following paper chick mask template and follow the directions on that page.
Learn How to Draw Baby Chicks
Click on one of the thumbnail images above to learn how to draw cartoon baby chicks.
Even More Easter Chicks Crafts

Easter Bunny and Baby Chick See-Saw Paper Toy Card Craft - This is an adorable, working see-saw with the Easter bunny on one side and a baby Easter chick on the other. The see-saw goes up and down with the use of a simple fastening clip. All you have to do is print, cut out, and then fasten the 2 parts together.

Candy Filled Baby Chick Using Egg Carton - Using an Egg Carton, make these candy filled baby chicks.

Easter Animal Standups - Print, cut, and color these Easter bunnies and chicks and fold them so that they stand up.

Egg Head Baby Chick Faces - Learn how to make blown egg, decorated animal faces. In this set of directions includes a baby chick to make for Easter.

1st Class Easter Chick Craft - Make a cute and simple Easter Chick from sheets of paper, paper eggs and glue.

Baby Chick Arts & Crafts Ideas - Find out how to make the cutest baby chick Easter decoration.

Chicken Mask for Kids to Make for Easter - Here is a fun and easy chicken mask children can make for Easter or even Halloween.

Chick Hatching Egg Carton Craft Activity for Children - All you need to make this amazing looking Easter chick are two cotton balls, an egg carton cup, orange construction paper, small wiggly eyes, glue, a Ziploc bag, and yellow food color drops.

Chick Mask Arts & Crafts Activity - Make a chick mask from a paper plate, yellow paint, orange card, glue and elastic thread.

Chick Paper Mobile Craft - Decorate your bedroom with this cute Chick and egg mobile.

Chick Toilet Paper Roll Craft Easter Activity for Kids - This is a simple Easter craft for kids that will teach them the fun way of recycling.

Clay Pot Chick Craft - Find out how to turn a clay pot into an Easter Chick decoration.

Devilled Easter Egg Chicks Craft for Kids - Learn how to make devilled Easter chicks from hard boiled eggs.

Easter Chick Sticks Craft Idea for Kids - Turn your ice cream sticks, popsicle sticks and craft sticks into Easter Chick sticks.

Easter Chick Thumbprints Activity for Kids - Use your thumbprints and yellow paint to make adorable chicks.

Easter Marzipan Animals Craft for Kids - Make cute Easter animals using only white marzipan and foot coloring.

Easter Jelly Bean Chick Crafts Activity for Kids - This chick would make a great Easter treat for a special friend.

Egg Carton Ducklings Activity for Kids - This is a fun Easter activity for the whole family.

Egg Critter Duck Craft - Follow these instructions to create an Easter duck pal.

Eggshell Mosaic Picture Art - Use your imagination to create Easter themed mosaic art from colored Easter egg shells.

Handprint Chick Paper Craft for Kids on Easter - Use your handprints to create this unique Easter Chick!

Handprint Chicks Easter Craft - Make Easter Chicks from paper, black pen, your hand prints and paint in orange and yellow.

Hatching Pompom Easter Chick Activity Idea for Children - This Easter Chick will surely brighten anyone's day.

Polystyrene Egg Chick Arts & Crafts Easter Activity for Kids - Follow these instructions to create an Easter chick from a large polystyrene egg, yellow paint, orange craft foam, googly eyes, yellow feathers and glue.

Pom Pom Easter Chick Craft for Children - A cute and easy Easter craft for preschoolers and toddlers.

Rocking Chick Easter Craft for Kids - Make a unique rocking baby chick from a paper plate and a few other supplies.

Sleeping Chicks Easter Crafts Activity - This is a fun way to reuse those plastic eggs!

String Easter Egg and Baby Chicks Craft for Kids - Follow these instructions carefully to make a string Easter egg decoration.

Sunny Pom-Pom Easter Chick Craft - This is the instructions for making an adorable Easter chick from pom-pom.
EVEN MORE EASTER RELATED CRAFTS & ACTIVITIES & IDEAS
Back to Easter Crafts Home Page