Home > Arts and Crafts Projects for Kids > Spring Crafts
SPRING CRAFTS FOR KIDS : Ideas for Spring Arts and Crafts Projects with the following ideas, activities, instructions, patterns, and printables for Children, Teens, and Preschoolers
Beautiful, blooming flowers and crystal clear trickling showers. The bees are a buzzin and all the animals are coming out of their dens searching for long missing friends. Spring she is a coming with all the joys of nature waking up after the cold depths of frigid Mr. Winter's sleep. There are so many pretty Spring kids crafts that are perfect for celebrating the fragrant days of Spring. Make some flower crafts or some butterfly crafts. Maybe some bird crafts or bust out laughing making plans for April Fool's Day. Whatever you do, don't let Spring just come and go without having some fun.
Springtime Tulip Pinwheels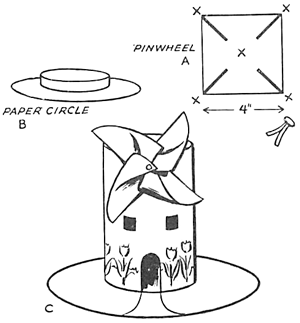 You can't get more Spring themed than this craft activity. It just oozes Spring. It isn't too hard to make either. You can even wear this on your head as a hat if you want to be super-silly. Clean out a quart-sized container of ice cream. Once it is dry, paint the container gray (add white glue to it to ensure it sticks to waxy surface of ice cream container). Let dry completely. Now for the pinwheel....You need a 6x6 inches piece of paper. As seen in illustration A above, cut 4 slits in each of the corners of this paper. Now fold each corner, each one over top of the other, pointing towards the center of paper. Push a brass paper fastener thru center and thru front of the hat. Now close the fastener to hold in place. Now paint the lid of the ice cream container...you can paint it grass green. Let it completely dry. You should trace a bowl that is about 8 inches onto green construction paper...now cut it out. Now you can paste the lid, flat side down to the center of the green circle, as seen in picture B above. Now you can paint Spring tulips all along the bottom of the hat...and also paint a door and windows, as seen in picture C.
More Spring Crafts

How to Fold a Standing Paper Goose and Duck to Celebrate Spring - Spring is here so it is is a great time to make ducks and geese and other creatures and critters to celebrate the new season. Today I have provided you with 2 patterns, one for a stand-up paper duck, and one for a stand-up paper goose. Just print out the pattern, fold it in half, cut it out, and stand it up…it is as easy as that.

Make Spring Princess or Fairy Flowers Crown Craft for Girls - Want to pretend to be a Spring flower princess or fairy? Here are easy instructions to make yourself this beautiful crown that is made up of paper flowers. The simple steps to make this craft are given below.

Make May Basket with Flower Petals Paper Folding Craft - This May basket is meant to look like it is made out of flower petals. We have provided a printable paper folding template that you can print out, and then fold up, paste, and make a handle to finish it up.

Make Spring Handprints Lambs for Spring : Preschoolers and Kids Craft - Since I am so in love with little handprints, I enjoy doing crafts where I can capture my children's handprints once again for posterity reason. This craft, handprint lamb, is a great way to capture a handprint but it also adds a touch of spring to your crafts and gives your child a new way to use his hands.

How to Make a Spring Easter Bonnet, Hat, or Flower Crown with Your Kids - A Spring bonnet is a longstanding tradition for little girls in many families – and calling it a flower crown will make any little boy excited to be the king of spring!

3D Paper Butterflies - Learn how to make these 3-dimensional butterflies - great bulletin board project.

Spring Lily Arts and Crafts Project Here you will find an adorable Spring / Easter Lily craft idea for your kids. Not only is it super fun to create, but it will also become a Keepsake.

Make Embroidered Cards with Embroidery Thread Designs on Card Stock – Basics – Part 1 - Do you like to sew? Here's a new way you can use your sewing skills. Make beautiful designs on card and use it to make cards, bookmarks etc. Here is Part 2.

Fresh Flower Bracelets - Learn how to make a beautiful fresh flower bracelet.

Candy Filled Baby Chick Using Egg Carton - Using an Egg Carton, make these candy filled baby chicks.

Make a Flowered Bouquet Fairy Crown - Make this beautiful fairy crown from Polymer Clay.

Egg Carton Tulips for Spring - These turn out beautiful and are easy to make. Find out how.

Popsicle Sticks Paper Flower Garden - This is a fun craft that kids will love doing. This is easy enough for younger children to make. Find out how to make it by following the lesson.

Bunny Ears Easter Bunny Craft Idea for Kids - With just a few craft materials that are probably already around your house, you will be able to make a cute Easter Bunny with your child's own handprints. Not only will this be a fun arts and crafts activity, but it can also be a keepsake to keep forever.

Spring Chain of Little Critters - There are always little critters scurrying all over the place in Spring. Make these paper animals and string them all over your classroom or personal space.

Make a Paper Flapping Bird - Learn how to make this paper flapping bird toy.

Bird in Tree Box - This is a great Springtime craft - make a bird hanging out in a tree...this craft uses a shoe box, some cotton balls, and a tree branch.

Making Butterfly Headbands - Learn how to make these butterfly headbands with a headband, and transparent foil.


Handprint Lambs - This is a great Easter Lamb craft for preschoolers.

3-D Spring Showers Bulletin Board - Here is an idea for decorating the school bulletin board for Spring-time.

Spinning Milk Carton Windmills - I think these would be fun to make in the Spring when it is really breezy outside.


5 Little Ducks Craft - You know that story about the 5 Little Ducks? How about making this miniature little playset to go along with the story, to make it interactive.

Baby Blue Birds to Make for Spring - Make these adorable baby blue birds in a nest from a plastic egg, construction paper, paper plate, brown paint, glue, scissors and a paint brush.

Blossom Tree Painting Spring Activity for Kids - This is a fun and easy craft for Chinese New Year or Spring.

Bunch of Daffodils - Make a beautiful bouquet of daffodils from an egg box, orange paint, yellow card and other craft supplies.

Butterfly Handprint Painting to Make for Spring - Children can use their handprints and paint to create a butterfly. Prefect messy craft for toddlers and preschoolers.


Cards for Spring - Birthday Card - "Pink Tulip Card" - Make this beautiful pink tulip card for someone special.

Caterpillar Craft - Children can make a caterpillar from pom-poms and a popsicle stick.

Colorful Spring Branch Craft - Get a beautiful, colorful piece of paper and draw a branch with a dark brown marker. Then use tissue paper to make the colorful flowers or leaves.


Daffodil Magnet Spring Arts and Crafts Project - Make a daffodil magnet from a magnet, strong glue and polymer clay in yellow and orange.

Daisy Bookmark - Make a simple daisy bookmark, green card, fingerprints and yellow and white paint.

Daisy Picture - This is a great daisy picture children can make for their mom or dad.

Decorate A Paper Lantern - Learn how to decorate a round paper lantern with Chinese blossom.

Easy Flower Power Bookmark - Learn how to make a simple flower themed bookmark.

Eggshell or Egg Carton Tulips - Find out how to make tulips from egg shells or egg cartons.


Felt Daisy Plant Poke - Have your kids make a daisy plant poke from felt and a wooden skewer.

Filter Paper Bouquet - Follow these instructions to make a beautiful flower bouquet from paper coffee filters.

Flower Crown - Find out how to make a flower crown for Easter using a paper plate, tissue paper, and paint, markers or crayons.

Flower Lollipop - Find out how to make flower lollipops from lifesavers by following these instructions.

Flower Magnets Craft - Help your children create a garden of unique flowers with our flower magnets craft for kids. Use our template to cut out simple flower shapes and then let your children's creativity bloom as they decorate them. Attach magnets to the backs of their craft foam creations and you have a great homemade spring decoration to keep or to give as gifts!

Foam Daffodil Craft - Make a daffodil craft from craft foam in green and yellow and a soda bottle cap.

Greeting Card for Spring - "Spring" - Follow these instructions to create a Spring greeting card.

Growing Flower - This is a wonderful spring craft for all the kids and kids at heart.

Handprint Daffodil - This is a fun and messy daffodil craft for young children.

Handprint Paper Flowers Craft - Make a beautiful bouquet of flowers from construction paper and your handprint.


Lollipop Flowers - A great flower you can make for each of your friends.

Make a Daffodil Badge - Make a daffodil bad from an egg box, orange paint, yellow card, glue, safety pin and sticky tape.

Origami Butterfly - Children can make a beautiful butterfly using the Japanese Origami techinique.

Painted Wellies - Learn how you can be creative with your Wellies this Spring.

Paper Bouquet of Spring Flowers - Learn how to make a beautiful bouquet of Spring flowers from construction paper.

Paper Caterpiller - Make a 3D caterpillar from colored construction paper, pipe cleaner, marker, pen and a pair of scissors.

Paper Daffodils - This is a fun paper Easter craft for children ages 3 years and up.

Paper Flower Decorations - Follow these instructions to create flower decorations from construction paper.

Paper Plate Ladybug Craft - Children can make their own lady bug from small paper plates, paint, construction paper and other inexpensive craft supplies.

Rainy Day Collage - This is the perfect collage for Children to make indoor on a rainy day.

Spring Yarn Wrapped Vase - Make these adorable Spring-colored yarn wrapped vase. These turn out beautifully.

Spring Baby Bird Nest - Learn how to make this baby bird nest with a plate, pom poms, brown paper, and a few other items.

Spring and Easter Inchies on Canvas - This is a wonderful Spring craft you can make with your whole family.

Spring Craft for Kids - Fuse Bead Butterfly Window Decoration - Use this free fuse bead pattern to create a beautiful butterfly.

Spring Greeting Card - Birthday Card - Green Flowers - Learn how to make a beautiful birthday card for someone who was born in the spring time.

Spring Picture Frame - A fun spring craft that children can cherish for years to come.

Tissue Paper Butterfly Craft - Children can make beautiful butterflies from tissue paper and black pipe cleaners.

Tulip Magnet -This is a great way to bring spring time to your kitchen.


Umbrella Wrapped Utensils - This is a creative way to wrap your utensils during Easter or spring time.

Wrapper Flowers Craft - Find out how to make flowers from cupcake or mini muffin wrappers.
You Might Also Be Interested in the Following Pages : Easter Crafts ... Bunny Rabbit Crafts ... Spring Chicks ... Spring Lambs .. Spring Hats & Bonnets to Make... April Fools Activities ... Birds ... Butterflies ... Chickens / Hens / Roosters ... Flowers ... Gardens ... May Day ... Mother's Day ... Passover ... Pinwheels ... Wind Chimes