Home > Arts and Crafts Projects for Kids > Feather Crafts for Children
FEATHER CRAFTS FOR KIDS: Ideas for Arts & Crafts Projects & Activities with Feathers for Children, Teens, and Preschoolers
Usually if you see some feathers, you can be pretty sure that you are either near some birds or you are near your pillow. Feathers are so soft and beautiful and they make some pretty great bird crafts as well as native american indian headdress crafts. You should never just pick up feathers that you find outside though ... feathers can carry diseases and germs from sick birds. That is why I always get craft feathers for my kids...they are feathers that you buy at the craft store that are artificial feathers. On this page, you can find many inspirational feather crafts ...I hope that you enjoy them.
How to Make Feather Fans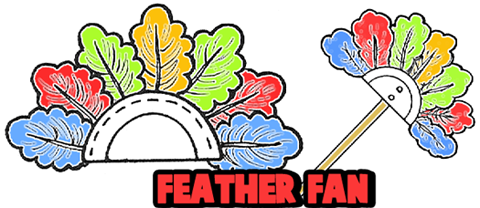 For this craft, you will need 1 flat paper plater, one 10" x 1/4" stick, craft feathers, construction paper, crayons, 2 thumbtacks, glue, and Scotch tape. Fold paper plate in half. Unfold. Glue feathers (real, cardboard or colored construction paper) to inside of rounded edges on one half of plate. Fold plate in half and staple or glue edges together. Color plate. If cardboard feathers are used, color them before pasting. Cut slit in fold of plate and insert stick inside so that end extends almost to curved edge of fan. (See sketch.) Secure stick to fan with thumbtacks.
Even More Crafts With Feathers Below

How to Make a Native American / Indian Headdress Headband Costume from Corrugated Cardboard - This is a really cute idea to make a Native American Indian Headdress for a Costume or to just play dress up. This is easy enough for kids 8 years and older to make themselves.

Indian Feathers Headdress - Learn how to easily make a realistic looking Indian Feathers Hat / Headdress...one that a chief would have worn.

Make a Native American Indian Rattle - Learn how to make this native american noise maker that has a lot of feathers on the top of the unit.

Feather Decorated Pencils - Here are some cool ideas for decorating your pencils in really cool ways.

Cork Ostriches - Make these ostriches with a cork, toothpicks, and feathers.

Making Native American Headdress - Here is a headband full of feathers, just like native americans used to wear.

Milk Carton Totem Poles - Make these American Indian totem poles to celebrate Native American culture. Decorate with feathers if you wish too.

Pinecone Chickens - Make a chicken from a pinecone, nuts, some paper, clay, and a feather.

Native American Indian Sock Dolls - Make a sock doll that looks like a native american boy with ribbon and feather around his head.