Home > Arts and Crafts Projects for Kids > Felt Crafts for Children
FELT CRAFTS FOR KIDS: Ideas for Arts & Crafts Projects & Activities with Felt for Children, Teens, and Preschoolers
Felt is a soft material that is great for young kids to use. Although other materials are made by weaving fibers together, felt is made by matting them together instead. This is one of the reasons why felt is so soft and fluffy. Felt comes in many different sizes and is cheap enough to let your kids go to town with the stuff. It is also easier to teach kids to sew with felt as it doesn't fray at the ends, so no sewing is required at the edges. Also felt can stick upon itself, so that is how felt boards are made. To find some great craft ideas to make with felt, see our creative ideas below.
How to Make Felt Wallets or Felt Purses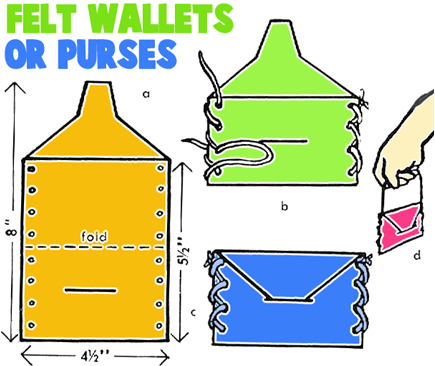 To make this craft, you will need 1 piece felt that is about 8"x4 1/2", scissors, 1 piece of bright-colored yarn, raffia, or string that is about 48" long. Cut the felt and punch holes in it with a hole puncher (sketch a). Be sure to fold felt before punching holes so that holes will coincide. Show younger children how to lace yarn through holes, starting at top of purse. When last hole is reached, crisscross lacing through holes back to top to hold sides together. Tie ends securely. (Sketches b and c.) Boys May carry wallets in their pockets. Girls may tie a double string through the top hole on each side for handle to make a pretty purse (Sketch d.)
Macaroni Felt Decorative Pins

Dip some macaroni noodles in food coloring and then let them dry overnight. To make this decorative pin, you will need some felt. In the picture above, a heart was cut out of felt. You may cut out any shape that you want. Then use a needle and thread to sew macaroni noodles onto the felt along the edge...as seen in the picture above. When finished with this part of the craft, then turn it over and sew a safety pin on the back.
Even More Felt Crafts

Making a Velcro Bullseye Ball Tossing Game to Make for Children - Today we will show you how to make a game that is like darts, but safer. This is a Bulls-Eye Velcro Ball Tossing and Aiming game. All you need are a few things that are probably already in your house.

Easter Felt Butterfly Napkin Rings Crafts Table Decoration Ideas for Boys and Girls - Children's art may not always have a place on your Easter table, but these simple felt napkin rings in pretty spring colors will complement your decor perfectly.

How to Make Tri-Fold Picture Frame from Cadboard and Felt - Most picture frame crafts are for one photograph, but this one holds 3 photos. This would be perfect to make as a gift for Dad or Mom for family photos…and it would look great on their office desk. If you want to learn how to make a tri-fold picture frame, then look at the directions in this arts and crafts activity for children.

Make a Felt Handbag for Mom -These is a cute litle purse that you can make your Mom.

How to Make Eye Glasses Cases with Felt - Do you need a gift idea for Mom on Mother's Day or Dad for Father's Day or for somebody's birthday? If your loved one or friend wears glasses, why not make them an eye glassescase? It is easy to make and you can personalize the case with the person's name or initials.

Decorate Address, Schedule or Appointment Books with Felt Crafts Idea - Do you want to decorate your address books, appointment books, scrap books, or schedule books with felt. If you like to sew, then this is a great craft to get your sewing fix in. You will make your special book into a personalized keepsake. Have fun.

Mouse Doll with Sock and Felt - Make this mouse sock doll with sock, felt, string or yarn, and fill with newspaper.

Laced Felt Book Cover - Learn how to use simple felt and ribbon to make a laced book cover with useful pockets.

Making Santa Clause Clothespin Ornaments - This tutorial shows you how to make a Santa Claus Clothespin Ornament. The craft makes a cute Santa Claus that is perfect to hang on your Christmas Tree....some of the materials are felt, cotton, clothespin, and paint.

Felt Plush Bunny Dolls - Learn how to make a felt bunny rabbit with some easy-sewing methods.

Bookworm Felt Bookmarks - This paperclip bookmark comes to life with the felt and sequins that make up the adorable book worm.

How to Make Felt Book Covers - Here is a craft idea for sewing a beautiful book cover for your special book.
ALSO VISIT OUR SEWING WITH CRAFTS PAGE