Home > Arts and Crafts Projects for Kids > Felt Crafts > Easy Sewing Crafts for Children
EASY SEWING CRAFTS FOR KIDS: Learning How to Sew with Felt & Fabric with Easy Activities, Instructions, & Projects for Children, Teens, & Preschoolers
Sewing is a lot of fun but it takes a certain amount of skill. I suggest using felt for beginners. Felt is one of the easiest materials for children to work with, as it requires only cutting and no elaborate hemming or finishing. Since this is so, it is particularly good as the crafts material for simple gifts that they can make. Grandmothers, aunts, Uncles, Fathers, Mothers, Friends will all love and of these felt items as a gift. Nothing pleases them more than a gift they know is the result of the children's own hard work —not of a hurried trip to the store by your Mom.
Making a Felt Scissors Case

shows a case for a pair of scissors, Victorian in idea but useful anyways. Lay the scissors for which you are making the case on a double piece of felt and cut around it. No matter what size the scissors are, you can cut the case along the top as shown. The sample case was made out of red felt and was really effective in this heart shape.

To make the same design, pin the two pieces of felt together evenly and do a running stitch around the edges, about I/4 inch in, using yarn or thread.
Sewing a Dusting Mitt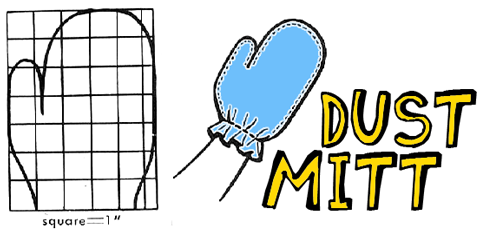 This is an easy first-time sewing project. You will need 1 piece of flannel 14"x11", a rubber band, and needle. Draw th pattern onto the flannel, and then cut it out. Cut one for each child from outing flannel or other suitable dusting material and stitch it up. This can be held on the hand with a rubber band slipped over the wrist.
For more Felt Sewing Ideas Look Below

How to Make Eye Glasses Cases with Felt - Do you need a gift idea for Mom on Mother's Day or Dad for Father's Day or for somebody's birthday? If your loved one or friend wears glasses, why not make them an eye glassescase? It is easy to make and you can personalize the case with the person's name or initials.

Miniature Sewing Kits - Although this isn't a sewing craft, it is a craft that will help you with your sewing when you are on the road traveling.
How to Make Eye Glasses Case - Learn how to make a decorative Eye Glasses Case with Felt.

Make Handbags without Needle & Thread with Felt, Pipe Cleaners,a nd Ribbon - If your little girl wants to be just like Mommy and the big girls with her own purse, this is a creative way to give in without actually spending money on expensive accessories for a pint-sized clothes horse. It could easily be made as a pouch or satchel for a boy as well.

Cloth Bag Organizers - Here is an easy-sewing craft that is not so hard to do. This organizer is great for a purse or a bag.

Sewing a Roll-up Bag for Pencils - You can buy these types of pencil or tool roll-ups, but I never saw a craft for it. Here is the lesson for sewing your own roll-up bag.

How to Make a Felt Christmas Angel Ornament - Use a bead for the head and felt for the body of the Christmas Angel Ornament. Use this tutorial to learn how to make this for your Christmas tree.

Fabric or Felt Easy Sewn Stuffed Owls - Make these adorable stuffed owls with the following easy to follow sewing instructions.

Felt Plush Bunny Dolls - Learn how to make a felt bunny rabbit with some easy-sewing methods.

Decorate Address, Schedule or Appointment Books with Felt Crafts Idea - Do you want to decorate your address books, appointment books, scrap books, or schedule books with felt. If you like to sew, then this is a great craft to get your sewing fix in. You will make your special book into a personalized keepsake. Have fun.

Thumb Wrestling Puppets - Make fabric thumb wrestling puppets to play with your dad on Father's Day. He will love these.

Sewing Stuffed Animal Owls - This is an easy sewing project to make an adorable baby owl.

Make an Afikomen / Afikoman Bag for Your Matzah - Play hide the Matza on Pesach. Make an Afikomen bag to put your matza in and hide it. Whoever finds it gets a prize. Fun fun fun.

Easy to Sew Sock Dolls - This is an easy-sewing project and the result is an adorable baby doll.

Sewing Sock Snowman - A great winter-time craft for sewing up an adorable snowman out of a sock.

Make Denim Jeans Travel Tote - Hold all of your vacation stuff inside the pockets and legs of your pants. This hooks on to the seat in front of you...and NO SEWING AT ALL if you hot glue the pants legs instead of sew them (that is what I did)! I did this for my own kids and they carry so much more than any other store-bought totes can hold - and they are great for hiding stuff when you go into a restaurant.

Bookworm Sewn on Felt Bookmarks - Sew this felt bookworm together and onto a paperclip with an overcast stitch. Find out how to make it here.

Cornucopia Felt Silverware Holder - Make this Cornucopia silverware holder out of felt. This is a great Autumn / Fall craft

Oatmeal Container Sewing Bag & Pin Cushion - Make this sewing box / bag and pin cushion for mom or grandma.

Sewing Lucky Kitten - You can sew this cat up and maybe get some extra luck in the process.

Sewn Felt Book Covers - Learn how to sew up a felt book cover with pockets.

Sewing Little Cloth Pouches - Learn how to sew drawingstring bags and pouches.

Necktie Pencil Pouches - Back to school time, how about using an old tie to sew up into a cool pencil pouch.

Sewing Bandana Aprons - Have an extra bandana and you don't know what to do with it? Sew it up into a cool apron.

Felt Christmas Stockings - Use the blanket stitch to sew a Christmas stocking together.

How to Sew Felt Book Covers - You use the back stitch and blanket stitch to make this beautiful felt book cover. Learn how here.

Brown Felt Christmas Stockings - This Christmas stocking can be made by kids using thick brown paper or brown felt.

Felt Angel Pocket Activity - Make this beautiful Angel with a pocket for someone special.

Felt Dr. Seuss Hat Craft for Children - Find out how you can make Dr. Seuss famous red and white hat!

Felt Elf Christmas Ornament - Use the free elf pattern and instructions to create an elf Christmas ornament from felt.

Felt IPod Touch Case Sewing Tutorial - Keep your IPod Touch safe inside this homemade felt case.

Felt Organizer Sewing Craft - Organize yourself with this easy to make organizer.

Felt Ribbon Bookmark Sewing Project - Learn how to sew this beautiful bookmark from felt and ribbon.

Felt Stitched Ornaments - Follow these instructions to create a felt stitched Christmas ornament.

Frog Bean Bag Felt Craft for Kids - Learn how to make a simple frog bean bag from felt, wiggly eyes, and small beans.

Ladybug Felt Bean Bag Craft Activity - Find out how you can make a ladybug bean bag from felt and rice or small beans.

Learn to Sew Ghost - This tutorial teaches children how to sew a Halloween ghost from felt using a full size pattern.
Learn to Sew Gingerbread Man - This tutorial teaches children how to sew a gingerbread man from felt using a full size pattern.

Learn to Sew Snowman - This tutorial teaches children how to sew a snowman from felt using a full size pattern.

Lost Tooth Pillow Felt - Learn how to make a special pillow to store your lost tooth.

Mouse Toy (for Cats) Felt - Find out how you can make a mouse toy with your children.

Neck Pillow with Felt Sewing - Learn how to make your own neck pillow instead of buying one.

Octopus Sock and Felt - Make an octopus craft from an old sock, felt, think cardboard, hot glue (used by an adult), cotton balls and a few other supplies.

Penguin Ornament Felt - Children can make their own Christmas ornaments from felt. Use this free pattern to make a penguin ornament from felt.

Pumpkin Felt Trick or Treat Bag Sewing Project - Follow this tutorial to learn how to make a pumpkin trick or treat bag using felt, wide ribbon, fabric glue, and thread.

Pumpkin Wall Hanging - Find out how you can make a pumpkin wall hanging using orange, black and green felt.

Rick Rack Fish Felt Sewing Craft - This is a fun sewing craft for children who love fish.