Home > Arts and Crafts Projects for Kids > Puppets > Glove Finger Puppets
MAKE FABRIC and BOX HAND PUPPETS
Finger Puppets are great for little kids ... they love them and they are perfect for illustrating a book or song. You can make lots of simple characters to make eachother laugh.
Making Glove Tip Finger Puppets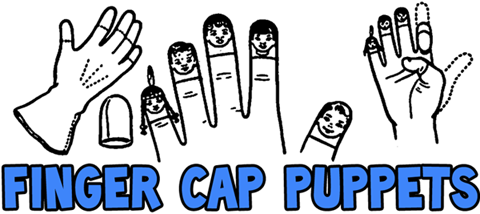 Read The Instructions Below.
You will need the following crafts materials
Old Glove
Pens or Fine Tip Markers
Bits of Yarn
Directions for Making Glove Tip Puppets
Like most crafts...your creativity rules over the craft. Whatever you want to create, use these basic tips to guide you to making these finger puppets.
To make this, you need to cut off the fingers of a glove about 1½" from the ends. Draw the facial features with colored fine tip markers and pens. Glue yarn on for the hair. For animals, you can use felt for beaks, ears, noses, etc.
Email us the finger puppets that you make and we will post them here.
Ideas for Finger Puppet sets to make
... Make a set of five faces to represent different races and cultures.
... Make a set of 5 Farm Animals ... such as cow, chicken, pig, horse, sheep
...Make all the characters in a story or rhyme - such as Where is Thumbkin ... or 4 for Goldilocks and the 3 Bears ... or make more finger puppets for Woman Who Swallowed the Fly ... Three Pigs and the Wolf ... Monkeys Jumping on the Bed ... Frogs on the Log ... etc