Home > Arts and Crafts Projects for Kids > Halloween Crafts > Make Halloween Costumes Arts & Crafts for Kids
HALLOWEEN COSTUME CRAFTS FOR KIDS : Ideas for Easy-toMake Arts and Crafts Projects, & Activities & Ideas for Making Costumes with the following instructions for children, teens, and preschoolers
It's that time of year again, Halloween and Halloween costumes! Home made costumes can be easier on your pocket and you don't have to worry about someone else being in the same exact costume. You can make anything at home these days. The most popular ones are Angels, Costume Wings, Astronaut, Fairy, Elf, Knight, Joker, Indian, Mermaids, Animals, Prince or Princess, Superhero, Tinker bell, Pirate, Zombie, Witch, and I can go on and on :)
All the costumes I mentioned above can be made at home with inexpensive materials. You just need an active imagination and this website to help put it together!
How to Make Astronaut Costumes
How to Make Indian Costumes (Native Americans)
How to Make Joker Costumes (Batman The Dark Knight)
How to Make Mouse / Mice Costumes
How to Make Star Wars Jedi Costumes
How to Make Star Wars Stormtrooper Costumes
How to Make Superhero Costumes
How to Make Tinkerbell Costumes
How to Make Transformers Costumes
Make a Robot Costume from Cardboard Boxes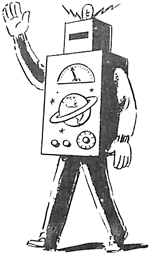 Any boy or girl can become a mechanical robot with the aid of two packing cases and a little work. There is only one precaution, do your "terrorizing" in a safe place. Do not attempt to walk off the sidewalk or cross a street while wearing your robot costume. You will need a large cardboard carton to fit from your
shoulders to below your waist line, as well as a small cardboard carton to fit over your head, and over-sized workman's gloves. Remove the lids or covers of both cartons and throw them away as you will not need them. Start with the larger of the two cartons. Cut a hole in the top large enough to get your head through. Cut 2 arm holes in the sides of the carton near the top for your arms. Now take the smaller carton. Cut out a slot, about 8 inches long and 2 inches wide, in the front of the carton at your eye level. Decorate the costume with outer space designs, in paints or crayons. To put on the robot costume, hold the body carton high over your head, and slip your head and arms through the proper holes. The body carton should rest comfortably on your shoulders. Slip the smaller carton over your head. Your eyes should be able to focus through the slot. Pull a pair of workman's gloves over your hands and you are ready to terrorize your friends.
Making Costume Beards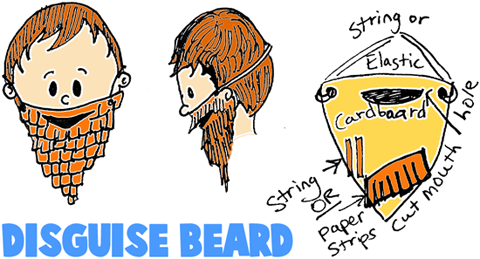 To make a costume beard, just cut out a triangle-ish piece of cardboard. Then figure out where your mouth will be and cut out a hole for your mouth. On both top corners cut a hole and string one piece of elastic, string, or yarn around each holes and knot. So there are 2 different strings that will be tied in the back. Now glue string, yarn, or cut paper strips to the entire piece of cardboard (one side). Now let it dry. Then put it on your face and then pull the string above your ears and tie in the back of your head.
Instructions for Making Costume Wigs and Hair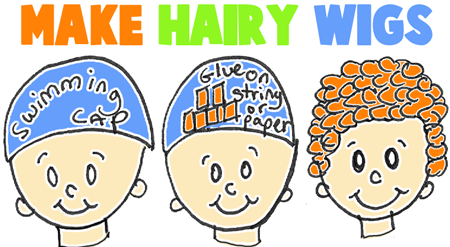 If you want some crazy hair to go with your silly disguise beard then you can maek your very own hairy wigs. Just get a swimming cap....you can pick one up at the dollar store. Then slue on string, yarn, or strips of cut paper. Let it dry and then stick it on your head. It is as easy as that.
More Costume Crafts Below

Make a Newspaper Mexican Coat or Joseph's Coat of Many Colors - Learn how to turn a normal newspaper into a great multi-colored vest coat.

Making Native American Headdress - Here is a headband full of feathers, just like native americans used to wear.


Making Sailor Moon Wands - This is a great addition to a costume that needs a wand, such as with a fairy costume or a magician or sorcerer.

Make Devil Horns Headband - Make these devil horns for your devil costume.

Make Costume Claws with Gloves - Use an old pair of your gloves to make costume claws.

Personal Microphone on Your Back - This might come in handy for a Halloween costume because you can mae creepy noise that out of the back of your costume.


Clever and Crafty Last Minute Costume Ideas - Need a last minute Halloween costume? Here are some great lat minute ideas for you.

Make a Cat Mask Out of Leather - Learn how to make this cat mask from leather with the following step by step crafts activity.

Airplane Costume - With a minimum of effort, you can transform a plain cardboard box into a shiny, flying machine that your child can wear.
Airplane-From-A-Box Costume - With a minimum of effort, you can transform a plain cardboard box into a shiny, flying machine that your child can wear.

Alien Costume - This cosmic costume - complete with Ping-Pong tentacles and a third eye - is literally out of this world!

Alien Encounter Costume - An alien costume ranked so high, you might say it was out of this world. According to Ryan, age nine, "It should have curvy black eyes and wear a robe."

Armed Forces Costume - This armed forces costume can be adapted to dress your child as a member of the army, navy or air force.
Artist Costume - Showcase a kid's creativity with this artist costume for Halloween—it's an absolute masterpiece.

Astronaut Costume - - Meticulously constructed from household items including a plastic bucket (helmet), a dish towel (helmet padding), and rubber boots (space boots), this little space traveler is out of this world.

Baby Jack o' Lantern - Include babes in arms and toddlers at Halloween with this baby jack-o-lantern costume.

Bag Of Gross-Eeries - It may be Halloween, but you won't find a single treat in this giant sack of groceries.

Bear Costume - Get young crafters involved in making their own Halloween outfit with this bear costume.

Big Bad Wolf Costume : Sock Crafts Ideas for Kids - This furry critter, perfect for a parent accompanying his little piglets while trick-or-treating, is a fairy tale favorite.

Bird's Nest Costume to Make - This costume -- complete with two paper birds -- is the perfect disguise for trick or tweeting.

Blue Butterfly Costume to Make - This costume's hat, boots and plump belly are just right for those cool autumn nights when most little creatures prefer to stay safely tucked into their cocoons.

Bubble Bather Making Projects - This is a squeaky-clean costume.

Bucket of Popcorn Ideas for Kids - - This is an easy Halloween costume which kids can make at home.
Butterfly Costume Making Instructions- Help your young crafters take flight with this butterfly costume.

Cat Costume Making Directions for Children - Here's a purr-fectly adorable cat costume that's fun and easy for your child to make! Using things you most likely have around the house, and a bit of creativity, you send your child out this fall to pounce for Halloween candy in style!

Chinese Lion Dance Costume for Chinese New Year - - The kids will have great fun making this super Chinese Lion Dance costume - and wearing it in their own Chinese New Year parade!

Clown Costum - This classic joker costume is perfect for kids who love clowning around.

Come Clean Washing Machine - Kids can't resist airing their family's dirty laundry in a cool appliance that's loads of fun to wear.

Corn on the Cob Costume - - These cute costumes start with an oversize sweatshirt -- no sewing needed!
Dalmatian Costume - Fun and inexpensive Dalmatian costume for Halloween.
Dalmatian Puppy Costume - Get spotted at Halloween when you craft this Dalmatian puppy costume.

Devil and Ghost and Bat Costumes - Fun and easy costumes.
Dresser Costume - Furnish your child with the ultimate unique Halloween craft—a dresser costume.

Dr. Frank 'n' Monster - While Dr. Frankenstein stitched his monster out of recycled people, you can stitch this outfit largely from cast-off clothes!

Duck Costumes - These wacky duck costumes will have your whole neighbourhood "quacking" up!
Engineer and Train Outfit - For trick or treaters in wheelchairs, this engineer and train costume makes a great Halloween craft.
Fairy Custom Making Directions - A quick and easy fairy costume for your child that requires only basic sewing skills and your creativity!
Fairy Costume Arts & Crafts Activity - Send your sprite out for Halloween in this Fairy costume.

Fairy Princess Costume - A jewelled sceptre -- fashioned from clay -- and glittery plastic gems add a royal touch to this princess costume.

Fancy Fairy Costume Making Directions - With this costume, a beautiful fairy will magically appear on your doorstep.

Farmer Costume Making Instructions - Fun Halloween costume.

Fire Fighter Costume - Send a future hero out for Halloween in this fire fighter costume.

Fire-breathing Dragon Costume : Crafts with Cellophane Projects - Amazing to look at yet surprisingly easy to put together, this disguise has a magical appeal for kids who love fairy tales.

Firefighter Hat : Fire Fighters Crafts for Children - - Check with your local fire department to see if they have sticker badges that could be used for a more realistic-looking badge.

Fire Truck Costume : Fire Prevention Week Crafts Instructions - - Shows to transform a large, cardboard box into a fire truck costume.

Fisherman - He may not be old enough to captain a ship, but netting treats won't be a trick for this salty fisherman.

Flower Costume - Let a kid's creativity blossom for Halloween with this flower costume craft.

Frog Costume - Send your tadpoles out for Halloween dressed in this Frog costume.

Funny/Scary Jack Costume - Whether your child's going for a funny face or a scary-looking one, these Jack-o'-Lantern masks are sure to fit the bill.

Gargoyle Costume - This costume has a fiendish charm to make even Medusa smile.
Girl Boxer - Dress up as a girl boxer for Halloween.

Good Egg - This costume is lightweight and easy to get on and off.
Grapes Costume - Kids can go out for Halloween wearing a craft that's 'di-vine' with this grapes costume.

Halloween Toddler Costume - Here are a few ideas for toddler Halloween costumes to get you started.

Ham and Cheese Costume : Ideas for Using Cellophane - We're not sure if it was because we polled all our advisers right before lunchtime, but something inspired our Halloween enthusiasts to pick food-themed costumes.
Harry Potter Costume - Make a little magic for Halloween with this Harry Potter costume craft. Your child is sure to be spellbound.
Headless Football Player Costume - Find out how to make this simple yet creative costume.
Horse Costume - Easy horse costume for a child.
Hot Dog - Dress up as a hot dog for Halloween.

How to Make a Foam Fish Costume - Creating a foam fish costume can be fun for Halloween, the next aquarium expo or a special event at the seafood restaurant. Whatever the reason, some soft foam sheets and craft paint can give you the semi-realistic look you want. Craft one foam fish costume or make many and get your friends to join the school.

How to Make a Fish Costume : Shark Costume Pattern : Shark Crafts Ideas for Kids - Kids of all ages are fascinated with sea and ocean life, and a shark costume can be a fun way to indulge in the fantastical world of the sea.
How to Make a Bedsheet Toga - In a few minutes you can turn a bed sheet into a Greek or Romanesque toga that will have you ready for a costume party, kid's play or fraternity/sorority event. This simple and easy wrapping style requires only simple household items, and is the perfect last-minute solution to any dress-up needs.

Hula Dancer Costume - Craft a kid's costume that works for Halloween.

Jumbo Elephant Costume : Oatmeal Container Crafts Ideas for Kids - What do you get when you take an old gray sweat suit and add a few snips and tucks? A costume that will let your little one make a big impression trekking for treats as a floppy-eared elephant.

Kid's Halloween Costume : Oatmeal Container Crafts Ideas for Kids - Short on cash, or is your kid just bored with dressing up in the same costume that every 3rd kid is wearing? Here are a few fairly easy and cheap costume ideas.

Lady Bug Costume - This simple Lady Bug Costume is easy to make and won't get in the way of Halloween Trick or Treating.
Lego Costume - How you can use a box to make a costume that looks like a lego.

Li'l Gray Mouse Costume : Ideas for Arts and Crafts Projects with Socks - From the tip of its big ears to the end of its gray tail, this costume will make your kid feel like the big cheese on Halloween.

Little Trick-or-Treater : Ideas for Arts and Crafts Projects with Socks- - For those of you who don't have enough money to hire a professional ghost to haunt your Halloween hideaway, just make this great Little Trick-or-Treater to haunt your porch. Plus, he'll work for free!

Littlest Mermaid Costume - Fish-scale-print fabric sewn into a "tail" turns stroller-bound tadpoles into glamorous mermaids.
Mad Scientist Costume - Easy trick or treating costume.
Monkey Costume - Easy costume for Halloween.

MP-Me Player Costume : Crafts Ideas for Parades - Fun finishing touches make this costume really rock. The music player sports a pair of old headphones, with the cord bundled and tucked safely into a waistband.

Mr. Bones Costume : Make Spooky Skeletons for Halloween - Want to look like a walking X ray? Brighten up the bones with glow-in-the-dark paint.

Mr. Rattles Costume : Make Spooky Skeletons for Halloween - This creature will have bones rattling all through the neighbourhood.

Mr. Floodwater Costume : Ideas for Arts and Crafts Projects with Socks - While this costume won't win the wearer any points for being fashion-savvy, it's super simple to pull off and sure to rake in the laughs.

No Sew Princess Costume - Turn her party dress into a no-sew princess costume. Easy beaded tiara finishes the look.

Outer Space Outfits - Dressing up as an outer space creature is "in the bag" with these grocery sack vests.

Outerspace Costume Craft with Paper Bags- Make a fun outer space costume using paper bags and straws

Peeking-Out Mask - - Make a unique costume or a special decoration! This mask can be a replica of one from a far-away culture or a unique Halloween craft to reflect your true personality. The possibilities are endless with the intricate cuts you can make with the Crayola Cutter!

Piglet Costume - - Here's a little something different for the girls who never forget to bring along their tunes with them.

Pilgrim Costume : Crafts with Pilgrims - - Pilgrim costumes can add a touch of authenticity and celebration to Thanksgiving activities. Because they are worn in a variety of seasonal activities, from school plays to holiday feasts, creating your own pilgrim costume can prove more economical than purchasing one, especially with children who quickly outgrow their clothing. A pilgrim costume can even be reused for Halloween for a quick and recognizable costume idea. With a few modifications to existing clothing using craft supplies, pilgrim costumes can be created without a heavy time investment.

Pirate Costume - Let your child pillage the back of your closet for this creative pirate costume.
Pizza Costume - Make this unique pizza costume for Halloween or any time.

Pizza Slice - This crafty pizza costume is one a parent and child can "cook" up together.

Popcorn Box Costume - Introduce your little kernels to the joys of corny crafts this Halloween with this Popcorn costume they can help make themselves.

Popcorn Box Costume : Crafts to Make with Popcorn - - Become a popcorn box this Halloween with this easy to make costume idea.

Pumpkin Face Costume - A few colorful brush strokes turn your child's face into a striking jack-o'-lantern.

Raggedy Ann Costume - Easy and fun way to dress up for Halloween.
Rock Star Costume - Easy rock star Halloween costume.

Road Trip Costume Craft for Kids - Want an easy ride? With a few toy cars, Velcro, and electrical tape, your trick-or-treater's everyday sweat suit becomes a road trip extraordinaire.

Rock 'n' Roll Drummer Costume - - This drummer costume truly rocks - and rolls! Great for the kid whose wheelchair becomes just another part of the costume.

Rockin' Sushi Roll - Serve up a slice of costume genius with this tasty look.
Royal Throne Costume - This is an excellent craft for trick or treaters who may be in wheelchairs - a royal throne costume.

Safety Hat Craft for Kids - Perfect for a construction worker's costume at Halloween, a craft to accompany a safety unit, or just a good excuse to do some papier mache and painting, this safety hat is convincing and fun to wear. You will need a bit of patience and plenty of drying time! Hat base shape made with balloon.

Scarecrow Costume - A flock of cute crows roosts on this anything-but-scary costume.

Scarecrow Costume - Dress up as a scarecrow for your next Halloween or harvest party!

Slime Bucket Costume - This toxic creation, featuring expanding foam and neon green paint, will have your child positively glowing.

Spaghetti & Meatballs Costume - - FamilyFun reader Kelly Wright of Waukesha, Wisconsin, made this saucy costume for her 11-year-old daughter, Carol. All the neighborhood kids ate it up!

Spider Costume - Design your own creepy spider costume! These spider legs are definitely scary when they're kid-powered!

Stroller Fire Truck Costume - Dress up your toddler's stroller so he can trick-or-treat with the big kids.

Teddy Bear Assassin Costume - For those who enjoy costumes of ironic humor for Halloween, the Teddy Bear Assassin costume is quick and easy, and would probably come out really great looking for anyone who has more than 1 week to pull a costume together.

The Farmer Rings the Bell Costume - - Crossing the neighborhood can be a long haul for little farmhands. So here we've used a wagon pulled by a plow-momto make the harvesting of treats an easy job.

The Dog Walker Costume - You won't have to remind your child to walk the dog this Halloween with this role-reversing pair of costumes. Smartly dressed in suit and tie, your little gent will have a howling good time taking his pretend pooch for a walk around the block.

The Outer Spacers - Make a fun outer space costume using newspaper bags. Great for Halloween or costume parties…
Toothpaste and Toothbrush Costume - Keep cavities at bay this Halloween and scare away evil gingivitis by crafting a toothpaste and toothbrush costume.
Tooth Fairy Costume - Easy to make tooth fairy costume.

Tricky Gnome on Toadstool - This Tricky Gnome on Toadstool is made from a little bit of fairy-tale magic spun from pool noodles and outgrown toddler clothes.

Turkey Costume - - Entertain the Thanksgiving crowd at your house by turning into a giant turkey with this turkey costume.

Racing Driver Costume - Be first to the finish line this Halloween with this racing driver costume.
Various Costumes - You can easily make a costume for your child for Halloween.
Various Homemade Costumes - More costumes for kids on Halloween.

Wicked Witch Costume - The Queen of Halloween never looked so good. The hat, the hair, the nails -- the effect is spellbinding!

Witch costume Craft a Halloween classic for your kids with this witch costume.

Witch Costume Crafts Idea for Kids Witch's are getting more colorful and trendy every year! Got to town with your homemade witch's costume and your child will not only look gorgeous but enjoy her costume too!

Windy Day Duo - The neighbours will be blown away by these fool-the-eye outfits.

Workman Costume - Here are the blueprints for an easy costume for Bob the Builder wanna-bes.