Home > Arts and Crafts Projects for Kids > Easy Backpack Decorating Crafts for Children
HOW TO DECORATE BACKPACKS, SCHOOL BAGS AND NAPSACKS: Learn how to make your own customized and personalized handmade bookbags with the following crafts ideas
Who am I? How do I express myself when there are more an more restriction on what I can wear when I go to school every day. I feel so oppressed. I need some kind of outlet to let everyone see that which is the marvelous me. If I can't do it through the words on my shirts, the color of my hair and the rips in my jeans then I will resort to the last bastion of expression for kids, my Backpack. Sure, you may call it a bookbag, a schoolbag, a napsack or a knapsack, it doesn't really matter what the name is. To me, it is a huge blank canvas ready to cover with the beauty of my creativity. After a few backpack crafts I can strut into those school halls and feel truly alive!
Below you will find many school bags and backpacks decorations and accessories making crafts activities for your kids. Learn how to make your own customized and personalized handmade bookbags with the following crafts ideas
Personalize Your Backpacks and Bags with Pins and Buttons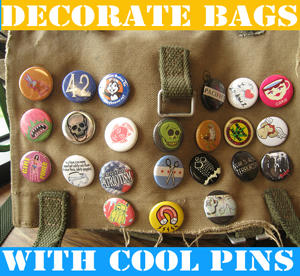 You can just buy a plain backpack with a solid color background and make it stylish on your own by just adding cool buttons and pins. Buttons and pins can be found for all of your favorite bands, tv shows, web sites, drinks, food, etc. Amazon has a pretty big selection of pins - Cool Buttons and Pins
- otherwise, a lot of clothing stores and accessory stores at the mall carry them.
Customize Your School Book Bags with Patches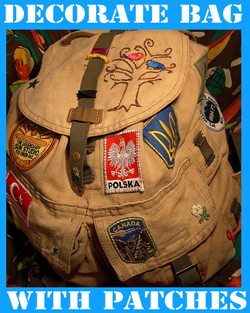 Another idea is to use stylish embroidered or cloth patches that either can be sewn on or ironed on. These look really awesome and really make any bag look unique. I found an online store called Laughing Lizards that has them, but you can also get them on Ebay, at Amazon
or at your local crafts store.
Below are More Ideas for Decorating Your School Book Bags

Sew On a Design or Your Initials with Beads - This isn't just for girls....this is a great way to sew on letters of your name or initials or a cool design such as a peace sign or the sun or even Pixelated Mario. Find out how to make this cool backpack with the following simple craft.

How to Draw on and Paint Your School Book Bag / Backpack - In this crafts project, I drew and painted Lego Superheroes on my son's backpack.

How to Personalize Your Backpack by Drawing on Your School Bag With Sharpie Markers - How to Personalize Your Backpack by Drawing on Your School Bag With Sharpie Markers

How to Decorate Your Own Drawstring Backpacks - Decorating your own drawstring backpacks is a fun and easy craft project. The best part of working with a drawstring backpack is that you have a clean canvas to manipulate any way you please. Let your personality shine through as you unleash your decorating and artistic talents on your backpack. Once you get a hang of it, you can give your decorated backpacks as gifts to friends and relatives.

How to Decorate Your Backpacks - Nothing is worse than a boring backpack! Read this handy article to find out how to decorate your school bag to perfection with little to no effort at all!
Kids' Backpacks : How to Decorate a Backpack - Create an Original Kid's Backpack that Expresses Your Child's Personal StyleThe prototypal period of edifice is apace forthcoming and it's instance to encounter a kids packsack for your child. If last year's packsack is ease in beatific shape, provide the kids packsack a newborn countenance by decorating it. This is a recreation send to do with your female to support her intend primed for a newborn edifice year.
------------------------------------------------------------------------------
Decorate Your Binders and Notebooks Crafts
Decorate Your School Book Bags / Backpacks Crafts
Make or Decorate Bulletin Boards / Tack Boards / Cork Boards
School Work Organization and Homework Organizers Crafts
How to Make and Decorate School Book Covers Crafts
-------------------------------------------------------------------------------