Home > Arts and Crafts Projects for Kids > Animals Crafts > Kangaroo Crafts Arts and Crafts Projects Ideas for your Kids
KANGAROO CRAFTS FOR KIDS: Find out how to make your own Kangaroos with these easy arts and crafts instructions for projects, patterns, and activities for children, teens, and preschoolers
I always had a fascination with Kangaroos when I was little. My favorite, of course, was Roo from the Winnie the Pooh books but any kangaroo would do. I used to think about all the great things I could store with me in that giant pocket. I'd never have to leave any of my toys behind, because my pouch would basically be my toy box. I would have had a lot of fun making a kangaroo mask, strapping a pouch across my stomach and hopping all around the house. I'm sure whatever bag I used for the Kangaroo pouch craft would have been filled fast and would have started overflowing and spilling with every jump I took but it would have been a super time.
Kangaroos are also fun for drawings, because you can always find a solution for any problem in a comic strip if you can just reach into your pouch for whatever you might need. Have a bouncy fun time making your Kangaroo crafts.
Folding 3D Paper Kangaroos that Stand Up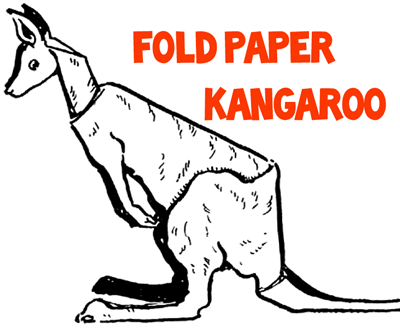 First of all, print out this paper kangaroo template. Then color in the paper kangaroo with colored pencils, crayons, or markers. Then cut out the kangaroo. Then fold the kangaroo according to the directions on the template. Then paste the head and tails onto the body of the kangaroo.
Folded Paper Envelope Kangaroos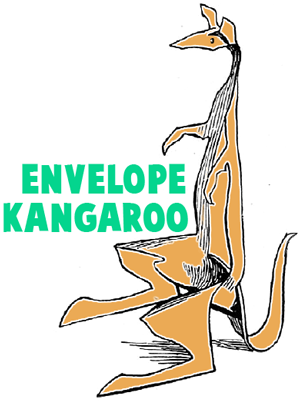 With this paper folding craft, you will use a paper envelope instead of a sheet of paper. First of all, start by printing out the following Kangaroo Template. Either trace the kangaroo onto the folded edge of a paper envelope or cut it out and paste it onto the folded edge of an envelope. Cut the kangaroo out. Open it up and fold on the dotted lines so that the kangaroo will stand. You can pretend to make it hop or fold a smaller kangaroo to sit on the mommy's lap.
How to Make Kangaroo Masks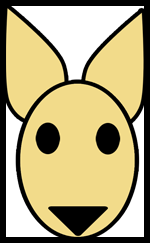 To make the above kangaroo mask, just print out our printable kangaroo mask template and follow the instructions included

How to Draw Cartoon Kangaroos - Learn how to draw this cartoon kangaroo in easy-to-follow step by step instructions.
Even More Kangaroo Crafts Below

3D Paper Kangaroo Messenger Craft for Children - Children love this little kangaroo because it delivers important messages that it carries in its pocket.
Animal Bookmarks - Patterns to print out animal bookmarks including Polar Bears, Humming Birds, Swans, Tie Dies, Kangaroos, Smiley Faces, and more.

Hoppy Valentine's Day Kangaroo - What better way to say "I love you mom" than with the creation of this Mommy and Joey Valentine's Duo!

If I were a Kangaroo... - This is a paper bag puppet craft. It has been made especially for the song (it has a banner with "You know I'd hop right up to you.").

Kangaroo iPod Pouch Making Directions - This simple sewing project is great for children eight and older. The pouch can be used for iPods, business cards, or Bible verse cards. (Go to the Material Crafts Page for directions on how to make this craft.)

Kangaroo Stuffed Toy to Make- Made with shredded recycled packaging paper or grocery bags this fun craft will delight young children.

Kangaroo Themed Cross Stitch Pattern - Learn how to sew a kangaroo.

Kangaroo Planter - Here is a flower planter that doubles as a Kangaroo as well. There aren't many kids who wouldn't love this craft.

Kangaroo Paper Craft Idea for Children - This kangaroo is a simple cut and paste paper craft that is fun for young children to make. It makes a great project for preschool and kindergarten kids and works well for an animals, letter K, marsupials or Australian theme. (He's holding a boomerang which is a wooden tool that was used by Australian Aborigines.)

Kangaroo 3D Foam Instructions for Children- Kangaroo CraftThis is cute Kangaroo Craft with her Baby Cangoroo. You can make this cute animal with sole, thick paper or Funky Foam.

Kangaroo Paper Model to Make - I put up a lot of links to paper models, but this Kangeroo Paper Model, with the baby tucked into the mommy's pouch, is my absolute favorite!

Making a Jumping Kangaroo Activities for Children - Learn how to make a jumping kangaroo with this printable craft.

Paper Plate Joey Idea - This cute little joey is made from a snack-sized paper plate and card stock, children paint the paper plate and glue on the tail, legs, arms and head.
Farm Animals Crafts
Chickens / Hens / Roosters Crafts
Cows Crafts
Goats Crafts
Horses Crafts
Pigs Crafts
Sheep / Lambs Crafts