Home > Arts and Crafts Projects for Kids > Leather Crafts for Children
LEATHER CRAFTS FOR KIDS: Ideas for Arts & Crafts Projects & Activities with Leather for Children, Teens, and Preschoolers
Below you will find many Ideas for Leather Arts & Crafts Projects & Activities with Leather for Children, Teens, and Preschoolers.
How to Make Leather Wallets and Purses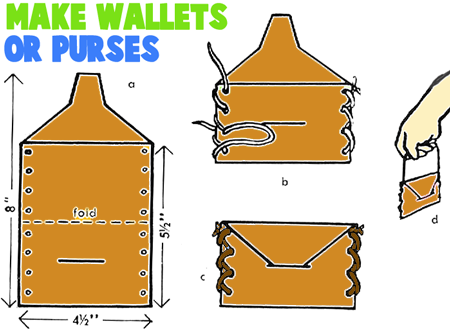 This leather craft is great for both boys and girls in camp, girl scouts, or boy scouts. You will need to cut pieces of leather that are about 8 x 4 1/2 inches. Look at the diagram a above...to see how the rectangle is 5 1/2" and then the roof shape is made at the top. You might want to poke holes in the leather ahead of time for the children. You will need to punch holes in the leather so that the holes will coincide so that lacing will work. You will want to use cord or leather string to lace, starting at the top of the wallet or purse. When the child reaches the last hole, the child will need to criss-cross the lace thru the holes back to the top to hold the sides together. Look at the pictures above (b and c) to see how to tie the ends so they are secured well. Girls might prefer a purse, in that case, she may tie a double string thru the hole on the top to make a handle.
Making Leather Belts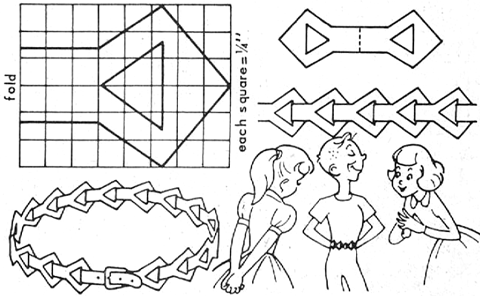 Cut leather according to the belt pattern. Number of sections needed will depend upon length of belt. Fold one section in center so that folds fit together. Slip end of next piece through hole and fold over. Continue until belt is desired length. For fastening, sew snaps on the felt belt. Slip an old belt buckle on the first section of the leather belt.'
How to Make Leather Coin Purses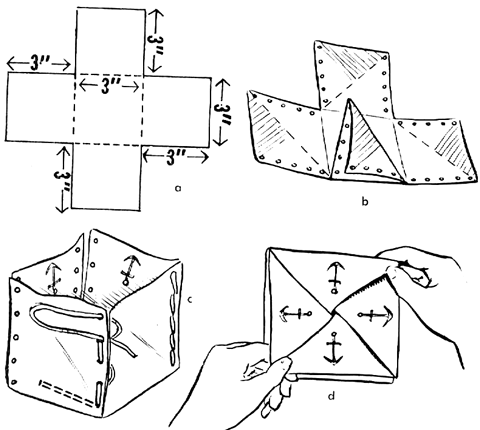 Although these are called leather purses...these are usually used by boys intead of a 'purse'. I am a girl and I used to have one - so really boys or girls can use these. To make these leather coin purses, you will need lightweight leather or vinyl 9" square, leather tools, one yard plastic lacing, leather punch, scissors, and a lacing needle. Cut leather as in sketch a. With smooth side up, fold up along dotted lines. To make firm crease, dampen leather slightly and press. Fold smooth sides back, diagonally, as indicated in sketch b. Be sure that fold is from corner to corner. Leather may be tooled on shaded area. Punch holes along adjacent cut edges being careful to space them evenly. Cut lacing into 9" lengths and lace down each side from top to bottom, using both ends in an over and under manner (sketch c). Fasten lacing ends at bottom on inside of purse. Fold sides down along diagonal creases to make purse flat (sketch d).
More Leather Crafts Below

Leather Working Techniques - Find out the basics of working with leather and how to lace leather together.

Leather Japanese Beanbags - Learn how to sew these beanbags up out of leather.

Mini Leather Book Pendant or Necklace - Make this little book on a cord as a stylish necklace.


Leather Laced Book Covers - You can make laced leather book covers with simple instructions.

How to Make a Leather Star Brooch Pin - Made from two different shades of leather this craft is sure to turn out beautifully. Imagine how proud you will be to wear a brooch that you made yourself.

Beanbag Orbit Game - Learn how to make this fun Eskimo game.

Leather Heart Key Chains - This craft calls for leather or a faux leather material. It is to make a Valentine's Day Key Chain...great to give to a friend or somebody that you love.

Leather or Vinyl Marbles Bag - Here is a drawstring pouch that will be great to hold your marbles or other small items that you own.

Laced Leather Wallets - Learn how to make these sturdy leather wallets....that are beautifully laced.

Etched Design Leather Eye Glasses Case - Make this leather eye glasses case with a beautiful relief etched into the cover of the case.

Make Leather Decorative Pins - Learn how to make these leather decorative pins with parental supervision.

Belt Loop & Key Chain Wallets - Put it on your belt loop or put it on your keychain...either way, it is great to keep some money tucked away. Make for Mom or Dad.

Leather Rings - Learn how to make leather rings.

Leather Comb Cases - Learn how to make leather laced comb cases to carry your comb in. Great gift for Fathers Day.

Make Leather Key Tags - Key Tags are Key Chains for only one key - they are monogrammed and look really nice. Find out how to make one.