Home > Arts and Crafts Projects for Kids > Magnets Crafts for Kids
MAGNET CRAFTS FOR KIDS: Ideas for Arts & Crafts Activities & Projects to Make Magnetic Fridge & Locker Magnets for Children, Teens, & Preschoolers
A magnet is a piece of iron that attract other iron-containing items. You see magnets every day...magnets hold important papers and artwork up on your fridge. Magnets hold letters and numbers up on your school chalkboard. But really magnets are even places that you don't notice. Below you will find many magnets crafts including refrigerator magnets and other types of magnets. Find out how to recycle and make cool stuff with magnets with the following arts and crafts decorations, instructions, patterns, and activities for children to make magnetic crafts
Making a Toy Magnetic Duck Pond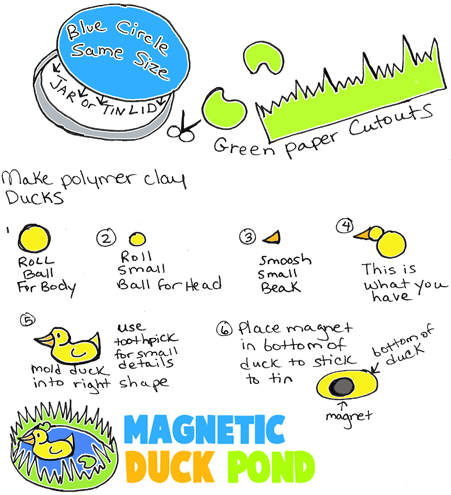 Basically, just get a cookie tin or if you want a miniature version of this craft, get an Altoids Mints tin. Trace a blue circle and then glue it to the bottom of the tin's lid. Then cut out a long strip of green grass and green lilly pads as well. Glue these lillp pads to the blue circle that you already glued down. The green grass should be glued to the inside ridge of the tin's lid. This is the pond. Now to make the duck or ducks...roll yellow clay into a ball by rolling the clay in the palm of your hands until a ball forms. Then do the same but with make it smaller for the head. Take orange clay and smoosh a small triangular beak. Attach the head, body, and beak, as pictured in picture #4 above. Next smoosh a little yellow triangle for the back feathers and attach it to the duck. Then take a toothpick and carve small details into the duck's shape. Now turn the duck upside down and push a magnet to the bottom of the duck. Let dry completely. Then you will be able to use the duck on the pond and he won't fall off of the pond.
Even More Crafts with Magnets

How to Make a Magnetic Travel Board Games Set with Altoids Tins - Today I will show you how to make a really cool travel board games kit out of magnets, paper and an altoids tin. This is a great travel game board system that you can stick in your pocket to bring to school with you to play on the bus, in the cafeteria, or what ever. You could even bring it in the car with you to play with your sisters and brothers with. Or you can just play solo since there are 2 different solitaire games to play.

Halloween Candy Advent Calendar - Use Magnets, Halloween Candy, and Decorative Wrapping Paper to Make the Coolest Advent Calendar Ever as a Countdown to Christmas.

DIY Angry Birds Magnet Set - Play Angry Birds on Your Fridge with this Do It Yourself Angry Birds Magnet Set Printable.

Magnet Set : DIY Cut the Rope Fun - Make this magnets set so you can play Cut the Rope on Your Fridge...just use our free printable.

Hanukkah Menorah Magnetic Craft - Print out this Hanukkah menorah craft onto a magnet sheet and light a magnetic candle every day of Hanukkah.

How to Make a 3D Refridgerator Magnet - Learn how to make 3-dimensional refridgerator magnets.

How to Craft a Chinese Dragon Fridge Magnet Craft for Chinese New Year - Dragons are an important part of many Chinese festivals, including Chinese New Year. Let's celebrate it by crafting this fridge magnet with the mini version of the dragon used during holiday parades and festivities.

Spider Web and Spider Magnet Craft - Learn how to make this really neat spider web and spider hanging craft.

Making Alligator Clips Fridge Magnets With Clothespins Craft Idea - Do you want to learn how to make this adorable alligator / crocodile clip? When it is done, you can stick it on the refrigerator and post your memos in the alligator's mouth. It is super easy to make, learn how to on the following page.