Home > Arts and Crafts Projects for Kids > Musical Instruments Crafts for Kids to Make > Make Guitars and Stringed Instruments
MAKE GUITARS & STRINGED MUSICAL INSTRUMENT CRAFTS FOR KIDS: Make Your Own Homemade Guitars & Banjoes for Children, Teens, and Preschoolers
Stringed instruments, such as guitars and banjos are so much fun to play with and pretty easy to make. You don't have to make intricate wood instruments, there are many other materials that you can use for the base of stringed instruments. For example, cardboard boxes and metal pots are both good bases for guitars or other stringed instruments. Below you will see some of the great crafts ideas we have for this category. Happy Crafting!
Back to Musical Instruments Making Crafts
How to Make Stringed Box Banjos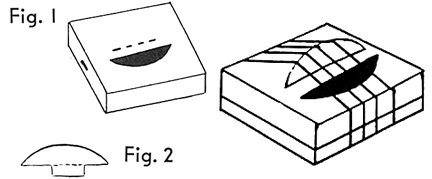 Find a box measuring 4 inches square and 1 inch in depth. Cut a hole and a slot in the cover, as pictured in figure 1. Fashion a bridge from cardboard, as in figure 2. Make certain that the tab at the bottom of the bridge fits securely into the narrow slot, and that the bridge stands upright. Return cover to box and fasten with Scotch tape or gummed paper. Stretch rubber bands of various sizes over the entire box passing them over the bridge. The smaller bands which are stretched more tightly over the bridge will produce the highest tones. To play pick the bands with your fingers or a toothpick. Select simple tunes with which to begin your playing of the banjo; then go to work on the more difficult ones.
Making a Plastic Container Banjo

You will need 1 round pint-size ice cream or cottage cheese carton, 1 piece heavy cardboard 1 1/2" x 10", four 1/2" paper fasteners, two 3" rubber bands, crayons, and cissors. Cut slits 1 3/4" long on opposite sides of carton, parallel to top rim. Slide heavy cardboard through slits until it extends 1" from carton. (See sketch a.) Punch two holes in each end of cardboard. Put paper fasteners in holes. Stretch the rubber bands between the paper fasteners at each end of cardboard, forming four banjo "strings." Where rubber bands cross top of carton, cut 1/4" slits in rim to hold the rubber bands in place. (See sketch b.) Decorate banjos with brand markings or other designs.
Even More Stringed Instruments Crafts

A Cardboard Guitars Craft to Make- - Making a guitar from a cardboard box is a fun and easy craft for kids. All you need is a cardboard box of any size, rubber bands of varying sizes and some imagination to create and decorate your own unique guitar. Cardboard box guitars can also be part of a whole craft instrument band or used as props for costumes. Read on to learn more.

Altoid Guitar - - After seeing TimAnderson's Bedpost Banjo, I had the idea to make one out of what else, an Altoid tin. The guitar sounds quite mandolin-ish, besides the two stings that are on it.

Altoids Tin Guitar! - - This will show you how to make the simplest E-Guitar with just an Altoids can and a few other materials which can easily found around the house.

Box Guitar - Jazz up a tissue box into a rockin' box guitar.

Box Guitar - - This is an easy way to make a guitar using an old shoe box or tissue box, rubber bands, scissors, a paper-towel tube, and a pencil.

Box Guitar Craft - - Box guitars were made out of discarded cigar boxes with a broom stick inserted in the end. Box guitars were popular and cheap to make.

Cardboard Box Guitar - - Making a cardboard box guitar is easy to do, and can be a delight for young children. Letting your child make his own guitar will help give him an appreciation for music, and he can have fun playing his homemade guitar when he is done. With a few basic materials and the steps listed, your child can learn how to make a cardboard box guitar.

Cardboard Guitar Craft - This fun cardboard guitar can make pretending fun. It's like playing air guitar - with a little more than air to wrap your fingers around. Try this cardboard guitar craft and watch kids pretend to be their favorite rock stars - or form their own "air band!"

Home-made Cigar Box Guitar - - The neck of this handcrafted piece is made of curly maple, the cigar box is a cohiba box of ten cigars, imported from the Dominican Republic, store-bought tuners (I'm lame), left over strings, and a piezo for the pick-up.

Homemade Guitar - - Making a homemade guitar is a great way to teach children about making music, the production of sound and the history of instrument making. Children can create this simple guitar using materials that can be found around the house. Here is an easy-to-follow guide to help you create a homemade guitar.

Homemade Musical Instrument: Shoebox Guitar - - Music is said to be the 'food of the soul'. However, not everyone has the capability to buy expensive musical instruments from the market. In such a case, homemade musical instruments come to your rescue. Such instruments are inexpensive and very easy to make. If you want to learn how to make musical instruments at home, the steps provided here will come to your rescue.

Jimi Hendrix Guitar Printable Model Craft - Print out a model of Jimi Hendrix's guitar.

Make a Shoe Box Guitar - - This is just one of many ways that you can reuse household items and make neat crafts from them: make this guitar out of an old shoebox for some musical fun, while saving room in the landfill.

Rainy Day Tissue Box Guitar - - I'm going to show you how to make a guitar with your kids out of a tissue box, paper towel roll and some rubber bands! My mom and I used to make these all the time when I was little - They're really fun!

Rubber Band Guitar - - Have you ever wanted to make your own musical instrument? Now is your chance! By the time you finish reading this guide, you will be able to make your very own rubber-band (also known as shoebox) guitar. Making a shoebox guitar is very easy, fun and creative. Rubber-band guitars also make a very cool sound.

Rubber Band Guitar - - Children often love homemade craft projects as much as they love musical instruments, so combining the two is sure to be a big hit around the craft table. A rubber band guitar is a simple project that can be made as simple or as elaborate as you like and is sure to create hours of fun for children and adults alike.

Shape Banjo – Bring out the music minded genius out of your kids by helping them make musical instruments out of used cereal boxes and some coloring or non-toxic painting materials.

Shoebox Guitar - - Allison came home last week with a "Build Your Own Guitar Out of a Shoebox" project to learn about sound and vibration. After a trip to Home Depot and some painting and woodworking, here is the final product. Adult assistance or and supervision is required for this craft project.

Tissue Box and Toilet Paper Roll Guitar - - This craft project allows you to make music using recycled materials and at the same time gives you the chance in helping out the environment.

Tissue Box Guitar - - Kids will love to make music with these easy, homemade musical instrument crafts for kids.

Tissue Box Guitar - - Create a guitar with your budding musician. Recycled items, such as a tissue box and paper towel roll, get you started.

Tissue Box- Guitar - - This guitar is a great musical instrument for kids to make. All you need is a tissue box, rubber bands, straw and a paper towel roll and you're ready to make some music!
Back to Musical Instruments Making Crafts