Home > Arts and Crafts Projects for Kids > Musical Instruments Crafts for Kids to Make
MUSICAL INSTRUMENT CRAFTS FOR KIDS: Make Your Own Homemade Drums, Kazoos, Flutes, and String Instruments for Children, Teens, and Preschoolers
Bang Bang ... Toot Toot ... Shake Shake ... Ding Dong. Art isn't the only way that we can communicate our artistic creativity. Music is also a way to show our artistic creativity, and it is very soothing and oh yeh ... FUN! Whether you want to make a guitar, maracas, drum, banjos, or a rattle shaker...we have some ideas for you below. Get crafting so you can shortly play some beautiful music.
Make Guitars, Banjos, & Stringed Instruments
Make Noise Makers / Maracas / Shakers
More Musical Instruments Crafts Below
Making a Rattle Shell Musical Instrument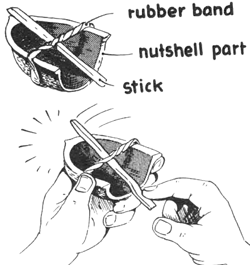 (Parental Help / Supervision Needed for This Craft) The rattle shell is another simple instrument. Split a walnut in half, and remove the kernel. With a small hammer, break a small piece from the edge of one half. Double a rubber band and stretch it over the middle of the shell. Put a stick underneath the band and tighten it even more by turning the stick. Holding the shell in one hand, drum the longer part of the stick with your other hand. The sound you'll produce will be very unusual.
How to Make an Easy Comb Kazoo That Really Works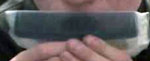 The youngsters can have a lot of fun with this simple gimmick. Fold a piece of tissue or wax paper over a comb—pocket size or larger. Stretch the paper taut with both hands and, holding the comb against the mouth, hum a tune into the paper and comb. By pitching the voice just right, one can make the comb and paper sound just like a kazoo.
Making Songs and Music with Musical Glasses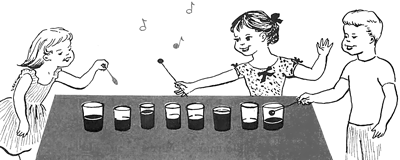 Fill a glass with water. Tap it lightly with a spoon. You will discover it gives forth a musical sound. Then pour out some of the water. Note the difference in the musical sound. Now arrange 8 glasses in a row on a table. Fill each with water at different levels and sound again. Notice how the pitch can be changed by adding to or reducing the amount of water in the glass. With a little experimenting you can line up the 8 glasses of water and play a scale on them. The key of G is a very good key to which the glasses may be tuned. The tapper, a silver spoon, or a slender stick with a wooden ball at the end, and the kind of table upon which the glasses rest, will make a decided difference in obtaining the tones you desire to obtain from the glasses. After you have the scale adjusted on the glasses, number them I , 2, 3, 4, 5, 6, 7, and 8. This will make your playing a tune on them easier. Yes, you can play tunes on these glasses. Try it.
Make Sand Blocks to Make Music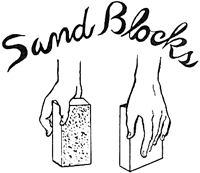 Select 2 blocks of wood about I inch by 21/2 inches by 5 inches. Sandpaper them until they are smooth and all edges rounded. Paint or shellac the blocks. When dry, sandpaper one of the 2 largest surfaces of each block. Measure and cut 2 pieces of sandpaper to fit these surfaces. Glue in place. When rubbed together, the sandpapered sides will produce a delightful shuffling sound.
Making Musical Tambourines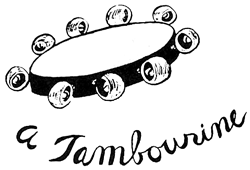 Cover an embroidery hoop or a box cover with unbleached muslin or heavy wrapping paper. Select 6 or 7 sleigh bells. With a knife or scissors, cut as many slits in the rim of the box top as you have bells. Insert the bell hooks into the slits and fasten in place with the safety pins.

Make Sea Shell Trumpets - Learn how to make these sea shell trumpets with the help of your parents.
9 Easy to Make Musical Instruments- Children love music as much as they enjoy making things. Why not join these two creative forces and make one or all of these fun and easy musical instruments to encourage play and creativity

How to Make Coffee Can Drums - Learn how to make this cute coffee can drum along with some denim, yarn, and a few other things.

How to Make Real Wooden Tambourines - Use wood, nails, and metal bottle caps to make these tambourines. This is a woodworking project to do with an adult.

Rhythm Paddles - Find out how to make these from ping pong paddles, bottle caps, and nails.

How to Make Wrist Bells - Learn how to make these wrist bells with ribbon and bells. A little bit of sewing is involved.
African Drum : African Crafts Project - The finished project is about 9 inches tall.

African Drum : African Craft - A conga is an African drum traditionally made of hardwood and a cow-skin drum head.

Baby Water Bottle Rattle This craft project shows you how to make a baby toy out of a recycled water bottle. This baby toy craft is a great sensory toy for little minds to help them play and develop.

Bells On A String - Make this super simple musical instrument!

Bonko - Make this bonko out of old cans and make a bonko for after-dinner music

Bongo Drums - Bongo drums are percussion instruments used in Latin American music. Played in pairs, each set of bongos consists of a macho (male) and hembra (female) drum, tuned to different pitches. Bongos are played by hand and help keep the rhythm of dances consistent and quick. Make your own pair of homemade bongos.

Bonnie Bagpipes with Wrapping Paper - - Take a musical road to Scotland! Craft your very own pretend bagpipes with a paper bag and recycled Gift wrapping paperrolls. All you need now are kilts!

Bottle-cap Tambourines African Arts Project - Make and shake these tambourines that are popular in Brazil and Africa.

Bottle Cap Clinkers Craft - Kids will shake up some fun and rhythmic beauty with this bottle cap clinkers craft. This clinking rattle will bring a whole new sound to your life.

Bottled Music Craft Activity for Kids Who hasn't blown across the lip of a half-empty pop bottle and marveled at the richness of the tone?

Box Guitar : Crafts Using Cardboard Boxes for Kids This is an easy way to make a guitar using an old shoe box or tissue box, rubber bands, scissors, a paper-towel tube, and a pencil.

Cardboard Box Guitar with Ribbons - It's easy to make a variety of stringed instruments from boxes and rubber bands. Let your kids paint their guitars with colorful stripes. They can also draw designs on them or even glue on ribbons or streamers. Then, strum a tune.

Celebration Cymbals for Parades - Get ready to march in a band! Lead the beat with your own colorful, fun cymbals. Long ago, these delightful percussion instruments were invented in Asia. Musicians around the world play cymbals in parades, orchestras, and bands.

Civil War Drumwith Oatmeal Container - While today's children may enjoy staging mock battles, warfare was no game during the 1860's. Nine-year-old John Lincoln Clem survived two wounds and Confederate imprisonment to become the youngest non-commissioned officer in Army history. Like Clem, most boys started as drummers, calling soldiers to meals, waking them in the morning, and rallying them for marches. You can make a Civil War style drum, too.

Coffee Can Drum Craft with Coffee Cans - Kids love music and banging on pots, pans, and plastic containers. Combine their creativity with their musical talent by making this adorable homemade drum.

Diego's African Safari Drum with Oatmeal Boxes - Kids will have a blast running around the backyard with Diego's African Safari Drum.

Didgeridoo Crafts Crafts Idea for Kids - A musical Instrument made and played by Australian Aborigines.

Didgeridoos From Down Under- - Australia's Aboriginal people invented the didgeridoo. Make this musical instrument with recycled materials. Now you can play a didgeridoo, too!

Drumroll, Please : Make Drums with Oatmeal Boxes - This easy-to-make instrument just can't be beat -- no, wait, it can! It provides even the youngest musicians with a wonderfully rich and resonant sound.

Easter Maracas Arts & Crafts Ideas - Use Easter stickers and maracas to make music during your Easter celebration. Our maracas look like eggs too!

Finger Cymbals Noise Makers Crafts Ideas for Kids - How to Make a Noise Maker Using Jar Lids.

Fireworks and Music Pinwheel Craft - When April winds blow, enjoy some outdoor play with these educational and fun projects especially designed for blustery spring days.

Foam Mariachi Guitar : Crafts Ideas for Cinco de Mayo - - Craft foam has so many possibilities. Celebrate Cinco de Mayo by making and decorating this fun mariachi guitar.

Folk Drum Instrument - Folk instruments are fun for children to make and play. You can create them from materials that are typically found around your home and can be purchased at any arts or crafts supply store. Small children will need help with using scissors or the stapler, but older children can make their folk instruments independently. Here are instructions for how to create a few fun and musical folk instruments. The instructions for each instrument are for one child.

Graggers : The Purim Noisemakers Craft for Kids - Noisemakers are a fun and easy project for school age children (preschoolers will need adult assistance). You can now make your own gragger with our easy directions. Save or print the instructions so you can make your own gragger after your visit

Here I Come Drum with Oatmeal Container - March and dance all day with this easy-to-make oatmeal box drum. Young children love this simple music-making craft!

Homemade Castanets for Cinco de Mayo Craft - - Most kids love musical instruments, and there's no reason to spend money buying them. You can whip up these castanets and kick up your heels in a flamenco dance in a matter of minutes.

Homemade Instruments – Rainmakers Craftfor Kids This homemade Rainmaker is a fun way to make lots of noise at a celebration such as New Year's Eve or a birthday - or just for a kitchen band!

Homemade Tambourine Crafts with Popcorn Activities - - Music is a great way to entertain children, and they love to make noise. If you are looking for an easy craft your child can do, or you need a project for a music or Sunday school class, consider making a homemade tambourine

Jingle Bell Socks - For some no-hands-required musical accompaniment, fashion your child his own pair of jingle-bell socks.

Jingling Tambourine - Create your own Jingling Tambourine from everyday objects. You'll be ready to play and dance along with your favorite music.

Jimi Hendrix Guitar Printable Model Craft - Print out a model of Jimi Hendrix's guitar.

Make An African Drum Crafts Idea for Kwanzaa - Kwanzaa is often celebrated with traditional African music, with the rhythm provided by African drums. Here is a craft idea for making your own.

Make Your Own Kazoo for Purim Craft Activity for Kids - Learn how to make a Kazoo for the Purim Celebration with your children.

Make Your Own Tabmourine Craft - A purim craft to make a tambourine for your noise maker for Purim.

Make Your Own Gragger - Learn how to make a gragger in order to celebrate Purim.

Maracas : Crafts with Popcorn Activity- - Musical Instruments that you bang, scrape or shape are called percussion instruments. Some examples of percussion instruments are drums, rainsticks, xylophones and maracas.

Maracas Popcorn Activity for Children - - A maraca is a Latin American and Tupi rattle. The original Maracas were originally made from the dried shells of gourds with beads or beans inside that rattled around and made lots of shuck-a-shuck-a-shuck-a noises.

Margarine Tub Drum - Loud salutes have been an Independence Day tradition since the Liberty Bell rang in 1776. Your child can sound off with this rhythmic noisemaker.

Mexican Bird Rattle Craft - - In Mexico, paper mache rattles are popular during New Year's celebrations. The rattles are shaken to welcome the generous spirits of the New Year and to drive away the unhappy spirits of past years.

Merry Maracas Made with Juice Bottle - How to make a joyous maracas set with a recycled juice bottle.

Mexican Maracas Balloon Paper Mache Craft - Learn how to make this cool musical arts and crafts project.

Mexicali Music Shakers - - Here's a wonderful and easy craft for kids (and anyone else) that will help put the whole family in the fiesta spirit. At a glance, it's hard to tell that these musical shakers are created from your average plastic drinking cups. That fact won't even come to mind once you see how well they enhance the rhythm of the music, spirit and celebration behind the holiday.

Milk Jug Noise Makers - You only need two things to make a milk jug noise maker; a milk jug with a cap and something to put inside it that will make a lot of noise when you shake it around.

Mini Music Makers for Cinco de Mayo - - Easy to make from empty film canisters and craft sticks.

Monkey Pod Drum with Polynesian Petroglyphs – Bring a slice of Polynesian aura to your playroom with these monkey pod inspired drum set made out of oatmeal containers. Bring music to your home with a personal and creative touch.
Musical Instrument Crafts - A lot of cool instruments to create

Musical Can - - This musical can craft will certainly help kids keep the beat. The magic of music is not just in the tune; it's in the rhythm. This coffee can trio of rhythm instruments can help kids play along with any of their favorite songs.

Musical Maracas with Coffee Cans Idea - Maraca made from a coffee can.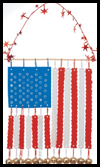 Musical Stars and Stripes Craft - Let freedom ring with this easy-to-assemble patriotic wind chime fashioned out of a few basic craft supplies.

Newspaper Maracas - Musical Instruments that you bang, scrape or shape are called percussion instruments. Some examples of percussion instruments are drums, rain sticks, xylophones and maracas. Maracas were originally made from the dried shells of gourds with beads or beans inside that rattled around and made lots of shuck-a-shuck-a-shuck-a noises. You can make maracas using simple materials from around the home. What follows are two methods ... the first requires a little more time, while the second method is simple enough for the younger grades to tackle in an afternoon art making session.

Oatmeal Box Drum - As part of a home school adventure every child should at least attempt some form of musical instrument. Beginning when they were quite young, allow them to experiment with different homemade instruments to see what they might be interested in doing later. Here is a project for making a drum out of an oatmeal container...

Paper Plate Maraca - - This Paper Plate Maraca is an easy homemade instrument. Fill it with what ever you have around the house and you're ready to make some music! These also make great noise makers for special occasions!

Paper Plate Noise Makers - How to Make a Musical Instrument.

Paper Plate Tambourine : Parade Crafts Instructions - This fun musical instrument is perfect for playtime or parades.

Paper Plate Tambourines and Pasta Noodles - This is a classic craft that never loses its appeal (my 9 year old still likes making one every now and then).

Rainstick - - Rainsticks are ceremonial musical instruments used to invoke the rain spirits. They are made by people who live in the deserts of northern Chile. In Chile, rainsticks are traditionally made from dead cactus tubes with hundreds of cactus spines hammered into the tube. Tiny lava pebbles cascade gently through the tube, sounding much like rain.

Rainmaker Craft : Thanksgiving Indians Crafts - - A Native American medicine man might shake something similar to this when calling for rain! Older children can use this craft as an opportunity to look at Native American design - while younger children will enjoy making a fun musical instrument!

Rain Stick Music - Make these rain sticks with dried beans, corn, or rice and a paper towel roll.

Roll up a Flute - The Dizi flute (also called the Di, D'Tzu, or Zhu Di) is the most popular flute in Asia. It's made from bamboo, often with silk wound around it to prevent cracking. The sound is made by vibrating rice paper that was soaked in garlic juice.

Sculptured Guitars - Kids will learn to sculpt/construct with newspaper; identify different shapes; understand the importance of recycling in the community; and recognize, understand, and learn the different parts, names, and functions of the parts of the guitar with this newspaper craft project.

Shape Banjo – Bring out the music minded genius out of your kids by helping them make musical instruments out of used cereal boxes and some coloring or non-toxic painting materials.

Shekere : Easy Ideas for African Crafts and Activities- Shake up your next celebration with our version of a Shekere (pronounced SHAY-ker-ray), an African percussive instrument used today by world music performers all over the globe.

Silvery Flutes - Imagine you're James Galway or Kokopelli playing your own Silvery Flute! Can you whistle to make your own beautiful melodies?

Slinky Drum- It is time for your slinky to do more than crawl down stairs.

Straw Oboes - Reed-like instruments are created from plastic drinking straws.

Super-Easy Noisemakers - Ever wanted to just make some noise? How about looking for a way to annoy your friends? This is a awesomely easy and quick way to make a cool noisemaker.

Tambourines Party Noise Makers - No celebration is complete without tambourine music!

Slinky Drum Trash Can Drum - Young percussionists can march to their own beat on this easy-to-make instrument.

Water Bottle Maraca - - Dig through the recycling bin and make this Water Bottle Maraca, a great homemade musical instrument for children of all ages! These also make great noise makers for New Years, birthdays or other special occasions!

Water Bottle Noise Makers Crafts Activity - Save that water bottle from the landfill by creating this fun noise maker for New Year's Eve!