Home > Arts and Crafts Projects for Kids > Crafts with Recycled Empty Milk Cartons
MILK CARTON CRAFTS FOR KIDS : Ideas for Arts & Crafts Projects and Activities with Empty Milk Cartons for Children, Teens, and Preschoolers
Below you will find crafts with empty Milk Cartons for Kids. Here are Ideas for Cool Arts and Crafts Projects with Recycled Milk Cartons with with the following crafts ideas, instructions, patterns, and printables for Children
You might also like Milk Jugs Crafts
How to Make Traffic Lights from Empy Milk Cartons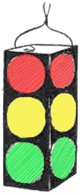 Here is a good toy for the kids to make, and it will be lots of fun to use in playing with their toy cars and trucks. Get a quart paper milk carton and some colored construction paper. Using a small glass or cup as a guide, draw four circles on a sheet of red paper, four on a sheet of green, and four on a sheet of yellow. Cut these out. Take a sheet of construction paper—black or some dark color—and wrap it around the carton to fit, cutting off any surplus at the bottom and fastening it firmly with clear tape. Then paste on the "lights"—red at the top, yellow in the middle, and green at the bottom. Punch a small hole in the top and run a piece of string through it. It's all ready to hang in place when they're ready to play.
Make a Milk Carton Pencil Holder for Your Desk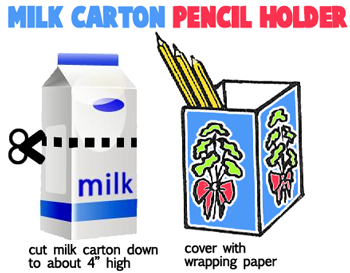 This is a very simple craft idea. Just clean out an empty milk carton and cut off the top of a cardboard milk or cream carton so that the lower section is about 4" high. You now have a rectangle container that is open at the top. Now you can decorate it by wrapping it with beautiful wrapping paper and attaching it with glue or tape. You can use other decorative paper or wrapping paper to cut out shapes and designs such as flowers, people, or whatever else you think would look nice on the pencil holder.
Make a Milk Carton House Trailer

You can have hours of fun with this little house trailer which you can attach to one of your toy cars. Rinse out an empty peaked-top milk container and allow it to dry thoroughly. Cut a piece of colored paper large enough to go all around the container and glue in place. You may fasten it with Scotch tape, if you prefer. Make the door, windows, and awnings of the trailer with paints or crayons. Make a hole in the center of the folded peak of the container. Pull a piece of string through the hole and "hitch" your trailer to a toy car. You may want to paint your house trailer instead of covering it with paper, if so, run your wet paint brush over a cake of soap or a piece of raw potato, before putting it into the paint. This will prevent the paint from "sliding" off the waxed surface of the milk container (you could also try putting some Elmer's glue into your paint...this works too).
Make a Toy Gas Pump with a Milk Carton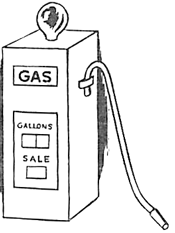 Here is a little make-believe gasoline pump to supply your toy cars and trucks with fuel before going on a trip. Rinse out an empty flat-top milk carton and allow it to dry thoroughly. Rub a wet brush on a cake of soap or on a piece of raw potato, and then dip the brush into the red paint before painting the milk carton. This will prevent the paint from "sliding" off the waxed surface of the carton. For the hose, fasten a piece of heavy cord to the side of the pump with Scotch tape. Twist a piece of tin foil around the end of the cord for the nozzle. Cut a square of white paper, and mark the sales record on it with ink. Glue it to the front of the pump. Cut 2 slits crossing each other in the middle, in the top center of the milk carton. Insert a yellow or red balloon, slightly blown up, into the slits for the trade name sign and tape it into place.
Milk Cartons Cubby Cubes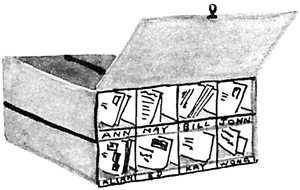 Buying a cubby cubes organizational shelf is really expensive. So don't go out and buy a new one, make one by saving your milk cartons. You might have to wait a few weeks until your family goes through enough cartons, but once they do, you won't have to work veyr hard to make one. Just glue all the milk cartons side by side, top to bottom. You can do as many rows or columns as you want. Wrap it in decorative paper or paint it by putting some glue into the paint (so that it will stick on the waxy surface. Now measure the cubicles and then cut out cardboard the same width and height . Cover wtih decorative paper or paint it. Then tape the cardboard to the top of the box so that the hinge opens and closes as you see in the picture. Lable every cube, depending on what you need to organize. You can have a latch on the cubicles by placing a loop and button or by putting magnets on there. It is up to you.
Milk Carton Flower Vase Planters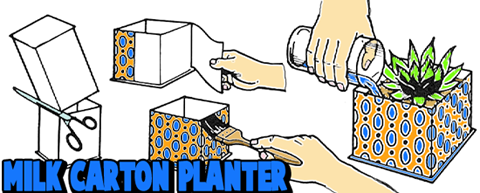 To maket his milk carton planter, you will need 1 empty milk carton, decorative paper or wallpaper, sandy soil, and a plant. Cut off carton 3" above bottom and discard top portion. Now cover outside of carton with paper, folding it inside at least 1". If wallpaper is used cut a 3" strip to fit around carton. Next, wet it with sponge and paste to planter. Put two rubber bands around it until dry. If wallpaper is used, shellac when dry. Now put some sandy soil in finished planter (to about 1/2" from top) and plant a succulent, pansy or other plant. Water plant.
More Carton Crafts Below

Make Toy Windmills from Milk Containers Craft Idea for Kids - You have probably seen a windmills before, whether you have seen them on TV, on a farm, or just passed by it when in the car. This is a very cool, working, toy windmill arts and crafts activity for kids.

Milk Carton Haunted Houses Full of Treats - This is a fun way to make a candy holder gift to give away. This haunted house is made from a milk carton, some paper, and creativity.

Make a Pioneer's Well from a Spool and Milk Carton - Learn how to make a working water well with a recycled milk carton, spool, string, and a tac.

Milk Carton Totem Poles - Make these American Indian totem poles to celebrate Native American culture.

Making Milk Container Candles - Recycle old candles to make a very colorful candle that is molded in a milk container.

Spinning Milk Carton Windmills - Spinning milk cartons look pretty cool, try it out.

Balloon Powered Milk Carton Cars - Make a car that goes on its own with a balloon and a milk carton.

Milk Carton Elevators - Learn how to make a real, working elevator with an empty milk carton container.

Milk Carton Movie Theater - View your comic strips in this milk carton movie theater.

Make a Pen and Pencil Holder from a Milk Carton - Make this pens and pencils organizational holder as a gift.

Milk Carton Toy Blocks - Learn how to make interlocking toy blocks with upcycled milk cartons.

Bullseye Game Ring Made with Milk Carton Pull Tab- This craft doubles as a ring and when you take it off, you can set it up to be a game. You make it with a milk carton pull ring / tab often found with lactose free milk.

Santa Clause Gift Boxes - Learn how to make a Santa Clause Gift Box from a Milk Carton.

Milk Carton Row Boats - Learn how to make these awesome row boats, with oars and seats. These are made from milk cartons....cool.

Christmas Elf Gift Boxes - Make these Christmas Elf Gift Boxes for Christmas Gift Packaging from a recycled milk carton.

Milk Carton Log Cabins - Build a log cabin from a school milk carton, some Plaster or Gessor or Papier Mache, and some paint.

Milk Container Organizational Shelf - Put little gizmos and doodads in these organizational shelves.

Make Christmas Reindeer Gift Boxes - Make these Christmas Gift Boxes from Old Milk Cartons with the following template.

Milk Carton Sail Boats - Learn how to make these milk carton sail boats...they turn out so pretty.

Matching Tin Foil Vase and Photo Frame - Make this photo frame from cardboard and tin foil...make a matching milk carton vase.
You Might Also Like ... Soda Bottle Crafts ... Juice Bottle Crafts ... Milk Jug Crafts ... Bottle Caps Crafts ... Message in a Bottle Crafts ... Ocean in a Bottle Crafts ... Ships in a Bottle Crafts